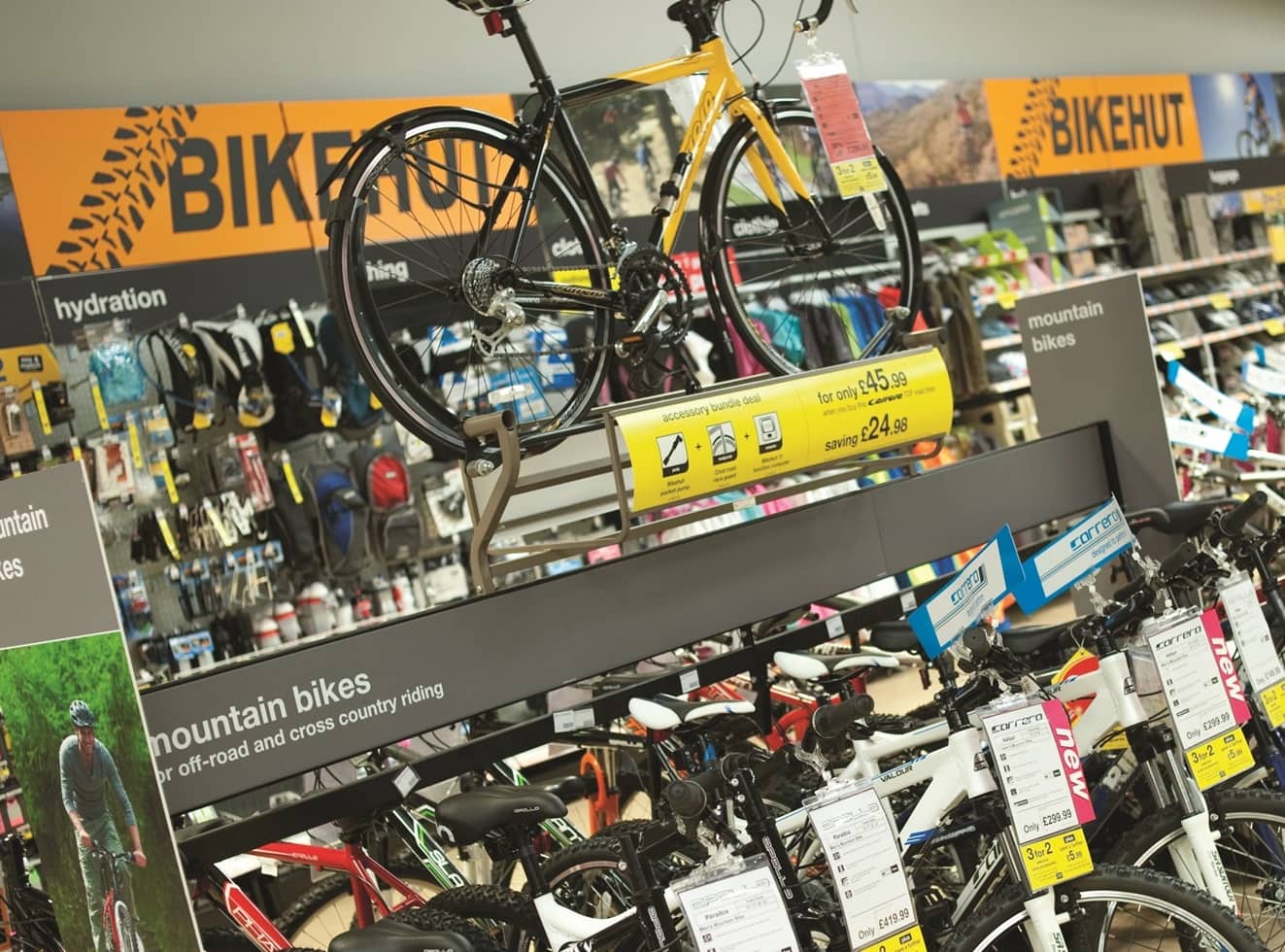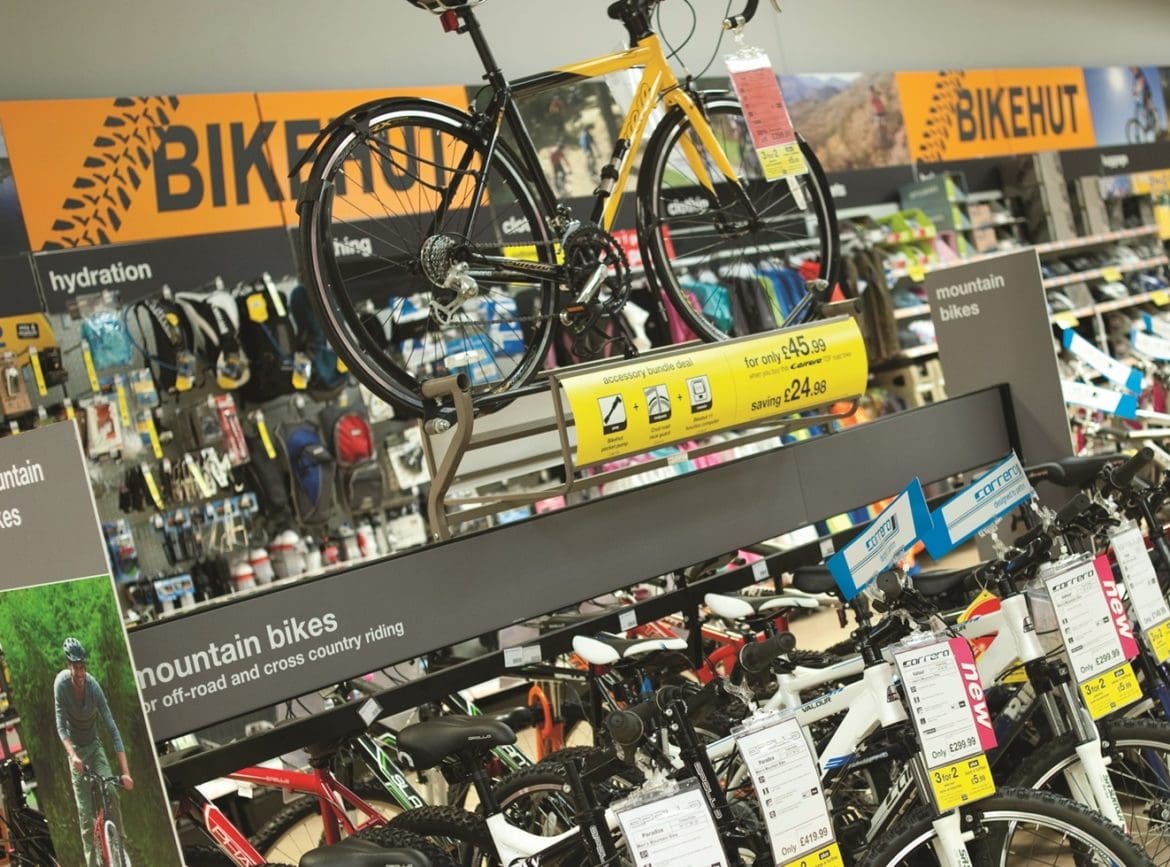 Halfords (HFD) published its annual report yesterday confirming poor numbers previously trailed in the preliminary statement at the beginning of July, when it triggered a 12% plunge in the share price.
Earnings per share on a non-underlying basis were a relatively paltry 8.9p compared to 21.2p last year.
The shares touched a near-term May low of 130p, but have recovered some of their poise since then, currently priced at 156p, up 1.5% today.
In the year to 27 March 2020 –  including the loss of two trading days in week 52 of the financial year because of the UK lockdown – the car-to-cycle parts and services chain booked revenues of £1.14 billion, slightly up on 2019, and delivered underlying profit before tax of £55.9 million. That was down 4.9%, but on a net view the position represented a substantial deterioration on 2019, retreating 55.5% to £22.7 million.
The company's dividend was cut from 18.57p a share to 6.18p last year but has since been suspended. The company also availed itself of a £25 million government loan (Coronavirus Large Business Interruption Loan Scheme) to cope with the Covid pandemic.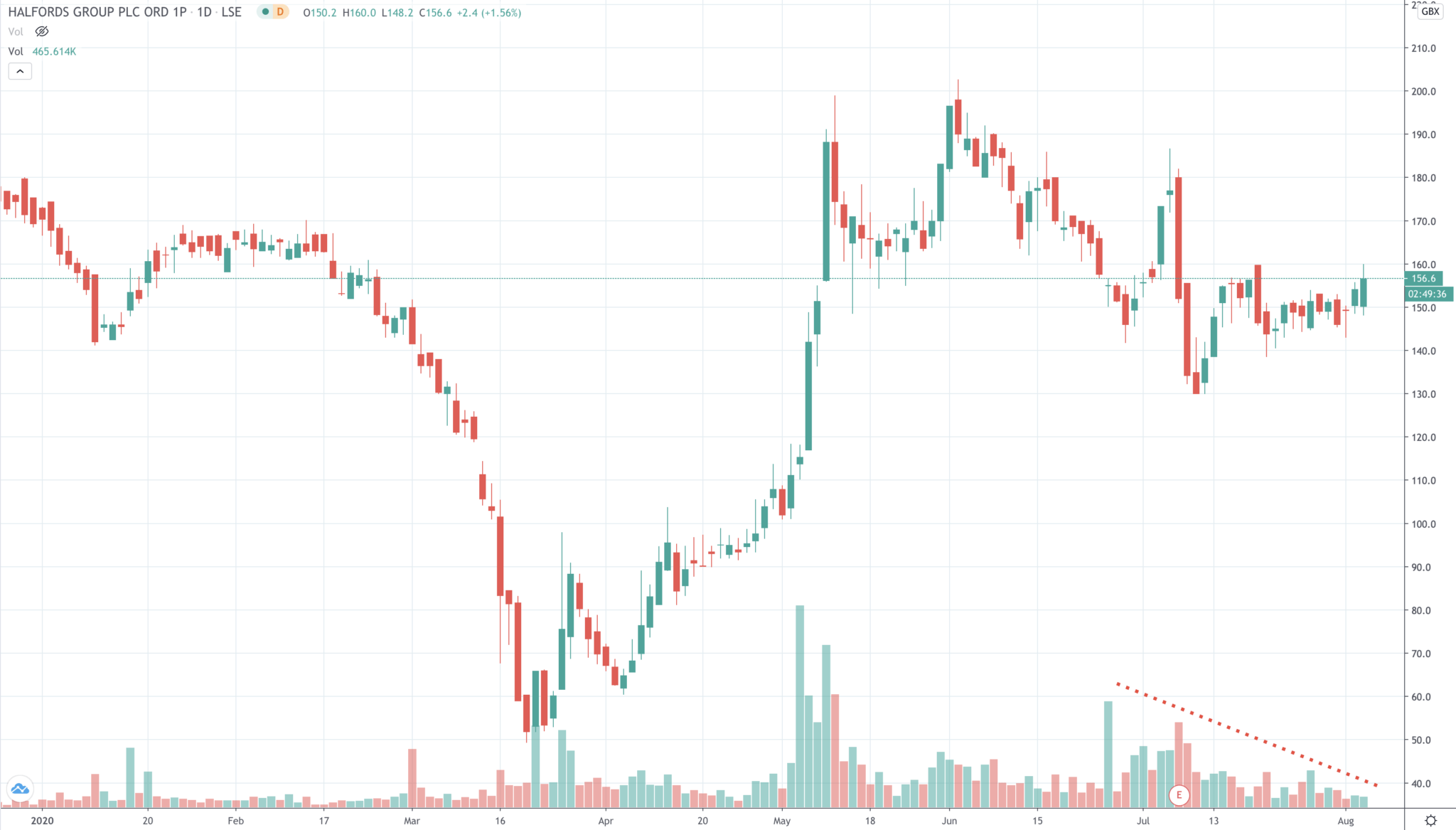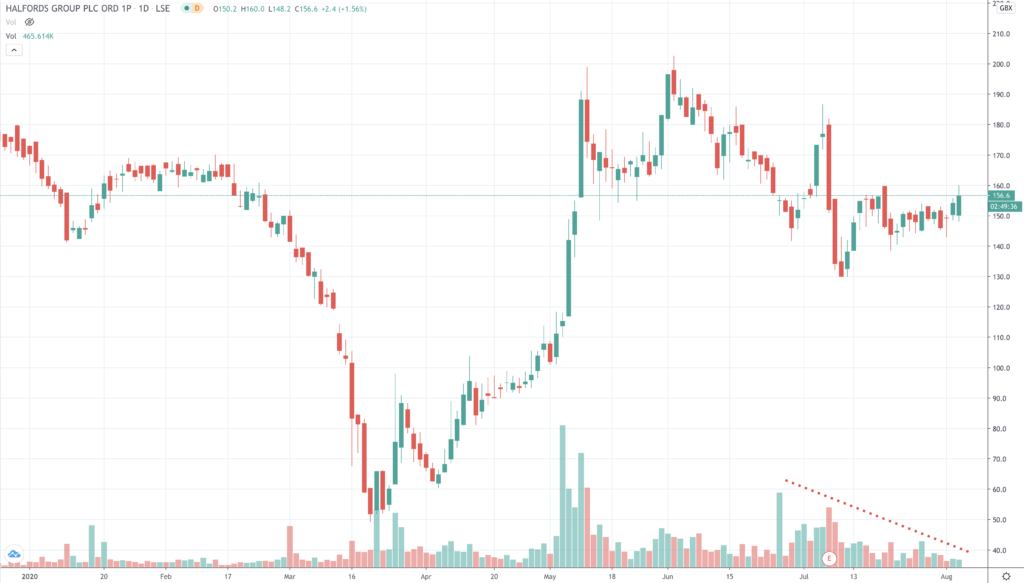 Acquisition costs and poor performing car parts and servicing sales
The story behind Halfords financial year-end figures and the trading for the weeks since end March, is the inability of the firm to right the ship as far as its auto business is concerned.
Halfords makes the majority of its profits from the higher-margin motoring parts and services division of the company. The company has been struggling to get this part of the business firing on all cylinders for some time.
Also, according to chief financial officer Loraine Woodhouse, profit before tax would have been in line with the previous year but for the "dilutive impact of acquisitions".
The company made two major acquisitions over the period: Tyres on the Drive and McConechy's Tyre Service.
The retail side of the business accounts for £950 of revenues with most of the rest (£191 million) coming from its Autocentres, where gross margins fell 250 basis points (-2.5% to 65.5%). Retail margins improved marginally by 20 bps to 48.2%.
One-off expenses of £31 million were mostly related to the closure of Cycle Republic and Boardman Performance Centre, acquired through its purchase of Boardman Bikes in 2014.
But even before the pandemic really started to bite, Halfords was seeing improvement in the performance of its cycling business, which include newly popular e-scooters.
Over the financial year like-for-like sales improved 2.3% in cycles. But car retail sales on the same basis fell 5.3%, dragging overall sales performance lower on the 2019 showing.
Despite efficiency improvements in the deployment of working capital, operating costs in the Autocentres weighed on results – they leapt 14% to £118.9 million.
All-important free cash flow remains buoyant though, with debt pleasingly trimmed.
Free cash flow came in at £54.6 compared to £42.7 million the year previously.
Debt declined from £81.8 million in the 2019 financial year to £73.2 million now. Cash on hand however was £10 million, but with the government loan and other funding options, Halfords has as much as £200 million liquidity it can tap.
Deemed an essential business, Halfords kept trading through the lockdown, with select retail outlets remaining open for socially distanced interaction with customers and for the pick up of goods.
Booming bike sales up 60%
In its July statement, Halfords reported that in the 13 weeks to 3 July cycle sales swelled 60%. This was due to public transport being closed to all but key workers and other essential service workers.
But it was cars where the underperformance is rooted.
Halfords chief executive Graham Stapleton blamed the car woes on people not being able to browse in store for items such as car radios and more generally to "experience the technology offer", as he put it, and the more important fact that parked-up vehicles meant less demand for parts and servicing.
Although Stapleton withdrew specific guidance, he said in July that the company may trade in the next financial year anywhere between a pre-tax loss of £10 million and a profit of £20 million. It was that statement which led to the shares' headlong retrenchment to 130p.
The chief executive's downbeat projection – and its wide range of possibilities – is indicative of the levels of uncertainty all firms are grappling with because of the Covid-19 pandemic.
Halfords also highlights the risks associated with Brexit, but thinks Covid will be more impactful: "Covid-19 has materially changed the retail outlook for the coming months and has overshadowed Brexit as the emerging risk," the company said in July.
Time to buy Halfords?
Halfords shares have recovered a little since the early July pullback, but does cycle-friendly government help make Halfords a best share to buy?
After all, tailwinds to counteract the stalled car division sales were expected to come from the bicycle business and also the new growth areas of electric bikes and e-scooters.
Those more inclined to see a bullish narrative for the shares can certainly look to the government's measures to make urban centres more bike-friendly as price-supportive.
Plus the new £50 voucher scheme to repair bikes, which consumers were able to access from 28 July when the first 50,000 of a total of half a million were released to the public, should help too.
Halfords has also closed 60 stores of its 843 sites, of which 472 are retail outlets, helping to reduce costs. Halfords employs around 10,000 people.
Additionally, the upgrade of its website, completed in February this year before the lockdown hit, is well timed. Its revamped e-commerce channel should contribute handily to it benefiting from the continued growth in online trading and the reduction in costs associated with shutting stores, although that crimps some of the servicing revenue.
It may be hard to rate Halfords a strong buy on the fundamentals – and even on a trading momentum view the wind has come out of the sails, as seen in declining trading volumes (see share price chart above).
That said, with the bike business probably still growing, notwithstanding the lower margins, there's probably plenty of headroom from a technical perspective for traders to profit, if not medium-term investors.