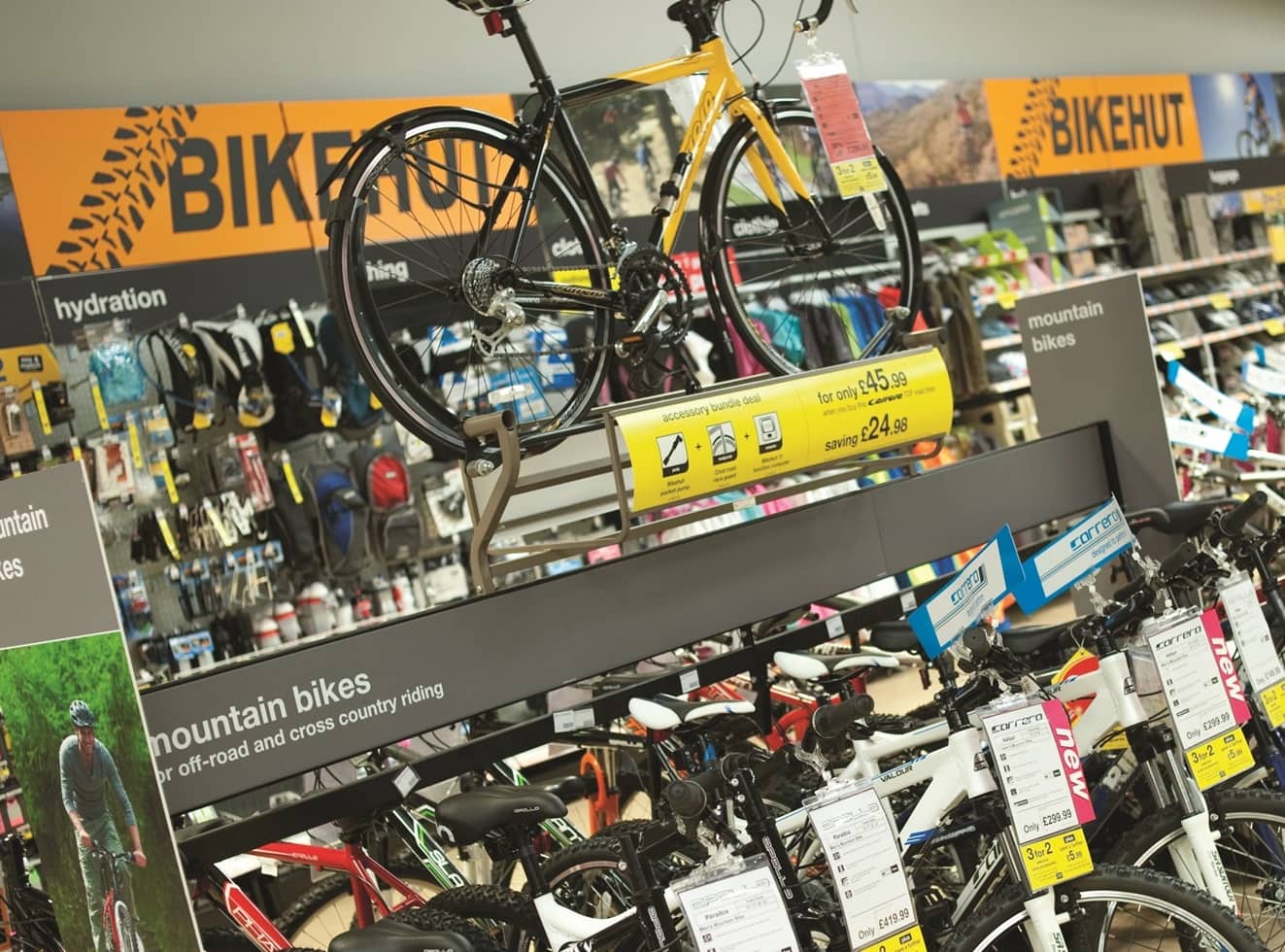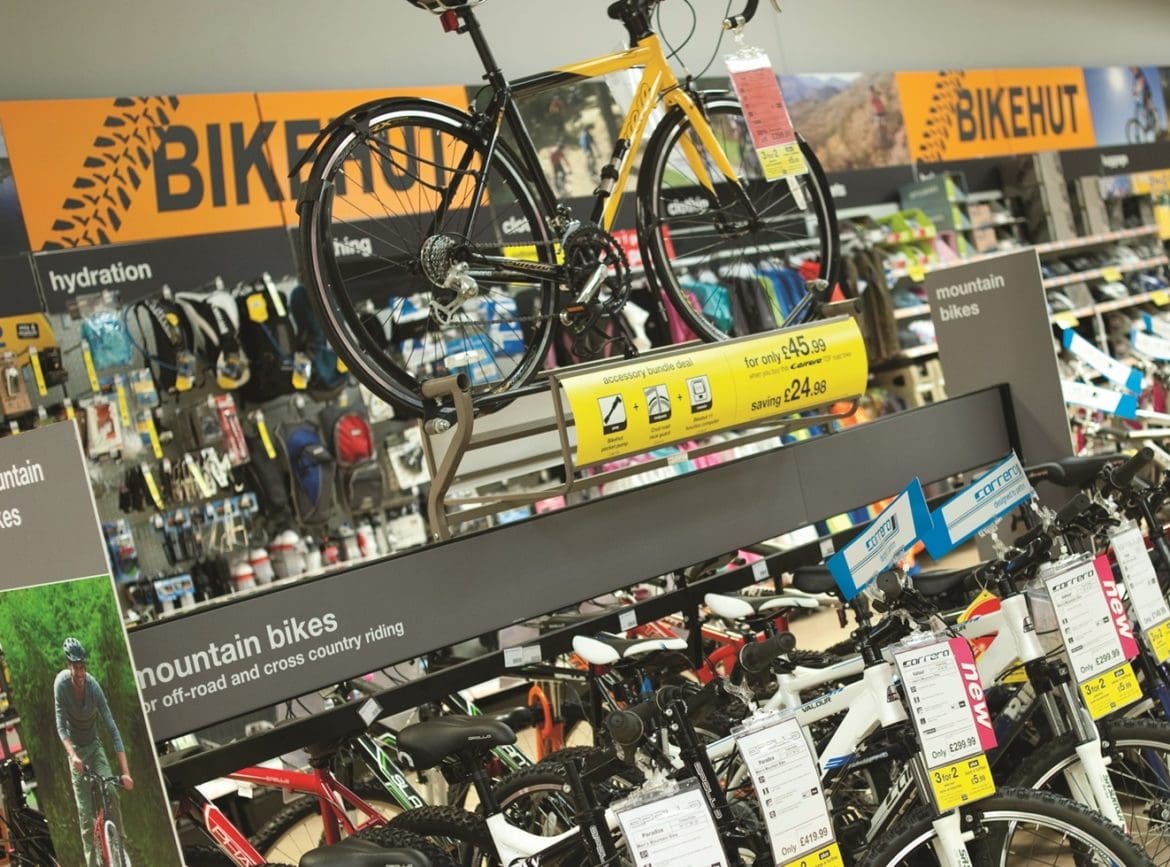 Halfords shares were volatile today after releasing its trading update. Shares opened higher over yesterday's closing at 187.6p and made a high of 191.20p in early trading. However, they pared gains and were trading 3.7% down at 177.20p at 11.20 AM London time.
Yesterday, AB Foods shares rose after it released its update and said that it expects its earnings to beat its guidance in the fiscal fourth quarter.
Halfords, UK's largest retailer of cycling and motoring products and services, released its trading update for the 20 weeks from 4 April to 21 August. It said that its LFL (like for like) sales increased 5% over the period while gross sales rose 7.5%. According to the company, "a larger cycling market and a positive impact from the current staycation trend," benefits of the new online platform, and higher scale in its motoring services segment contributed to the increased revenue.
Halfords' online sales spike in pandemic
Halford managed to increase its online sales 160% over the period while B2B (business to business) sales increased 25.9%. Online sales accounted for 54% of the group's sales over the period. It sounded positive on the projected 300-basis point improvement in Cycling segment's gross profit margins in the fiscal year 2021. The company expects its underlying profit before tax in the first half of fiscal 2021 to be between £35-£40 million if demand levels stay as expected in September and stable currency rates.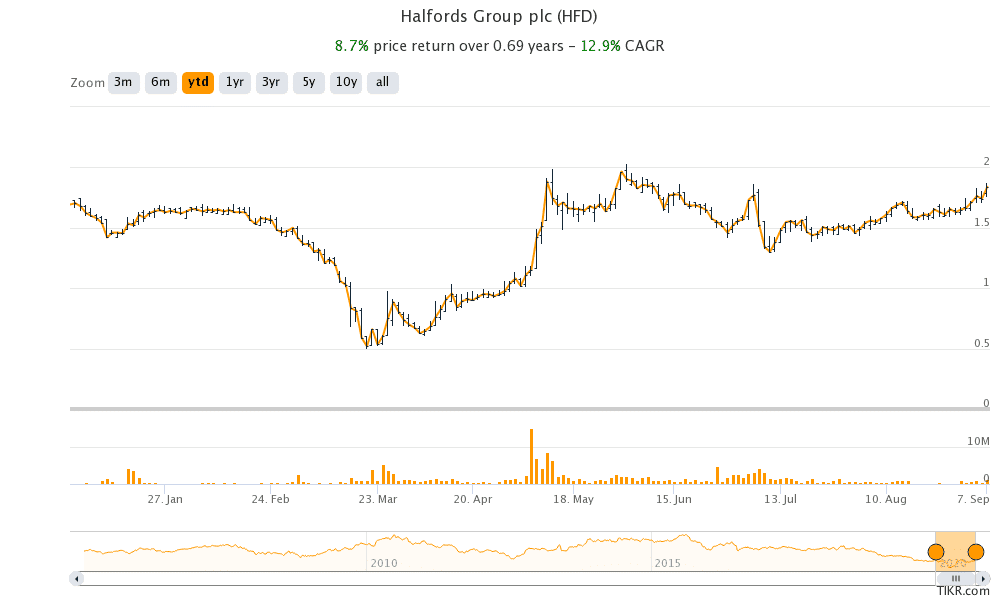 Management's views
"This 20-week trading period started on 4 April and therefore coincides with the most significant impacts of COVID-19 in the UK," said Halford's CEO Graham Stapleton. He added, "We are pleased to have delivered a strong trading performance during the period. We have been able to move quickly in order to capitalise on the continued strong demand for cycling products, with sales of electric bikes and scooters up 230% year-on-year, while cycling services have been boosted by our free 32-point bike check and the Government's Fix your Bike Voucher scheme."
Stapleton also talked of growth returning the company's motoring business and said: "It has been especially encouraging to see our investments in key strategic initiatives both drive, and enable, such a resilient performance, allowing us to capitalise on favourable market shifts."
Halfords' cash position is comfortable
Halfords had net cash of £105 million as of 21 August, which is roughly £70 million higher as compared to the corresponding quarter last year. The company said that it managed to increase cash levels "in part by lower cycling stock levels but also by strong cash management and planned faster stock turn as a consequence of improved lead times, the consolidation of ranges and better sell-through."
In March, Halford had suspended its dividend to preserve cash amid the pandemic. Looking at its capital allocation priorities, maintaining the dividend ranks third, preceded by investments for growth and maintaining a prudent balance sheet. Several companies including BP have slashed their dividends this year. Earlier this month, homemaker Barratt also scrapped its special dividend.
Guidance
Halford meanwhile did not provide full-year guidance. "Beyond H1, there remains too much uncertainty in the trading environment to provide meaningful full year guidance. Within our own business there are stark differences in the relative performance of product categories and this is exacerbated by extreme uncertainty on macro factors such as the impact of second waves of COVID-19, an economic contraction driven by rising unemployment, and the impact of Brexit," said the company in its release.
Stapleton added that the company is "cautious on the outlook for the remainder of this year given the macro environment and uncertainty over the pandemic.
Halford shares in 2020
Halford shares are up 8.7% year to date. It has received a buy or higher rating from only three analysts surveyed by Yahoo Finance while nine analysts rate it as a hold or equivalent. The remaining three have an underperform or sell rating on the stock. Halford's average target price of 321p is a premium of almost 80% over current prices.