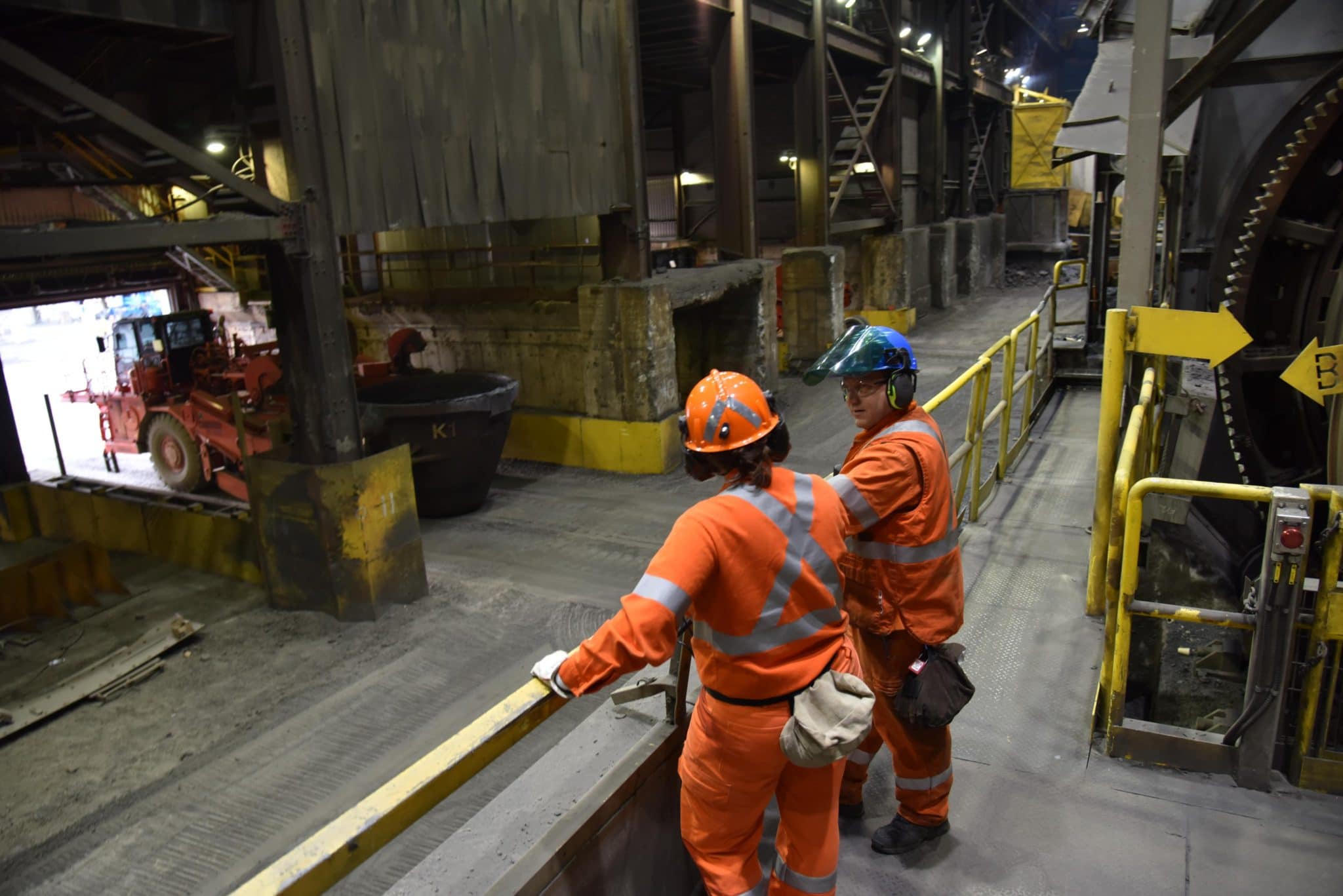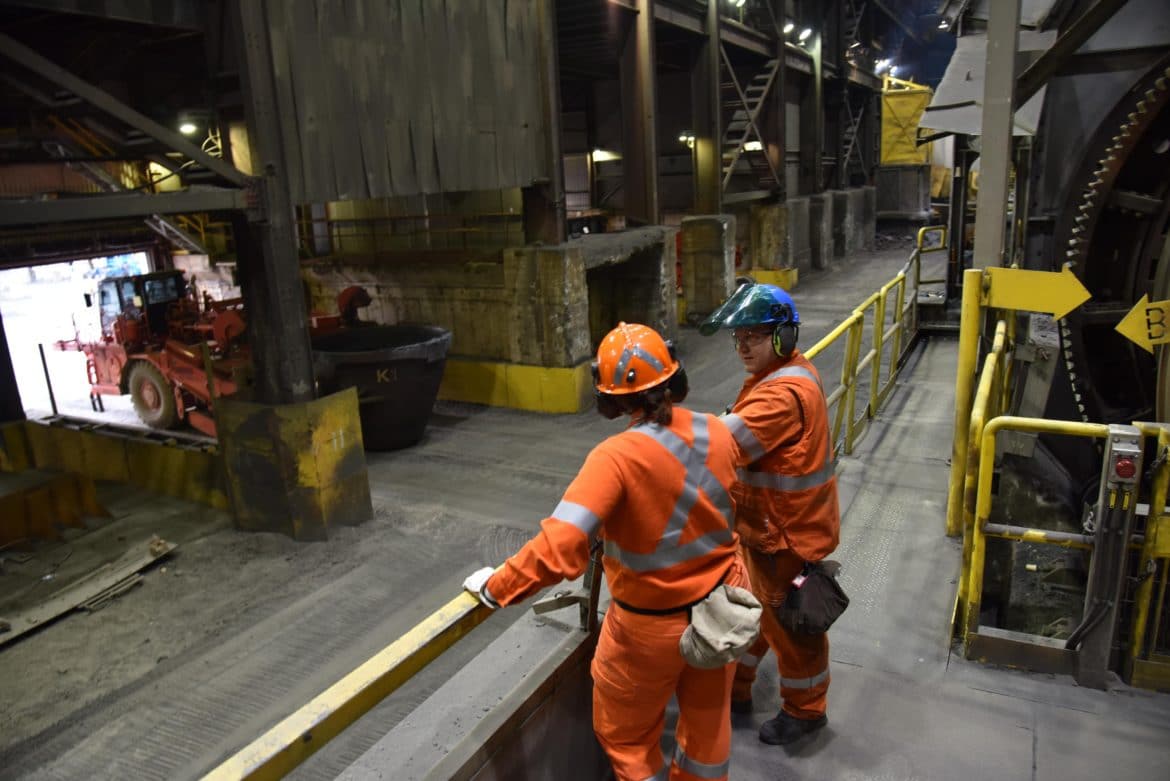 Shares of global mining and trading giant Glencore were trading flat near 304p in early London price action today, after the company released its first-quarter trading update.
Mining companies including BHP Billiton, Rio Tinto, and Antofagasta release only the half-yearly earnings. However, they provide quarterly production reports that help the markets understand how much they produced in the quarter. For mining companies, production, unit cash costs, and average commodity prices are the three key earnings drivers.
Glencore first-quarter trading update
Glencore produced 301,200 metric tons of copper in the first quarter which was 3% higher than the corresponding quarter in 2020. The company attributed higher production to productivity improvements at its South American operations. The company has interests in several copper mines in the region including Antamina, Collahuasi, and Antapaccay. Antamina is among the largest copper and zinc deposits globally and along with Glencore, BHP Billiton, Canadian miner Teck Resources, and Japan's Mitsubishi Corporation hold a stake in the mine.
Glencore produced 282,600 metric tons of zinc in the first quarter—a 4% year over year decline. According to the company "lower grades at Kazzinc's Maleevsky mine and mine sequencing at Kidd" were responsible for lower production. The company's nickel production also fell 11% year over year in the first quarter due to maintenance activity at Koniambo mine.
"The Group's overall production was broadly in line with our expectations for the first quarter," said Glencore's CEO Ivan Glasenberg
Coal production falls
Glencore's coal production fell 23% year over year in the quarter to 24.5 million metric tons. The company attributed the steep fall in production to the cessation of mining operations at Prodeco and changes in its portfolio in Australia.
Notably, diversified miners have been trying to either limit or exit their coal operations in a bid to lower their carbon footprint. Earlier this month Anglo American announced that it would spin off its thermal coal operations. Rio Tinto has already exited the coal business while BHP Billiton also plans to do so over the next two years.
Glencore, meanwhile, has taken a different approach to coal assets. "Some competitors are selling their coal mines…but how does this help the world to meet the Paris Accord? They're going to the hands of other players in the industry which may have no intention of reducing their Scope 3 emissions and may have a free hand to produce more," Glasenberg had said last year.
Glencore mostly produces thermal coal
Notably, over 85% of the coal that Glencore produced in the first quarter was thermal coal which goes into thermal power generation which is regarded as among the most polluted sources of electricity. Governments globally have been pivoting their energy mix towards renewable energy and the share of coal-powered electricity in the energy mix has been falling gradually in developed markets.
In the quarter, Glencore produced 2.4 million metric tons of coking coal which goes into steel production. Steel companies producing steel in traditional blast furnaces use coking coal as an input. However, in the US, electric arc furnaces that use electricity now account for the bulk of steel production.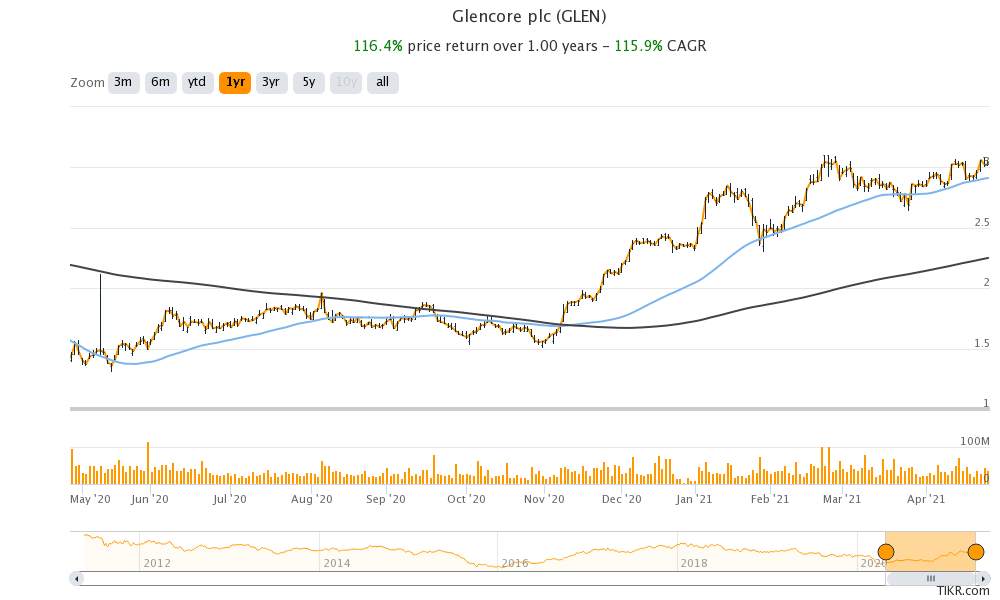 Glencore maintains guidance
Glencore maintained its production guidance for 2021. It expects to produce between 1.19-1.25 million metric tons of copper in 2021 as compared to 1.258 million metric tons in 2020. It expects its cobalt production to be between 33,000-37,000 metric tons in the year as compared to 27,400 metric tons in 2020. The company's zinc production is also expected to rise to between 1.22-1.28 million metric tons in 2021.
"Basis Q1 2021's marketing performance, we expect full year Marketing EBIT to be within the top half of our long-term $2.2-3.2 billion p.a. (per annum) guidance range," said Glasenberg in the release.
Notably, Glencore is the largest cobalt producer in the world. The mineral is used in electric vehicle batteries and automakers globally have been scrambling to secure supplies amid the soaring demand for electric vehicles.
An electric vehicle play?
Many of the metals Glencore produces – including copper, zinc, cobalt, and nickel – are used in electric cars. While these metals are also found in ICE (internal combustion engine) cars, the demand for them is much higher in electric cars.
The average copper content in an ICE (internal combustion engine) car is about 23 kilograms, while it's 83 kilograms for a battery-electric vehicle. Copper content is generally higher in renewable energy generation. Copper prices have surged to multi-year highs amid the global pivot towards electric vehicles and renewable energy. Also, the metal's supply might not keep pace after years of underinvestment in new mines.
Earlier this month, Goldman Sachs upgraded Glencore shares to a buy. The brokerage is also bullish on the outlook for copper prices.
Dividend restoration
Commodity prices, especially copper, have bounced back sharply from the lows that they hit in 2020 amid concerns over the COVID-19 pandemic. Glencore, which suspended its dividend last year, restored it earlier this year amid the spike in its profitability. Fellow miners such as BHP Billiton and Rio Tinto have also increased their dividend payments to shareholders.
Glencore shares are up 30% so far in 2021. Taking into account the momentum in commodity prices, the shares might continue their uptrend and see even better days ahead.