Mining and trading giant Glencore today released its first half 2020 earnings. The company also scrapped its dividends.
Glencore posted an adjusted EBITDA (earnings before interest, tax, depreciation, and amortization) of $4.8 billion in the first half of 2020. While the metric was ahead of analysts' estimate of $4.3 billion, it fell 13% as compared to the corresponding period last year.
First half 2020 earnings
Looking at Glencore's first-half performance, the energy segment was the biggest drag, with EBITDA down 65% year over year to $700 million. EBITDA of metals segment fell 16% over the period to $2.2 billion.
However, Glencore's Marketing segment that's involved in trading, reported a 100% jump in adjusted before tax profit to $2 billion, a record. "Marketing delivered a half-yearly record Adjusted EBIT performance of $2.0 billion, allowing us to raise full-year guidance to the top end of our long-term $2.2 to 3.2 billion range," said Glencore in its release.
While tepid energy prices dampened the earnings of its Industrial division, volatile markets provided ample profit opportunities for Glencore's Marketing segment. "There were consistently good contributions across the board, however, oil in particular was able to capitalise on the presence of exceptional market conditions during the half," said Glencore on the record marketing EBIT.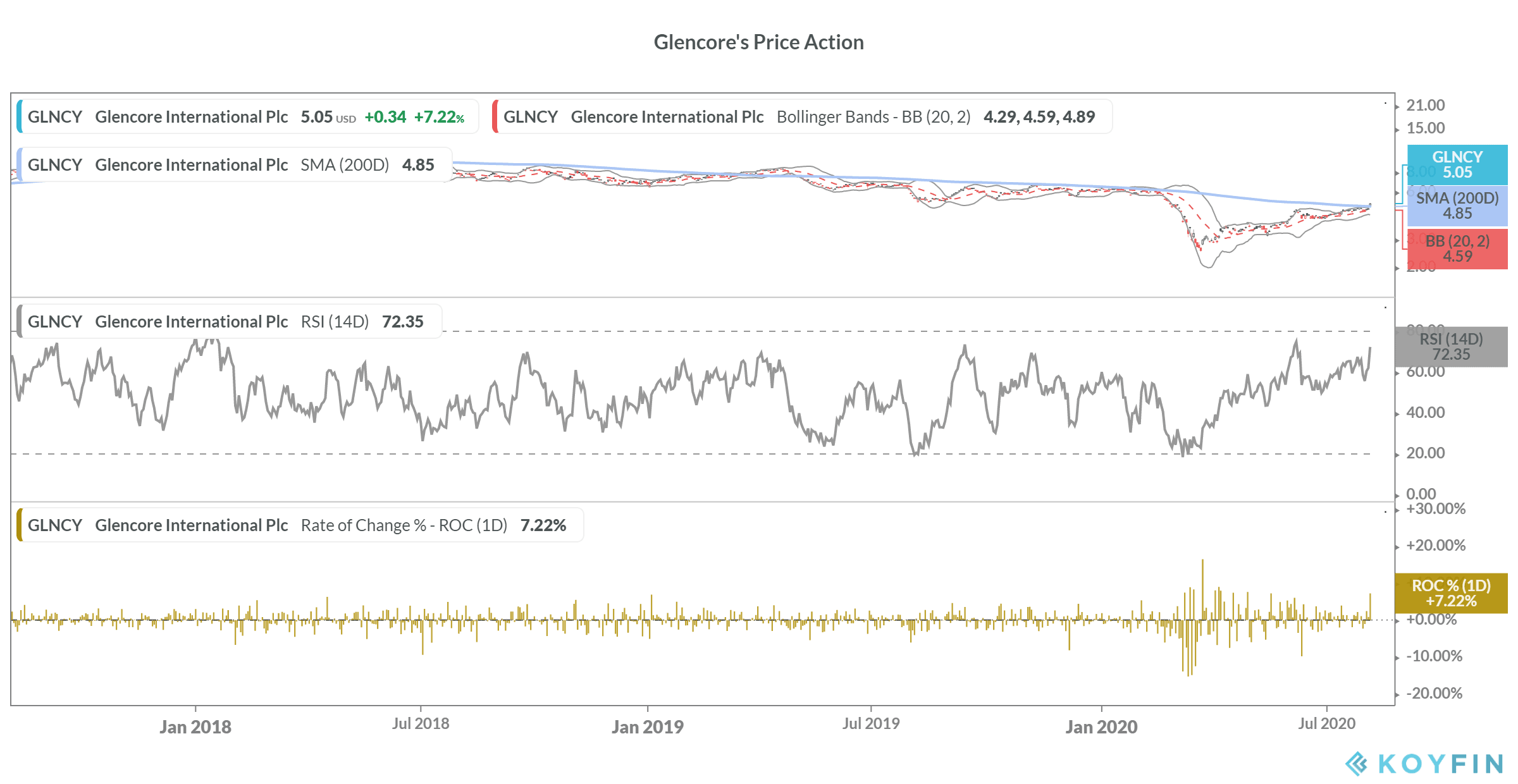 Why Glencore suspended dividend
Meanwhile, Glencore has suspended its dividend programme amid the uncertainty. It said, "The outlook remains uncertain in the short term. Notwithstanding our cash-generative business and secure liquidity positions, the Board has concluded that it would be inappropriate to make a distribution to shareholders in 2020."
The company intends to bring down its net debt below $16 billion by the end of this year with the dividend suspension. Its net debt soared to $19.7 billion at the end of the second quarter, up from $17.6 billion at the end of 2019.
Glencore has become the first major metals and mining company to cut its dividend. But then, Glencore is known for its aggressive moves. When the mining industry went through a crisis in 2015-2016 on China economic slowdown concerns, Glencore was the first major mining company to scrap its dividend.
However, it was among the first companies to call a bottom by reinstating its dividend in 2016. In 2017, Glencore announced a new dividend and capital allocation policy. Under the revamped policy, the company made its dividend variable, linking payments to profits. It said that it would keep its dividends at a base of $1 billion from the Marketing segment and a minimum of 25% of free cash flows from Industrial.
However, it also outlined a plan to keep its net debt between $10 to $16 billion. The company's net debt is currently way above the higher end of its guidance. However, its net debt to EBITDA is at 1.81x, and within the company's desired range of less than 2x. Higher net debt levels coupled with an uncertain commodity price environment prompted a dividend suspension at Glencore. Prior to the dividend cut, Glencore's dividend yield was a handsome 7.6%
Should you buy Glencore shares?
Glencore is among the most aggressive companies in the metals and mining space. Even though it shares are down 16.6% year to date, Wall Street analysts remain bullish on the company. It has received a buy or higher ratings from 14 analysts surveyed by Refinitiv while six have given it a hold. The remaining two analysts have a sell rating on the stock. Glencore's mean consensus price target of £2.18 is a discount of 16.5% over current prices.
Copper and zinc are the key drivers of Glencore's earnings. Copper prices are on the ballpark of $6,500 per metric ton having recovered their 2020 losses. Copper is among the metals that have a strong demand outlook. The usage of copper in electric vehicles is higher than for traditional internal combustion engine cars, and the global shift towards electric vehicles should support copper demand. Tesla stock has rallied sharply this year as markets prepare themselves for an all-electric future in the automotive industry.
On the supply side, most analysts expect copper's supply to fall short of demand this decade. Copper grades at major existing mines are falling while some of the new projects have been stalled either due to regulatory issues or financial crunch. Zinc is also positive for the year now. Both copper and zinc do not suffer from the chronic oversupply plaguing some of the other industrial metals such as steel and aluminium.
Glencore shares were trading sharply down on Thursday after the announcement of the dividend cut. However, the decision looks wise amid the uncertainty over economic recovery. Looking at Glencore's product portfolio, which is heavy on copper, it looks a decent stock to hold for the long term.