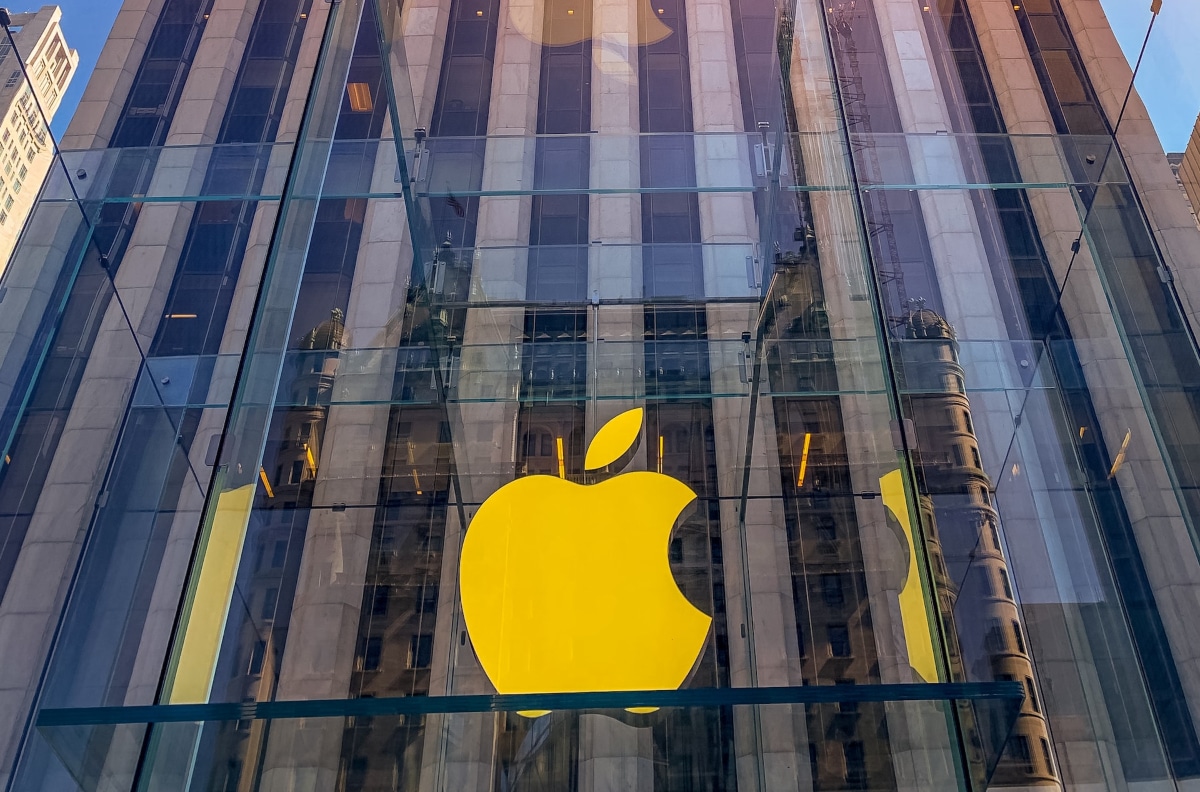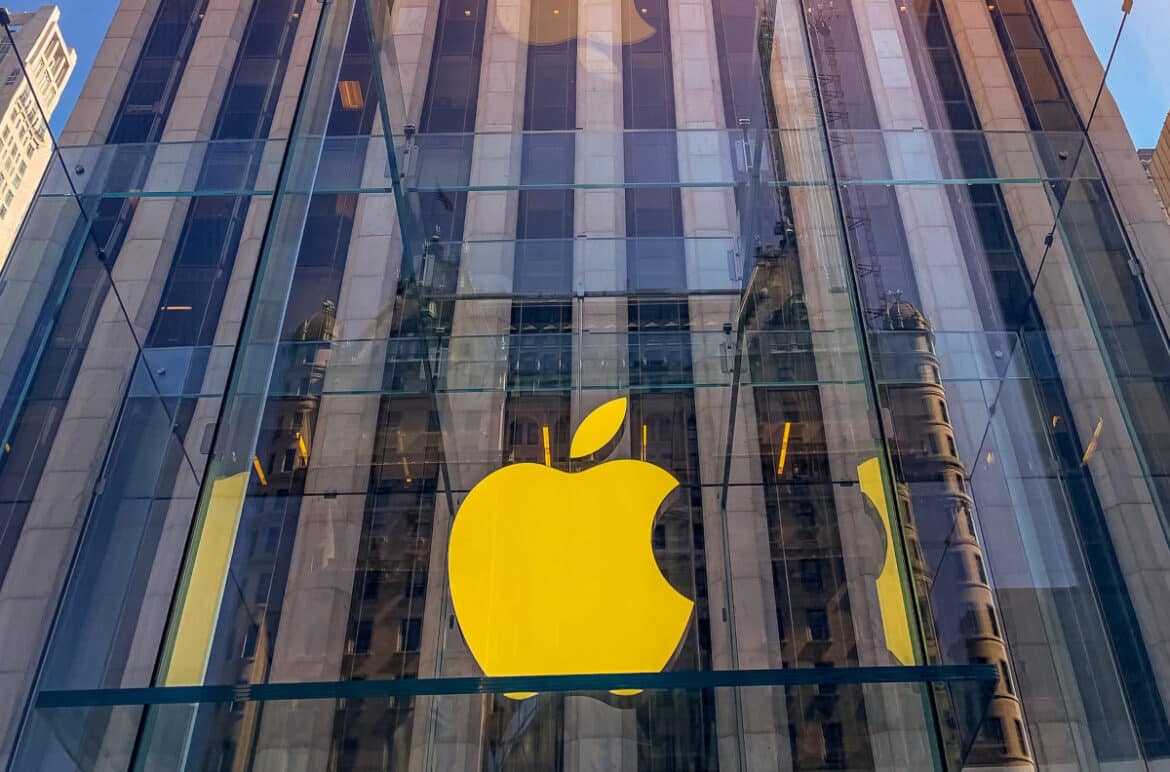 Apple (NYSE: AAPL) shares are trading lower in US premarket price action today after it missed consensus earnings estimates for its fiscal first quarter of 2023 and also provided mixed guidance for the current quarter.
Along with Apple, Amazon and Alphabet also released their earnings yesterday. All three shares are trading lower today as markets give a thumbs down to their quarterly earnings. While the earnings season for FAANG shares started on a positive note with Netflix shattering subscriber estimates, it ended with a whimper.
Notably, tech names rallied yesterday after Meta Platforms' Q4 2022 earnings. However, tech shares are trading lower today and Nasdaq futures are in the red.
Apple missed Q1 2023 earnings estimates
Apple posted revenues of $117.15 billion in the December quarter, which was 5.5% lower than the corresponding quarter last year and also missed consensus estimates of $121.10 billion.
Apple's revenues increased by 8.1% in the previous quarter. While providing the guidance for the December quarter, Apple had said that the revenue growth would be lower than the 8.1% that it achieved in the September quarter.
However, as the quarter drew to a close, it became quite evident that the iPhone maker is battling several headwinds. Wall Street analysts also toned down their forecasts for the company and anticipated a fall in revenues.
The actual results turned out to be far worse than expected and Apple posted the worst quarterly decline in revenues since 2016.
Key headwinds that AAPL faced in the quarter
During the earnings call, Apple highlighted the multiple headwinds that it faced in the quarter. Firstly, the company listed adverse currency movements as a challenge as a stronger US dollar negatively impacted its fiscal first quarter revenues to the tune of 8 percentage points.  The company added that on a currency-neutral basis, its sales rose in most of the markets.
Secondly, Apple said that the supply chain challenges were a drag on its revenues. Production snags at Foxconn's Zhengzhou city plant negatively impacted iPhone supply during the holiday season.
Apple faced supply chain issues in the quarter
Several buyers failed to grab the latest iPhone 14 during the holiday season. Apple also warned of a hit to iPhone supply after a COVID-19 outbreak at Foxconn's Zhengzhou plant in November.
During the earnings call, Apple's CEO Tim Cook said, "Because of these constraints, we had significantly less iPhone 14 Pro and iPhone 14 Pro Max supply than we planned, causing ship times to extend far beyond what we had anticipated."
Third, the company listed a "challenging macroeconomic environment" for the fall in revenues. Cook said the "world continues to face unprecedented circumstances from inflation, to war in Eastern Europe, to the enduring impacts of the pandemic."
He added, "And we know that Apple is not immune to it." Notably, markets saw Apple and Alphabet as safe bets amid the macroeconomic turmoil and most analysts had a buy rating on Apple as well as Alphabet.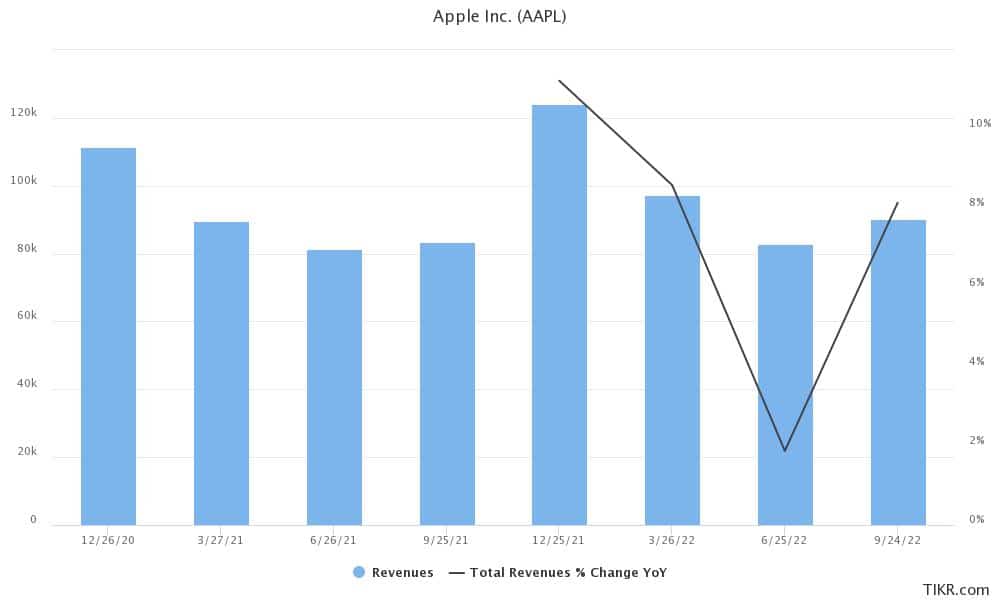 iPhone revenues fall
Looking at the breakup of Apple's revenues, iPhone sales fell 8.1% YoY to $65.78 billion. The metric fell short of the $68.29 billion that analysts expected. Global smartphone shipments slumped in 2022 and the pain only deepened in the December quarter.
The IDC (International Data Corporation) estimates that global smartphone shipments fell 18.3% YoY to around 300 million units in the December quarter. The total shipments fell to the lowest level since 2013. Also, in percentage terms, the contraction was the highest ever.
The IDC added that it was the first time that smartphone shipments in the December quarter, which coincides with festive shopping in the West, fell below the September quarter.
That said, Apple managed to increase its market share as its sales fell less than that of the wider industry. The company strengthened its position as the largest smartphone company globally.
Other key takeaways from Apple earnings
Mac revenues fell 28.6% YoY to $7.74 billion in the quarter. While the metric fell well short of the $9.63 billion that analysts expected, Apple said that the results were in line with its internal projections.
iPad revenues came in at $9.4 billion which was higher than the $7.76 billion that Wall Street was expecting. The company's other product revenues fell 8.3% YoY to $13.48 billion. The sales trailed analysts' consensus estimate of $15.23 billion.
Services were a somewhat bright spot in Apple's earnings. The company's Services revenues rose 6.4% YoY to $20.77 billion which was slightly ahead of what markets expected.
AAPL's installed base crossed 2 billion
During the earnings call, Apple said that its installed base of devices has crossed 2 billion. The company's installed base of devices has increased by 150 million over the last year and has doubled over the last seven years.
Also, it has 935 million paid subscriptions across devices and has added 150 million of these in the last fiscal year.
Apple's adjusted EPS meanwhile came in at $1.88. It fell 10.9% YoY and trailed analysts' estimate of $1.94. The company's gross margin came in at almost 43% which was almost in line with estimates.
Apple expects sales to fall in the March quarter also
Since 2020, Apple has stopped providing quantitative revenue guidance but provides some colour. In the fiscal second quarter of 2023, Apple expects revenues to fall by a similar quantum as in the previous quarter. The guidance was short of estimates and analysts were expecting the company's sales to rise slightly.
Meanwhile, Apple's gross profit margin guidance of between 43.5%-44.5% impressed markets. Like fellow tech companies, Apple is also tightening its belt and lowering its cost base.
Cook does not rule out layoffs
So far, the company hasn't announced mass layoffs like other FAANG peers. In an interview, Cook said, "I view layoffs as a last-resort kind of thing." He however added, "You can never say never. We want to manage costs in other ways to the degree that we can."
The company is meanwhile slowing the pace of hiring. Cook said, "We're also recognizing the environment that we're in is tough. And so we're cutting costs. We're cutting hiring, we're being very prudent and deliberate on people that we hire."
Apple was the best-performing FAANG share of 2022 even as it underperformed the S&P 500. The shares are meanwhile under pressure even as names like Meta Platforms and Netflix, which were the bottom two FAANGs of 2022, have rebounded smartly.