All the five FAANG constituents have reported their quarterly earnings. Here are the key takeaways from the earnings and the key hits and misses.
Netflix was the FAANG company to report its earnings. While expectations were quite modest heading into the earnings considering the crash post the Q1 2022 and Q4 2021 earnings, the streaming giant posted a respectable set of numbers.
Netflix reported an 8.6% YoY increase in Q2 revenues and the metric came in at $7.97 billion, which was below the $8.03 billion that analysts were expecting. The adjusted EPS came in at $3.20 which was ahead of the $2.97 that analysts were expecting.
Netflix was the first FAANG to report Q2 earnings
Netflix lost less than 1 million subscribers in the second quarter which was below the 2 million that it had forecast during the previous earnings call. It ended June with total global paying subscribers of 220.67 million. Meanwhile, it predicted a subscriber gain of 1 million in the current quarter which was below the 1.8 million that analysts were expecting.
Nonetheless, Netflix shares gained after the earnings release. It also announced that the ad-supported tier would be launched in early 2023. Netflix is the worst performing FAANG share of 2022 and despite the post-earnings spike, it continues to languish at the bottom.
Netflix is working on an ad-supported tier
It said, "We'll likely start in a handful of markets where advertising spend is significant. Like most of our new initiatives, our intention is to roll it out, listen and learn, and iterate quickly to improve the offering." It added, "So, our advertising business in a few years will likely look quite different than what it looks like on day one. Over time, our hope is to create a better-than-linear-TV advertisement model that's more seamless and relevant for consumers, and more effective for our advertising partners."
The company sees the crackdown on password sharing as another key driver and is working on two approaches in Latin America. It added, "Our goal is to find an easy-to-use paid sharing offering that we believe works for our members and our business that we can roll out in 2023. We're encouraged by our early learnings and ability to convert consumers to paid sharing in Latin America."
Alphabet was the second FAANG to report earnings
Alphabet was the second FAANG to report its revenues. It posted revenues of $69.5 billion in the quarter which were 13% higher YoY but missed analysts' estimates. While YouTube and cloud revenues fell short of estimates, Google search fared better than expected. There were concerns over the ad business given the outlook provided by Snap and Twitter. However, Alphabet sounded reasonably bullish on the outlook and the shares closed in the green despite sales miss.
Its EPS of $1.21 was also below the $1.28 that analysts were expecting. It did not provide guidance considering the economic headwinds. Among fellow FAANG shares, Apple has also not provided revenue guidance for two years. However, CFO Ruth Porat said, "Going forward, the very strong revenue performance last year continues to create tough comps that will weigh on year-on-year growth rates of advertising revenues for the remainder of the year."
Analysts were pleased with Alphabet's Q2 earnings
Wall Street analysts were mostly impressed with Alphabet's earnings. Evercore ISI's Mark Mahaney said, "Investments and innovations that the company has made around its core Ads business are paying off. … And valuation is highly attractive – 16X P/E (on GAAP EPS) – for a business likely to generate close to 20%ish EPS growth, mostly powered by revenue growth. The FCF Yield here is approx. 6%. So, what you have here is a very high-quality company that is off almost 30% YTD."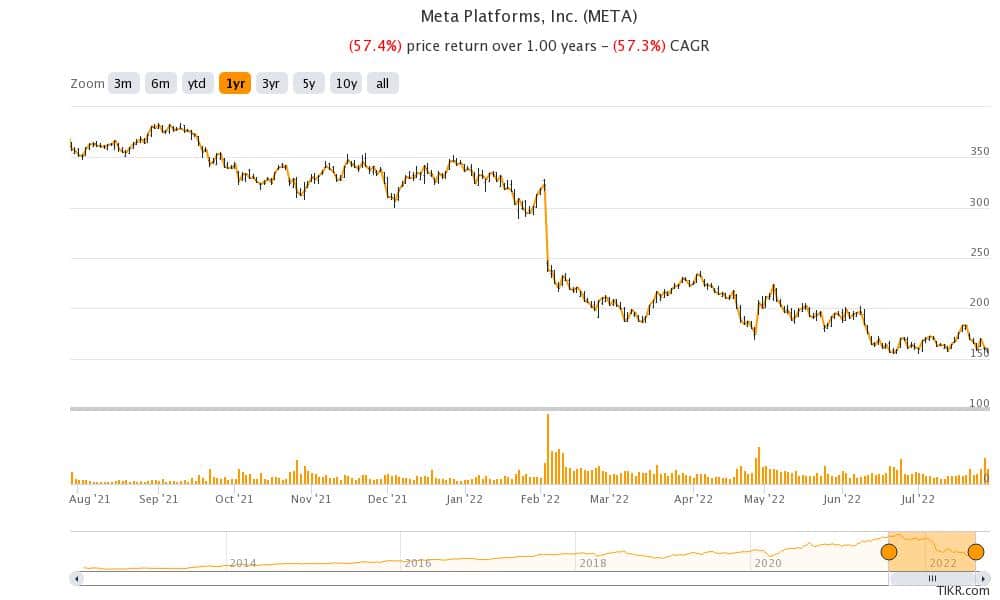 Meta Platforms was the only FAANG share to fall after the earnings release. It reported revenues of $28.82 billion in the quarter which was below $28.94 that analysts were expecting. It was the first time in the company's history when its revenues fell. Meta Platforms also missed bottomline estimates and its EPS of $2.46 was below the $2.59 that analysts were expecting.
Meta Platforms expects sales to fall in Q3 also
It expects to post revenues between $26-$28.5 billion in the third quarter which was below the $30.5 billion that analysts were expecting. The company has forecast a fall between 2-11% in its third-quarter earnings which would be its second straight quarter when its revenues would dip YoY.
The company blamed the "continuation of the weak advertising demand environment we experienced throughout the second quarter, which we believe is being driven by broader macroeconomic uncertainty."
Notably, Facebook's revenues have taken a hit after Apple, a fellow FAANG, revised its privacy policy. The company estimates $10 billion hit to its 2022 revenues due to the changes. Meta Platforms announced that it would go slow on hiring as growth rates have come down. Among other FAANG shares, Netflix and Amazon have laid off employees while Alphabet and Apple are going slow on hiring. Meta Platforms is the second worst performing FAANG of 2022.
Apple continues to be the best performing FAANG after earnings too
Apple was the best performing FAANG share before the earnings season and continues to hold the title after the earnings also. It reported revenues of $83 billion in the quarter which were 2% higher YoY and slightly ahead of estimates.  iPhone revenues rose 3% while Mac and iPad revenues fell 10% and 2% YoY respectively. Its services business reported a 12% rise in revenues.
Apple is facing supply chain issues
The company lost less than $4 billion in sales in the quarter due to supply chain issues which were below the range that it provided previously. It expects the negative impact from supply chain issues to be even lower in the current quarter.
Commenting on the guidance it said, "Overall, we believe our year-over-year revenue growth will accelerate during the September quarter compared to the June quarter despite approximately 600 basis points of negative year-over-year impact from foreign exchange."
Apple was the best performing FAANG share in 2019 and 2020 but lost the top slot to Alphabet last year. Like fellow FAANG companies, Apple also spends generously on share buybacks.
The company said that over the due course it intends to reach a cash-neutral position from the current net cash of $60 billion. Along with spending on dividends and buybacks, it might also look at strategic acquisitions.
Amazon's earnings stand out among FAANG peers
Among all the FAANG shares, Amazon's earnings stand out. Its revenues increased 7.2% as compared to the corresponding quarter last year and were slightly ahead of estimates. It was nonetheless the slowest growth in decades for the company. Amazon and Apple are the only two FAANG shares that reported better-than-expected revenues in the June quarter.
Amazon gave bullish guidance
The company forecast sales between $125-$130 billion for the current quarter while analysts were expecting it to be $126.4 billion. In the previous earnings call, the company talked about headwinds from rising inflation, overcapacity, and overstaffing. It managed to address some of the issues in the quarter,
Amazon's CEO Andy Jassy said, "Despite continued inflationary pressures in fuel, energy, and transportation costs, we're making progress on the more controllable costs we referenced last quarter, particularly improving the productivity of our fulfillment network."
Amazon shares gained over 10% after the earnings which is the highest among FAANG peers. The shares are still in the red this year, like other FAANGs but Wall Street analysts were quite impressed with the company's earnings and raised their target prices.
Disclaimer
All trading carries risk. Views expressed are those of the writers only. Past performance is no guarantee of future results. The opinions expressed in this Site do not constitute investment advice and independent financial advice should be sought where appropriate. This website is free for you to use but we may receive commission from the companies we feature on this site.