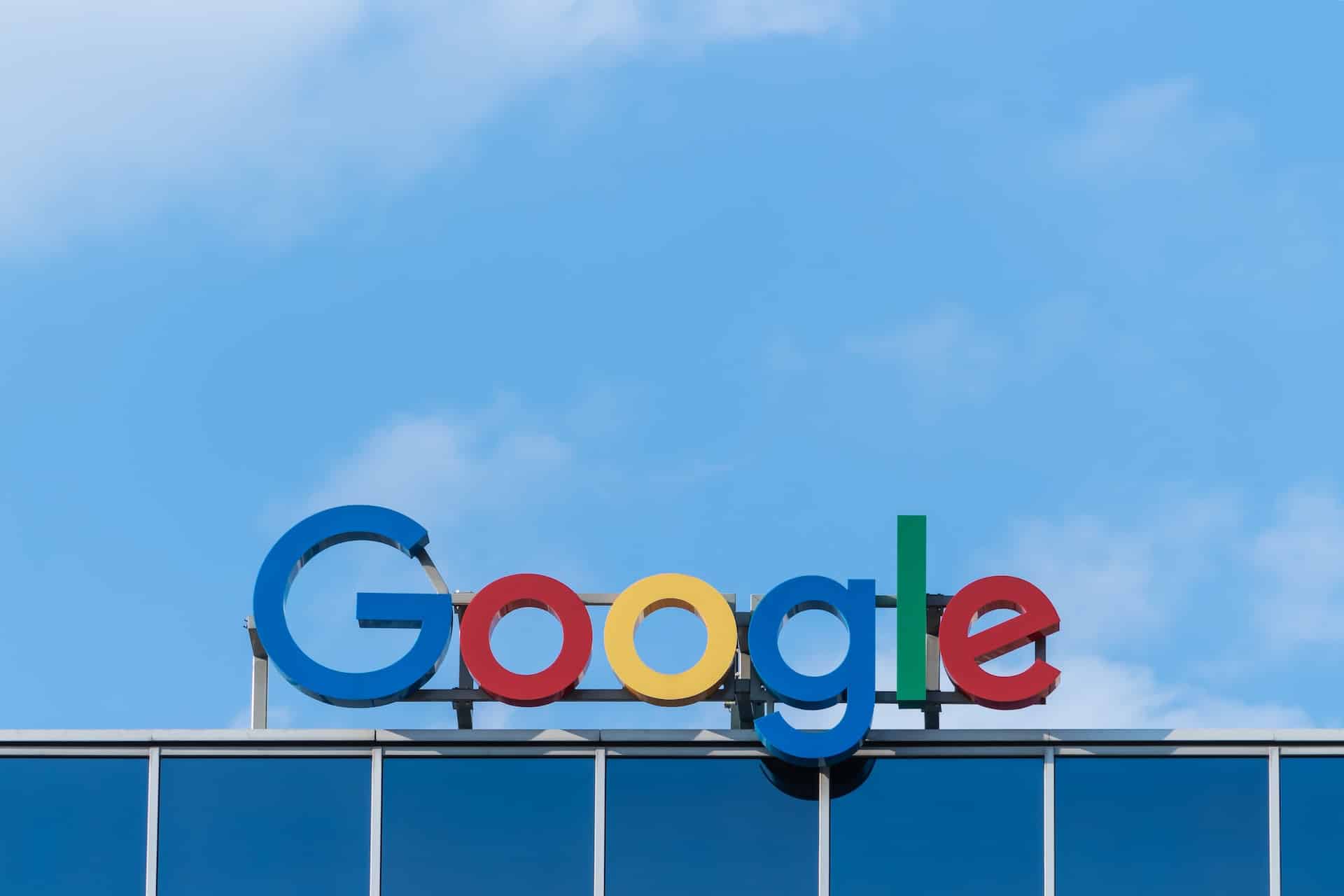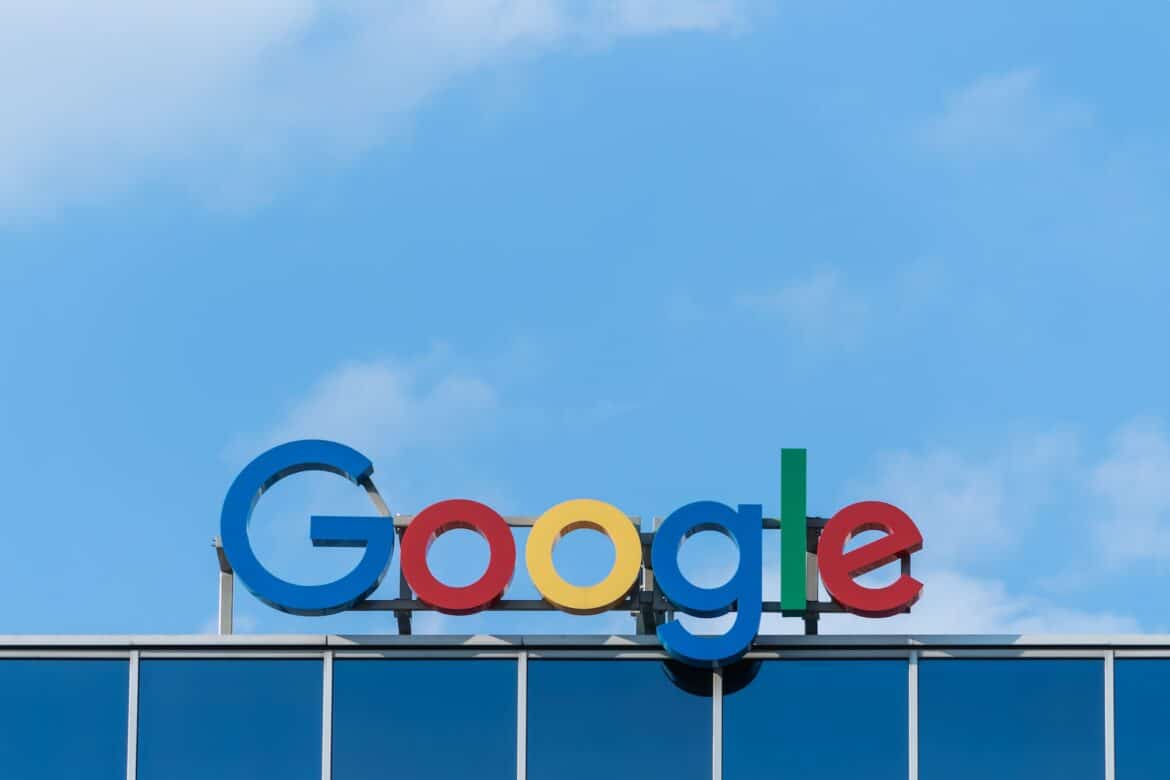 Alphabet (NYSE: GOOG) fell 4.4% yesterday and slumped to a new 52-week low. Several Big Tech companies including Meta Platforms, Amazon, and Microsoft have fallen to 52-week lows amid the tech meltdown.
Both Alphabet and Meta Platforms are battling with similar issues, which is the slowdown in global ad spending. Meta Platforms has especially been hit as its revenues fell 4% in the third quarter, which was the second consecutive quarter of revenue decline for the company. Meta Platforms is the worst-performing S&P 500 share this year.
Alphabet missed earnings estimates
Alphabet posted revenues of $69.09 billion in the third quarter which was below the $70.58 billion that analysts were expecting. Alphabet's advertising revenues increase merely 2.5% to $54.48 billion in the quarter. YouTube witnessed a contraction in revenues and the metric trailed analysts' estimates.
YouTube's performance has sagged
YouTube's performance has disappointed for the last many quarters. The platform faces stiff competition from TikTok. While YouTube has increased the focus on "Shorts" it has hit revenues.
Meanwhile, in its earnings call, Alphabet pointed out that Shorts has performed well and there are 30 billion daily views. The company would eventually look to better monetize shorts. It said, "we're focused on closing the monetization gap between Shorts and long-form content on YouTube over time."
Alphabet is bullish on the cloud business
The company's cloud revenues surged 38% YoY to $6.9 billion in the quarter. It was a lone bright spot in the earnings. Notably, while Amazon disappointed markets with its Q3 AWS revenues and Microsoft gave tepid guidance for the cloud business, Alphabet impressed markets with cloud performance.
Commenting on the cloud business, Ruth Porat, Alphabet's CFO said during the earnings call, "We are excited about the opportunity, given that businesses and governments are still in the early days of public cloud adoption, and we continue to invest accordingly."
Alphabet's adjusted EPS of $1.06 was below the $1.25 that analysts were expecting. The company announced that it would slow hiring in the fourth quarter. Sundar Pichai, Alphabet's CEO said during the earnings call, "Our actions to slow the pace of hiring will become more apparent in 2023."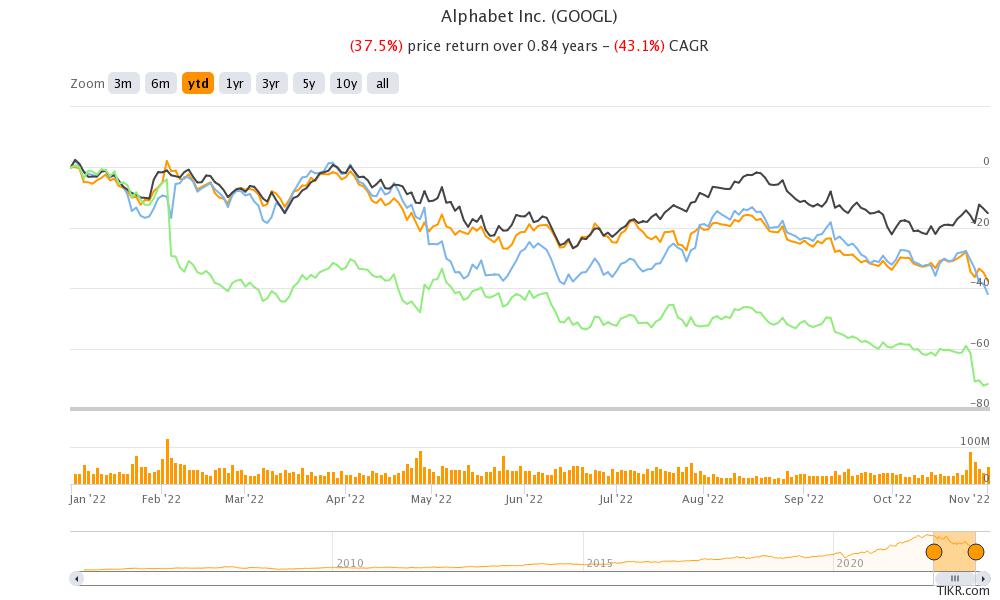 Analysts are apprehensive about Alphabet in the short term
After Alphabet's earnings release, several analysts downwardly revised their target prices. Citi analyst Ronald Josey lowered his target price from $140 to $120. He said, "To be clear, while the macro environment is likely to continue impacting the broader online advertising environment, we believe Alphabet can refocus around its core priorities of Search and AI, YouTube, Hardware, and Cloud as the organization works on improving efficiency."
Deutsche Bank lowered its target price
Deutsche Bank analyst Benjamin Black lowered Alphabet's earnings projections for the fourth quarter as well as 2023. However, some analysts see long-term opportunity in the shares. Goldman Sachs, for instance, maintained its buy rating and $135 target price on Alphabet.
It said, "While the macroeconomic conditions will likely impact the short-term narratives, we remain constructive on the opportunity for Search and YouTube in terms of compounded revenue growth – especially for the latter on the back of the opportunity for short form video and connected TV."
The economic slowdown is hurting tech companies
The macroeconomic headwinds are taking a toll on tech companies. Alphabet said that several industries including mortgages, insurance, and cryptocurrencies have pulled back on ad spending. The continued crypto winter has been a headwind for Alphabet as advertisers have cut back on spending.
Several companies as well as analysts have flagged inflation risks amid the Fed's rate hikes. FedEx is among the companies which have warned of a global recession.
Biden does not see a recession
Biden mocked economists who have been predicting a recession for months now. He said, "Every six months they say this. Every six months, they look down the next six months and say what's going to happen." He added, "It hadn't happened yet. It hadn't… I don't think there will be a recession. If it is, it'll be a very slight recession. That is, we'll move down slightly."
The US economy stalled in the first half of 2022 and the GDP fell in both quarters. However, the NBER (National Bureau of Economic Research) which calls out recessions in the US hasn't declared a recession yet. It usually declares recessions with a lag.
Meanwhile, all eyes would be on the Fed today. The US central bank is widely expected to raise rates by 75 basis points. However, markets would be more interested in the commentary on future rate hikes.
Alphabet shares are down 38%
Alphabet shares are down almost 38% in 2022. While it is underperforming the markets, it is still the second-best-performing FAANG share of 2022. Apple is the best-performing FAANG share of 2022 and it soared last week after impressive earnings for the September quarter.
While Meta Platforms, Amazon, Microsoft, and Alphabet cumulatively lost $350 billion in market cap last week and Meta had its worst week ever, Apple recorded its best day since 2020 on Friday after impressive earnings.
Apple is outperforming the markets in 2022 and many analysts see it as a safe bet amid the broader market turmoil.