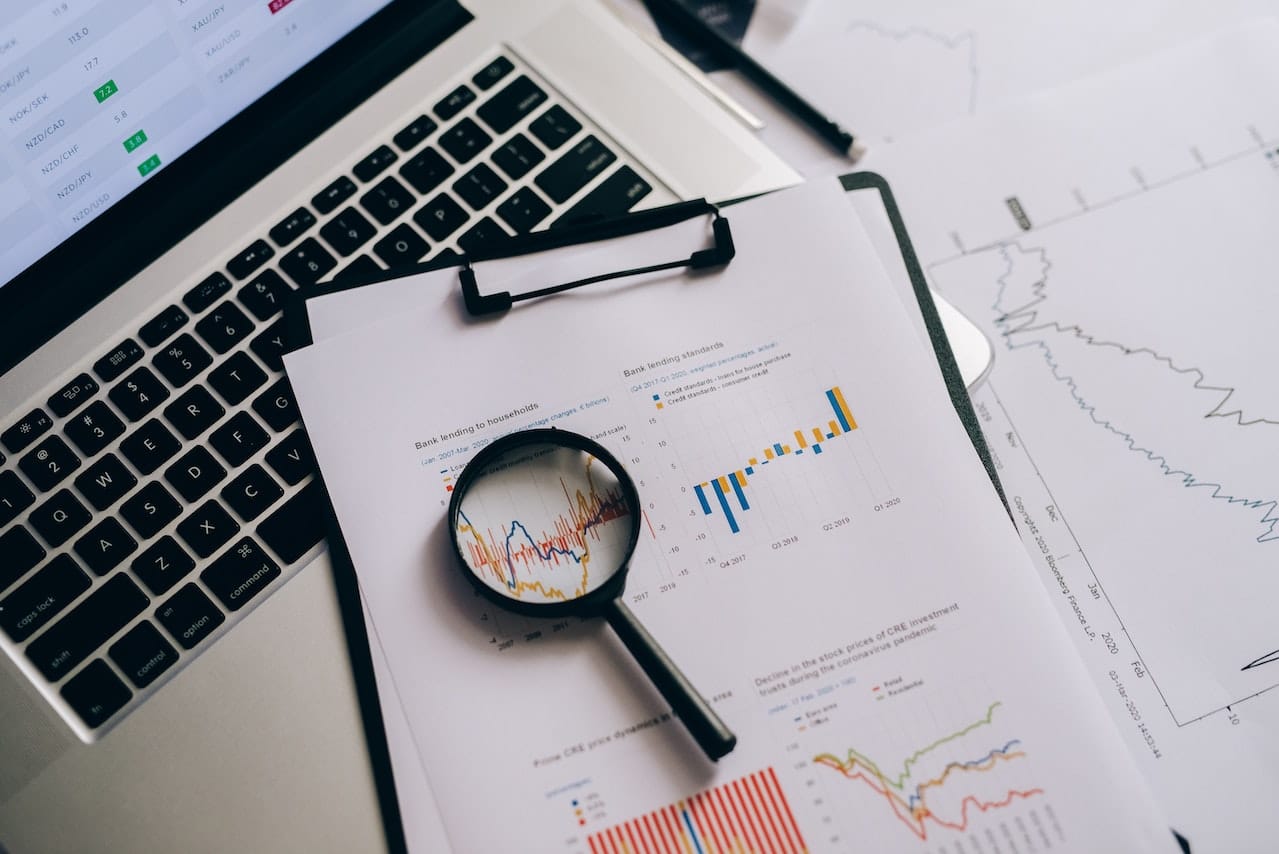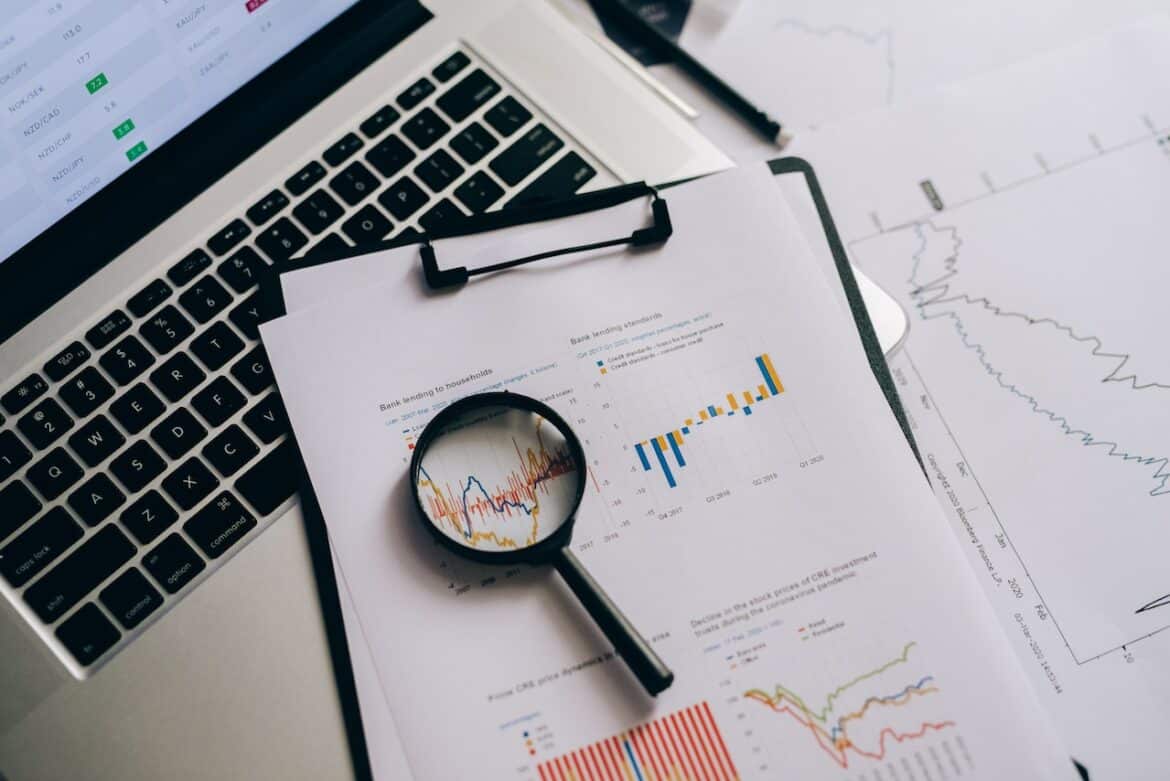 Big tech shares tumbled last week and Alphabet, Amazon, Meta Platforms, and Microsoft cumulatively lost $350 billion in market cap after they spooked markets with their earnings and outlook. Here are the key takeaways from these companies' earnings and a breakdown of how Wall Street reacted to them.
Meta Platforms was anyways the worst performing FAANG share before the earnings release. It continued its underperformance after the Q3 2022 earnings release as well and shares slumped after earnings missed estimates.
Meta Platforms led tech losses this week
Meta Platforms reported revenues of $27.71 billion in Q3 2022, a YoY fall of 4%. It was the second consecutive quarter when the social media giant reported a YoY fall in revenues. If that was not all, its net income fell by 50% to $4.39 billion.
Meta Platforms' CEO Mark Zuckerburg said, "While we face near-term challenges on revenue, the fundamentals are there for a return to stronger revenue growth. We're approaching 2023 with a focus on prioritization and efficiency that will help us navigate the current environment and emerge an even stronger company."
Meta Platforms slumped after earnings
Notably, many analysts are concerned over mounting losses at Meta Platforms' Reality Labs business which is building the metaverse. While some are calling upon the company to lower its investments towards the business, during the earnings call, Meta Platforms said that the losses at the segment would be "significantly" higher in 2023.
Zuckerburg tried to defend the investments into the metaverse. During the earnings call, he said, "I just think that there's a difference between something being experimental and not knowing how good it's going to end up being." He however added, "But I think a lot of the things that we're working on across the family of apps, we're quite confident that they're going to work and be good."
Analysts turn bearish on Meta Platforms shares
After Meta Platforms' earnings release, Edwards Jones downgraded the share from a buy to hold citing the increased investments into the metaverse. Incidentally, Meta Platforms had its worst week ever and the share is now trading at the lowest levels since 2016.
Alphabet also missed revenue estimates in the third quarter
Alphabet posted revenues of $69.09 billion in the third quarter which was below the $70.58 billion that analysts were expecting. The company's cloud revenues surged 38% YoY to $6.9 billion in the quarter. It was a lone bright spot in the earnings.
Commenting on the cloud business, Ruth Porat, Alphabet's CFO said during the earnings call, "We are excited about the opportunity, given that businesses and governments are still in the early days of public cloud adoption, and we continue to invest accordingly."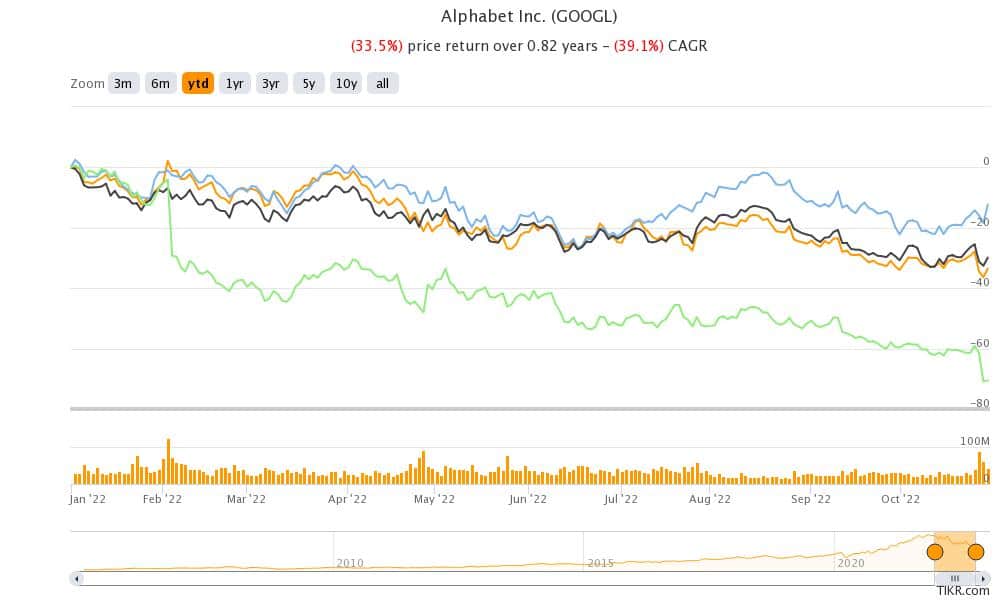 Alphabet posted worse-than-expected earnings
Meanwhile, Alphabet's advertising revenues increase merely 2.5% to $54.48 billion in the quarter. YouTube witnessed a contraction in revenues and the metric trailed analysts' estimates.
Alphabet's adjusted EPS of $1.06 was below the $1.25 that analysts were expecting. The company announced that it would slow hiring in the fourth quarter. Sundar Pichai, Alphabet's CEO said during the earnings call, "Our actions to slow the pace of hiring will become more apparent in 2023."
After Alphabet's earnings release, several analysts downwardly revised their target prices. Citi analyst Ronald Josey lowered his target price from $140 to $120. He said, "To be clear, while the macro environment is likely to continue impacting the broader online advertising environment, we believe Alphabet can refocus around its core priorities of Search and AI, YouTube, Hardware, and Cloud as the organization works on improving efficiency."
Analysts lowered Alphabet's target price
Deutsche Bank analyst Benjamin Black lowered Alphabet's earnings projections for the fourth quarter as well as 2023. However, some analysts see long-term opportunity in the shares. Goldman Sachs, for instance, maintained its buy rating and $135 target price on Alphabet.
It said, "While the macroeconomic conditions will likely impact the short-term narratives, we remain constructive on the opportunity for Search and YouTube in terms of compounded revenue growth – especially for the latter on the back of the opportunity for short form video and connected TV."
Microsoft posted better-than-expected earnings
Microsoft posted better-than-expected earnings in the September quarter. The company's revenues increased 11% YoY to $50.1 billion, which was higher than the $49.61 billion that analysts were expecting. Its EPS of $2.35 was also ahead of the $2.30 that analysts were expecting.
However, markets were disappointed with the performance and guidance of Alphabet's cloud business. The shares crashed after the earnings release.
Analysts remain bullish on Microsoft
Most Wall Street analysts though continue to remain bullish on Microsoft after the earnings. Goldman Sachs analyst Kash Rangan said, "While we revise down our FY23 estimates (to reflect headwinds in MPC revenue, Azure), we note that a majority of this stepdown pertains to cyclical parts of the business that do not cater to the strategic vision of the company and our long-term thesis."
The brokerage maintained its buy rating on Microsoft but lowered the target price by $15 to $315. Credit Suisse maintained its buy rating and $365 target price on Microsoft.
Amazon spooked markets with its earnings
Amazon also spooked markets with its Q3 earnings as its revenues of $127.10 billion came short of the $127.46 billion analysts expected. AWS sales growth also lagged estimates while the company's operating income almost halved YoY to $2.5 billion.
Amazon's CEO Andy Jassy said during the earnings call, "There is obviously a lot happening in the macroeconomic environment, and we'll balance our investments to be more streamlined without compromising our key long-term, strategic bets."
The company also alluded to a weak holiday shopping season in the US. CFO Brian Olsavsky said, "we're realistic that there's various factors weighing on people's wallets, and we're not quite sure how strong holiday spending will be versus last year. And we're ready for a variety of outcomes."
Amazon guided for a YoY sales growth between 2-8% in the fourth quarter, which was below what Wall Street was expecting.
How did Wall Street react to Amazon's earnings?
While several analysts slashed Amazon's target price after the earnings release, they maintained their buy rating. Goldman Sachs analyst Eric Sheridan said, "Based on our work, we remain convinced in a multi-year operating income margin expansion story for Amazon on the back of improved eCommerce margins, less International losses & higher profit margin mix contribution from AWS and advertising." He however cut the target price by $10 to $165.
Morgan Stanley's Brian Nowak also lowered his target price to $140 per share. He said, "AMZN is seeing the consumer/enterprise slowdown more than thought, leading to lower rev and a flatter slope of volume-based efficiencies."
Nowak however added, "But we think AMZN is positioned to take share through a downturn, see forward investment levels low, and the potential for cost rationalization."
Apple is the best-performing FAANG share of 2022
Apple shares rose after the earnings last week as the iPhone maker reported better-than-expected earnings in the September quarter. Wall Street analysts were also impressed with the earnings.
Apple is the best-performing FAANG share of 2022 and many analysts see it as a safe bet amid the broader market turmoil.