Moderna is a US-based pharmaceutical company that specialises in biotechnology. Its main focus is on the development of vaccines – including that of COV-19.
Much like many other pharmaceutical companies that claim to be inching closer to a COV-19 vaccine, Moderna shares are booming in 2020. Although the stocks are listed in the US, making a purchase from the UK can be completed in less than 10 minutes when using the right broker.
In this guide, we'll walk you through the process of how to buy Moderna shares online in the UK. On top of exploring the best UK share dealing sites to do this with, we'll also run you through some background information on Moderna as a company.


Moderna is an American company that is publicly-listed on the NASDAQ. There are hundreds of UK-based brokers that give you unfettered access to this stock exchange, which is great.
However, you then need to consider other factors associated with your chosen platform – such as how much it charges to buy US-based shares and what payment methods are supported. And of course – your chosen broker needs to hold a license with the FCA.
To point you in the right direction, below you will find a small selection of stock brokers that allow you to buy Moderna shares online in the UK.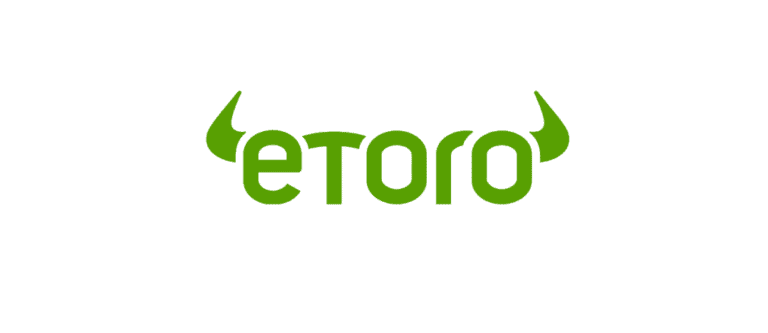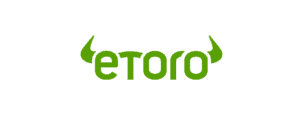 eToro has grown to exponential heights since it first launched in 2007. Today, the platform is home to over 13 million active traders – many of which are UK-based. This online broker is simple to use and getting money into and out of your trading account takes seconds. Before we get to that, it is crucial to note that eToro is a 100% commission-free broker.
Not only does this mean that you will avoid paying any share dealing fees – but there is no monthly/annual charge, either. In terms of supported markets – eToro offers 17 stock markets for you to choose from. Across over 1,700+ equities, this includes the NASDAQ. As a result, you can easily buy Moderna shares online from the UK. The minimum investment amount is $50 (about £40) – meaning that you don't even need to buy a full share.
For example, Moderna stocks are currently priced over $72 each – so you have the chance to own a 'fraction' of a share if you want to start off with low stakes. Outside of its stock department – eToro also offers traditional ETFs and even cryptocurrencies. It also offers CFDs which is great for those of you that wish to trade on a short-term basis. The eToro Copy Trading feature is also worth a look – as this allows you to invest passively. This is because you can mirror the portfolio of an experienced investor.
eToro gives you the option of buying and selling shares online or via your mobile phone. If opting for the latter, this includes a native investment app for iOS and Android devices. If you want to buy Moderna shares right now, opening an account at eToro takes just a couple of minutes. You can fund your account with a UK debit/credit card, e-wallet, or bank account – ensuring that you meet a $200 (about £160) minimum. eToro is licensed by the FCA, ASIC, and CySEC – and partnered with the FSCS.
Pros:
User-friendly online stock broker
Buy shares without paying any commission or share dealing charges
800+ shares listed on UK and international markets
Buy shares or trade CFDs
Social and copy trading tools
Accepts PayPal
Mobile trading app
Holds an FCA licence
Cons:
Not suitable for advanced traders that like to perform technical analysis
67% of retail investor accounts lose money when trading CFDs with this provider.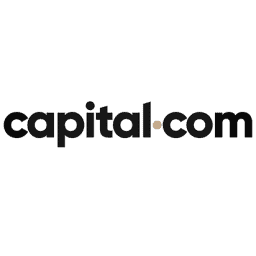 This UK trading platform is perfectly suited for those of you that seek a bit more flexibility in the way you invest. This is because Capital.com is a CFD specialist – meaning that you can apply leverage and even engage in short-selling. Regarding the former, the platform allows you to trade Moderna share CFDs by putting up a 'margin' of just 20%.
In simple terms, this means that a £100 trade would require an account balance of just £20. This is great for applying your trading capital or targetting small margins. When it comes to market orders – Capital.com gives you the option of a 'buy' or 'sell' position. The former means that you predict the price of Moderna shares will increase, while the latter means that you think the opposite will happen.
This is ideal if you are of the opinion that Moderna as a company is overvalued. Capital.com also makes our list because of its status as a low-cost trading platform. It offers really tight spreads and best of all – you will pay no commissions whatsoever. In the case of its spread on Moderna stock CFDs – this currently stands at just $0.17. Although stock CFD trading is best suited for those of you that have a little bit of experience in the space – Capital.com aims to bring the phenomenon to newbies.
This is evident in the fact that it offers heaps of educational materials – including a mobile app dedicated to learning. The platform also allows you to deposit just £20 when you fund your account with a debit/credit card or e-wallet. Additionally, you can even use Capital.com to trade via a risk-free demo account. This allows you to get to grips with short-term CFD trading before risking your own capital. This trusted trading platform is fully regulated – including a license with the FCA.
Pros:
Trading on hundreds of US and UK shares
Educational app for new traders
AI assistant identifies your weak points
Trade ideas generated daily
Excellent charting and analysis interface
100% commission free trading
Cons:
Cannot build custom trading strategies
75.26% of retail investor accounts lose money when trading CFDs with this provider.
Step 2: Research Moderna Shares
Moderna shares have performed very well in 2020, largely because of its progress with a potential COV-19 vaccine. However, the biotechnology company isn't the only firm active in the race to find a treatment – meaning that you need to consider the risks of making an investment.
In other words, if Moderna is unable to bring its vaccine to the wider markets – the value of your investment is likely to suffer greatly. With this in mind, you need to perform some broader research on the company before proceeding with a share purchase.
Below you will find some important considerations that you need to make to help clear the mist.
What is Moderna?
Launched as recently as 2010 – Moderna is a US-based biotechnology company that focuses on a specific niche on vaccine development. This is based on inserting mRNA into human cells with the view of developing immunity to a specific virus. Although the company went public in late 2018 – you might not have heard of it until recently.
This is because Moderna is one of many companies that is actively looking to develop a vaccine for COV-19. In fact, the firm was one of the first to begin trials. As of late July, Moderna entered phase three of its clinical trial process – which is evident in the speed in which its shares have increased over the past 10 months.
Moderna Share Price History
Moderna made the transition from a start-up to a fully-fledged PLC in just 8 years. It held its respective IPO in December 2018 – opting for the NASDAQ. The firm priced its shares at $23 each – which gave it an initial valuation of approximately $7.5 billion. This made it the most successful IPO for a biotechnology company in terms of the amount raised.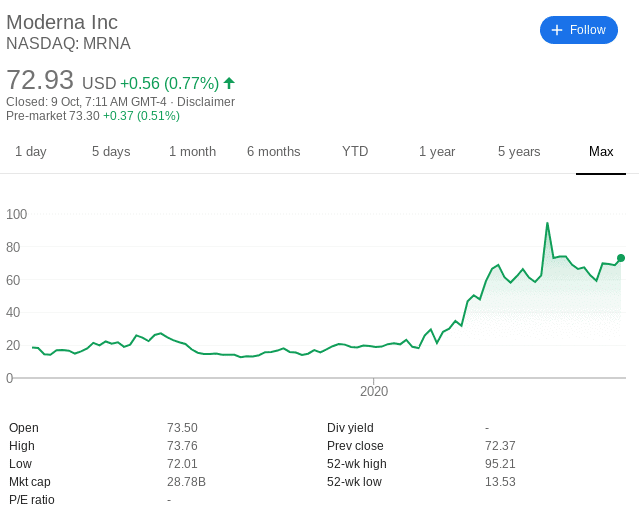 Fast forward to October 2020 and Moderna carries a market valuation of over $28 billion.  It is important to note that it hasn't been all plain sailing for Moderna – as its share price remained somewhat flat until March 2020. This is, of course, when the firm announced that it was working on a vaccine for COV-19.
Since then, the shares have been on a strong upward trajectory. In fact, they hit highs of $95 in July – representing a YTD increase of almost 400%. At the time of writing, Moderna shares have tailed off slightly to $73, albeit, this still translates to 2020 gains over 280%.
Moderna Shares Dividend Information
If you are looking to add some dividend stocks to your investment portfolio – Moderna won't be for. To date, it has never paid a dividend does not plan to do so for the foreseeable future. After all, not only is Moderna is still a young company – but it is investing most of its incoming cash flows into research and development.
Check out our page on the best dividend stocks of 2020 if you're looking to invest in some income-generating companies.
Should I Buy Moderna Shares?
Make no mistake about it – investing in Moderna shares in this current economic climate is a high-risk gamble. This is because investor appetite is primarily focused on a vaccine for COV-19. Sure, the firm was one fo the first pharmaceutical entitles to begin clinal trials – which is a great sign.
However, there are dozens of other companies out there that also claim to be inching closer to a potential treatment. As such, if Moderna is not the one to reach this feat – it is all-but-certain that its share will move in the opposite direction. In fact, this is likely to be the case the very moment the markets get whim of a potential delay or regularly stumbling block.
Here's what you need to know before you buy Moderna shares.
Everything Lies on its Phase 3 Results
As noted above, investors have been pumping money into Moderna shares because of its progress with its COV-19 vaccine trials. As it stands, the firm is now in the crucial stage of phase 3. We won't know how the trial will pan out until Moderna publishes its results – which is imminent.
What we do know is that the FDA has already put a temporary hold on other clinical trials owing to concerns about safety. In particular, this includes biotechnology counterpart Inovio, as well as pharma-giant AstraZeneca.
Consistent Losses and a Major Drop in Revenue 
Putting the ongoing COV-19 clinical trials to one side momentarily, it is important to make reference to Moderna's financials – which do anything but paint a good picture. For example, the firm has lost more than $200 million in each of its prior four quarters. This is monumental when you consider the firm's market capitalisation.
Sure, Moderna is currently worth $7.5 billion, but it was valued at just a fraction of this figure this time last year. Additionally, stockholder should also be concerned about the sheer size of its revenue decline.
For example, while Moderna reported sales of $135 million in 2018, this figure stood at just $60 million in the following year. This represents a decline of 55%.
Step 3: Open an Account and Deposit Funds
If you want to proceed with an investment into Moderna today, you will now need to open an account with a broker gives you access to the NASDAQ. We are going to walk you through the process with your top-rated platform eToro – as the broker allows you to buy Moderna shares commission-free.
#You will also be able to deposit funds instantly with a debit/credit card or e-wallet – resulting in an end-to-end purchase that should take you no more than 10 minutes.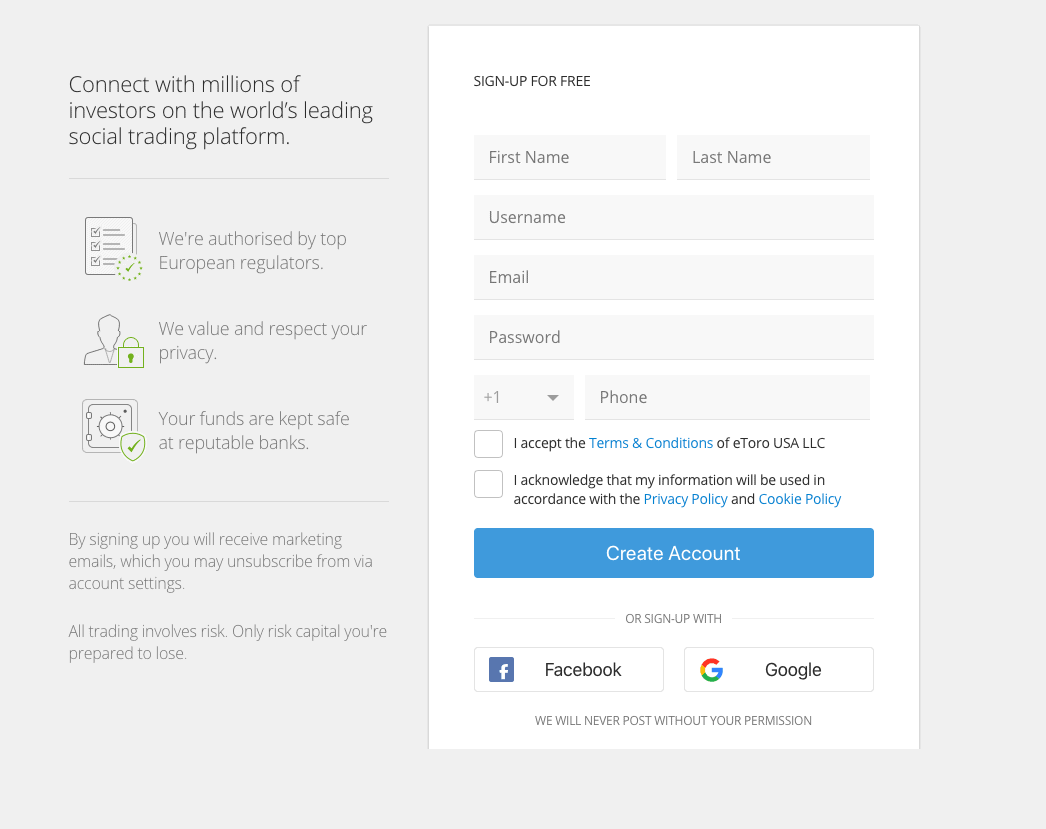 To get the process started, visit the eToro website and open an account. You will need to enter a range of personal information  – such as your:
Full name
Nationality
Date of birth
Home address
National insurance number
Contact details
Username and password
Upon going through the registration process, eToro will then ask you to verify your identity. You can do this in minutes by quickly uploading a copy of your passport or driver's license. Additionally, you'll also need to upload a copy of a recently issued utility bill or bank account statement.
Note: You can upload the above documents at a later date if you do not plan on depositing more than $2,250 right now. 
You will now be asked to make a deposit – which needs to be at a sum of at least $200 (about £160).
Supported payment methods include:
Debit cards
Credit cards
Bank transfer
Skrill
Paypal
Neteller
Note: All of the above payment methods are credited instantly – apart from a bank transfer. 
Step 4: Trade or Buy Moderna Shares
As soon as you have added funds to your account you can buy Moderna shares at the click of a few buttons. Firstly, enter 'Moderna' into the search box and click on the result that loads up – like the below.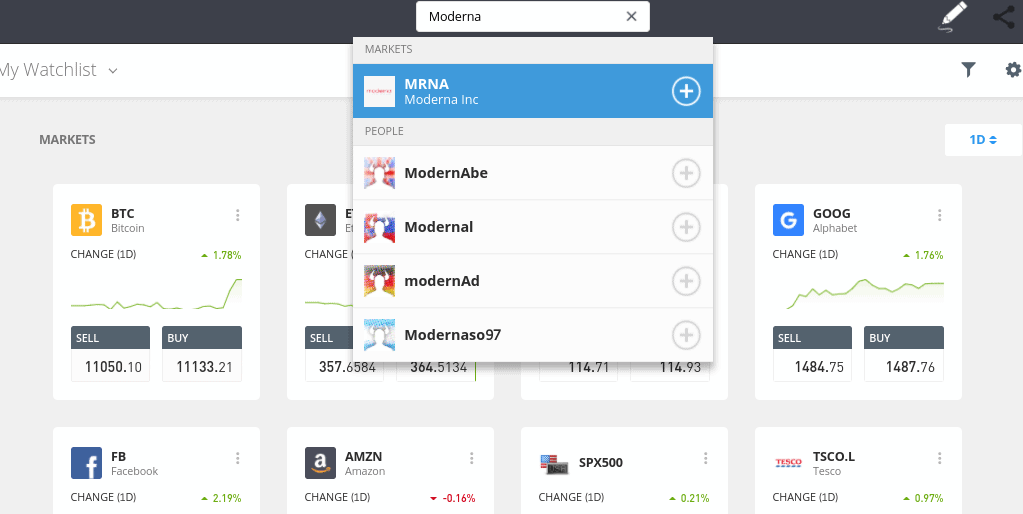 Then, click on the 'Trade' button.

Finally, enter the amount that you wish to invest in US dollars ($50 minimum). By clicking on the 'Open Trade' button, your Moderna share investment will be executed instantly.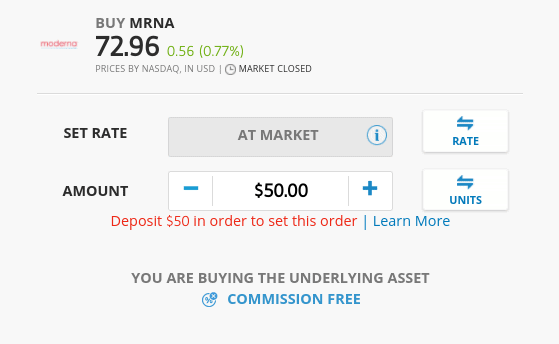 Note: If the button at the bottom of the order box says 'Set Order' – this means that the NASDAQ exchange is closed. You can still place the order, it's just that it won't be executed until the markets reopen. 
Moderna Shares Buy or Sell?
Buying Moderna shares is somewhat of a gamble – as much of your ability to make money is dependent on the firm's phase 3 vaccine trials for COV-19. Crucially, this means that both the upside and downside potential is huge. Scenario 1 is that the results of phase 3 are positive – and the share price of Moderna follows suit. Scenario 2 is that the results were not as expected – or a regulatory hurdle comes into play. If this is the case, then expect the shares to drop – and quickly.
The Verdict?
Moderna shares offer a high-risk/high-return proportion. With this in mind, you are best to keep your stakes to a minimum. You can invest from just $50 when using our top-rate broker eToro – which is about £40. In addition to this, the platform offers several other pharmaceutical stocks that are also working on a COV-19 vaccine. This at the very least allows you to diversify. FCA-licensed eToro also offers a 100% commission-free pricing model – so you won't get penalised for investing smaller amounts.
Simply click the link below to get started!
eToro – Buy Moderna Shares With Zero Commission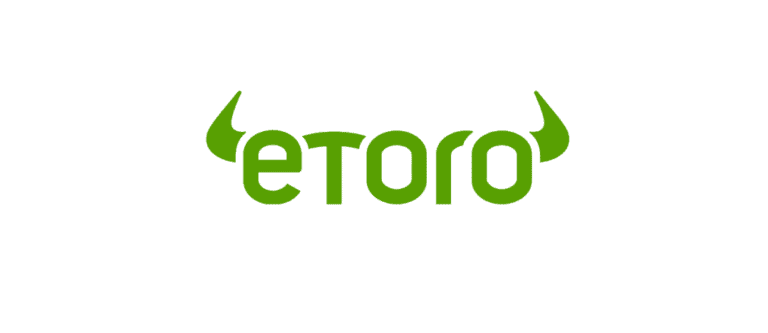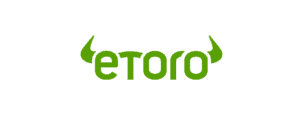 67% of retail investor accounts lose money when trading CFDs with this provider.
Other Vaccine Shares
Interested in investing in other pharmaceutical companies that are involved in developing a coronavirus vaccine? Check out the list below.
FAQs
What stock exchange are Moderna shares listed on?
Do Moderna shares pay dividends?
How close is Moderna to a COV-19 vaccine?
How do you buy shares in Moderna in the UK?