Best Cyclical Stocks UK – Invest with 0% Commission
Fact Checked
Everything you read on our site is provided by expert writers who have many years of experience in the financial markets and have written for other top financial publications. Every piece of information here is fact-checked.
Disclosure
Please note that we are not authorised to provide any investment advice. The information on this page should be construed for information purposes only. We may earn commissions from the products mentioned on this site.
With vaccination programs well underway in the UK and around the world, optimism for a strong, post-pandemic, economic recovery is growing. Cyclical stocks have begun to outperform the broader stock market in anticipation of the pandemic drawing to an end.
So what are cyclical stocks and why are they outperforming now? In this post, we define cyclical stocks and list the 10 best UK cyclical stocks to buy right now.
Best Cyclical Stocks UK 2021 List
This list of Cyclical stocks UK includes some of the stocks best positioned to perform well as the pandemic ends and the economy begins to recover.
Barclays – The Top Cyclical UK Stock for 2021 – Invest now
ITV – Looking for Ad Spend to Rebound – Invest now
Marks & Spencer Group – Still 30% Below Pre-pandemic Levels – Invest now
Whitbread – Positioned For an Extended Recovery
Travis Perkins – 30% Below Pre-Pandemic Levels
Rio Tinto – Geared to a Global Recovery
BP – 72% below 2019 Prices
Cineworld – A Speculative Cyclical Pick
Barratt Developments – best low priced cyclical stock
EasyJet – Highly Geared to the Economy
Best Cyclical Stocks UK Reviewed
Cyclical stocks can be found in several sectors. Some are high-quality companies and others are more speculative. The safest stocks are those that have a high probability of recovering after the pandemic. The more speculative cyclical stocks for 2021 may outperform but obviously come with greater risk. Below we review a range of stocks from different sectors, with differing levels of risk.
1. Barclays Plc – The Top Cyclical UK Stock for 2021
There are three potential catalysts that could lead to outperformance for Barclays Plc (BARC.L) as well as other UK banks in the next year, and beyond. UK banks have struggled in the uncertain environment while the UK's Brexit deal has been negotiated. Now that the deal has been finalized, they should benefit from increased deal flow as companies once again have the confidence to invest.
Secondly, global banking stocks are showing signs of life after nearly a decade of underperformance. This is happening in anticipation of higher economic growth and forecasts for higher interest rates.
And then of course, as the pandemic comes to an end, consumer confidence will rise which should lead to increased spending and borrowing.
2. ITV – Looking for Ad Spend to Rebound
British broadcaster ITV Plc (ITV.L) has been under pressure since 2016 due to uncertainty over Brexit negotiations. At the end of 2019, it seemed a recovery was on the horizon, and then the pandemic struck. The media industry continued to operate during the pandemic, but many of their advertisers couldn't. This means there was little point in advertising products and services that couldn't be sold. As a result, ITV's revenues immediately fell 40% and the stock price fell as much as 60%.
ITV shares are still 25% off itheir2019 highs and should reach the previous highs if business normalizes. With increased post-Brexit confidence, a longer-term recovery may also be on the cards.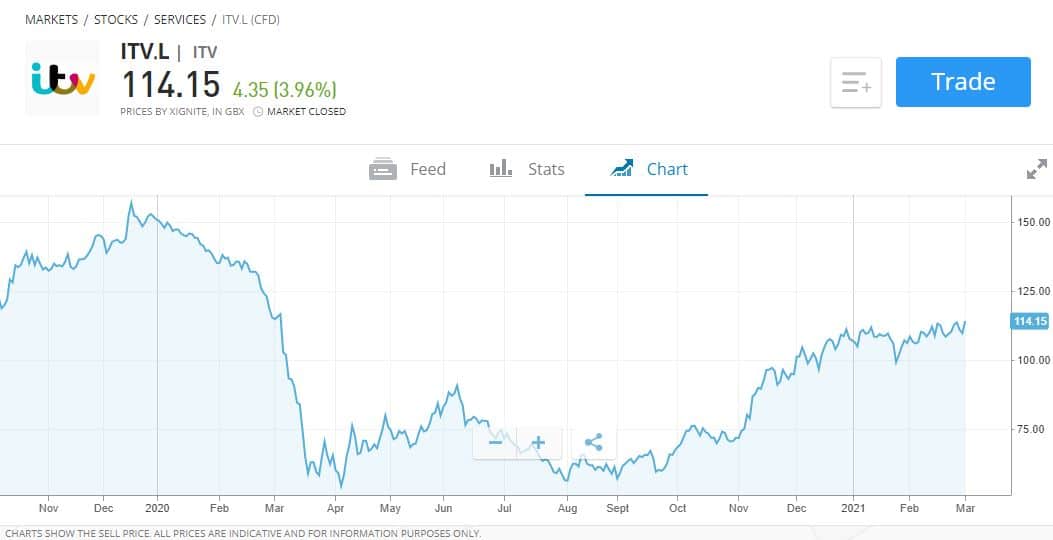 3. Marks & Spencer Group Plc — Still 30% Below Pre-pandemic Levels
A large number of Marks and Spencer's (MKS.L) customers are over 60, which meant the company's in-store sales were particularly hard hit by the pandemic. The decline in in-store sales was partially offset by growth in online sales, but revenue still fell 25%.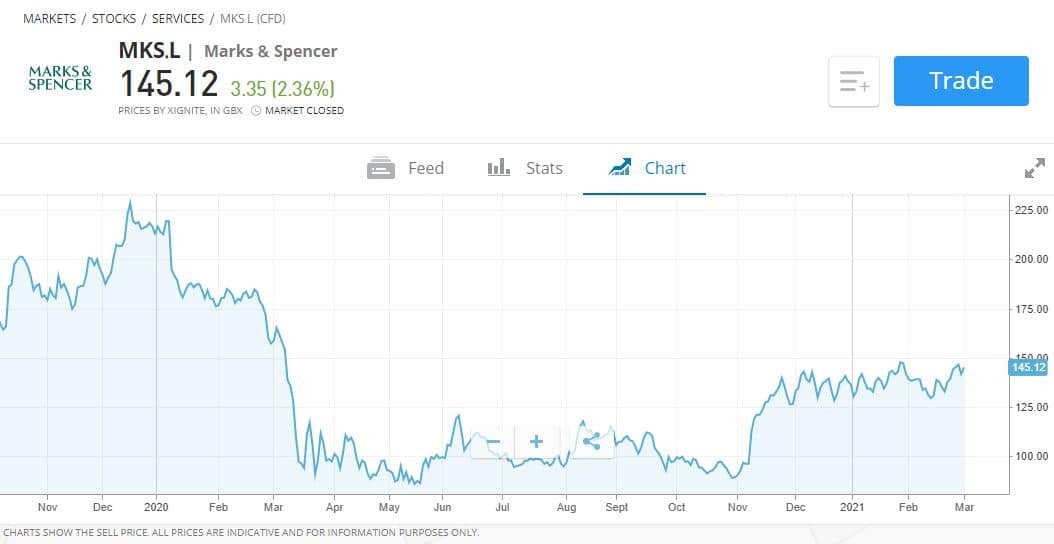 Marks and Spencer is a company that has been struggling over the long term and may not be a long-term hold. However, this is one company that should recover quite quickly. The vaccination program in the UK is well underway, and seniors are at the front of the queue. Although the stock price is well off its 2020 low, it would need to gain another 30% to reach pre-pandemic levels. An economic rebound would likely result in a larger recovery too.
4. Whitbread Plc — Positioned For an Extended Recovery
Whitbread PLC (WTB.L) operates hotels under the Premier Inn brand, as well as several pub and restaurant chains. The stock performed very well between 2009 and 2015, rising more than 300%. It then retreated after growth began to slow and the CEO resigned. After a three-year slump which was also affected by the Brexit referendum, revenue and the share price began to recover. This recovery was stopped in its tracks by stay-at-home orders in March 2020.
Whitbread immediately experienced a massive 75% drop in revenue. As lockdown restrictions fall away, one of the first things consumers will do is travel and eat out. This company should see a rapid recovery in sales, and the stock price will need to gain 25% to reach its 2019 high. This is a company that will also provide good exposure to an extended economic recovery.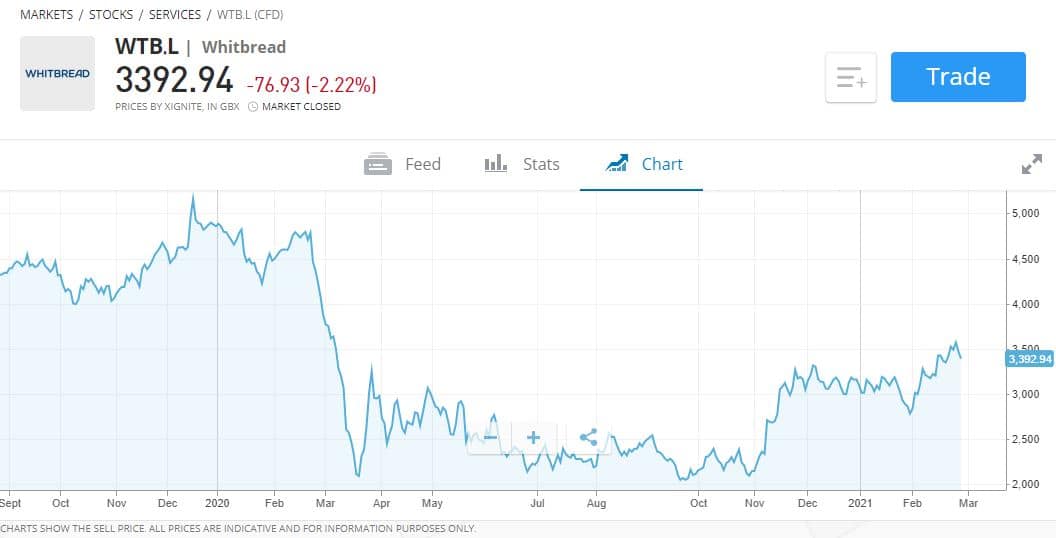 5. Travis Perkins — 30% Below Pre-Pandemic Levels
Builders merchants like Travis Perkins (TPK.L) have performed very well during the last two major growth phases. When consumer confidence and employment rise, consumers renovate and improve their homes, or build new homes. Travis Perkins shares actually did better than expected last year, as many people who could afford to improve their homes did. Nevertheless, the company's revenues did decline and the share price fell as much as 62%.
With renewed post-Brexit and post-pandemic confidence, companies associated with the building industry should see trading conditions continue to improve. This is the type of stock that could do especially well if there is a prolonged economic expansion.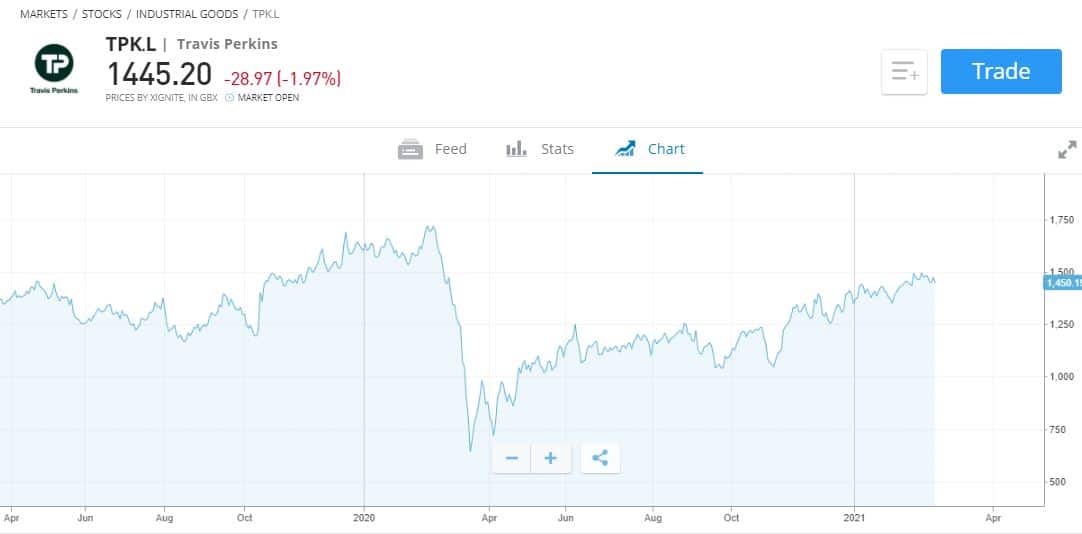 6. Rio Tinto — Geared to a Global Recovery
Rio Tinto (RIO.L) is one of the largest commodity producers in the world. The company mines and distributes aluminum, iron ore, copper, and other minerals and metals. The prices of these commodities are all closely tied to the state of the global economy and to inflation.
The commodity market has been in a bit of a slump over the last decade, but prices are rising rapidly in anticipation of inflation and growing economies. Rio Tinto's price recently broke its all-time high which was set in May 2008 and the company reported a solid set of results in February. One of the strengths of this stock is that it is linked to the global economy and not just one region.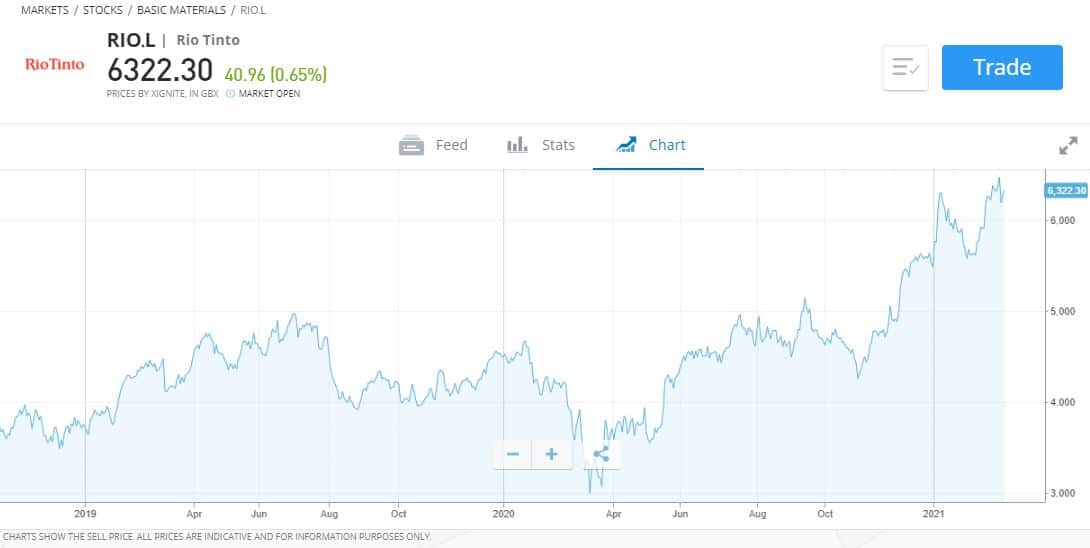 7. BP — 72% below 2019 Prices
Oil producers have also had a tough time over the last decade. The situation reached a low point in April last year when oil futures fell below zero as traders ran out of storage facilities. The oil price has already recovered to pre-pandemic levels in anticipation of increased demand later this year. There may be some volatility as supply chains normalize, but growing economies should lead to growing demand.
BP operates throughout the supply chain, so its earnings depend more on volumes than the oil price. BP stock is already up 45% from its lows but would need to gain another 72% to reach pre-pandemic levels. Learn more about investing in oil and oil stocks here.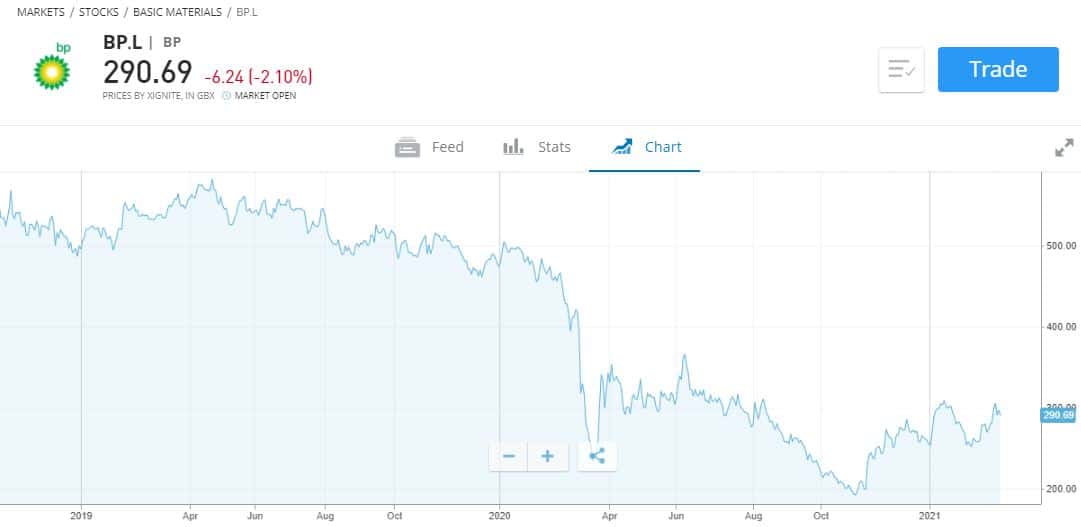 8. Cineworld Group — A Speculative Cyclical Pick
The reopening of cinemas in May will be one of the last of the UK's lockdown restrictions to be lifted. Moviegoers are expected to flock to cinemas then, giving Cineworld a much-needed revenue boost. Cineworld (CINE.L) was especially hard hit by lockdowns and social distancing rules. In fact, the company very nearly went out of business but received a lifeline in the form of a $450 million loan in November.
The company, which owns Regal Cinemas, is not completely out of the woods yet as it is now saddled with large debts. But a lot of bad news is already in the stock price which remains 45% off pre-pandemic levels. The stock should perform well in the first few months of the reopening but will need to be watched carefully after that.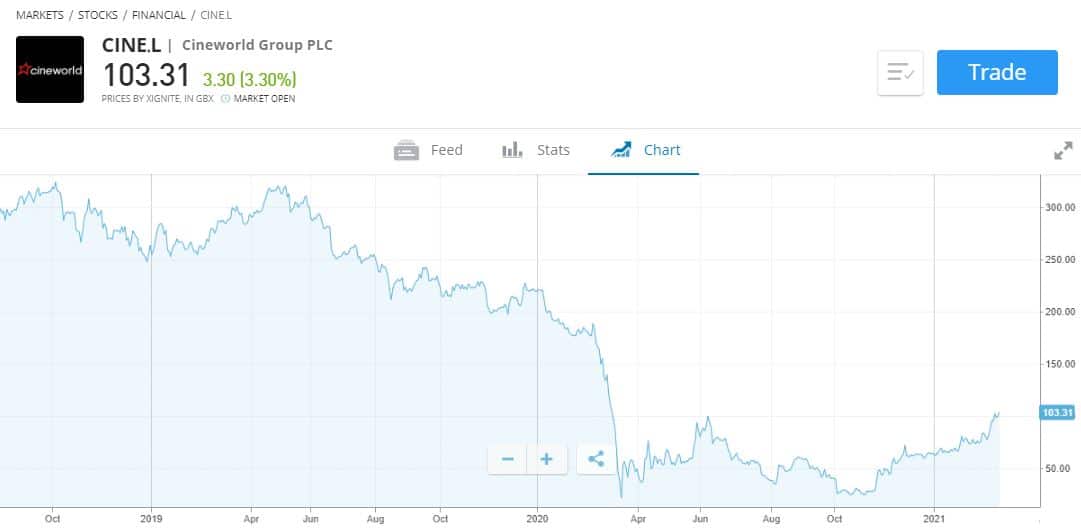 9. Barratt Developments – best low priced cyclical stock
Barratt Developments (BDEV.L) is one of the better cyclical stocks priced below £10. The company is one of the leading property developers in the UK. Besides the obvious benefits to homebuilders from an economic recovery, the government plans to introduce a program to guarantee mortgages on homes below £600,000. This program is being introduced to reignite the property market and stimulate the economy generally.
Barratt is a quality company with good long-term fundamentals. In fact, the share was up 64% in 2019, before it gave up all those gains in 2020. Despite already rising nearly 100% from its 2020 lows, the stock is still trading on a reasonable valuation.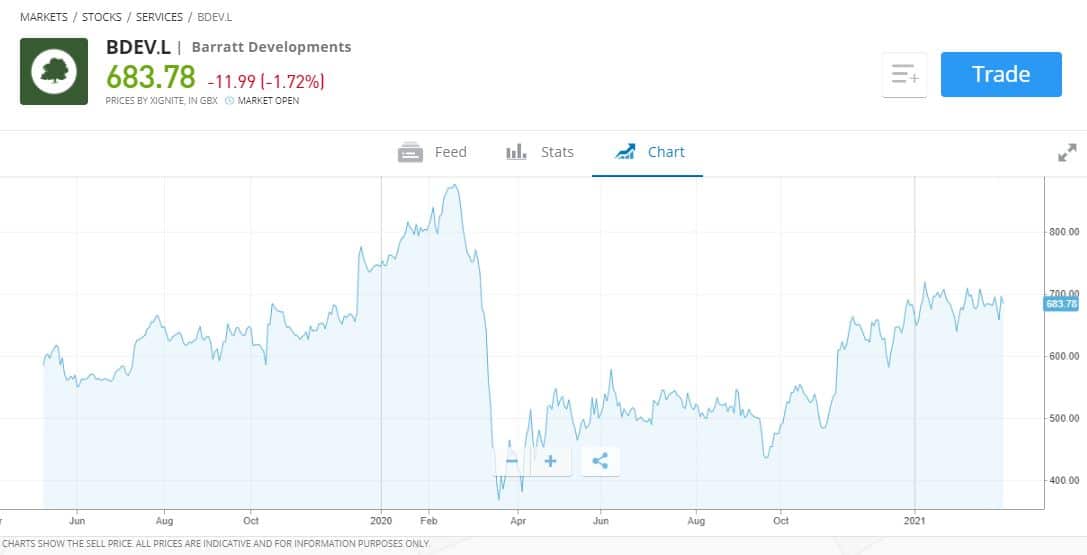 10. EasyJet — Highly Geared to the Economy
Airlines like EasyJet (EZJ.L) are highly cyclical businesses at the best of times. When you add the pandemic and the expected recovery in travel, it has to be one of the best cyclical stocks for 2021.
It's not surprising to see that EasyJet's revenues were down 86% in the March to September period last year. The result was that the company lost nearly $1 billion in that period, and losses are set to continue until the second quarter of this year.
But consumers are desperate to travel as soon as they can, and are already booking flights for summer. Assuming the pandemic ends in the second quarter, EasyJet ticket sales should continue through the summer season. The Easyjet stock price is already 169% off its lows but will need to gain another 45% to regain its 2019 levels. EasyJet is very closely geared to the state of the economy, so the long-term outlook will depend on the magnitude of the recovery.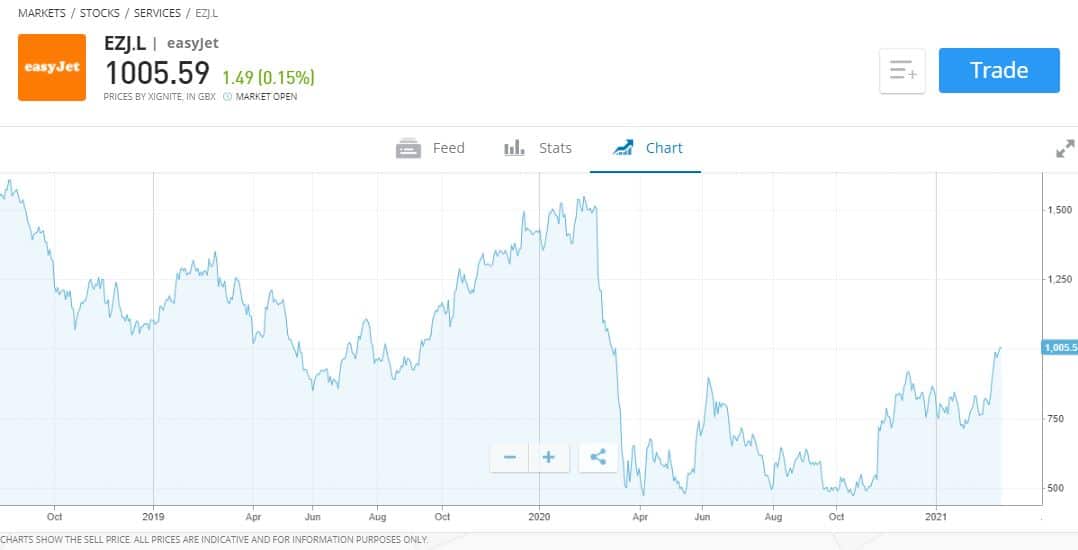 What are Cyclical Stocks?
Cyclical stocks are the shares of companies closely tied to the business cycle. They tend to outperform when the economy grows but underperform when there is an economic downturn.
When the economic cycle is in an expansionary phase, corporate profits rise, more jobs are created, and discretionary income increases. Just as importantly, consumer and business confidence increases, leading to increased spending and investment. Cyclical businesses are those that benefit during these periods.
By contrast, non-cyclical stocks have relatively stable earnings throughout the business cycle. These more defensive stocks UK belong to the consumer non-cyclical, healthcare, and utility sectors.
Cyclical Sectors
These are the sectors that are closely tied to the business and consumer cycle:
Consumer cyclical – Most cyclical stocks are in the consumer goods and services sectors and include including consumer goods manufacturers, retailers and companies that provide travel, leisure and hospitality services. The same also applies to the homebuilding industry.
Financials – Companies in the financial sector do well during expansionary phases for several reasons. Banks lend more, and if interest rates rise their margins increase. Wall Street brokerage companies benefit from increased trading volumes. Insurers also benefit when their equity portfolios grow in value.
Real estate – The property market typically rises when consumer confidence improves, and business spending rises. Besides REITs, any companies associated with the real estate industry can benefit.
Basic materials – When the economy grows, demand for commodities like oil, iron ore and copper increase, resulting in higher prices. Profits then rise for companies that produce, process and distribute these commodities.
H2: Are Cyclical Stocks a Good Investment?
There are several reasons that investors are currently rotating into cyclical sectors. Firstly, with the Coronavirus pandemic hopefully coming to an end, stay-at-home orders may soon be a thing of the past. This should lead to higher economic growth as discretionary spending increases. Specifically, it should lead to a recovery for the companies that were worst hit by lockdowns.
Economic growth often leads to rising inflation. This can benefit companies with strong pricing power as these companies are able to raise prices. Interest rates typically rise when inflation rises. Higher rates make growth companies less attractive as future earnings are discounted t a higher degree. This in turn makes cyclical companies more attractive on a relative basis.
Because cyclical stocks are closely tied to the business cycle, they are sensitive to fluctuation in sentiment. Typically, when the economy begins to contract, investors sell the most sensitive cyclical stocks, while riding out the volatility on the less sensitive ones.
Best Cyclical Stocks' Stock Brokers in the UK
Once you know which cyclical stocks to buy in 2021, you will need to choose a stock broker or trading app. There are few things to consider when choosing a broker. First of all, you will need to make sure you can actually trade the stocks you want to trade on their platform. You will also need to check the fees they charge and whether they are properly regulated.
The following are two of the brokers you can use to buy shares like the ones we've listed.
1. eToro – Best Broker to Buy UK Cyclical Stocks
Over the course of the last decade. eToro has become one of the most popular brokers in the world. This is largely due to the large range of products you can trade, and its social trading platform. In addition, the broker does not charge commission on any trades.
You can either invest in underlying stocks, or in CFDs on the stocks. With CFDs you can use leverage to increase your market exposure, and trade on the short side. Besides over 2,400 stocks listed around the world, you can also trade ETFs, indexes, forex, commodities and cryptocurrencies. You can also trade with fractional shares which means you can invest small amounts of capital in shares with high prices.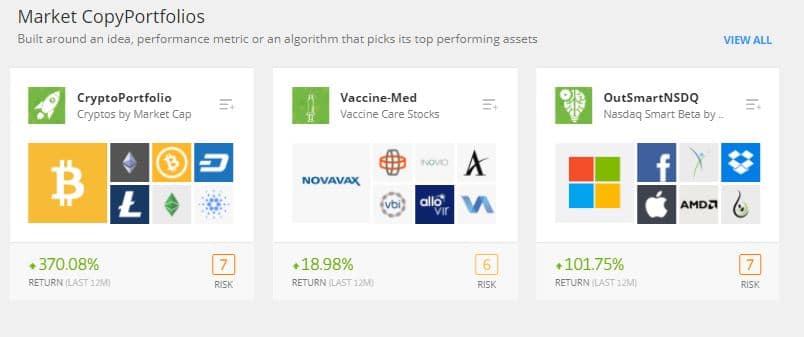 With eToro's social trading platform you can share ideas, learn from other traders and copy the trades of experienced traders. eToro is authorized and regulated by the leading regulatory bodies in the UK, Australia and Cyprus.
Pros:
eToro is regulated by regulatory bodies in the UK, Australia and Cyprus.
The broker offers a wide selection of asset classes and instruments.
No commissions
You can copy experienced traders after reviewing their performance
The site is well designed and easy to navigate.
Cons:
Limited educational resources
67% of retail investors lose money trading CFDs at this site
How to Buy Cyclical Stocks in the UK
Buying shares has never been easier thanks to modern technology and eToro's focus on a seamless user experience.
Step 1: Open your trading account
To buy cyclical stocks, you will first need to open a trading account. With eToro this is very quick and easy process. Go to eToro's website and click on the 'Join Now' button. Then simply enter the username and password you want to use and your email address.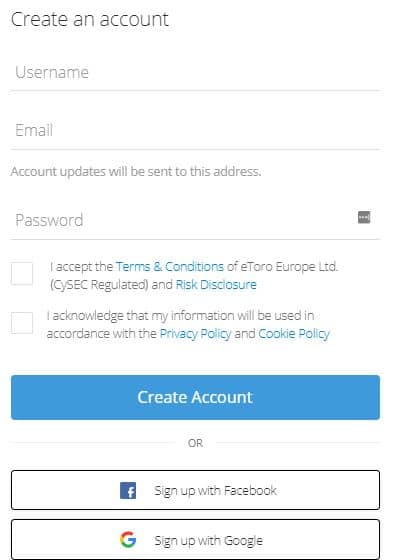 Step 2: Verify your identity
At this point, you will be prompted to provide some more personal information and answer some questions about your investing knowledge. Next, you will be prompted to verify your mobile number. You will then be able deposit up to £1,600.
You will then need to verify your identity before you can deposit a higher amount. To do this you will need to upload an identity document and a utility bill or bank statement.
Step 3: Deposit funds
Funding your account is very easy with eToro, and there are quite a few ways to do so. You have the following options:
Credit Card
Bank Transfer
Klarna/Sofort
E-Wallets: PayPal, Skrill, Neteller
You simply enter the amount and currency you want to deposit, select your preferred payment method, and follow the prompts.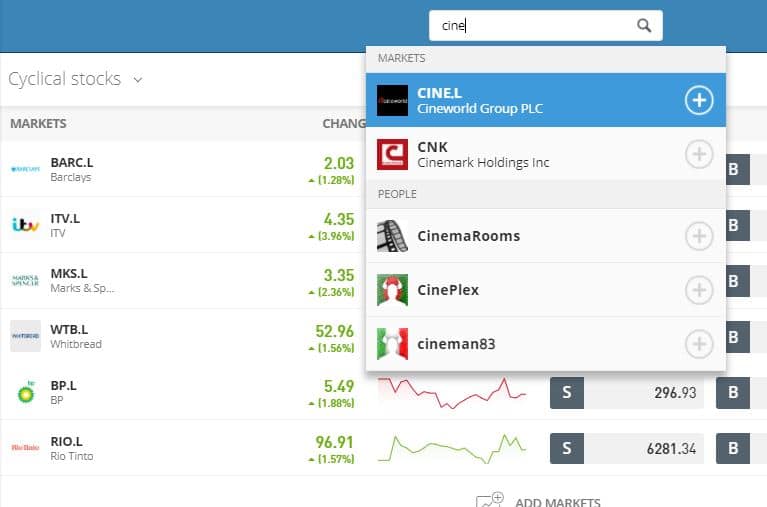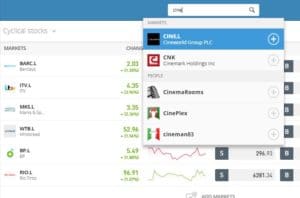 Step 4: Search for the cyclical stocks you want to buy
Now that your account is ready for trading, you can either search for a cyclical stock and trade it immediately, or you can add a list of cyclical stocks to your watchlist. You can create separate watchlists for cyclical stocks, counter cyclical stocks, growth stocks etc.
You simply type the name of the company in the search bar at the top of the page and list of stocks will appear. Make sure to check the exchange the stock is listed on.
Step 5: Enter your first order
To make your first investment click on the stock symbol and then on the 'Trade' button. This will bring up a trade ticket with several fields. You can either select the number of shares you wish to purchase, or the value of the trade. Then you can set a limit price or opt to trade at the market price.
You can also select the amount of leverage you want to use. If you select 1X leverage, you will be buying the underlying stock. If you select 2X or 5X leverage, you will be buying a CFD on the share.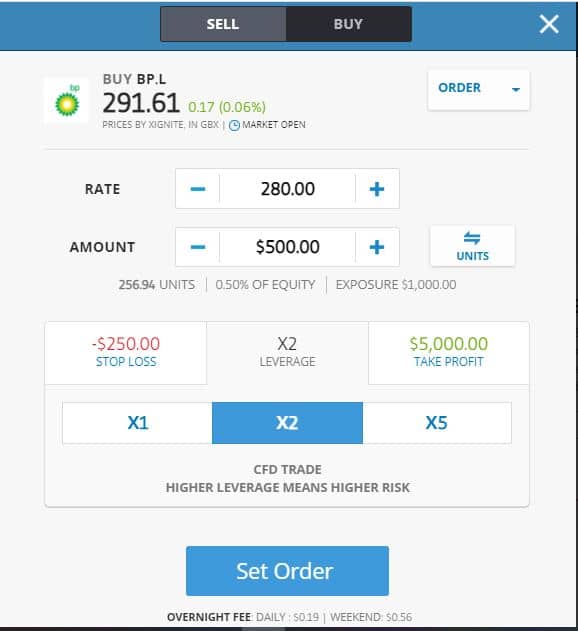 Finally, you can select set a stop loss level and a take profit level. These can either be based on price levels or on the maximum amount you are prepared to lose or the profit you be happy to exit with.
Make sure you select 'Buy' before clicking 'Set Order' for a limit order, or 'Open Trade' for a market order.
Conclusion
The global economy is set to rebound in 2021 as the pandemic comes to an end. For the UK, the situation is looking even more optimistic with reduced Brexit-related uncertainty. It's difficult to determine how long the recovery will take and how much the economy will grow over the next year or two. Cyclical shares should benefit as long as the economy reaches pre-pandemic levels and will perform very well if the economy continues to grow.
eToro – Buy the Best Cyclical Stocks UK with 0% Commission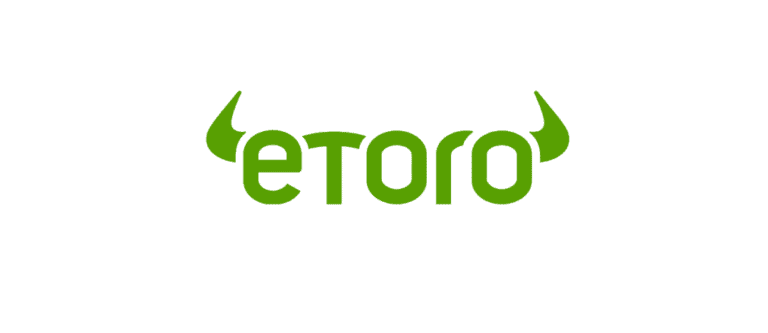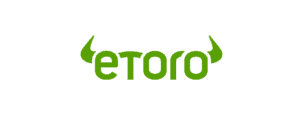 67% of retail investor accounts lose money when trading CFDs with this provider.
Frequently Asked Questions on Cyclical Stocks
What's the difference between growth stocks and cyclical stocks?
What are counter cyclical stocks?
What are examples of US cyclical stocks industries?
When should I buy cyclical stocks?
What are examples of non-cyclical stocks?