How to Buy ITV Shares UK – With 0% Commission
Fact Checked
Everything you read on our site is provided by expert writers who have many years of experience in the financial markets and have written for other top financial publications. Every piece of information here is fact-checked.
Disclosure
Please note that we are not authorised to provide any investment advice. The information on this page should be construed for information purposes only. We may earn commissions from the products mentioned on this site.
ITV plc, owner of the ITV Network of UK television networks, has been on the decline for many years. The company has slowly lost market value as more and more content – and viewers – have shifted online. Then in 2020, the coronavirus pandemic put the company's lucrative dividend on hold and sent the share price plummeting.
With the end of the pandemic in sight, however, ITV shares look poised for a rebound. The company reported encouraging signs of advertising growth in the last quarter, and its transformation into a digital-first streaming network is well underway. Although ITV still has a long way to go, there's a lot of upside potential to this broadcasting company that investors haven't yet picked up on.
Interested in owning shares of ITV? In this guide, we'll show you how to buy ITV shares in the UK with no commission and explain why we think ITV is a good long-term investment.
Step 1: Find a UK Stock Broker That Offers ITV Shares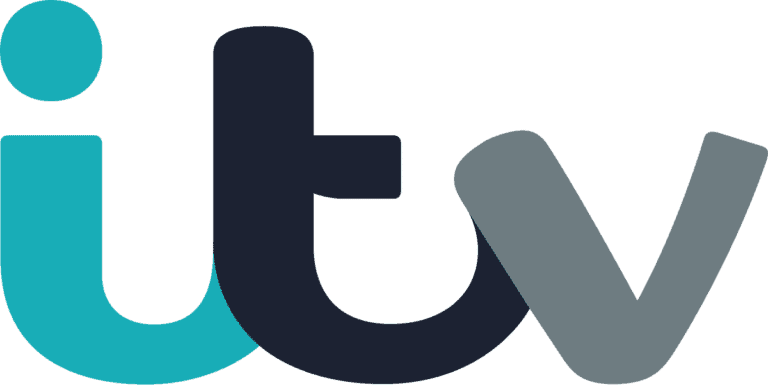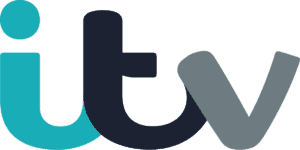 ITV was until recently listed on the FTSE 100 and is still a member of the FTSE 250 index. So, most UK stock brokers offer trading on this company's shares.
Given that you can choose almost any UK broker, though, you'll want to look at what features your broker can offer you. We recommend brokers with 0% commission trading, as these can save you money over the long term.
In addition, you should look for advanced charting and analysis tools to help you make trading decisions. Some brokers offer their own analysis platform, while others rely on widely used commercial trading platforms.
With that in mind, let's take a closer look at two of our most highly recommended brokers you can use to buy ITV shares in the UK today.
1. eToro – 0% Commission Trading with a Social Network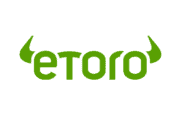 eToro is one of the best online brokers to buy shares in the UK. This platform offers both share dealing and CFD trading for more than 800 global stocks, including hundreds of companies on the FTSE 250 index. Better yet, all share trading with CFDs comes with 0% commissions and low spreads, so you save money every time you trade.
eToro also impresses with its trading platform. The broker has its own proprietary charting platform that includes over 100 built-in technical studies and drawing tools. You can view price changes at one-minute intervals, making this platform as suitable for day trading as it is for long term investing. eToro also provides in-depth analysis, including analysts' expectations for where stocks will trade one year from now.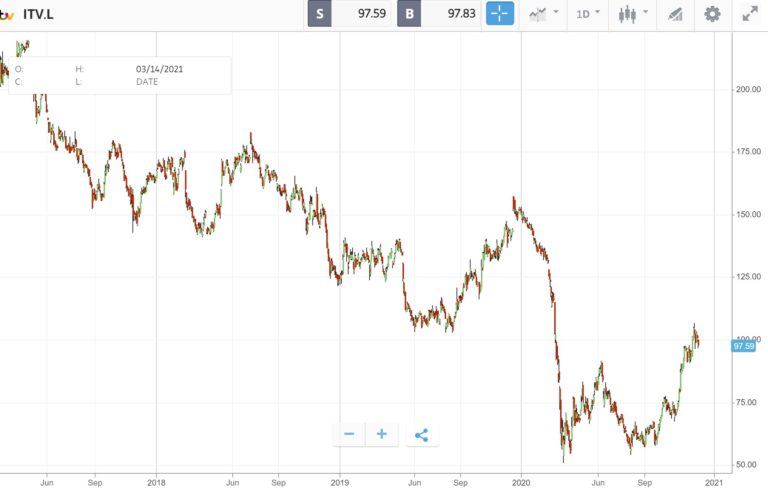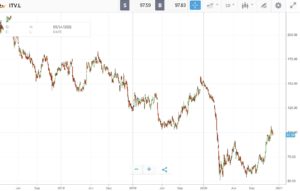 Even better is eToro's social trading network, which connects you with millions of other traders and investors from the UK and around the world. You can share trade ideas, strategies, and advice, as well as see what professional traders are buying and selling. In addition, eToro leverages its social network to provide a market sentiment score for every stock so you can know whether a company is rising or falling in traders' eyes.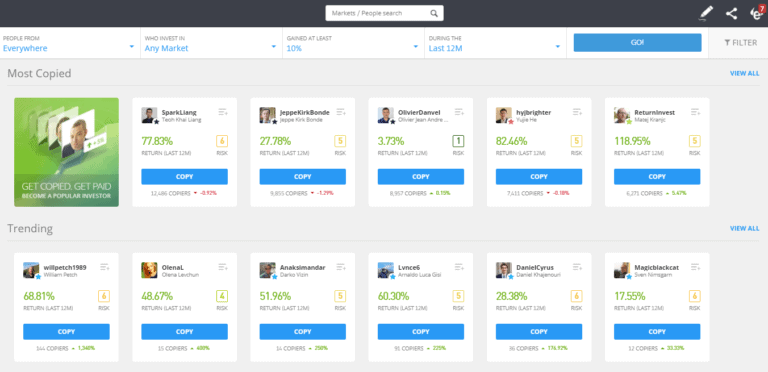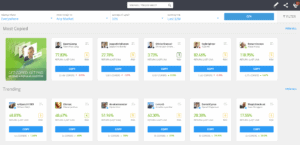 The only notably downside to eToro for investing as opposed to trading is that the company charges a £15 inactivity fee after one year. In addition, eToro charges £4 per withdrawal. These fees aren't huge or beyond industry standards, but they're important to know about before you start trading.
eToro is regulated by the UK's Financial Conduct Authority and all UK accounts are insured by the Financial Services Compensation Scheme for up to £85,000. The broker also offers CFDs for forex trading, commodity trading, and cryptocurrency trading.
Pros
0% commission share CFD trading
800+ global shares available
Charting software with 100+ indicators
Social trading network with sentiment gauge
Regulated by FCA
Cons
Inactivity and withdrawal fees
67% of retail investor accounts lose money when trading CFDs with this provider.
2. Fineco Bank – Low-cost Share Dealing and CFD Trading Accounts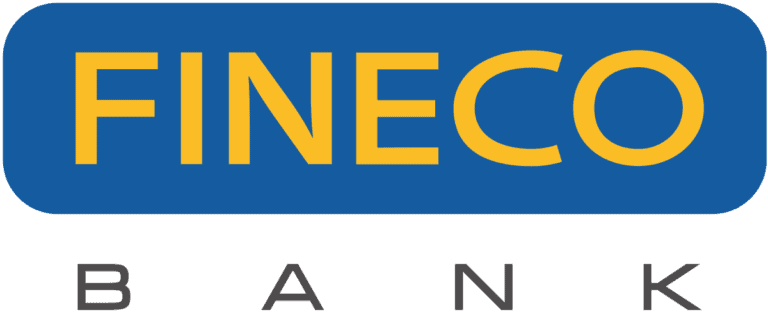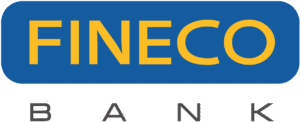 Fineco Bank is an Italian broker with a lot to offer for UK traders. This stock broker offers both share dealing and CFD trading, so you can decide which type of asset better suits your investing goals. Share dealing for UK stocks like ITV costs £2.95 per deal, while CFD trading is 100% commission-free. Notably, Fineco Bank doesn't require a minimum deposit and doesn't charge any spreads for share CFDs.
Despite being surprisingly inexpensive, Fineco Bank offers some powerful trading and research tools. The broker has its own charting software, called PowerDesk, that provides up-to-the-minute price charts, a lot of customisability, and dozens of technical indicators. PowerDesk also has a built-in market news feed, stock screener, and economic calendar.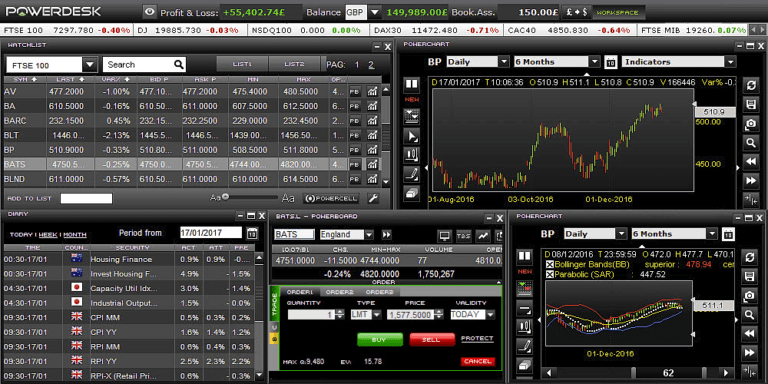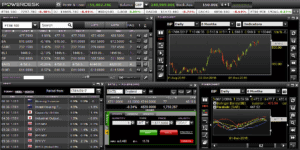 Another benefit to Fineco Bank, particularly for long-term investing, is that the broker doesn't charge deposit, withdrawal, or inactivity fees. However, retirement investors will want to take note that this broker only offers standard brokerage accounts and does not support ISAs or SIPPs. 
Fineco Bank can also be a good choice if you're in the market for a new bank. The platform offers a free debit card and free ATM withdrawals in the UK. If you want to go beyond stock trading, Fineco Bank offers a wide variety of assets including forex, bonds, commodities, options, and ETFs. Note that trading many of these assets involves commissions.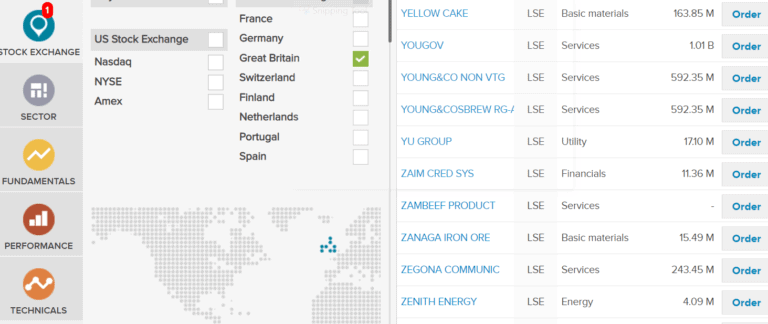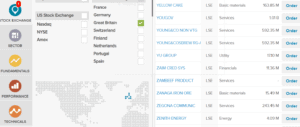 Fineco Bank is regulated by the Bank of Italy and is a publicly traded company, meaning it has to disclose its financials. Importantly for UK investors, all Fineco Bank trading accounts are covered by the Financial Services Compensation Scheme. 
Pros
0% commission and zero-spread share CFDs
Thousands of UK and global shares
PowerDesk trading platform
No account fees
Regulated by Bank of Italy and covered by FSCS
Cons
Doesn't support ISAs or SIPPs
Commissions for share dealing
Your capital is at risk.
Step 2: Research ITV Shares
Before you invest in ITV, it's important to know what you're getting into. This broadcasting company was on the decline for several years before the COVID-19 pandemic hit. So, the question is not just whether ITV is recovering from the pandemic, but whether it is in the midst of turning around its broader fortunes as well.
ITV Share Price History & Market Capitalisation
ITV plc was formed in 2004 after Granada plc took over Carlton Communications. However, the networks that make up ITV have existed for decades. ITV – short for Independent Television – was formed in 1955 as the first commercial competitor to the BBC. ITV plc today owns 13 of the 15 regional broadcast television licenses that make up the ITV network.
When ITV was formed in 2004, the company began trading at a share price of £1.35 apiece. In the wake of the 2008 financial crisis, though, shares dropped to prices as low as 19 pence. The company recovered strongly by 2015, reaching high water mark of around £2.75 in 2015 thanks to a strong rebound in TV advertising.
Since 2015, though, more and more advertising dollars have shifted from traditional television networks to online media. The rise of Netflix and other streaming services has also directly threatened ITV's core business. By the beginning of 2020, ITV's share price had fallen to just £1.50.
The coronavirus pandemic made things even worse. In the wake of lockdown orders, nearly all of ITV's studios were shuttered and production on new shows came to a halt. Advertising revenue also dried up due to the economic uncertainty around the crisis. ITV shares fell below 55 pence in March, and then remained around 60 pence throughout the summer.
Since the announcement of vaccines from Pfizer and Moderna, ITV shares have begun to rebound. As of last week, shares had hit a recent high of £1.05.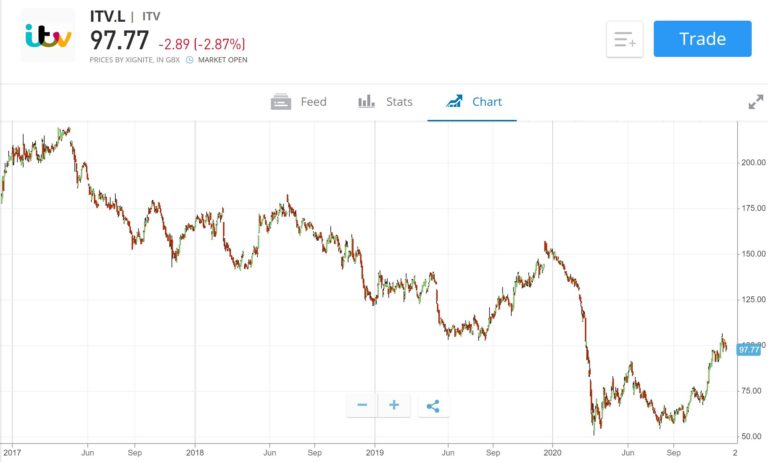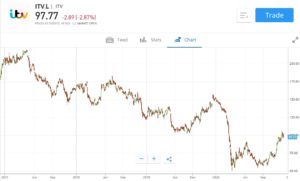 At the current share price, ITV has a market cap of £3.92 billion. It was ousted from the FTSE 100 index earlier in the year, but remains a constituent of the FTSE 250 index. The company has an affordable price-to-earnings (P/E) ratio of 12.99 and reported earnings per share (EPS) of £2.90 for the first half of 2020.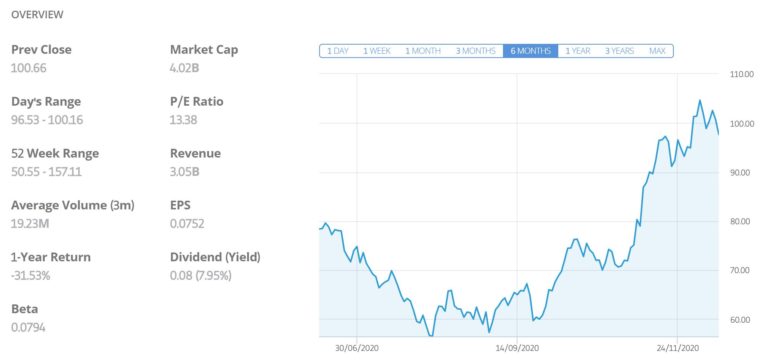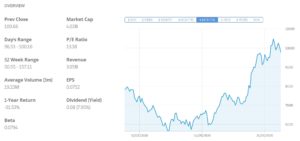 ITV Shares Dividend Information
ITV was long considered one of the best dividend stocks in the UK. In 2019, the company paid out 8.1 pence to investors, which equated to a dividend yield of 5.4%.
However, the company canceled all 2020 dividend payouts in response to the advertising drop-off that occurred in the wake of the COVID-19 pandemic. The company has not announced when it will restart dividend payments, but hinted in its last earnings call that payouts could resume in 2022.
Should I Buy ITV?
ITV stock has been beaten down by investors as the company missed the initial shift to online streaming and then lost out on millions of pounds in advertising revenue due to the coronavirus pandemic. However, there are a few positive trends for this company that we believe make it worth owning.
ITV Shares are Affordable
One of the main cases to be made for ITV is that shares of this company are cheap. ITV is trading with a P/E ratio of under 13 even after the recent price rise. That's despite the fact that ITV never reported an unprofitable quarter in 2020, even in the midst of the pandemic.
Moreover, ITV exceeded analysts' expectations in its most recent earnings call, thanks to advertising spending having bounced back more quickly than expected. The company even grew year-over-year for the fourth quarter of 2020. With the pandemic winding down, ITV now has nearly all of its studios operational once again and most of its shows back to production.
Digital Transformation
Over the long term, ITV is likely to continue to see television advertising drop. But crucially, the company hasn't stopped work on its turn to digital streaming during the pandemic. The company formed Britbox in partnership with the BCC to stem the tide of Netflix, and ITV saw 'good growth' in subscriber numbers during the pandemic (although it has not released actual numbers yet).
The company also reported a 13% increase in online viewing of its shows in 2019, and it's a near-certainty that online viewing accelerated in 2020. ITV has also been continuing to invest in ITV Hub, which provides a high-margin outlet for its studio productions, and is getting closer to rolling out Planet V, a digital-first programmatic advertising platform.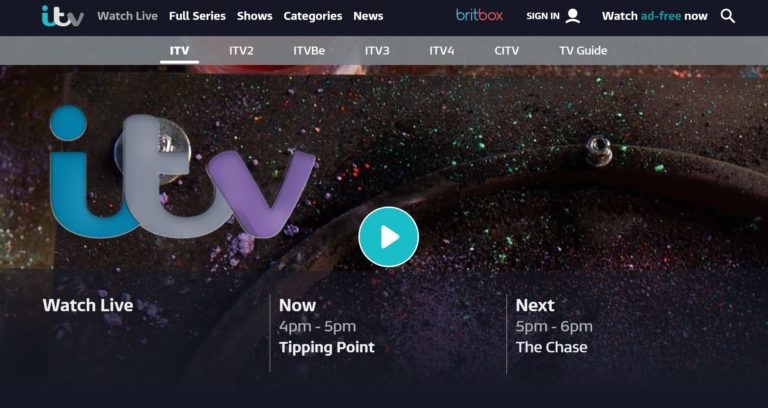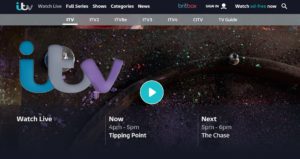 The potential of these digital platforms hasn't been fully realized yet, nor have they seemingly been accounted for in ITV's cheap share price. That means that there's plenty of upside – and relatively little downside – to ITV shares for investors.
ITV Studios
While much of the focus on ITV is on its advertising revenue, it's worth noting that nearly half of the company's revenue comes from its studio arm. ITV Studios has been a leader in the industry when it comes to producing modern, engaging television shows, and that's unlikely to change in a significant way in years to come. No matter what happens to ITV's advertising business and digital platforms, ITV Studios is a value-creating anchor for this company.
Step 3: Open an Account and Deposit Funds
Ready to buy ITV shares? We'll show you how to get started with eToro, which offers 0% commission trading, a powerful trading platform, and access to its enormous social trading network.
To get started with eToro, head to the broker's website and click 'Join Now.' You can open a new account with eToro by choosing a username and password, or you can sign up using your Google or Facebook accounts.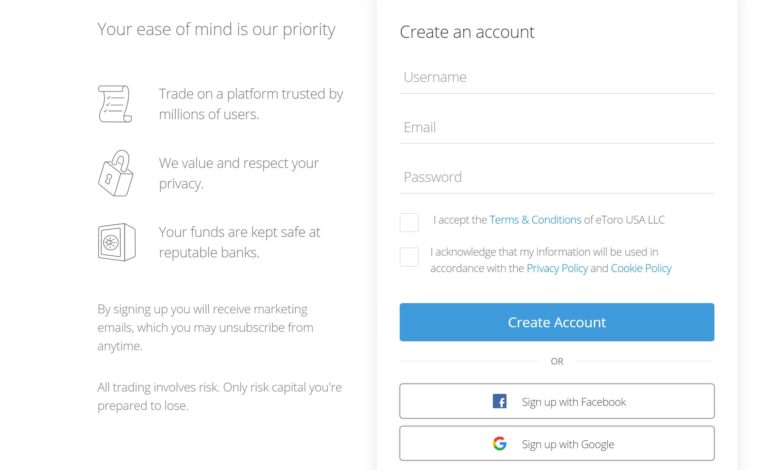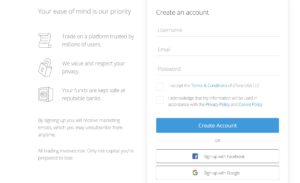 Before you proceed, eToro requires you to verify your identity in order to comply with UK anti-money laundering regulations. You can complete this step by uploading a copy of your passport or driver's license along with a copy of a recent bill that shows your address.
Next, you can deposit funds into your eToro account. The broker requires a minimum deposit of £140 and offers a wide variety of payment methods, including:
Credit or debit card
UK bank transfer
Neteller
Skrill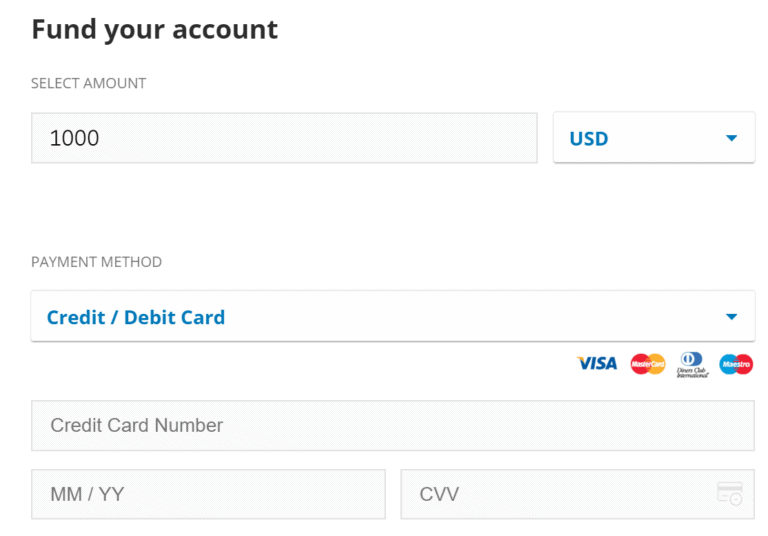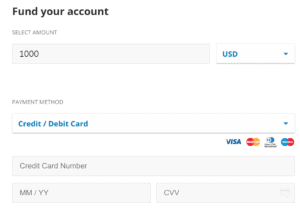 Step 4: Buy ITV Shares
Now you're ready to buy ITV shares with eToro. From the dashboard, search 'ITV' and click 'Trade' when the company appears in the drop-down menu.


In the order form, enter how much you want to invest in ITV. You can also opt to apply leverage to your trade, up to 5:1, and enter a stop loss or take profit level with your trade if desired.
Once you're ready, click 'Open Position' to buy ITV shares.
ITV Shares Buy or Sell?
ITV shares aren't without risk. This company faces a long-term decline in TV advertising revenue as well as competition from an increasing number of streaming platforms. In addition, while investors are looking forward to the dividend returning in 2022, there is no guarantee that payouts will restart or that they will be as generous as before the pandemic.
All that said, we think ITV shares are a buy. This company weathered the worst of the pandemic without taking on significant amounts of new debt, and actually reported a year-over-year increase in revenue in the fourth quarter. On top of that, it has continued to add subscribers to the Britbox subscription service and is continuing to invest in the quality and money-making capabilities of ITV Hub. ITV Studios has also served as a reliable revenue-generating arm for the company, and we see no signs of the studio's performance in years to come.
While ITV shares aren't as cheap as they were earlier in the year, they're still trading at a relative bargain. As long as ITV shares are so affordable, we think this company is a strong, relatively low risk investment for the years ahead.
The Verdict
Broadcasting company ITV has seen several years of share price decline in response to the rise of online streaming and declining TV ad revenues. However, the worst days are likely behind ITV as it focuses on strengthening its own online platforms and leveraging its studios to produce in-demand content. It may take several years for investors to see great returns from ITV, but there are plenty of reasons to believe that better days are ahead.
Ready to buy ITV shares in the UK? Invest today with eToro – click the link below to sign up!
eToro – Buy ITV Shares with 0% Commission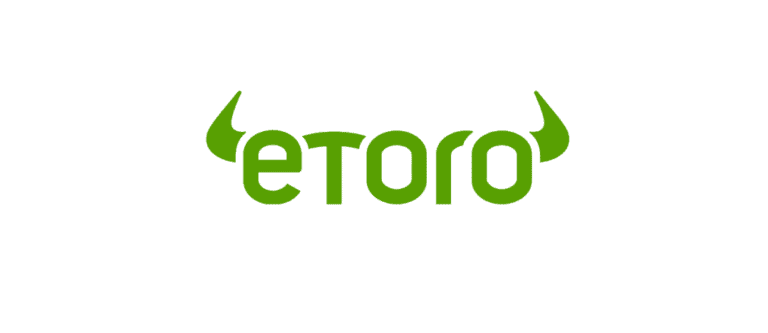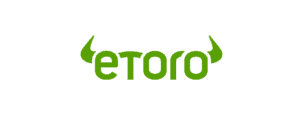 67% of retail investor accounts lose money when trading CFDs with this provider.
FAQs
What is ITV's ticker symbol?
ITV trades on the London Stock Exchange under the ticker symbol 'ITV.'
Who is ITV's current CEO?
ITV's current CEO is Carolyn McCall, who has been at the head of the company since 2018. Before serving as CEO of ITV, McCall was CEO of easyJet.
Can I buy ITV shares with an ISA or SIPP?
Yes, you can buy ITV shares in the UK with an ISA or SIPP. Just keep in mind that these accounts come with restrictions on how much money you can deposit each year, and SIPP accounts have restrictions on withdrawals.
What is Britbox?
Britbox is a streaming service that was created as a collaboration between ITV and the BBC. The service aims to compete with Netflix and offers most of the shows that ITV and the BBC produce in the UK.
What is ITV Hub?
ITV Hub is ITV's own digital streaming platform for shows within its network. The Hub offers viewers the ability to watch shows for free (with online advertisements) or to purchase ad-free subscriptions.