While the broader UK markets are trading higher today, following their counterparts in Asia and Europe, Wise Plc. shares are trading lower on reports that the FCA (Financial Conduct Authority) is investigating its CEO Kristo Kaarmann for tax fraud.
Last year, the HMRC had fined Kaarmann for deliberately paying lower taxes. In September 2021, he was included in the HMRC's list of deliberate tax defaulters after he failed to pay £720,495 in taxes for the 2017-2018 tax year.
Wise board on the reports
David Wells, chair of Wise's board, said that the company takes the probe "very seriously." He said, "After reviewing the matter late last year the Board required that Kristo take remedial actions, including appointing professional tax advisors to ensure his personal tax matters are appropriately managed."
Wells added, "The Board has also shared details of its own findings, assessment and actions with the FCA and will cooperate fully with the FCA as and when they require, while continuing to support Kristo in his role as CEO."
Wise was a celebrated UK startup
Wise was a celebrated UK startup which has been competing with companies like PayPal. The company's business is built around charging transparent fees on foreign exchange transfers. The business is a lucrative one for established banks that charge transaction fee, as well as a currency, markup on foreign exchange transfers.
Wise, which was founded in 2011 boasts of a sustainable business model. The company invests in infrastructure and cuts the middlemen in money transfers. The company keeps a small fee to clients keeping its profit margins low and lowers its rates when prices drop.
In 2020, it said that independent research commissioned by it shows how banks are charging hefty fees to customers for foreign exchange transfers. Notably, while most startup fintech are posting losses, Wise was posting profits before it decided to go public in 2021.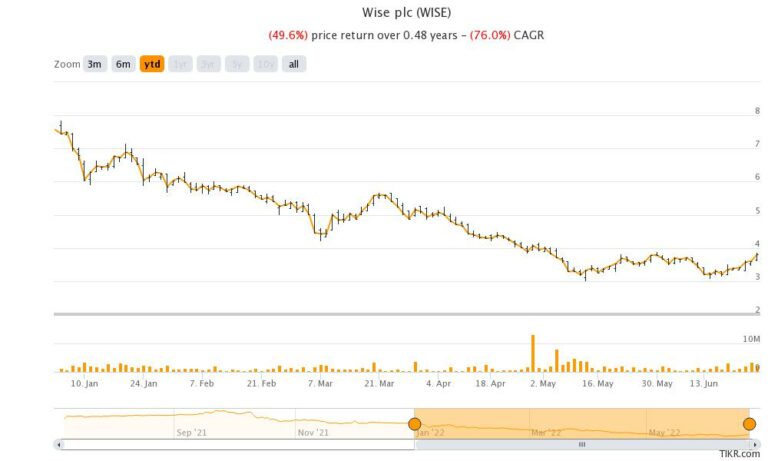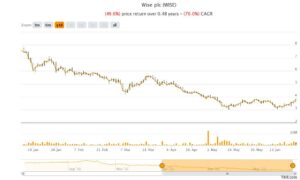 Direct listing
Wise choose the direct listing instead of the IPO. It is quite rare for UK companies to opt for a direct listing. In the US, companies like Roblox and Coinbase opted for a direct listing last year. In a direct listing, the company shuns the traditional investment banking process and sells shares directly offer their shares to the public.
Wise has a bumper listing and managed to command a market cap of $11 billion. The valuation was over twice its 2020 private market valuations. Back then, it was not unusual for companies to command a massive premium over their private market valuations. Even Affirm listed at a massive premium in early 2021. The company had originally scheduled the IPO for 2020 but delayed the listing in order to increase the pricing.
Growth shares have fallen
However, the sell-off in growth names has also caught up Wise and the shares have fallen over two-thirds from their all-time highs. The sell-off is not limited to Wise alone and shares like PayPal have also plummeted. Fintech company SoFi, which went public through a SPAC reverse merger last year, also trades at a fraction of its all-time highs.
How serious is the Kaarmann investigation?
The FCA probe could have serious ramifications not only for Kaarmann but also for Wise. If Kaarmann fails the "fit and proper test" he might need to step down from his role at Wise and also would not be able to work in the industry.
Wise trading update
Wise is expected to provide its financial results tomorrow. The company released its third quarter trading update in January and said that in that quarter the platform supported 4 million customers. It was the first time in the company's history that four million people used the platform for cross-border payments. It reported total payment volumes of £20.6 billion. With a take rate of 0.73%, it posted revenues of £149.6 million.
Commenting on the outlook, the company said, "Looking ahead, we continue to expect the take rate to be slightly lower in the second half of FY2022 compared to the first half as a result of price reductions." It added, "This is expected to be more than offset by higher volumes as we now anticipate revenue growth of c. 30% for FY2022 over FY2021. We continue to expect gross margin for FY2022 to be c.65-67%, subject to foreign exchange related costs continuing to remain broadly stable."
Wise shares were trading 1.5% lower at 1 PM London time today. The shares have a 52-week trading range of 298.65p-11.76.50p.