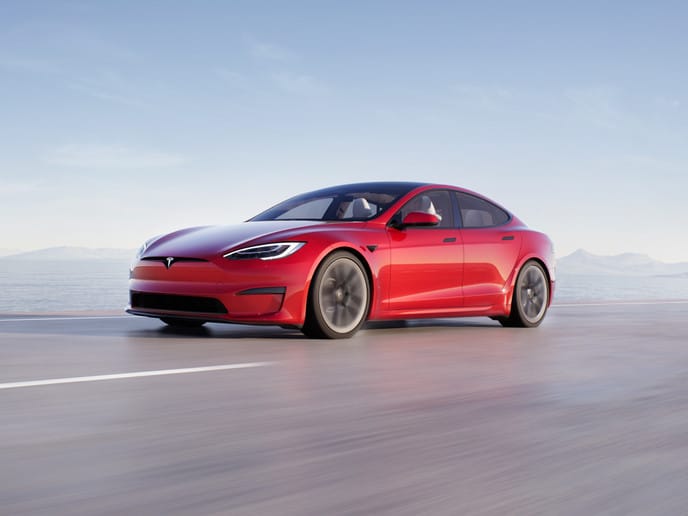 Tesla shares closed marginally lower yesterday amid reports of a fire in a Model S Plaid model. The model was launched only last month after the company discontinued the previous Model S.
According to Charles McGarvey, chief fire officer for the Lower Merion Township Fire Department, a Model S Plaid model caught fire earlier this week in Haverford, Pennsylvania, while the owner was at the wheel. Previously also there have been instances of Tesla cars catching fire while there have been several other cases of crashes, including fatal ones, when the cars were on Autopilot.
Tesla Model S Plaid
The company launched the Model S Plaid with much fanfare in the typical "Tesla way" last month.  "We're in production and gonna deliver the first 25 cars now, and then basically should be at several hundred cars per week soon and a thousand cars per week next quarter," said Tesla's CEO Elon Musk
The Model has a range of 390 miles and can accelerate from zero to sixty miles per hour in only two seconds which make it the company's fastest car. Tesla also increased the price for the Model S and it would now start from $130,000.
The model S Plaid was initially set to be delivered in February but got delayed. Commenting on the delay, Musk said in April that developing the model has involved "more challenges than expected." Musk added, "it took quite a bit of development to ensure that the battery of the new S and X is safe."
Lucid Motors
Meanwhile, while Tesla went ahead with the Model S Plaid, it cancelled the Plaid+ model at the last moment. The model would have been pitted against the luxury Lucid Air sedan that Lucid Air is expected to deliver later this year. Lucid Motors is led by a former Tesla engineer Peter Rawlinson and the company is going public through a reverse merger with Churchill Capital IV (CCIV). The merger is expected to be complete later this month once CCIV shareholders approve the deal which looks like a formality given the surge in CCIV shares.
Rawlinson has pitched Lucid Motors as the next Tesla. Earlier this week he said "Ultimately, it's the technology that's going to win, and what's missing here is the recognition that this is a technology race. And right now, there is one runner in that tech race, and it's Tesla. That's why Tesla commands that market cap. That's why it's in that preeminent position. We have world-class technology, and we aim to make this a two-horse race."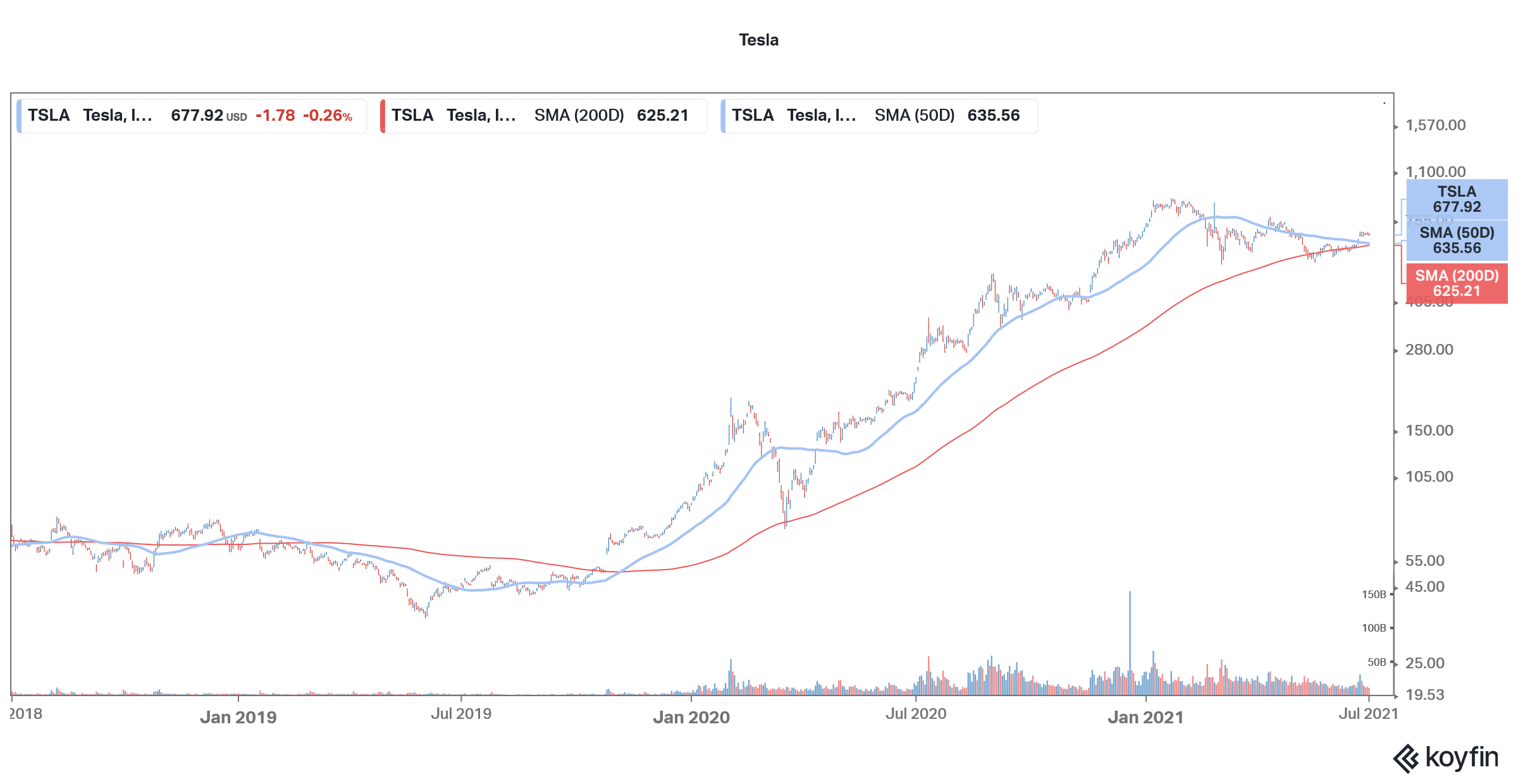 Tesla versus other electric vehicle companies
Tesla's dominance in the electric vehicle industry will face a test now with several new vehicles, both from legacy automakers and pure-play electric vehicle companies, hitting the road over the next two years. Instances of fires and recalls don't help matters for Tesla amid the rising competition.
Last month, Tesla announced the recall of several thousand vehicles in the US and China, its two largest markets. To add to the woes, the company is facing a backlash in China over allegations of poor customer service.
Long time Tesla bull and Wedbush Securities analyst Dan Ives termed the recall "moment of truth for Tesla." Ives added, "We believe this situation overall is a bump in the road and does not derail the near-term or long-term bull thesis for Tesla China, however going forward it needs to be a smoother road on autopilot safety otherwise the PR black cloud will continue."
China troubles
Tesla has managed to get several concessions from China including permission to set up independent operations in the country, which no other auto company has received before it. However, this year, Tesla has faced several troubles in China and its cars were also banned from military facilities over spying concerns.
Ives believes that Tesla needs to sort out the issues in China which is its second-largest market. "The company must play nice in the sandbox with Beijing around safety issues, otherwise it will be an impediment towards achieving its goals/targets in country," said Ives in his note.
UBS lowered Tesla's target price
UBS has turned cautious on Tesla and earlier this week lowered the target price from $730 to $660 while maintaining its neutral rating. "Our key concern shorter-term is that Tesla's demand momentum in China is slowing, and our checks on the ground suggest that [battery electric vehicles] from domestic brands are gaining further ground vs. Tesla, which may trigger additional pricing action by Tesla and consequently lower gross margins," said UBS analyst Patrick Hummel.
He also pointed to the growing challenge from other electric cars which might dent Tesla's market share. "Valuation-wise, the EV launches from competitors with high range, charging performance and attractive value-for-money, could continue to weigh on the value the market is willing to assign to Tesla's long-term growth," said Hummel.
Delivery report
Meanwhile, we will soon get the second-quarter delivery report from Tesla. NIO released the delivery report yesterday and said that it delivered 8,083 electric cars in June. The company delivered a total of 21,896 vehicles in the second quarter of 2021 which was ahead of its guidance.
Tesla does not provide quarterly guidance and for 2021 it hasn't even provided a hard number. The company has said that it expects deliveries to rise at a CAGR of over 50% over the next many years. The company had posted record deliveries and profits in the first quarter of 2021 which looked encouraging as the first quarter is seasonally weak for the company.
Tesla shares were trading flat in US premarket price action today. The shares are down 7% so far in 2021 after having risen 740% in 2020 amid the surge in all green energy shares. The company's upcoming second-quarter delivery report would be the next key indicator that investors need to watch.