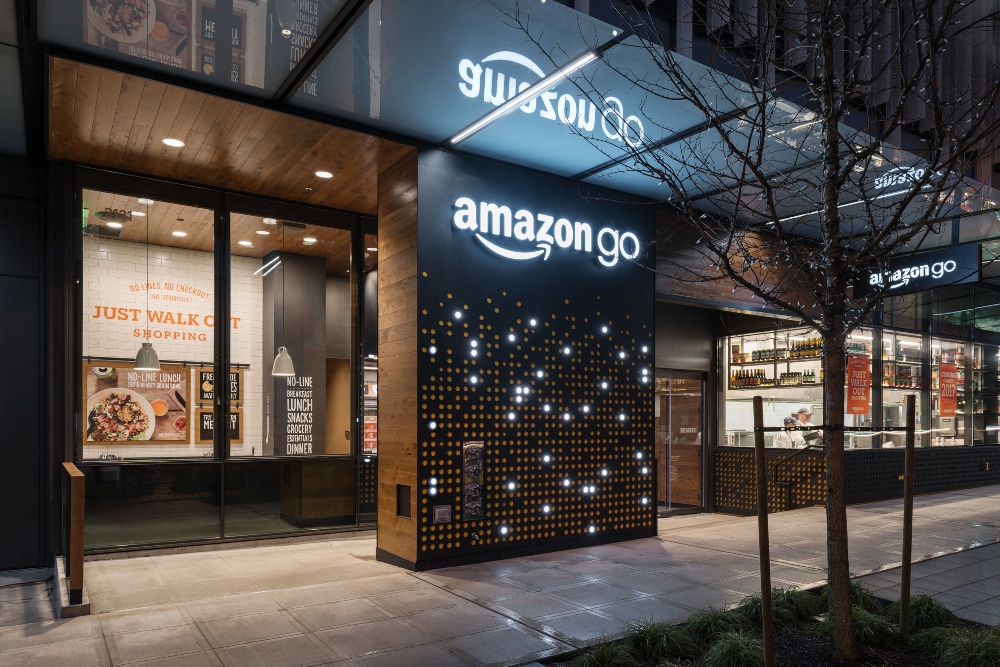 Last week, FedEx released its earnings for the fiscal first quarter of 2023. The earnings miss and grim commentary triggered a sell-off in markets and Amazon shares fell over 2%.
FedEx missed both topline and bottomline estimates in the quarter. It withdrew its full-year guidance while the second quarter guidance fell short of what analysts were expecting. However, it was FedEx's grim commentary on the global economy that spooked investors.
FedEx warns of a global recession
FedEx CEO Raj Subramaniam said, "We're seeing that volume decline in every segment around the world, and so you know, we've just started our second quarter." He went on to add, "The weekly numbers are not looking so good, so we just assume at this point that the economic conditions are not really good."
He also said that we might be headed towards a worldwide recession. The company's commentary led to a fall in US stock markets. Amazon's core e-commerce business would be adversely impacted in case of a recession.
Separately, California has sued Amazon for pressurizing third-party sellers. Allegedly, Amazon does not let these sellers offer lower prices on other platforms including their own websites. On its part, Amazon has denied any wrongdoings."
Recession worries take a toll on Amazon shares
To be sure, FedEx is not the only company warning of a global recession. World Bank has also echoed similar views and warned of a global recession amid the rate hikes. Most major central banks globally are raising rates and the US Fed is expected to raise its policy rates by a minimum of 75 basis points this week. After the worse-than-expected August inflation report, some economists believe that even a 100-basis point rate hike is on the table.
Higher inflation and tepid consumer demand have anyways taken a toll on Amazon and its revenue growth in the second quarter of 2022 was the lowest in two decades.
Amazon posted better than expected earnings in the second quarter
Looking at the breakup of Amazon's earnings, it reported revenues of $74.43 billion in North America which was 10.2% higher YoY. However, the segment posted an operating loss of $627 million in the quarter. Its international e-commerce operations posted revenues of $27 billion which were 12% lower as compared to the corresponding quarter in 2021. The segment also posted an operating loss of $1.77 billion in the quarter.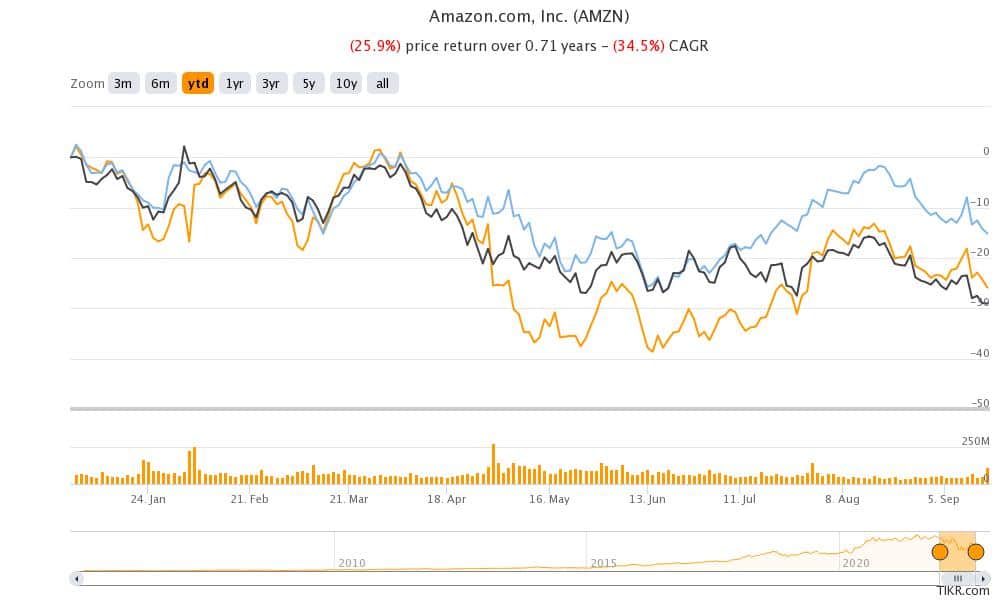 Amazon AWS is the key driver
Meanwhile, it was AWS (Amazon Web Services) that continues to be a key driver of the company's growth as well as profits. In the second quarter of 2022, AWS reported revenues of $19.74 billion as compared to $14.8 billion in the corresponding quarter last year. The segment posted an operating profit of $5.7 billion in the quarter which took its first-half operating profits to $12.23 billion. Redburn believes that Amazon would eventually spin off AWS and that the business alone would be worth $3 trillion.
FAANG shares have fallen this year
Amazon forecast sales between $125-$130 billion for the third quarter while analysts were expecting it to be $126.4 billion. Amazon shares had spiked after the earnings release. While Amazon shares have lost 26% YTD, it is still the second-best performing FAANG share of 2022. Netflix lies at the bottom of the pack with around 60% loss while Meta Platforms has also lost over 50% in the year. Apple, which is the best performing FAANG share of 2022 is also down 15%.
Wall Street analysts on Amazon shares
Wall Street analysts are overwhelmingly bullish on Amazon shares. Last week, UBS reiterated the shares as a buy. The brokerage is especially bullish on the North American e-commerce business and sees the possibility of a second Prime Day. Interestingly, UBS is not very bullish on AWS.
JPMorgan also listed it as a top 2022 idea and sees solid cash flows from the company in coming quarters. Amazon has a market-leading position in both e-commerce and cloud which are two of the secular growth stories. While the company is facing tough competition in both these verticals, including that from brick-and-mortar retailers, who are ramping up their e-commerce operations, Amazon has been able to fend off the competition.
The digital ad business is growing
Earlier this month, Morgan Stanley named Amazon a top ad pick. It said, "Our Internet sector Top Pick overall (and Top Pick within Ads) is AMZN ($175 PT with ~35%upside) given improving retail profitability. AMZN also has a ~$38bn annual, performance-driven ad business expected to grow at a ~22% '22-'24 rate with CTV and video call optionality."
Notably, Amazon's digital ad sales have been strong. Also, the company's subscription revenues have been growing. Amazon has raised Prime subscription prices in most markets this year amid rising inflation.
Truist also reiterated its buy rating on Amazon and expects the company to beat its third-quarter guidance. However, in the short term, the broader market turmoil might continue to take a toll on the shares. This week would especially be crucial for US shares as the Fed would set the direction of markets with its rate hike decision.