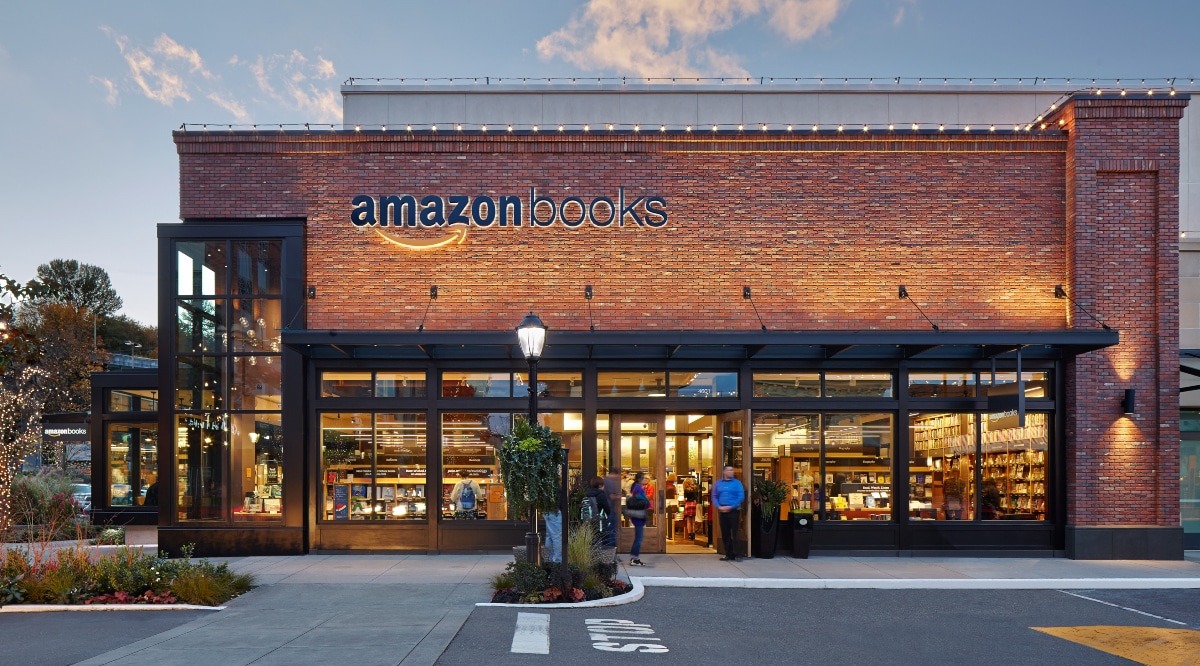 2021 is drawing to a close. The markets have been quite polarized and only a few shares have accounted for the bulk of the S&P 500 returns. The FAANG pack has also been mixed where Amazon is the bottom performer while Alphabet is the top gainer.
Wall Street analysts are picking their top ideas for 2022 and Amazon is one share that's particularly popular among many brokerages. What makes the company a top share to buy for 2022?
Amazon shares in 2021: A brief recap
Amazon shares have been largely range-bound in 2021. The year did not start off well for the shares and they hit a low of $2,881 in March. However, they soon rebounded and hit a high of $3,773.08 in July. Since then, the stock has been trading on a sideways note and up only about 5% for the year.
Overall, 2021 hasn't been a good year for Amazon. To begin with, it entered a new epoch in its history after Jeff Bezos quit as the company's CEO and took over the position of chairman. Andy Jassy who was heading the company's profitable cloud business took over the baton from Bezos.
Growth slowdown
Meanwhile, over the last two quarters, Amazon has missed topline estimates. Two things have hit the company. Firstly, its topline growth has come down from 2020 highs. Amazon is among the so-called "stay-at-home" companies which are facing a growth slowdown. The entire stay-at-home pack has looked weak in 2021 and most of them are trading with a massive YTD loss.
To add to that, the company is incurring higher costs amid the supply chain issues and labour shortage situation. In the fourth quarter, Amazon expects its operating profit to be nil at the lower end of the guidance. Commenting on the guidance, Jassy "In the fourth quarter, we expect to incur several billion dollars of additional costs in our Consumer business as we manage through labor supply shortages, increased wage costs, global supply chain issues, and increased freight and shipping costs."
Wall Street analysts are bullish
According to the forecast estimates compiled by CNN Business, Amazon has a median price target of $4,000, which is a premium of 16.9% over current prices. Its highest price target of $5,000 is a premium of 46.2% over current prices, while its lowest price target of $3,473 is a 1.5% premium to the current share price.
Wall Street analysts are bullish on Amazon shares. Of the 51 analysts covering the shares, 49 have rated the shares as a buy or higher, while two analysts have a hold or equivalent rating. None of the analysts has a sell rating on the shares. While brokerages have gradually slashed their target price on the shares in 2021, the consensus price target implies a decent upside in 2022.
Many brokerages see Amazon as a top 2022 pick
Several brokerages including Cowen, Jefferies, Bank of America, and Goldman Sachs have added Amazon to their 2022 top ideas. While Amazon is battling a growth slowdown, Cowen believes that the company's e-commerce sales with gain momentum in the second quarter of 2022. Here it is worth noting that next year, stay-at-home companies would face favourable YoY comps unlike in 2021 where they faced unfavourable comps.
Goldman Sachs is also bullish on the shares in 2022. It said, "AMZN is our top pick for 2022, as we view this recent earnings report as fully reflective of investor concerns on both revenue and profitability into 2022. [But] AMZN is exposed to a multitude of broader secular growth themes, including e-commerce, advertising, cloud computing, media consumption and consumer subscription adoption".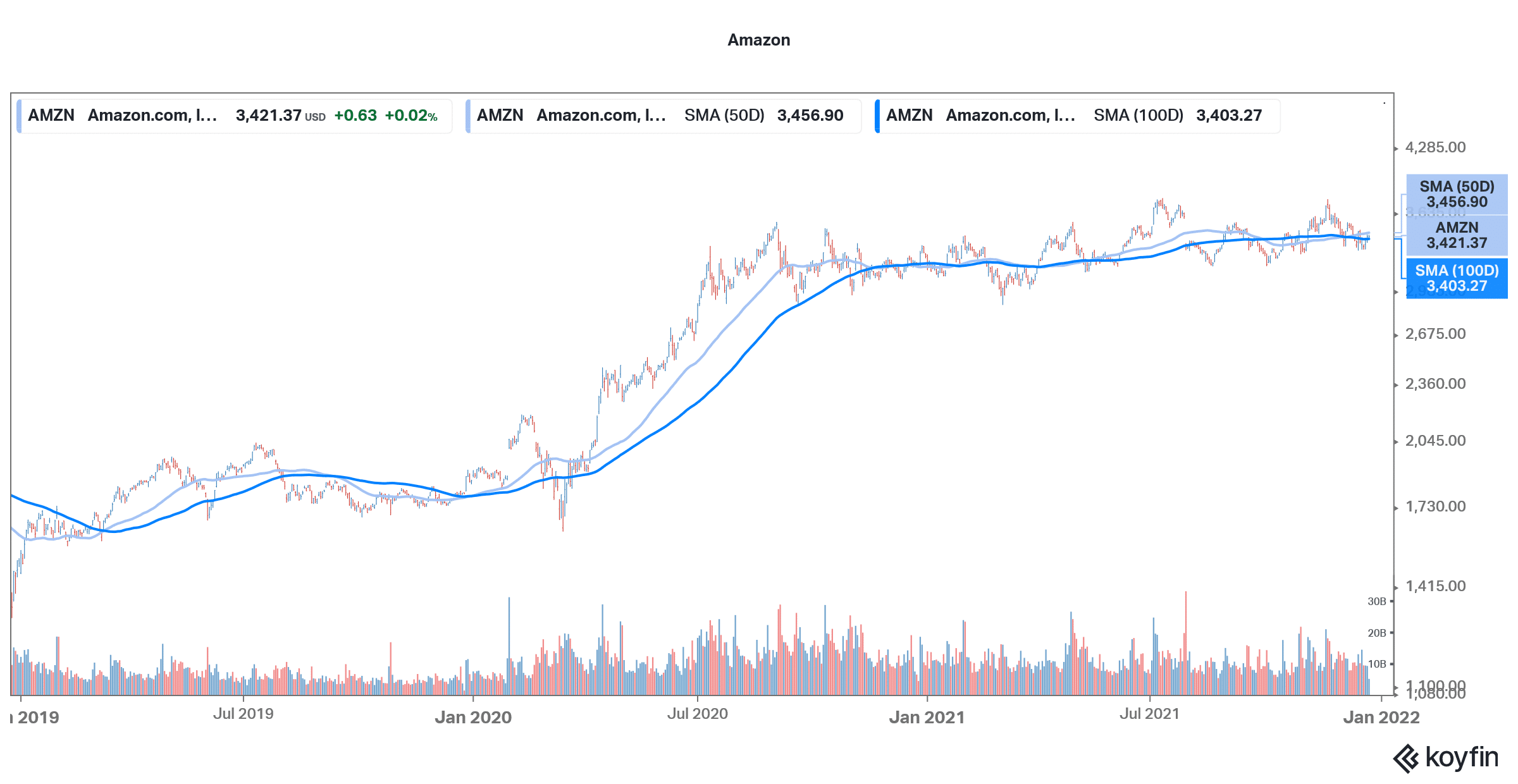 Bank of America sees Amazon bouncing back in 2022
In its note, Bank of America said, "While holiday 2021 sales are sluggish and 1Q margins have risk, Amazon is our top FANG given our expectation that 2022 will end much better than it starts. We see share gains, accelerating 2H′22 growth as comps ease, supply chain improves and infrastructure investments play out, potential optimism on a 2023 margin inflection, and sum-of-parts valuation upside."
A long-term investment
Amazon has an impeccable network effect and a strong platform. It is one of those mega-cap companies which can continue to grow its sales in double digits in the near foreseeable future.
It has a market-leading position in both e-commerce and cloud which are two of the secular growth stories. While the company is facing tough competition in both these verticals, including that from brick and mortar retailers, who are ramping up their e-commerce operations, Amazon should be able to fend off the competition.
Technical analysis
Amazon stock is trading above the 200-day SMA (simple moving average) but below the 50-day and 100-day SMA.  The stock has been facing resistance near the 50-day SMA and if it manages to cross above the price channel it would indicate technical bullishness. The stock looks set for a breakout even as the 14-day RSI (relative strength index) is a neutral indicator.
2022 could be much better for Amazon. Firstly, the topline growth should revert to more normalized levels. Secondly, the earnings are expected to bounce back. In 2021, analysts expect the company's adjusted EPS to fall 2.4% to $40.8. However, in 2022, the adjusted EPS is expected to rise 30% to $52.83. This gives us a 2022 PE multiple of around 64x.
All said Amazon is among those companies that have a secular growth path. Also, over the long period, some of the underappreciated aspects of business like advertising and Prime would also add value for investors. Amazon shares have been out of favour with investors over the last year. However, the underperformance looks like a golden opportunity to own this quality tech share.