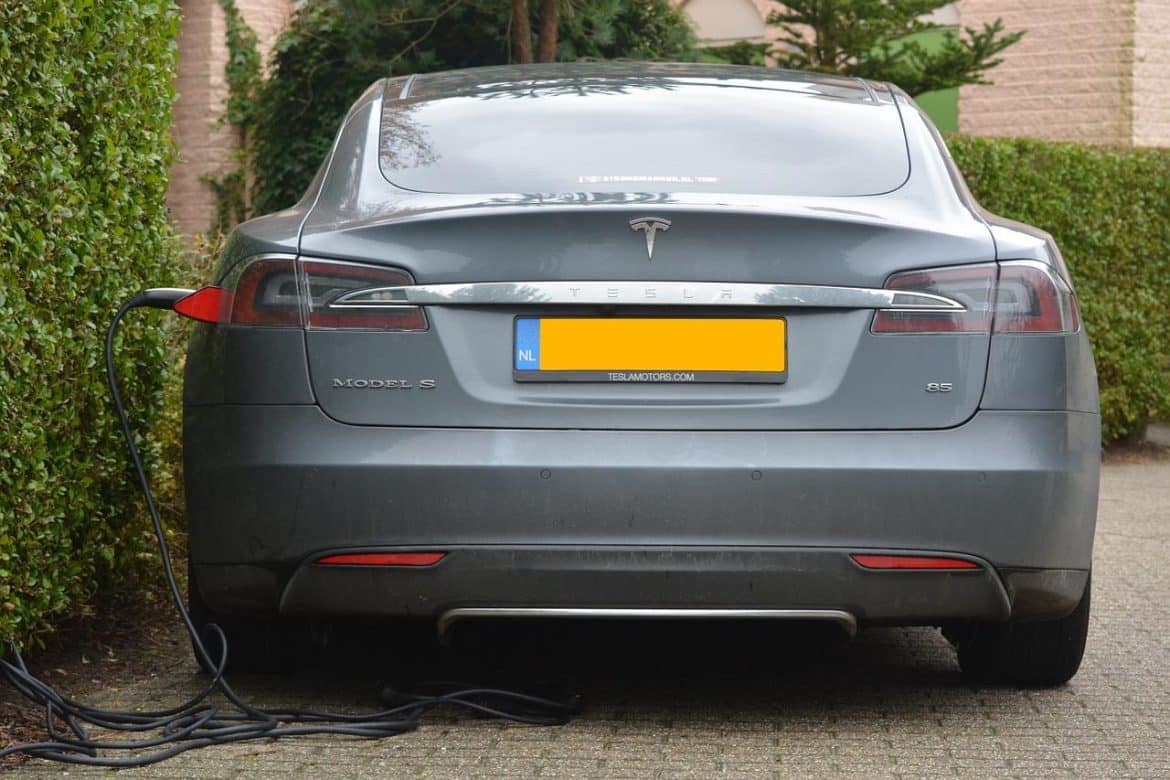 According to TrueCar's August sales estimates, Tesla (NYSE: TSLA) sold 47,629 cars in the US in August which was more than double what it did in the corresponding period last year.
Tesla does not provide a monthly sales breakdown, unlike Chinese EV (electric vehicle) companies. It does provide quarterly production and sales data. TSLA delivered 254,695 cars in the second quarter of 2022 as compared to 310,048 cars in the first quarter. The fewer deliveries were due to the lockdowns in China which took a toll on Tesla's production in the country. However, the company said that its production has since rebounded and June was its best production month ever.
Tesla doubles its market share
According to TrueCar, Tesla had a 4.1% market share in the US market in August, as compared to 2.1% in the same month last year. Here it is worth noting that this is the total market share which includes both ICE (internal combustion engine) and electric cars. While US automakers have been pivoting towards EVs, ICE cars still account for the bulk of the country's total car sales.
While Tesla has a low single-digit market share of the US car market, it is the market leader when it comes to electric cars. The company makes most cars in the US at the Freemont plant. It is ramping up production at the Austin plant also.
Tesla's CEO Elon Musk recently said that it would start delivering its Semi truck this year only while Cybertruck's deliveries are expected from 2023. Cybertruck, which would be Tesla's first pickup model, was originally scheduled for this year only.
Cybertruck deliveries are expected in 2023
However, due to supply chain issues, Tesla delayed the model to 2023. Ford has meanwhile taken the first mover advantage with its F-150 Lightning. The model's ICE version has been America's best-selling pickup for decades. Rivian also has a pickup model in its arsenal. The startup EV company expects to deliver 25,000 cars this year, which is half of its capacity.
Lucid Motors also lowered its 2022 production guidance twice this year due to production issues. It expects to deliver only between 6,000-8,000 cars this year, which is around a third of its original guidance of 20,000 cars.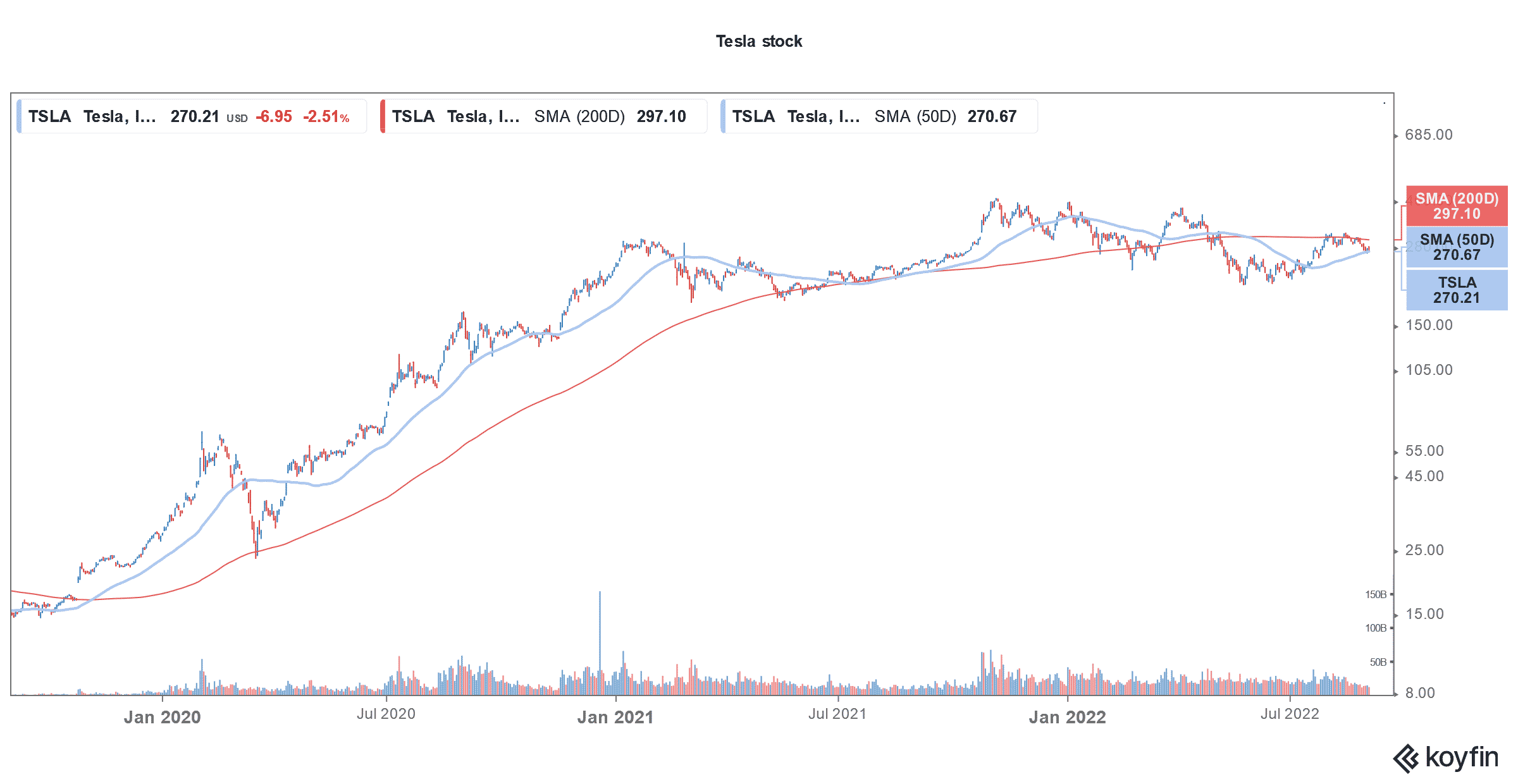 Lucid Motors lowered its 2022 guidance
Commenting on the guidance cut, Rawlinson said, "Our revised production guidance reflects the extraordinary supply chain and logistics challenges we encountered." He added, "We've identified the primary bottlenecks, and we are taking appropriate measures – bringing our logistics operations in-house, adding key hires to the executive team, and restructuring our logistics and manufacturing organization."
Meanwhile, Ray Dalio's Bridgewater Associates added a new position in both Rivian and Lucid Motors in the second quarter of 2022. He also added more shares of NIO, Ford, and Xpeng Motors. Automotive shares have sagged this year. However, Tesla has been a relative outperformer.
Tesla shares have soared over the last two years
Tesla shares have been on a fire since late 2019. It soared 740% and 50% respectively in 2020 and 2021. TSLA became the first automaker ever to command a market cap of $1 trillion. No automaker in history has come closer. Even after coming off its all-time highs, Tesla's market cap is higher than all leading automakers put together.
Notably, Tesla has been able to grow its market share in the US despite its cars not being eligible for the federal EV tax credit. Along with Tesla, General Motors and Toyota cars also don't qualify for the tax credit as they surpassed the threshold.
However, beginning next year, Tesla cars would also be eligible for the EV tax credit. President Joe Biden has signed the Inflation Reduction Act of 2022 which does away with the sales threshold. As a result, Tesla cars would also be eligible for the $7,500 EV tax credit.
Tesla has been raising car prices
Amid spiralling input costs, Tesla raised its car prices in the US. Musk later said that the company would lower costs once the inflation comes down. Meanwhile, along with the inflation, the tight US car market has helped automakers raise car prices. US automotive production is expected to improve in the coming months as the supply chain stabilizes.
Also, demand might weaken due to the economic slowdown. TrueCar analyst Zack Krelle believes that the US automotive industry might be "turning the corner." He added, "We're seeing consecutive month over month increases for incentives, while average transaction prices are softening. Inventory is also slowly growing, and sales are improving slightly."
Analysts are mixed on Tesla
Both UBS and Deutsche were impressed with the progress at Tesla's Berlin plant. Musk previously described the Berlin and Austin plants as "money furnaces." However, in an SEC filing later, the company said that it is increasing its capex budget for 2022.
Deutsche Bank said, "We came away with the sense that Tesla's new localized vehicle production in Europe could be a game-changer, making Tesla an even more formidable competitor in the region, while likely boosting the company's gross margins."
Notably, Volkswagen is now the largest EV seller in Europe. Chinese EV companies like NIO and Xpeng Motors are also targeting the region. Localized production would certainly help Tesla. The company managed to grow its sales in China significantly after setting up the Shanghai Gigafactory.
Piper Sandler is bullish on Tesla but sees short-term pain
Piper Sandler also remains bullish on Tesla and raised its target price from $344 to $360. It, however, said, "Several cross-currents may conspire to drive TSLA shares lower in the coming weeks. These include: 1) shorter wait times; 2) China weakness; 3) geopolitics; 4) rising interest rates."
The intermittent lockdowns in China are only deepening the slowdown. Tesla too lost the title as the world's largest seller of new energy vehicles due to the production loss in China. Chinese EV makers like NIO and Xpeng also reported fewer deliveries in Q2 2022. BYD Motors meanwhile managed to increase its deliveries as its plants were outside the regions where lockdowns were imposed.
BYD, which is backed by Warren Buffett, became the largest seller of new energy vehicles in the first half of 2022. The share has also outperformed the markets this year. However, Buffett has sold some BYD shares of late.