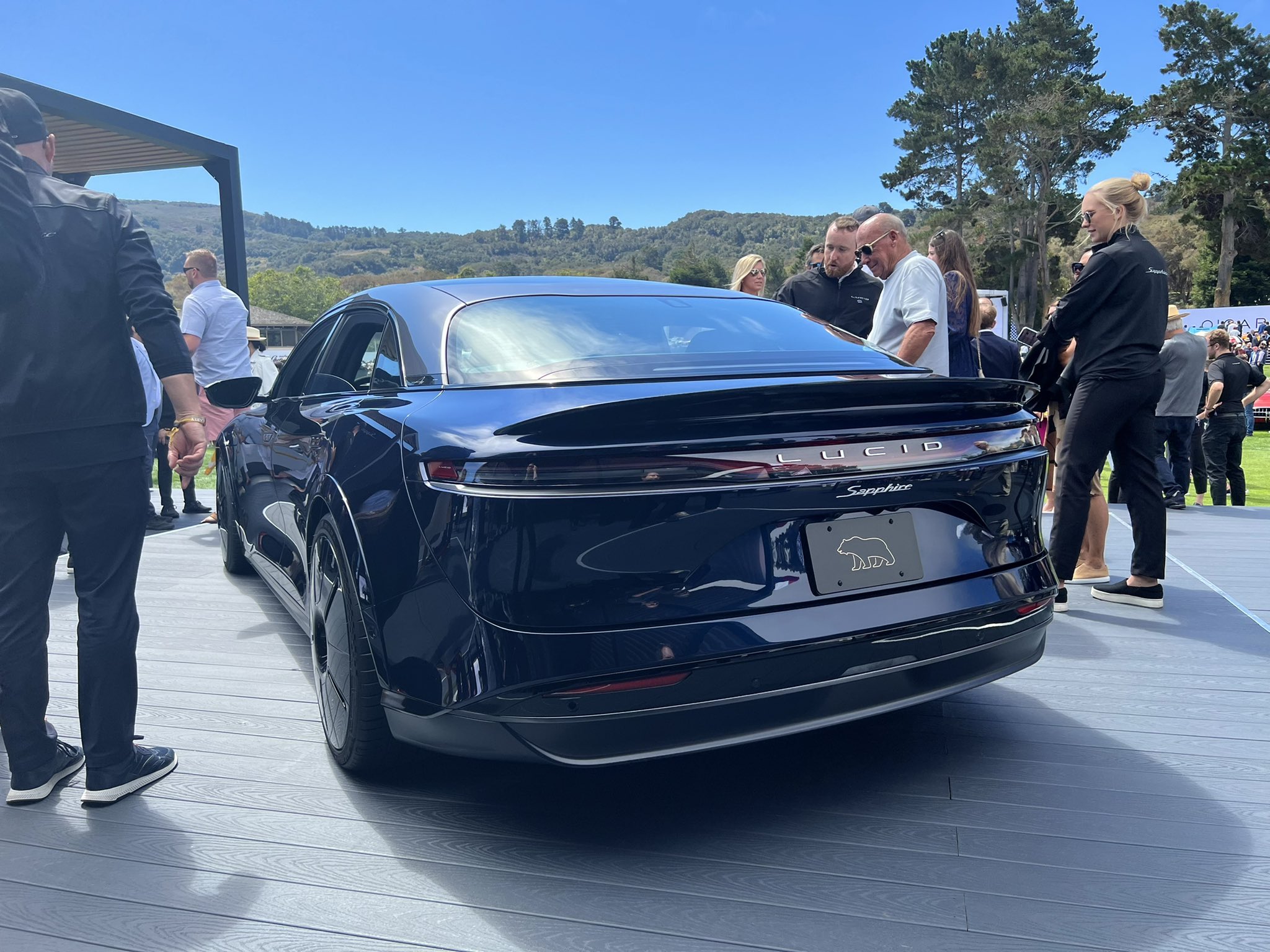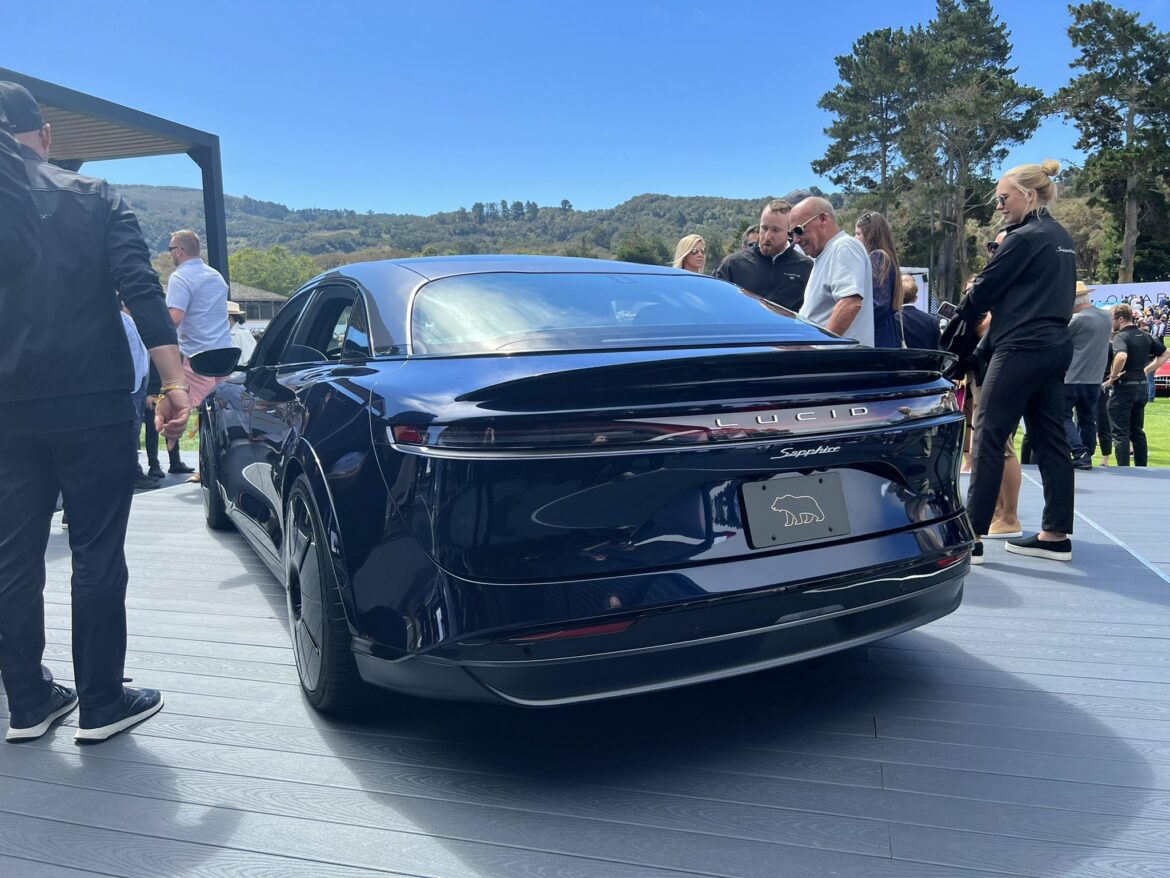 Ray Dalio's Bridgewater Associates has doubled down on EV (electric vehicle) companies, the second quarter 13F showed. The billionaire has added new positions in Rivian and Lucid Motors, both of which listed last year and now trade at a fraction of their highs.
Dalio also added more shares of NIO, Xpeng Motors, and Ford. While Ford is not a pure-play EV company in a strict sense, the company is moving towards being one. It separated the ICE (internal combustion engine) business from the EV business and would start reporting their results separately from the next year.
Also, based on Ford's forecasts, it likely sold more EVs than NIO, Xpeng Motors, and Li Auto in July. Ford expects its run rate EV production to rise to 600,000 vehicles by the end of next year. By 2026, it expects a nameplate capacity of 2 million cars and by the end of this decade, it expects electric cars to account for half of its sales. Rival General Motors expects to sell only zero-emission vehicles by 2035.
Lucid Motors shares have sagged
Lucid Motors was the biggest SPAC merger before Grab took the honours later in the year. Nonetheless, it was among the most hyped SPAC mergers as it was touted as the "next Tesla." The company is led by Peter Rawlinson, who is a former Tesla employee. The merger presentation gave an impression that Lucid Motors is a worthy Tesla competitor.
However, Lucid Motors has not managed to justify the hype. It has lowered its 2022 delivery guidance twice this year and now expects to deliver only between 6,000-8,000 cars this year, which is around a third of its original guidance of 20,000 cars.
Lucid Motors cut its 2022 guidance
Lucid Motors delivered only 679 cars in the second quarter of 2022 and had 37,000 orders for its Air sedan. Commenting on the guidance cut, Rawlinson said, "Our revised production guidance reflects the extraordinary supply chain and logistics challenges we encountered." He added, "We've identified the primary bottlenecks, and we are taking appropriate measures – bringing our logistics operations in-house, adding key hires to the executive team, and restructuring our logistics and manufacturing organization."
Lucid Motors is facing supply chain issues
To be sure, the entire automotive industry is battling supply chain issues and even Tesla lost production in the second quarter due to lockdowns in China. It also delayed the launch of Cybertruck to 2023 amid supply chain issues. Meanwhile, thanks to the cash from the SPAC merger, Lucid Motors had cash and cash equivalents of $4.6 billion at the end of June. Given its cash burn rate, the company believes the cash is enough to sustain the business "well into 2023."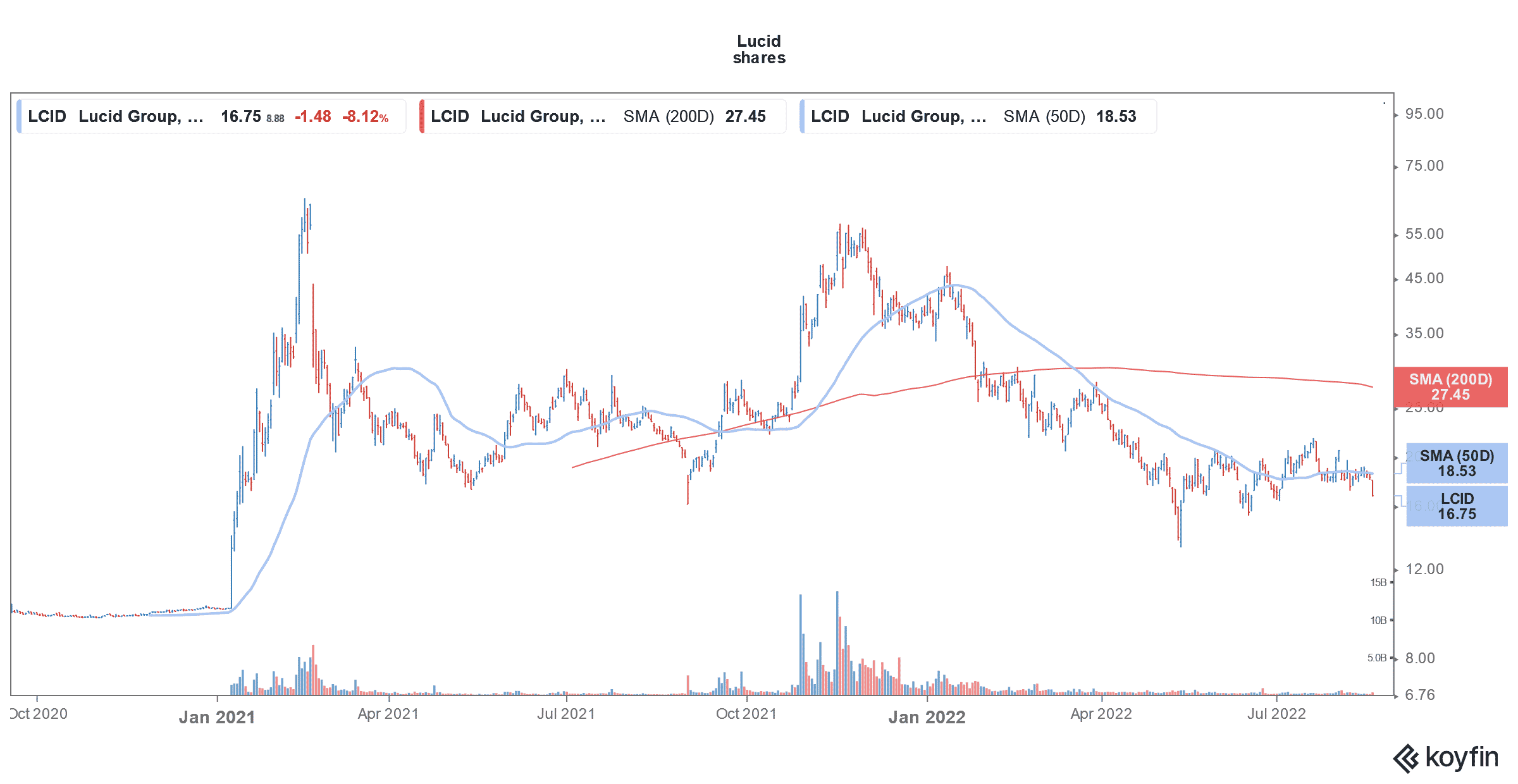 Rivian is also facing supply chain issues
Rivian is also facing supply chain issues and expects to produce 25,000 cars only this year. Both Rivian and Lucid Motors are investing to expand their capacity, which is leading to cash burn. Rivian has an even comfortable cash position and held $15 billion as cash and cash equivalents at the end of June. Rivian was the biggest IPO since Facebook and raised enough cash to fund its growth.
EV shares have crashed
Meanwhile, EV shares, especially those which listed between 2020 and 2021 have crashed. Rivian for instance trades below $35, which is not only half of its IPO price, but a fraction of its all-time high of $179.47. Lucid Motors trades above the SPAC IPO price of $10, but less than a third of its all-time high of $57.75. The company's market cap is now around $28 billion.
While Lucid Motors has managed to hold well above the IPO price, companies like Arrival, Canoo, and Lordstown Motors trade at a steep discount to the IPO price. Many startup EV companies are battling a survival battle. While Lordstown Motors sold its plant to Foxconn to raise cash, Arrival had adjusted its production to lower the cash burn.
This is where Tesla stands out. The company went through production troubles in the initial days. However, it went up the learning curve quite fast and the pace of ramp-up at China Gigafactory envied even established automakers.
Tesla stands out in the EV space
While every startup EV company, Lucid Motors included, wants to be the next Tesla, they need to deliver on the execution part. This is where Tesla stands out as the company has been delivering a record number of cars. Despite the loss of production in China, Tesla maintained its delivery guidance, which is impressive.
Lucid announced the Sapphire brand
Lucid has introduced the Sapphire brand, which it says is the "world's first luxury electric super-sports sedan." Notably, even the current Air sedan is a luxury model as Lucid has been following Tesla's trajectory. Tesla also started with higher-priced cars. Now, the lower-priced Model 3/Y makes up the bulk of the company's sales.
Commenting on Sapphire, Rawlinson said, "Sapphire represents the pinnacle of electric performance; finally achieving the performance that I've so long searched for. After painstaking development work, I am able to confirm Lucid Air Sapphire has achieved a satisfactory performance, and I trust the most discerning drivers will agree."
Sapphire features three power trains. The company said, "With over 1,200 hp, Lucid Air Sapphire is not only the most powerful electric sedan in the world, it is the most powerful sedan in the world." The car can race from zero to 100 mph within four seconds and has a top speed in excess of 200 mph, which is quite impressive.
Coming back to Lucid Motors shares, many Wall Street analysts were bullish on the company in 2021. Now, with the company faltering on execution, most analysts have been on the sidelines. Dalio however, seems to have a different view of the shares as is reflected in the recent purchase.