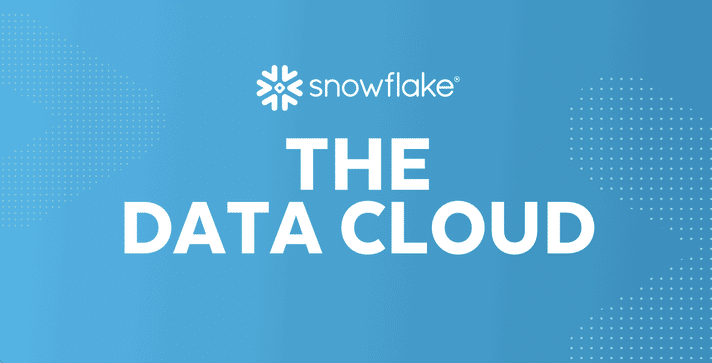 Snowflake shares were trading higher in US premarket price action today after releasing its fiscal second-quarter earnings which showed revenue rising more than expected.
While the company posted a wider than expected loss, the management provided upbeat guidance for the current quarter which helped buoy sentiments.
Snowflake fiscal second-quarter earnings
Snowflake reported its fiscal second-quarter 2022 earnings for the quarter ended July yesterday after the markets closed. The cloud company posted total revenues of $272.2 million which were 104% higher than the corresponding period last year. The revenues were far ahead of the $256.5 million that analysts were expecting.
Snowflake reported product revenues of $254.6 million in the quarter which were 103% higher than the last year. The product revenues were higher than the $235-$240 million that the company had guided for in the previous earnings release. That said, Snowflake generally provides conservative guidance and eventually ends up beating its forecast.
Losses swell
Meanwhile, as we saw in the previous quarter, while Snowflake's topline growth and revenue guidance were better than expected, the company posted a wider than expected loss. The company, which became the largest software IPO ever last year, has been battling perennial losses even as its top line continues to swell. It posted an operating loss of $200.1 million in the quarter which was a whopping 74% of its sales in the quarter.
Berkshire Hathaway is a Snowflake investor
But then, massive losses haven't deterred investors who have instead focused on the strong growth the structural shift towards cloud. Even Berkshire Hathaway had co-invested in the IPO whose chairman hasn't been a fan of tech stocks and IPOs. Also, Buffett usually refrains from loss-making companies. That said, it was likely a different investment manager at Berkshire Hathaway who took the position. But then, the fact that the Warren Buffett-run company invested in the stock and continues to hold the stake, is a stamp of approval from one of the biggest companies in the US.
Key takeaways
Snowflake reported 4,900 total customers in the quarter as compared to 4,532 customers in the previous quarter. It reported a net revenue retention rate of 169% while was 100 basis points higher than the previous quarter. During the fiscal second quarter, the company had 116 customers with trailing 12 months product revenues in excess of $1 million. The corresponding figure was 104 in the previous quarter. The company's remaining performance obligations also increased to $1.5 billion as compared to $1.4 billion in the previous quarter. Simply put, Snowflake is adding more customers including large ones every quarter.
"Snowflake saw continued momentum in Q2 with triple-digit growth in product revenue, reflecting strength in customer consumption," said Snowflake CEO Frank Slootman. He added, "While increasing net revenue retention rate to 169%, we also boosted gross margin and operating margin efficiency while our adjusted free cash flow was positive for the third quarter in a row."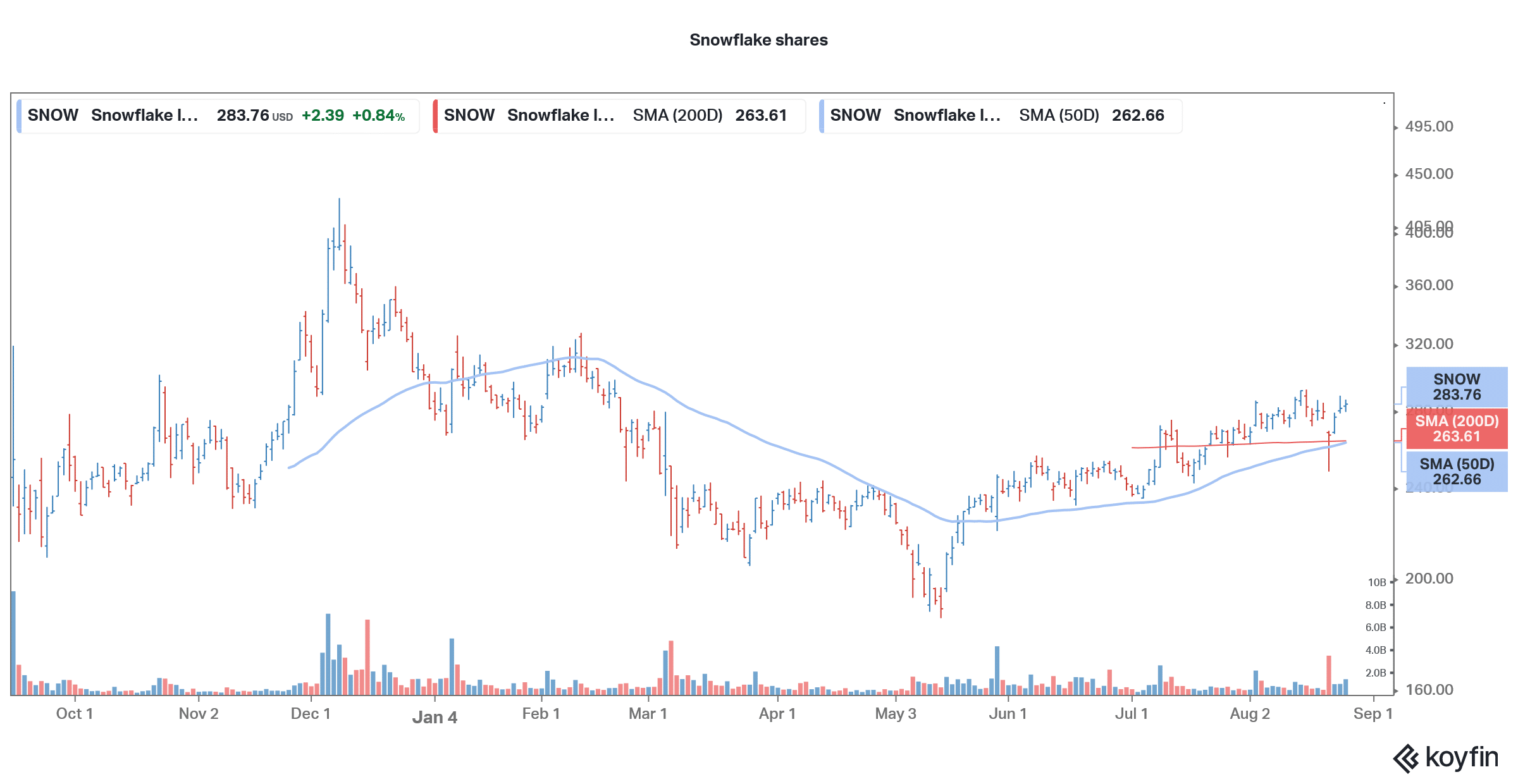 Snowflake raised guidance
After the strong fiscal second-quarter performance, Snowflake also raised its full-year guidance. It now expects to post product revenues between $1.06-$1.07 billion in the fiscal year 2022 which would mean a YoY growth of 92% at the midpoint. During the fiscal first-quarter earnings release, it had given a guidance of product revenues between $1.02-$1.035 billion for the full year.
Meanwhile, in the fiscal third quarter, the company expects its revenues to rise between 89-92%. In absolute terms, Snowflake expects to report revenues between $280-$285 million in the fiscal third quarter, which was higher than the $271.4 million that analysts were expecting. Looking at the long-term picture, the company expects product revenues to rise to $10 billion by the fiscal year 2029.
Snowflake shares have sagged
Snowflake shares are up only about 2% for the year and are underperforming the Nasdaq by a wide margin. The shares rose to their all-time high of $429 last year but have failed to reach anywhere near those levels this year. While the shares have recovered from their 2021 lows, they have been struggling near higher price levels.
Forecast
According to the estimates forecasts compiled by CNN Business, Snowflake's average price target is $290.40, which is a premium of 2.4% over current prices. Its highest price target of $515 is a premium of almost 82% over current prices, while its lowest price target of $240 is a 15% discount to the current share price.
Of the 30 analysts covering Snowflake, 14 have rated it as a buy while one rates it as a sell. The remaining 15 analysts have rated it as a hold or some equivalent. Earlier this week, Cowen reiterated its buy rating and $310 target price for the shares. "We expect modest upside to our 92% product growth estimate alongside particularly strong performance in RPO as our checks point to strong big deal activity & healthy trends in data volume growth. Following last week's pullback, we see an attractive buying opportunity," said Cowen analyst J. Derrick Wood.
Overall, Snowflake shares could be a long-term winner looking at the structural growth story in the long term. The company is also focusing on profitability which would start reflecting in the earnings over the next couple of years.
Snowflake shares were trading almost 4% higher at $294 in US premarket trading today and have a 52-week trading range of $184.71-$429.