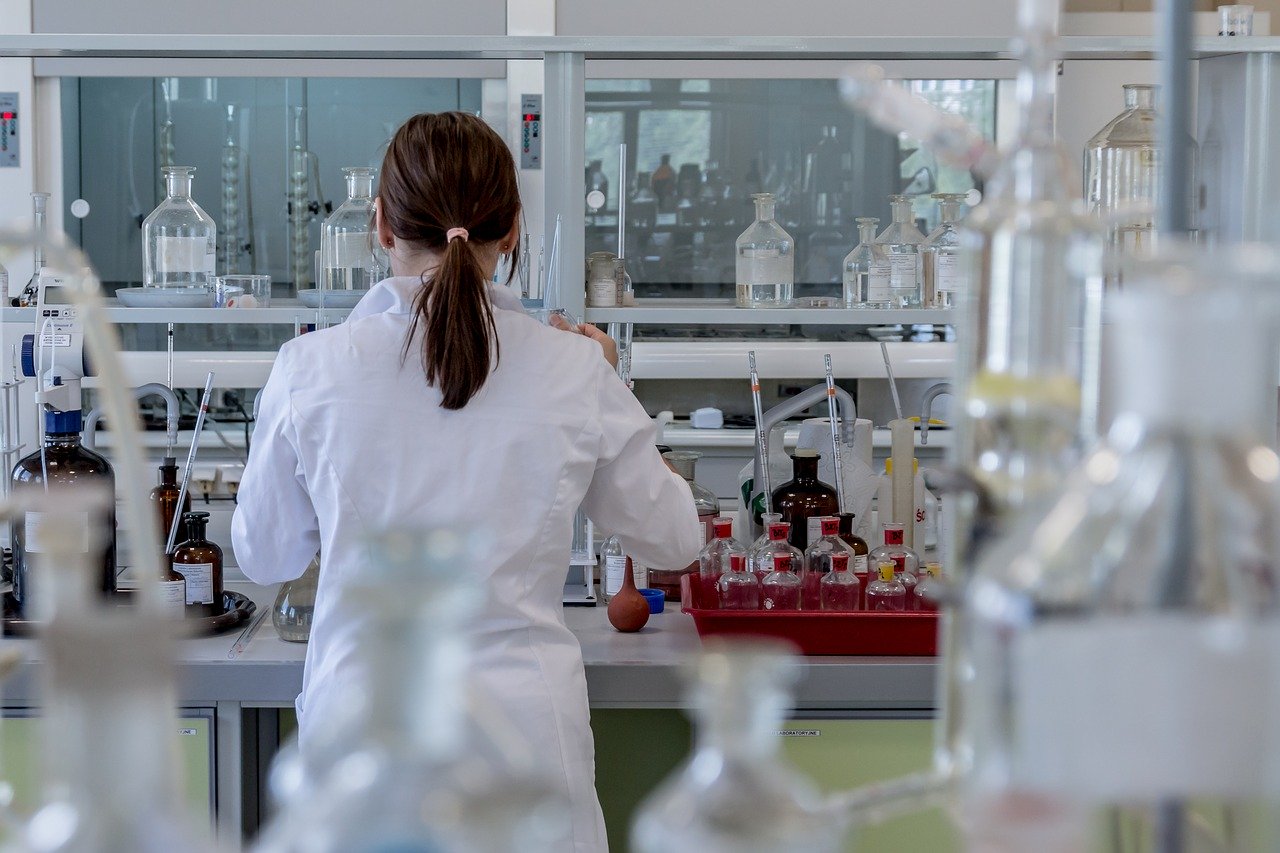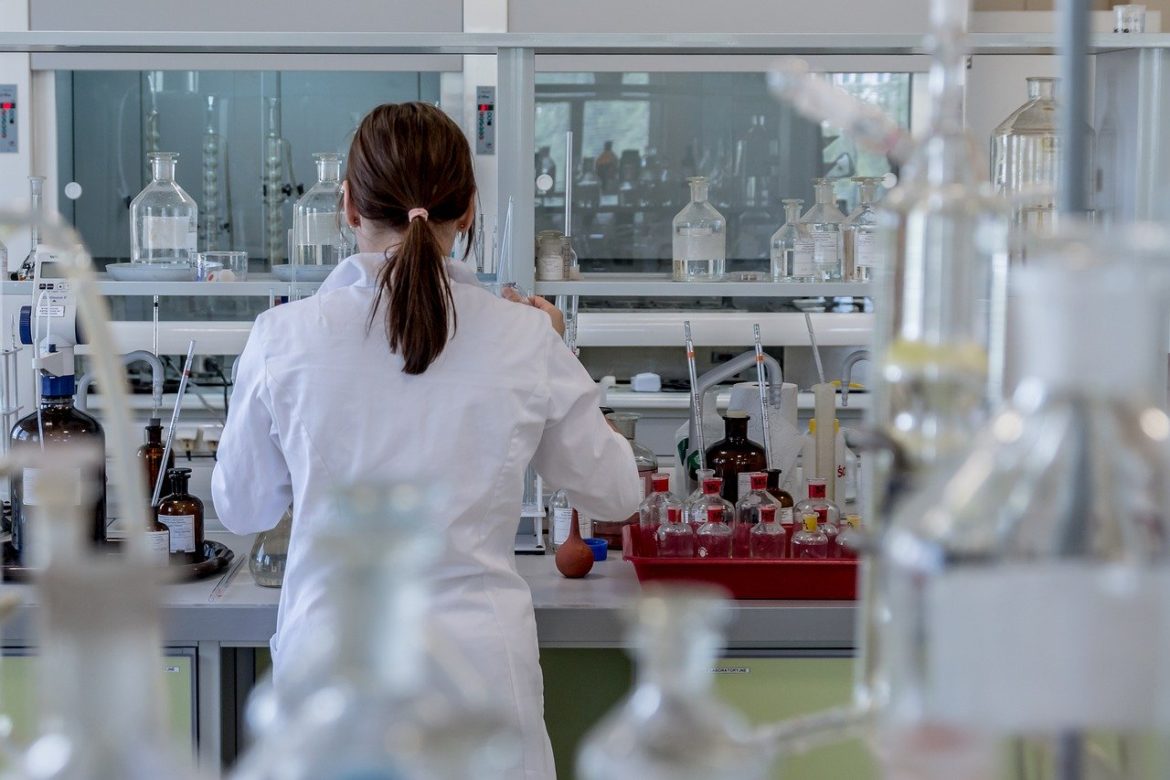 Testing-focused Omega Diagnostics' (ODX) shares have surged 287% this year, but should investors still buy the stock given the recent stratospheric returns?
While the coronavirus pandemic has been a challenge for the global economy, there are some companies benefiting from the changing dynamics. These include the so-called "stay-at-home stocks" such as Zoom Video Communications, Netflix, and Amazon. Their shares have appreciated sharply this year amid the continuing transformation in consumer and enterprise preferences as a result of the shutdown orders.
Aside from US Big Tech, which the majority of fund managers surveyed in July's Bank of America Global Fund Managers Survey termed an overcrowded trade, a select number of stocks in the pharma and therapeutics space have also been Covid beneficiaries.
Omega Diagnostic selling pressure emerges
Omega Diagnostics is one such stock. During the past 12 months the stock has advanced 486%. That said, most of those gains came earlier in the year and ODX shares are up a relatively more sedate 32% in the past three months.
Also, ODX stock has come under selling pressure of late. It fell 6.4% yesterday, taking its trailing five-day losses to around 12%. In order to determine whether the shares are still a buy we need to delve a little deeper into
the company's business and look at why the shares skyrocketed in the first place.
ODX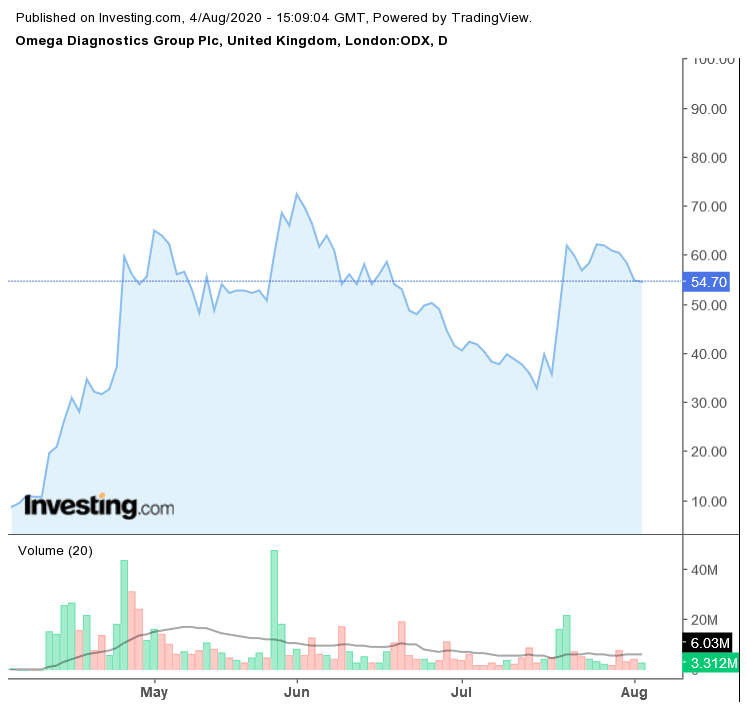 Omega Diagnostics company profile
According to ODX, "We are focused on selling a wide range of specialist products, primarily in the immunoassay, in-vitro diagnostics (IVD) market within three segments:  Allergy, Health & Wellbeing and Global Health."
ODX shares have been on fire since 9 April when the company announced that the signing of a Memorandum of Understanding with three other UK companies and the University of Oxford, creating the UK Rapid Test Consortium. The aim of the grouping is to develop and manufacture a Covid-19 Point of Care antibody test as part of the government national testing strategy.
There have been other positive developments as well. In April, ODX announced a long-term supply agreement with diagnostic test producer Mologic to commercialise its Elisa Covid-19 test.
Two months later the company detailed further opportunities related to Covid-19 testing and the first order for Elisa, in Senegal. Last month, ODX raises £11 million through an open offer. Also, its Elisa antibody test was approved for use in India last month.
ODX: A bet on virus testing
ODX is a bet on sustained robust demand for Covid virus testing. The pandemic is showing no signs of abating. In the UK the brakes have been applied to slow reopening. Meanwhile, in the US, several states have been forced to halt their reopening plans amid a surge in infections.
India is also seeing a rise in new cases and increasing its testing because of it.
For now, extensive testing and a rapid turnaround in results is the most effective way the world has to track, trace and quarantine those infected with the coronavirus.
More testing for the coronavirus is positive for ODX. From a valuation perspective, ODX has a market capitalisation of £93 million. The company posted a net loss in the last three financial years, although analysts polled by Thomson Reuters expect the company to breakeven this year. Revenues are also expected to improve by as much as 30% year on year to £12.6 million this year.
ODX shares look a high risk-reward game
Because of its small cap status ODX is not widely covered, with Refinitiv surveying no analysts tracking the stock. In general, smaller companies, especially in biotech, are high risk, high-return propositions. However, if investors conduct due diligence on the company fundamentals and its business model, then the under-researched nature of such sectors can provide the opportunity to secure multi-bagger returns.
So far, ODX shares have been a winner this year. However, momentum seems to be fading and after the fall on Monday, shares are down sharply today as well.
From a fundamental perspective, coronavirus testing is a big opportunity. If ODX can fully capitalise on the opportunity, it can deliver even greater returns for shareholders.
However, for now, the shares look to be in a short-term downtrend.
Investors who are comfortable with the risks that ODX brings to the table might consider a small allocation in the high-risk portion of a diversified portfolio.