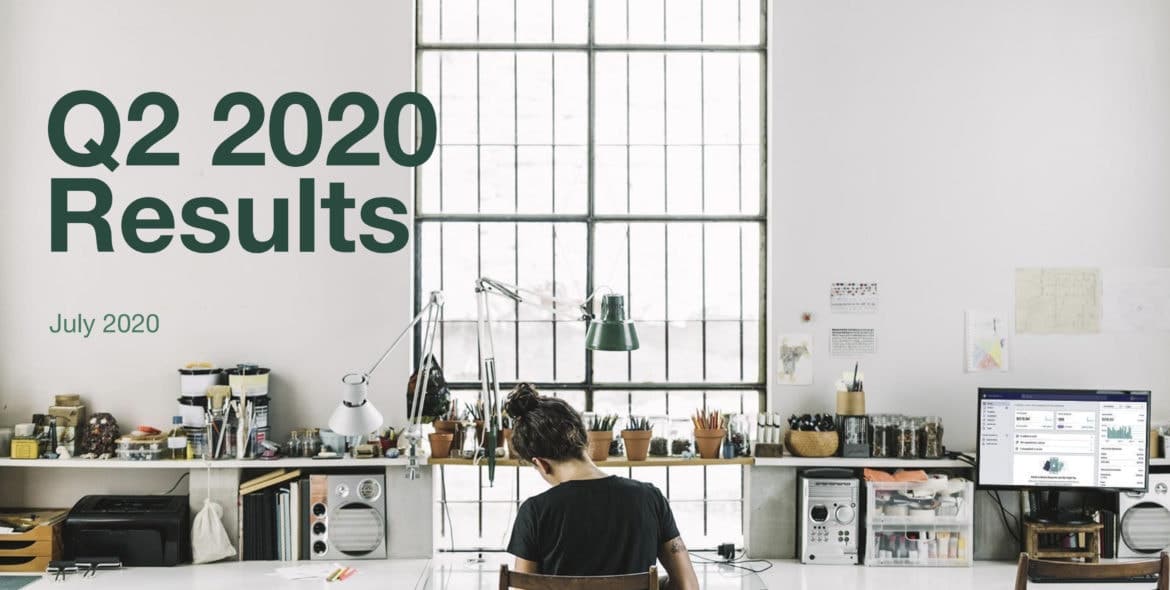 Shopify (SHOP) shares were trading at a new high after a surge in value yesterday saw the shares put on as much as 13%. At market open Thursday those gains are being pared – the shares changing hands at $1,023, down 2%.
The Ottawa-based firm reported an acceleration in gross merchandise volume (GPV) in the second quarter to end June.
GPV shot up 119% year on year, with goods sold over its platform valued at $30.1 billion. That beat analysts expectations by $10 billion.
Doing particularly well were food, beverages and tobacco – sectors that it has historically been harder for Shopify to make headway in. Sales in those areas doubled compared to the first quarter of the year.
The Canadian e-commerce company that provides easy-to-install online shopping functionality for retailers, has witnessed an explosion in demand as shopping patterns are upended by the Covid pandemic.
However, even before Covid-induced lockdowns took hold and high streets shut down, Shopify was reaping the benefits of the heightened shift towards online shopping, pioneered and still dominated by competitor Amazon.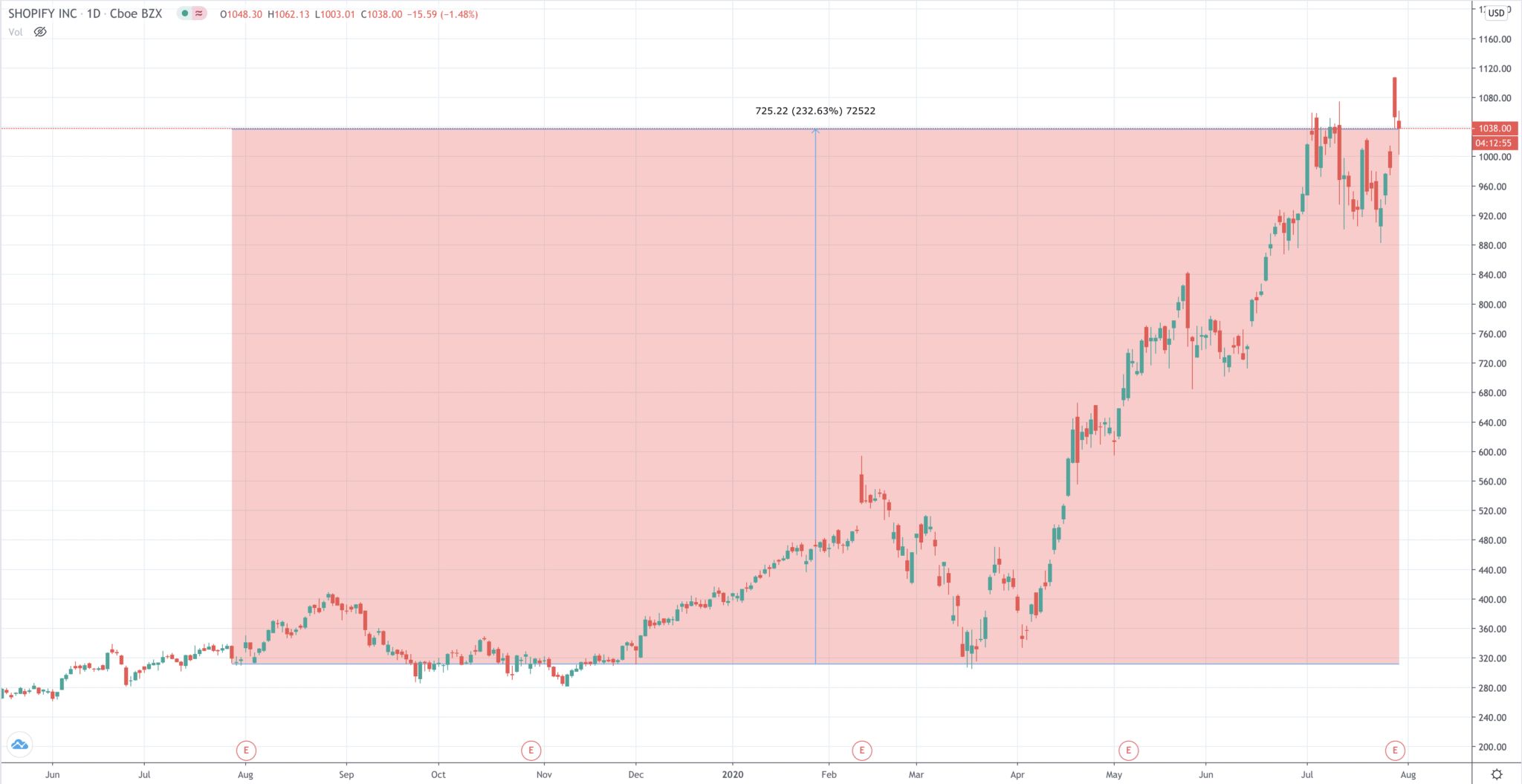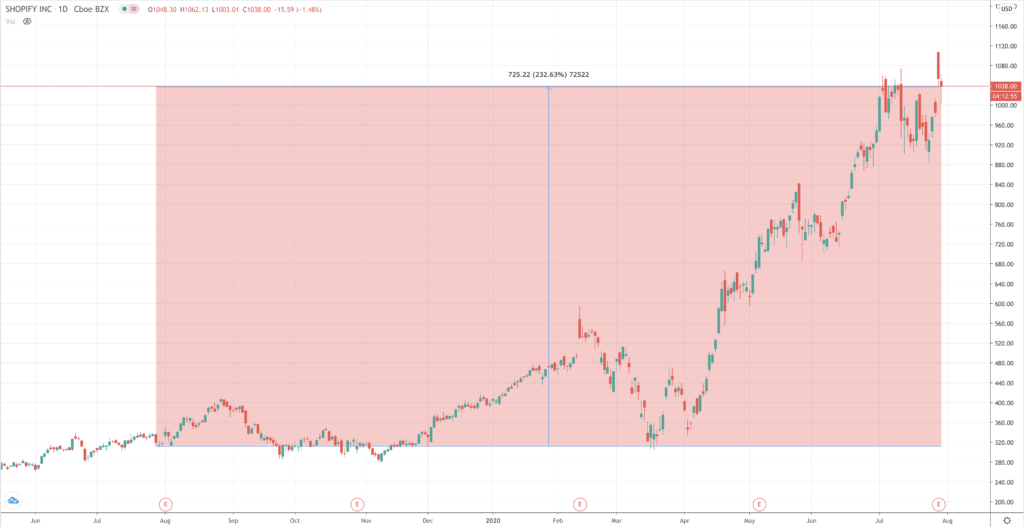 Larger companies coming on board
The number of new store openings on the Shopify platform climbed 71%. And the group is pulling in customers from beyond its hitherto core base among small to medium-sized enterprises.
Shopify Plus, had a strong quarter too, with new joiners including brewer Molson Coors and hat maker Stetson.
One of its biggest successes was bringing on board Heinz, owned by Kraft Heinz, the world's fifth largest food company, which up until early in April did not have its own web operation, instead relying on retailers to sell its products for it. In a matter of days of making the decision to open its own web outlet it was up and running and selling, courtesy of Shopify technology.
Overall revenues advanced 97% on last year at $714 million.
There was also a bounce back in apparel and cosmetics, where the platform has carved out a strong position.
Shopify is now in profit, with net income in the second quarter of $36 million in sharp contrast to the losses booked in the same period last year of $28 million.
The company will keep most of its offices closed and took a charge of $31.6 million related to ending tenancies, in addition to incurring $37 million of expenses for reconfiguring its facilities requirements.
Its quarterly results were fabulous news for Shopify shareholders, underscoring the winning formula of the company as the pandemic rolls on.
From acceleration to slowdown
But the migration online is slowing, as Shopify admitted. In the rate of growth of GMV slowed and the firm expects this to have been the case in July as well.
With the share price up 237% in the past 12 months, closing at $1,053 on Wednesday, investors are asking how much further the shares can rise. In 2019, before the Covid pandemic hit, the shares more than quadrupled in value.
Chief executive and founder Tobi Lutke says the pandemic has accelerated the already established trend of e-commerce growth.
"The world is changing fast. With the rapid shift to online commerce, massive disruption to conventional employment and growing conviction that opportunity needs to be more evenly distributed, entrepreneurship has never been more important," he explained.
But the company did not provide guidance going forward due to what it described as the "greater likelihood of an extended global recession".
That means investors need to assess to what extent continued e-commerce revenue growth, even if at a slower rate, is offset by the negative impact of a global economic downturn, with smaller firms – its bread and butter – likely to be hit hardest.
Demand may hold up, but a buy at these levels?
In coverage of the results, Citigroup analyst Walter Pritchard highlighted in a client note the importance to revenues of sales remaining buoyant at its customers' shops. "Key from here will be sustainability of demand from newly acquired merchants," he said.
Shopify has recently struck deals with PayPal, Walmart and Affirm as it seeks to capture more value from the transactions initiated on its platform.
Investors would be foolish at this point to bet against Shopify continuing to grow.
The firm has shown it has the leadership to seize the times. As Lutke put it at the beginning of the lockdown in a townhall with staff, "delete all our existing plans and re-derive them from this new reality".
Partnerships with Facebook and Pinterest soon followed as Shopify moved quickly to help small businesses acquire the flexibility to reach new audiences or reconnect in different ways to their existing audiences. Shopify rapidly rolled out services to help with fulfilment solutions via local deliveries and click and collect.
Founded in 2006, Shopify is now the most valuable public company in Canada.
Certainly recession could adversely impact this growth story but it may be more likely to continue to entrench and extend the e-commerce trend. Cost- efficiencies benefit certain retailers as they help to bear down on prices . That could help to keep cash-strapped consumers spending.
Of eight analysts surveyed by Refinitiv, one has a buy rating and four an outperform with none recommending a sell. That's fairly bullish for prospective buyers of the shares.
But of the six analysts offering a 12-month price target, the median comes in at $570, which will underscore reason for caution for any brave souls thinking of jumping in now.
Perhaps it would be prudent to wait and see how the current quarter turns out to gain a better insight into how sustainable Shopify's revenue gains are, and the possibilities for further growth as the prospects for a rapid recovery appear to dim.