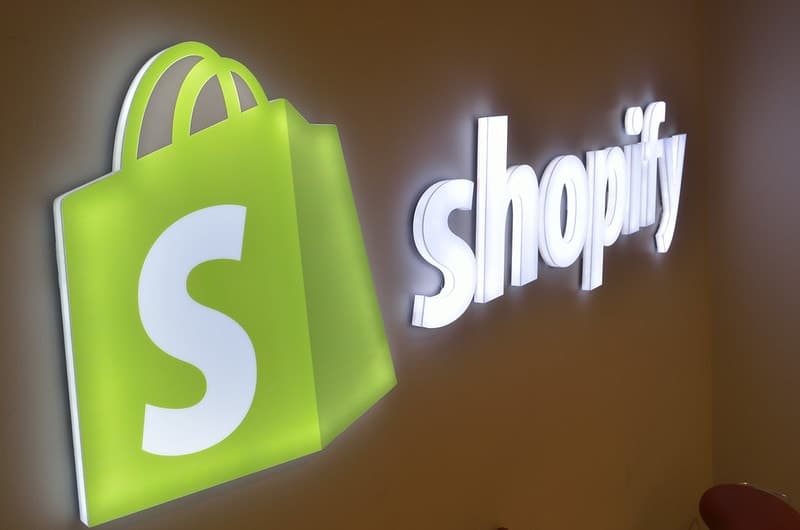 The price of Shopify shares surged yesterday for the third consecutive after a report from Bloomberg revealed that the company stroked a deal with Google and Facebook to allow users to complete their purchases by using the firm's Shop Pay feature.
Shares of the e-commerce solutions provider started to surge a day before the report came out, possibly as rumors about the deal were already circulating among traders, with Shopify's stock advancing 4.8% on 14 June while accumulating a 16.2% gain since then.
Yesterday, Shopify (SHOP) closed a heavy-volume session 6% higher at $1,449 per share, with the technical setup suggesting that a pullback is due as a result of this latest buying frenzy. In total, since 14 June, more than 8.7 million shares of the e-commerce platform have exchanged hands, with yesterday's volumes being almost 2.5 higher than the stock's 10-day average.
According to the news, Shopify is partnering with Google (GOOG) and Facebook (FB) to provide its users with the possibility of completing the purchases they make on their marketplaces and properties – such as WhatsApp and Instagram – by using Shopify's proprietary payment processing solution, Shop Pay.
Shop Pay collects and stores data from users to speed up the checkout process. By the end of the first quarter of 2021, Shopify reported a total of 60 million users registered with Shop Pay while it mentioned that $27 billion in payments have been processed by the platform since it was launched back in 2017.
"Our hope is that this momentum moment for Shop Pay is a step forward to becoming the internet's preferred checkout" said Shopify's President, Harley Finkelstein.
Shopify reclaims some of its lost momentum
The price of Shopify shares had been declining for a while before this latest uptick, with the stock dropping from its all-time high of $1,500 from February this year to as little as $1,050 per share in mid-May as investors shunned high-flying tech stocks to pile on issues from virus-battered segments of the economy such as financials and energy stocks.
That said, the firm reported a blockbuster first quarter, with sales landing 15% above analysts estimates at almost $1 billion – the highest quarterly revenue reported by Shopify in its history – while earnings per share (EPS) came in 170% above the market's consensus as well at $2.01.
On the day the report was released, the stock went up as much as 11% in a heavy-volume trading session but then it collapsed in the following two weeks or so, moving from a post-earnings high of $1,300 to its 2021 lows of $1,047 per share.
Since then, the stock has gone up as much as 38.3%, possibly as investors start to look beyond the pandemic for what could be a long-lasting tailwind for the firm rather than a one-off windfall.
What's next for Shopify shares?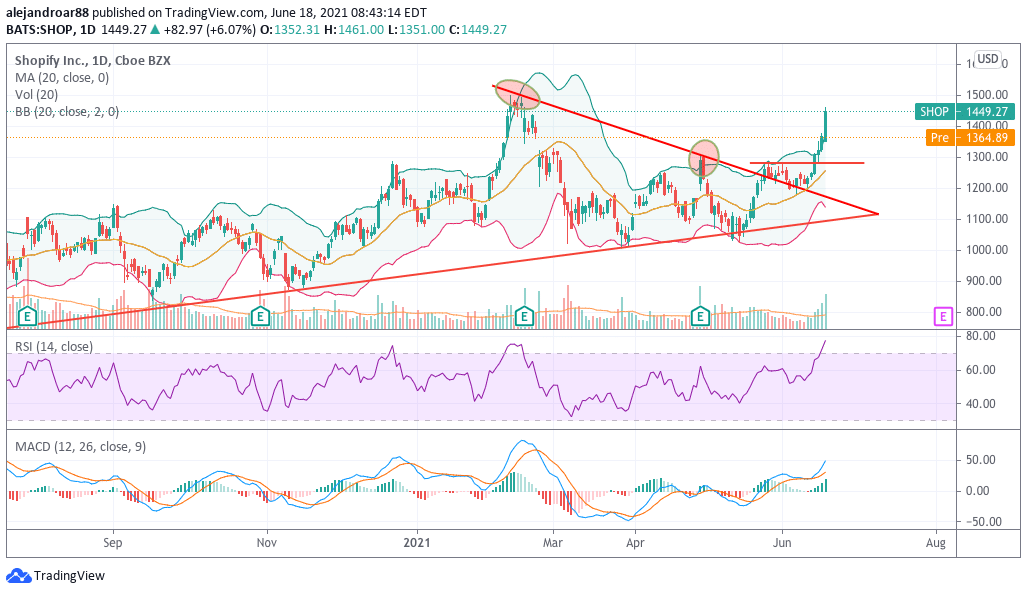 The chart above shows one particularly worrying technical setup as SHOP closed yesterday's stock trading session 5.3% above its upper Bollinger band while the Relative Strength Index (RSI) is posting its highest reading in almost a year.
Although Shopify shares could go much higher in the following sessions, the risk of a sharp pullback is increasing as the stock is also heavily extended from its short-term moving averages, which means that the market could have gotten way ahead of itself and a swift return to the mean could take place if early buyers decide to take some profits off the table.
Meanwhile, with a market capitalization of $170 billion, Shopify is being valued at 38 times its forecasted sales for 2021 and at 333 times the market's EPS consensus for the year.
While the company's future is bright and its financials are robust, the valuation seems heavily stretched as it is demanding a kind of growth that the firm may not be able to deliver despite the tailwind that the pandemic has provided to the business.