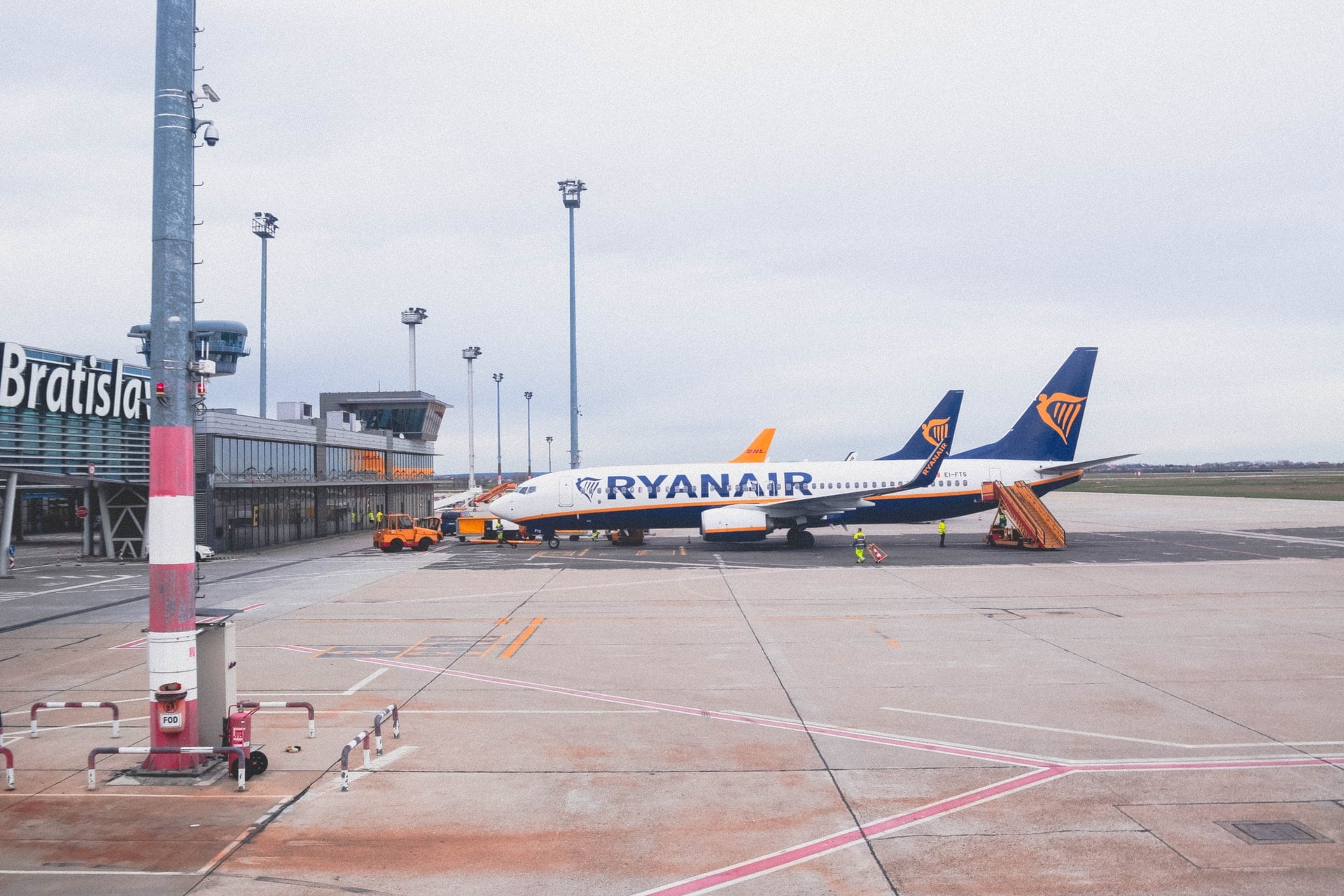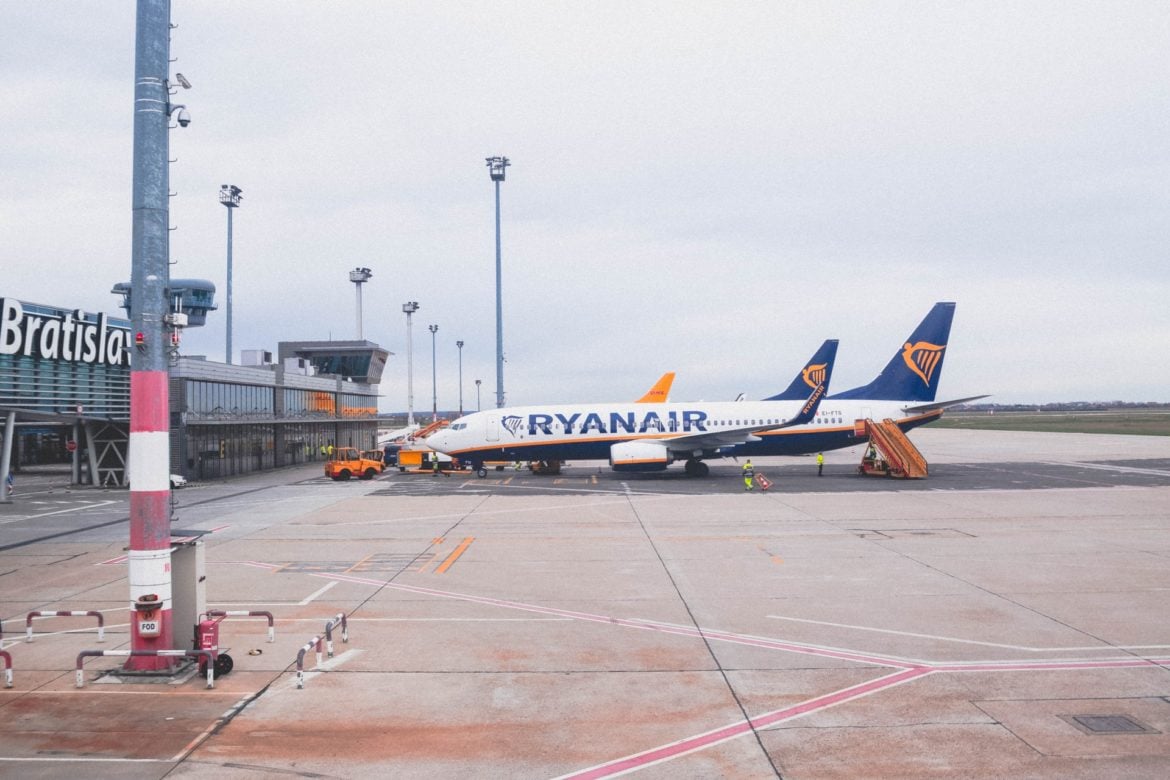 Ryanair (RYA) shares were trading almost 1.5% higher in early trading today even as the company posted a massive loss in the first half of fiscal 2021 and provided a dismal outlook.
In a sign of the distress faced by airlines as the second wave of the corona virus sees lockdowns return in Europe, the last timet Ryanair posted a loss for the all-important summer months was 30 years ago.
Ryanair posts massive loss
Airline traffic is running way below what it was last year.  In September, Ryanair reported traffic of 5.1 million down from 14.1 million in the corresponding month in 2019. Looking at the first half performance for the period ending 30 September, Ryanair flew 17.1 million customers, down 80% from the corresponding period in 2019. Its load factor also fell to 72% from 96% over the period. The load factor is a key metric for the airline industry and measures the filed seats to the available seats. A lower load factor hits airline companies' profitability as the fixed costs get absorbed between a lesser number of seats.
Ryanair's revenues fell 78% year over year to €1.18 billion in the fiscal first half. It posted a net loss of €197 million as compared to a net profit of €1.15 billion in the corresponding period last year.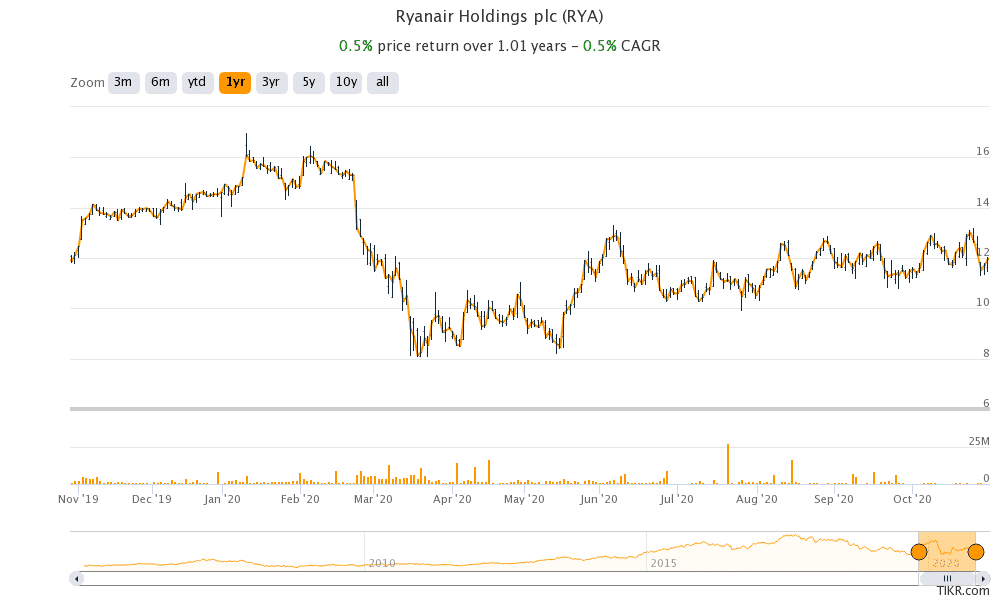 Ryanair does not provide guidance
Calling the fiscal year 2021 "a hugely challenging year" Ryanair did not provide any earnings guidance for the year. It, however, said that "The Group expects to carry approx. 38m passengers in FY21, although this guidance could be further revised downwards if EU Govts continue to mismanage air travel and impose more uncoordinated travel restrictions or lock downs this winter."
As coronavirus cases have been rising in Europe, the dreaded lockdowns are back in many countries and more countries are mulling measures to control the spread of virus and prevent their medical infrastructure from becoming overburdened.
Ryanair's chief executive Michael O'Leary was even more straightforward in criticizing the UK government for its woes. "The WHO (World Health Organization) themselves confirmed that lockdowns should be the last option, lockdowns are essentially a failure," said O'Leary speaking with CNBC.
He added, "If we had more aggressive test and tracing provision, or as (U.K. Prime Minister) Boris Johnson promised world class testing and tracing, which clearly we don't have in the U.K., we could and would have avoided a second lockdown."
Incidentally, UK-based pub chain J D Wetherspoon, which reported last month also blasted the UK government's policies. Ryanair also sees a no-deal Brexit as a possible risk and expects the losses in the second half of the fiscal year to be higher than the first half.
COVID-19 pandemic has hit airline companies
The COVID-19 pandemic has taken a toll on the airline industry and Ryanair is no exception. There has been a wave of bankruptcies in the airline industry globally despite various measures taken by governments to provide financial support to the ailing industry. The US airline industry, that got among the most generous package globally, is vouching for another round of stimulus. Last month, American Airlines and United Airlines announced thousands of furloughs after the previous stimulus ended.  The stimulus talks have been struck and now a stimulus seems likely only after the elections.
The airline industry's woes have tricked down to the entire value chain of the aviation industry. As cash-starved airline industry clamped back on new aircraft orders, it hit aircraft manufacturers like Boeing and Airbus. Companies that supply components to aircraft manufacturers have also been hit. Engine supplier Rolls-Royce is trading near multi year lows. General Electric's aviation segment also reported a sharp fall in its third quarter profits.
Berkshire Hathaway also sold all airline shares
In April, Berkshire Hathaway chairman and legendary value investor sold his stake in all four airline companies that the company was holding. Notably, Buffett sold the shares as a massive loss as he wasn't convinced about the sector's outlook due to the pandemic. That said, with a year to date loss of only about 20% Ryanair stock is outperforming most other airline stocks
In the second quarter, Berkshire Hathaway took an almost $10 billion write-down on its investment in Precision Castparts that makes components for aircraft. Berkshire Hathaway had made the acquisition in 2015 and was the conglomerate's biggest investment in years. Since then Buffett has been struggling to find what he calls "elephant-sized acquisition" despite US stock markets plunging in the first quarter.
Can Ryanair shares bounce back?
Ryanair shares have outperformed peers and the company has strengthened its balance sheet to survive the pandemic. It expects to emerge stronger after the pandemic
"As we look beyond the Covid-19 crisis, and the emergence of effective vaccines in early 2021, the Ryanair Group expects to have a lower cost base, a stronger balance sheet, which will enable it to fund lower fares, and add new lower cost aircraft to capitalise on the many growth opportunities that will be available in all markets across Europe, especially where competitor airlines have substantially cut capacity or failed," said the company in its release.
That said, the airline sector is still in a deep mess and it would take a long time for air travel and airline companies' profitability to revert back to pre-pandemic levels.