Nvidia shattered its fiscal second quarter earnings for the quarter ending July 26 and gave a better than expected guidance for the third quarter. While shares closed flat on Thursday they have more than doubled this year making Nvidia the second best performing stock of the S&P 500 Index just behind Carrier Global Corporation that's up 142% for the year.
Nvidia's second quarter earnings shattered estimates
Nvidia reported revenues of $3.87 billion in the second quarter—up 50% as compared to the corresponding quarter last year and ahead of analysts' estimate of $3.65 billion. The company reported adjusted earnings per share of $2.18. Analysts surveyed by Refinitiv expected the metric at $1.97.
Along with better than expected second quarter earnings, Nvidia also gave a strong guidance. It expects its third quarter revenues to be $4.40 billion, plus or minus 2%. At the midpoint of the guidance, Nvidia expects its fiscal third quarter earnings to rise 46% year over year.
In the second quarter, Nvidia's data centre business was higher than gaming revenues for the first time ever. Its data centre revenues surged 167% year over year to $1.75 billion. Gaming revenues rose 26% over the period to $1.65 billion.
The data centre business also includes the revenues from Mellanox that Nvidia acquired in the quarter for 47.13 billion. Revenues from Mellanox contributed 14% of Nvidia's consolidated second quarter earnings. Nvidia has been increasing focus on its data centre business and lowering its reliance on the gaming segment.
Professional visualization and automotive that form a small part of Nvidia's revenues reported lower sales in the second quarter. "Sales were hurt by lower enterprise demand and the closure of many offices around the world," said Colette Kress, Nvidia's finance chief. He added, "Industries negatively impacted during the quarter include automotive, architectural engineering and construction, manufacturing, media and entertainment, and oil and gas.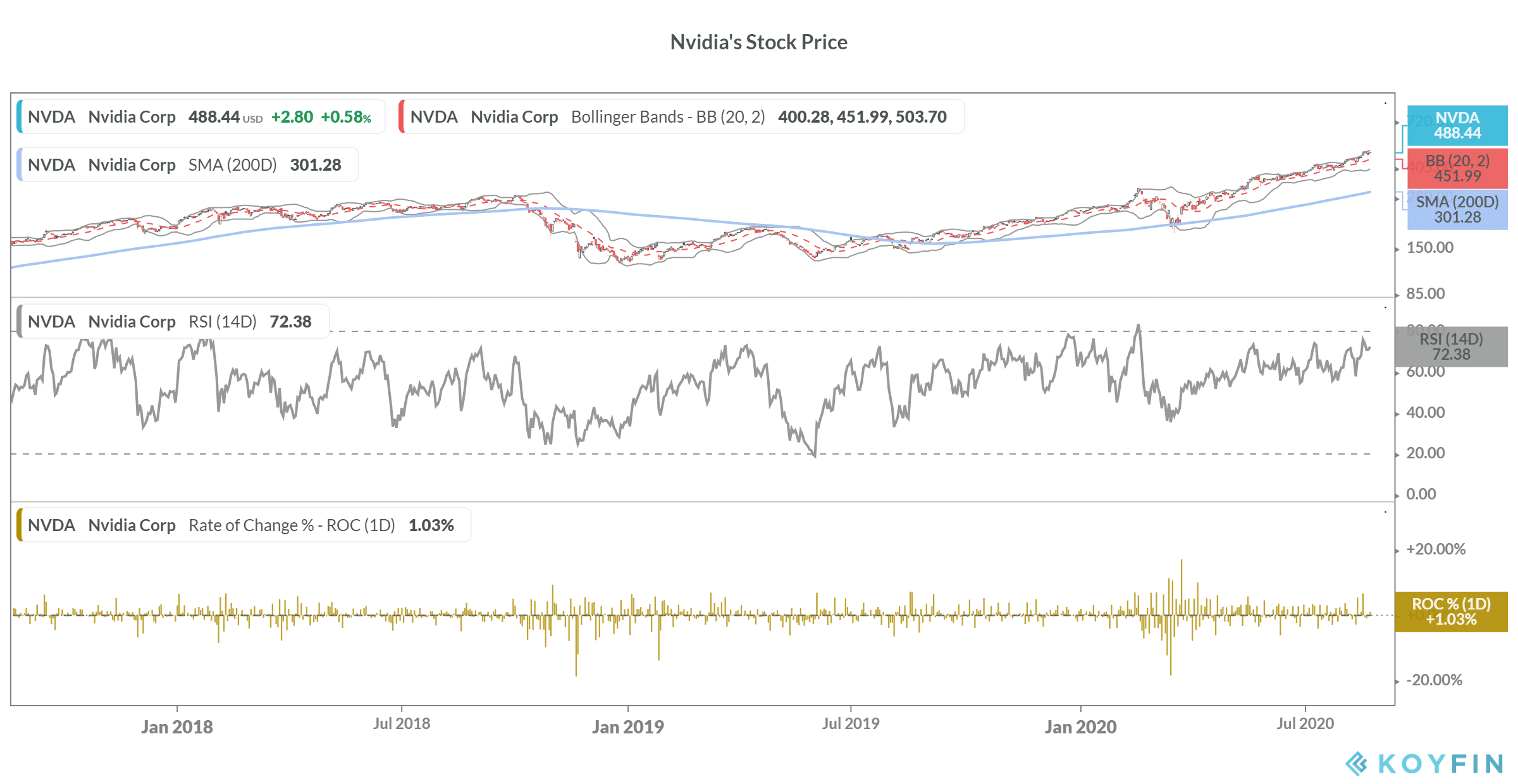 Nvidia's gaming segment benefiting from the pandemic
Meanwhile, Nvidia's gaming segment benefited from changing consumer preferences during the pandemic. "With all that's happening around the world, and it's really unfortunate, but it's made gaming the largest entertainment medium in the world, said Nvidia's CEO, Jensen Huang.
She added, "The thing that people haven't realized about videogames is that it's not just a game itself anymore." Huang also said "You're spending time with your friends. You're using it to create, to realize your imaginations. People are using it for broadcast, for sharing ideas and techniques with other people, and then of course it's just an incredibly fun way to spend time."
According to Huang "this may very well be one of the best gaming seasons ever." Nvidia is widely expected to announce a new line of Ampere gaming chips on September 1. The company expects gaming revenues to surpass data centre revenues in the fiscal third quarter.
Bank of America expects Nvidia stock to rise
On Thursday, Bank of America raised Nvidia's target price from $520 to $600, a premium of almost 24% from current prices. Analysts led by Vivek Arya expect Nvidia to be the first semiconductor company to cross $500 billion market capitalization. The rally in tech stocks this year has already catapulted Apple to the first company with a $2 trillion market capitalization.
Bigger picture, we believe NVDA has an unassailable hardware/software/developer lead in some of the largest and fastest growing markets in semis/tech," Bank of America analysts wrote in their note.
According to Yahoo Finance, Nvidia has an average target price of $514, a premium of 5.2% over current prices. 19 analysts have rated it as a buy or higher while 15 analysts have rated it as a hold or some equivalent. The remaining four analysts rate it as a sell or lower.
Nvidia shares were up 1.4% in early trade today. However, with a 14-day relative strength index of 72, they look overbought in the short term.