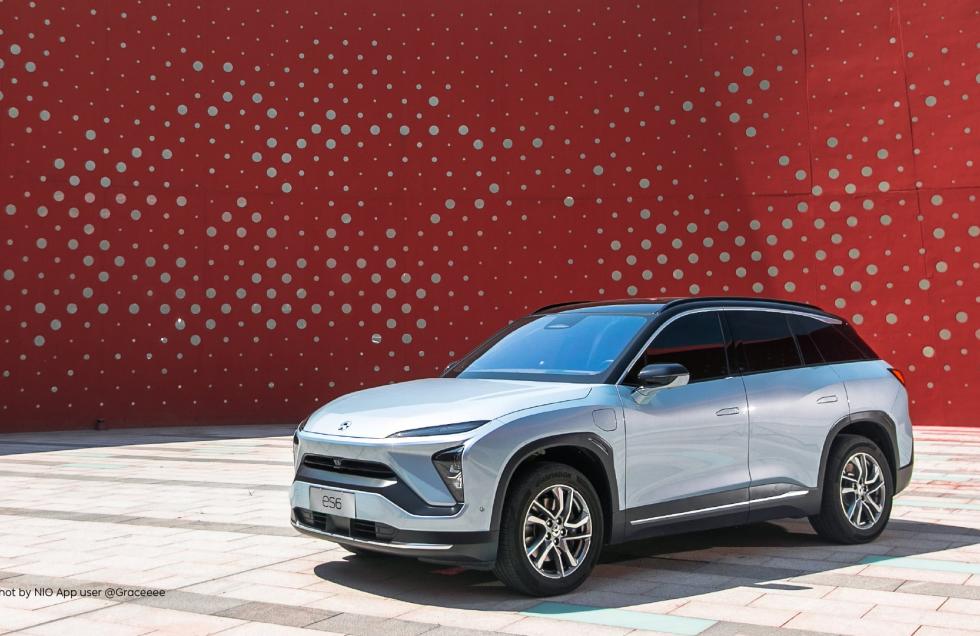 Shares of Chinese EV (electric vehicle) company NIO were trading lower in US premarket price action today after it announced plans to raise $2 billion through a share sale.
NIO has filed to sell ADS (American Depository Shares) through an at-the-market (ATM) equity offering program. Credit Suisse, Morgan Stanley, Goldman Sachs, and Nomura are among the sales agents appointed by the company. It said that some of the sales agents might also make the sales outside the US.
NIO announces $2 billion share sale
Here it is worth noting that since it is an ATM offering, the sale price is variable and would depend on the prevailing share price. NIO has said that the sales "will be made from time to time." That said, last year, Tesla raised $5 billion at an ATM offering within days even as it was supposed to be completed over a long span.
In its release, NIO said that "it currently plans to use the net proceeds from the At-The-Market Offering to further strengthen its balance sheet, as well as for general corporate purposes."
Multiple capital raise
NIO has raised capital multiple times since the beginning of 2020 and had total liquidity of $7.5 billion at the end of June. The liquidity position is very strong considering the company's current growth plans. Notably, in the first quarter of 2020, NIO was in a dire need of cash as its very survival was under a threat. It raised capital through the issuance of convertible notes, to begin with. Soon, the Hefei Municipal Corporation pitched in as a strategic investor to bail out the cash-starved company.
Since then, NIO has been raising cash by selling shares. It has issued shares at frequent intervals. While the capital raises in the first half of 2020 were more of a necessity as the Chinese EV company risked running out of cash, the capital raise thereafter have been tactical.
JAC Motors
However, considering the fact that NIO cars are made at the JAC Motors facility, the company's cash needs are lower than those companies that are making cars at their own facilities. Tesla, Lucid Motors, Nikola, and Lordstown Motors are among the companies that are producing their own cars. Like NIO, Fisker has also partnered with third parties for production. For its first SUV, which has been named Ocean, Fisker has partnered with Magna. For its second car, it has partnered with Foxconn.
Talking of NIO, earlier this year, it extended the partnership with JAC under which the latter would double the existing capacity to 240,000 cars annually.
NIO's deliveries disappointed
NIO delivered only 5,880 vehicles in August which was below estimates. It was the second consecutive month where the company's deliveries were lower than that of Li Auto and Xpeng Motors. Li Auto outsold both NIO and Xpeng Motors in August and looking at the guidance, the trend is expected to continue in September also.
While releasing the August delivery report, NIO lowered the third quarter delivery guidance to 22,500-23,500 cars which was below the 23,000-25,000 cars that it had previously guided for.
"While the Company's new order reached an all-time high in August driven by the increasing demand, the vehicle production, especially the manufacturing of the ES6 and EC6, was materially disrupted by supply chain constraints resulting from the COVID-19 pandemic in certain areas in China and Malaysia," NIO said in its note. The company blamed "continued uncertainty and volatility of semiconductor supply" for lowering its guidance.
Chip shortage
The automotive industry is possibly the worst affected by the chip shortage situation. From a sudden spike in demand and supply-side issues at key suppliers, the demand-supply situation in the industry has been severely impacted. That said, the impact varies across automakers. For instance, Ford is among the worst affected among the legacy automakers. Among pure-play EV companies, Tesla has been largely immune from the chip shortage situation.
NIO second-quarter earnings
NIO reported revenues of $1.30 billion in the second quarter which were 127% higher than what it had reported in the corresponding quarter in 2020 and were also ahead of what analysts were expecting. It reported gross profits of $243.8 million in the quarter. While the gross profits rose five-fold from the corresponding quarter in 2020, they were only marginally higher than the previous quarter.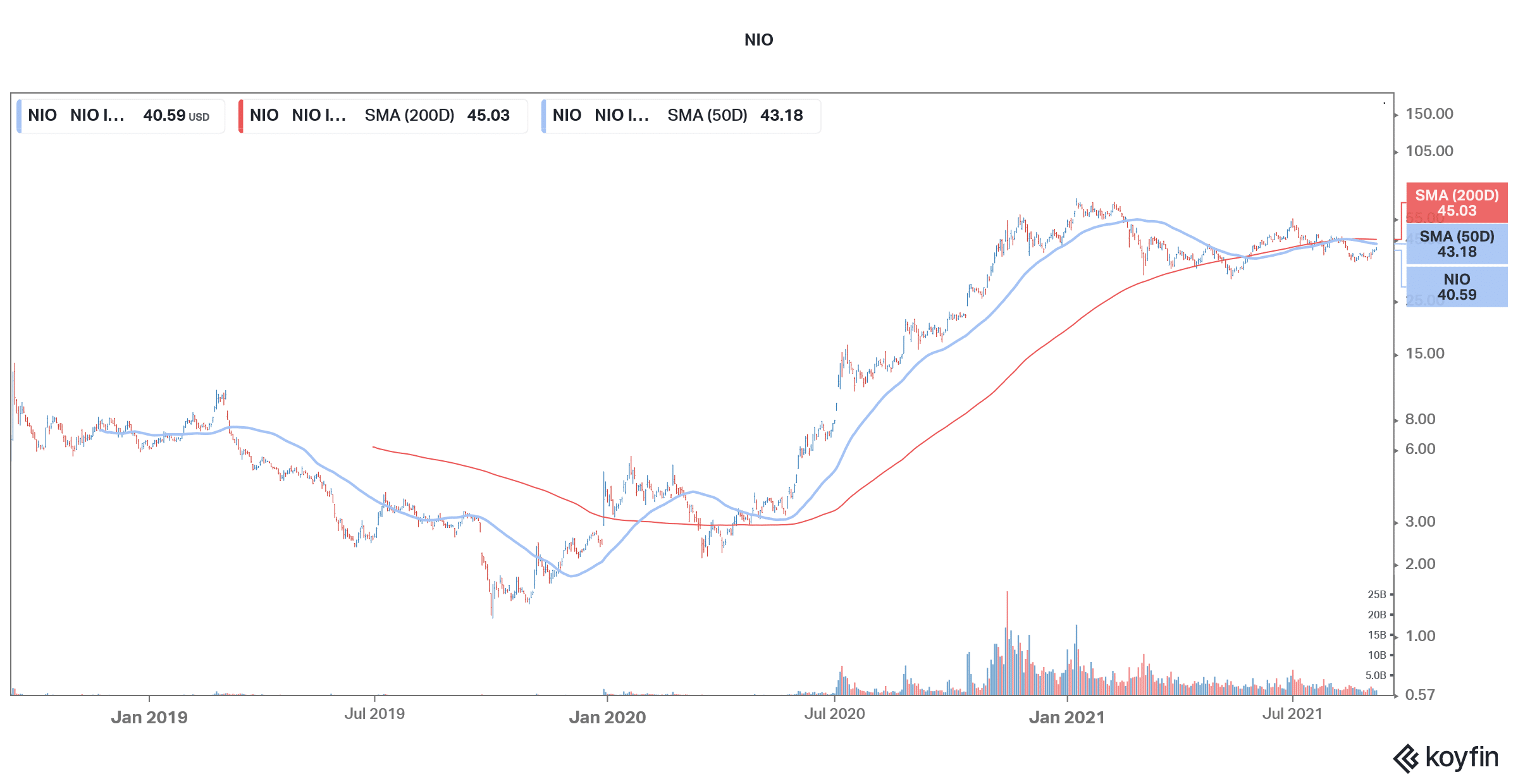 NIO stock forecast
After NIO's second-quarter earnings, Citi reiterated its buy rating on the shares while calling the earnings "neutral." "We expect NIO to benefit from the overall China NEV (New Energy Vehicle) Passenger Vehicle sector upgrade, as well as accelerating orders as the sector's beta proxy. We expect NIO to further gain market share from JV brands while the sector bottoms out," said Citi in its note.
Overall, Wall Street analysts are bullish on the shares and its median target price of $61.18 is a premium of 51%. It has a buy rating from 17 out of the 20 analysts polled by CNN Business.
Chinese EV shares
Meanwhile, NIO shares have been weak in 2021 and are down 24% in the year. This was preceded by a 1,100% rise last year. However, 2021 has been a different ballgame for EV shares are investors have instead pivoted towards legacy automakers like Ford and General Motors. China's tech crackdown has also taken a toll on Chinese EV shares even as the country hasn't taken any measures against the sector. However, the slump in NIO shares could be a good buying opportunity as the valuations now appear a lot more reasonable than they did at the peaks.
NIO shares were trading 3% lower in US premarket price action and have a 52-week trading range of $15.62-$66.99.