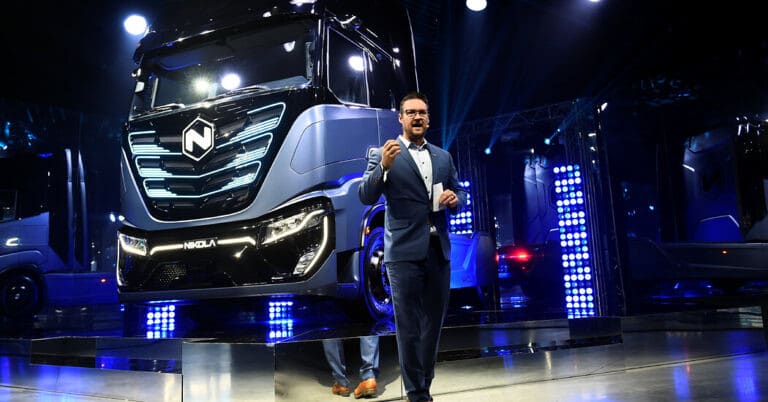 Nikola stock plunged yesterday and continues to dive this morning in pre-market stock trading action after the former Chief Executive and founder of the electric vehicle manufacturer was charged with three counts of fraud by a grand jury.
In a case brought up by the Southern District of New York, Trevor Milton, the controversial founder of the company who stepped down in September last year following the release of a report from Hindenburg Research, was accused of using social platforms, media appearances, and other channels to make false and misleading statements about Nikola's products and technologies.
According to the indictment, the former top executive reportedly focused on pumping the price of Nikola stock, which was taken public through a SPAC-sponsored deal with a company led by a former General Motors executive, and issued misleading statements about the company's progress toward developing an electric-powered truck to persuade retail investors to buy shares of the company.
Prosecutors have asked the court to strip Milton from all the ill-gotten gains obtained as a result of the scheme, with the amount of seized funds possibly ascending to more than $1 billion.
Some of the false statements made by Milton, according to case documents, would include:
Alleging that the Nikola One prototype was a fully functioning vehicle.
Stating that the "Badger" truck from scratch.
Stating that Nikola was producing hydrogen at a low cost.
Saying that the company was developing key components for its vehicles in-house when they were actually buying them from a third party.
Repeatedly communicating misleading delivery schedules and falsely claiming to obtain billions in binding purchase orders.
The documents also say that Nikola (NKLA) bought Ford F-150 pick-up trucks and remodeled their structure to present them as the "Badger".
Charges brought up against Milton could lead to a sentence of up to 25 years in prison but legal experts say that he will most likely seek a plea bargain. Meanwhile, the 39-year old former head of Nikola has pleaded not guilty to all charges and paid $100 million in bail. The court issued travel restrictions and barred him from getting in touch with Nikola's investors until the case is resolved.
Meanwhile, the SEC and prosecutors will seek to bar Milton from acting as an officer in any company that offers securities to the investment public in the future.
Milton claims that he is innocent and according to his lawyers he is being a victim of the government's effort to "criminalize lawful business conduct" and has been "wrongfully accused following a faulty and incomplete investigation".
How have Nikola shares performed before this development?
Nikola shares lost as much as 15% of their value yesterday after plunging to $12 per share and have shed nearly 72% since the Hindenburg report came out on 10 September last year. Notably, the company is still being valued at around $4.2 billion even though it has not generated a dime in revenues.
Back in September, Stephen Girsky, the promoter of VectoIQ, the SPAC that helped Nikola in going public, took over as executive chairman of the company after Milton stepped down from its role and has been leading the business since then.
In a statement issued by the company yesterday, Nikola cut ties with Milton as he stated that he has "resigned from Nikola" and "has not been involved in the company's operations or communications" since September 2020. Moreover, the company confirmed that it "cooperated with the government throughout the course of its inquiry".
According to the latest quarterly report from Nikola, the firm has received the first batch of its Tre electric trucks already and it is reportedly completing full delivery of a second batch, with a total of nine vehicles reportedly being ordered for this last batch while three of them are already parked at the firm's headquarters in Arizona.
During the first quarter of the year, the firm reported GAAP losses of $120.2 million while it had $763.75 million in cash and equivalents and nearly no debt. Meanwhile, the firm burned $83.8 million in cash during that same period.
What's next for Nikola?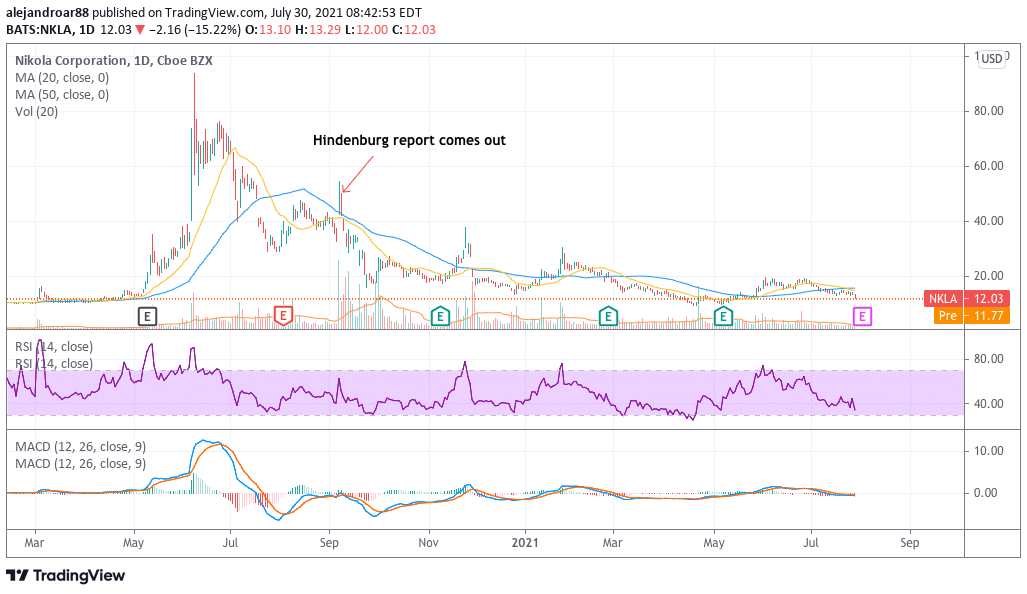 The credibility of the electric vehicle maker has been severely affected by this latest indictment and could have a material impact on the company's ability to finance its operations moving forward.
At the current rate at which the firm is burning cash, it might still be a while before Nikola gets into financial trouble. However, its inability to raise money from investors as a result of Milton's past actions could difficult the firm's path toward developing and launching a vehicle that can be sold to the public.
Based on this outlook, this company is hardly worth more than its book value and it seems hard to justify that it is trading at a premium even though it hasn't been able to prove that its alleged technologies work as promised.