How to Buy Nikola Shares Online in the UK
Fact Checked
Everything you read on our site is provided by expert writers who have many years of experience in the financial markets and have written for other top financial publications. Every piece of information here is fact-checked.
Disclosure
Please note that we are not authorised to provide any investment advice. The information on this page should be construed for information purposes only. We may earn commissions from the products mentioned on this site.
Electric carmaker Nikola was riding high through most of the summer. The company had announced major new pre-orders for its battery and hydrogen fuel cell trucks from companies like Anheuser-Busch and Republic Waste Services. Plus, it announced a manufacturing partnership with US carmaker General Motors to help build its planned light-duty truck.
However, things fell apart quickly for Nikola in the wake of a bombshell report alleging that its battery technology was far short of what it had promised investors. Nikola's share price has cratered and its founder and CEO recently resigned.
While Nikola still has a lot of issues to work through, it's worth considering for a trade at its current low price. Nikola is now valued far below what it was just a few months ago, and investors could see a significant return if it is able to recapture excitement on Wall Street.
In this guide, we'll explain how to buy Nikola shares in the UK and highlight the case for why Nikola may be a buy right now.
Step 1: Find a UK Stock Broker That Offers Nikola Shares
Nikola shares trade on the NASDAQ stock exchange in the US. So, the easiest way to buy Nikola shares in the UK is to find an online stock broker that offers global share trading.
There's more to choosing a broker than simply finding one that offers Nikola shares, however. It's important to consider what else your broker brings to the table, like an advanced trading platform or low trading fees.
With that in mind, let's take a look at two of the top UK stock brokers you can use to buy shares of Nikola today.
1. eToro – Buy Nikola Shares Outright with 0% Commission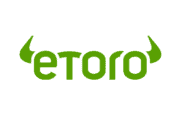 eToro is one of the top online brokers in the UK. It offers more than 800 global shares, including top US tech stocks like Amazon, Tesla, and Nikola. It also supports ETF trading for more than 450 funds. All trading on eToro is 100% commission-free, and you have the option of buying Nikola shares outright or trading the shares through CFDs (contracts for difference).
Another reason we recommend eToro is that it offers a vibrant social trading network where you can interact with thousands of other UK stock traders. You can quickly swap ideas about stock trading or gauge market sentiment for popular shares like Nikola. eToro also supports copy trading, so you can set a portion or all of your portfolio on autopilot.
eToro also has a user-friendly trading platform with plenty of tools for technical analysis. You can access more than 100 technical indicators and a full suite of drawing tools. eToro also has a news feed, which can come in handy for a volatile, news-driven stock like Nikola.
Pros
800+ global shares and 450+ ETFs
100% commission-free trading
Buy shares outright or trade CFDs
Social trading network
Supports copy trading
Cons
Small fee of £4 per withdrawal
67% of retail investor accounts lose money when trading CFDs with this provider.
2. Plus500 – Low-cost CFD Trading for Nikola Shares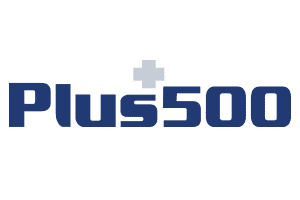 If you're interested in CFD trading around Nikola shares, Plus500 is one of the top CFD brokers in the UK. This platform carries CFDs for hundreds of global shares and even offers options trading for a handful of US tech stocks (although not Nikola at this time). All trades through Plus500 are 100% commission-free and the broker has some of the tightest spreads available in the UK.
Plus500 doesn't boast as many features to its trading platform as eToro. For example, there's no social network. However, the proprietary charting interface is very easy to get started with and offers several dozen popular technical studies and drawing tools. Plus500 also offers price alerts, which you can use to stay on top of sudden movements in Nikola's share price.
The other thing that's noteworthy about Plus500 is that the broker allows you to trade Nikola shares with up to 2:1 leverage. That can be useful if you want to increase your effective trade size around Nikola. Importantly, all UK traders have negative balance protection when trading with Plus500.
Pros
Wide variety of stock CFDs
Supports options trading
Easy to use charting software
Includes price alerts
2:1 leverage for Nikola CFDs
Cons
No social trading network
72% of retail investor accounts lose money when trading CFDs with this provider.
Step 2: Research Nikola Shares


Nikola investors have been on a rollercoaster ride over the past few months. Before you decide to buy Nikola shares, it's important to fully understand what this company does, why the stock price has been so volatile recently, and whether it's a good investment for you.
Nikola Share Price History
Nikola was founded in 2014 by Trevor Milton. The company has prototyped several long-haul trucks that run on hydrogen fuel cells and battery power rather than traditional diesel engines. Nikola initially estimated that its first trucks would be in production in 2020 and that the company would be producing as many as 50,000 electric trucks per year by 2023.
The company had around $14 billion in preorders before it went public in 2020. Anheuser-Busch placed an order for up to 800 trucks, while Republic Waste Service preordered several hundred more vehicles.
Nikola went public in June 2020 through a merger with VectoIQ Acquisition Corporation, a special acquisition company formed specifically to take Nikola public without an IPO. The shares started trading at $34 per share, but jumped to nearly $80 per share within a few days after the CEO announced that Nikola would soon begin taking preorders for its planned pickup truck.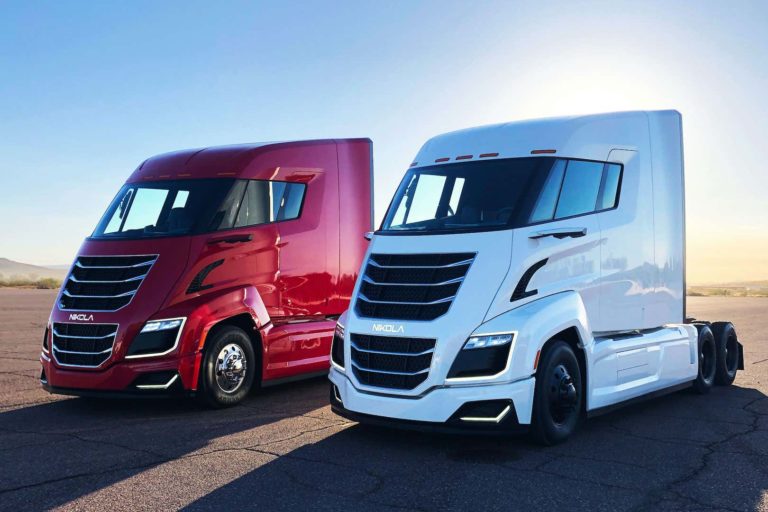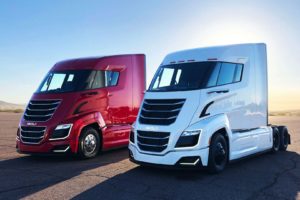 Nikola's share price dropped to $35.55 per share by the beginning of September. However, it was buoyed momentarily by an announcement of a partnership with General Motors. Under the agreement, General Motors would manufacture Nikola's pickup truck and provide battery technology in exchange for an 11% stake in the company.
However, Nikola's price jump was short-lived. Soon after the General Motors partnership announcement, investment firm Hindenburg Research released a report accusing Nikola of misleading investors. It claimed that Nikola's battery technology was not as good as advertised and that the company was not close to producing its promised trucks.
Since the report was released, Nikola's share price has fallen to a low of $17.88 per share. Milton, the founder and CEO, resigned from the company and the US Securities and Exchange Commission launched an investigation into Nikola. BP also backed out of a planned partnership to build recharging stations for Nikola trucks in the wake of the report.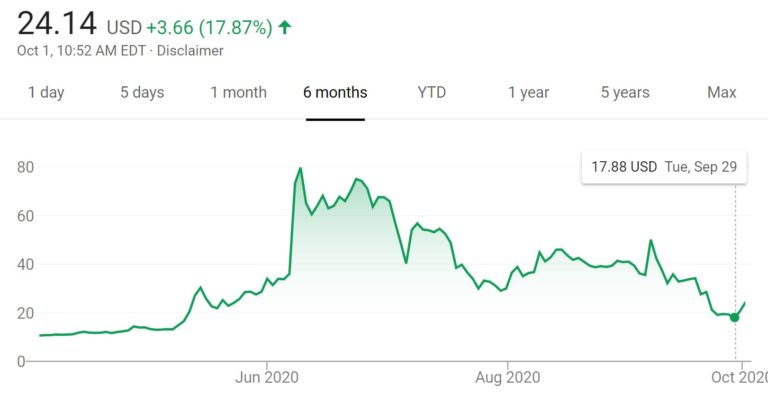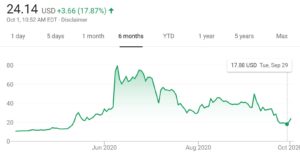 Nikola Shares Dividend Information
Nikola does not pay a dividend and is not likely to in the near future. The company reported no revenue in 2019 and is not expecting revenue in 2020.
Should I Buy Nikola?
It's hard to know what the future for Nikola looks like in the wake of the short seller report. On the one hand, the claims are very substantial. Hindenburg Research argues that Nikola's hydrogen fuel cell technology is not actually functional, which would mean that none of its trucks will be anywhere close to production in the next several years.
On the other hand, Nikola has disputed almost all of the claims made in Hindenburg Research's report. The company pointed out that it's Nikola Two prototype truck has been repeatedly driven under its own power using Nikola's fuel cell technology. In fact, in November 2019 the truck made a hydrogen-powered beer delivery for Anheuser-Busch.
Overall, Nikola did a good job of refuting Hindenburg's report and has reportedly already reached out to investigators at the US Securities and Exchange Commission. But while its response confirms that it does have a working truck, it doesn't provide any information about whether Nikola can scale up production in the way that it has promised. It's also not a good sign that BP pulled out of its fueling station partnership in the wake of the report.
In any case, none of this sheds any light on when Nikola will bring its first trucks to production – which is what really matters for the share price in the long term. If Nikola can really bring hydrogen-fueled long-haul trucks to market, early investors will be hugely rewarded.
So, should you buy Nikola shares? There's so much uncertainty around the company right now that it's hard to say what is best. The price is so low right now that any good news for Nikola can catapult the share price higher. However, it's entirely possible that the company goes bust if major customers pull their pre-orders. If you do decide to buy Nikola shares, be very conscious of the risk involved in trading this company.
Step 3: Open an Account and Deposit Funds
Want to pick up Nikola shares at a bargain? We'll show you how to open a brokerage account with eToro and buy Nikola shares today. We recommend using eToro to trade Nikola because it offers 100% commission-free trading, a user-friendly trading platform, and a social network where you can gauge market sentiment.
To open an account at eToro, visit the broker's website and click the 'Join Now' button. Create a username and password for your account to start. Then fill in personal details including your name, address, email, and birthdate.
In accordance with UK government regulations, eToro requires you to verify your identity. You can put this step off until later, but you won't be able to withdraw money from your account until you verify your identity. Simply upload a copy of your driver's license or passport and a copy of a recent utility bill or bank statement.
Before you can buy Nikola shares, you need to deposit funds into your eToro account. eToro accepts a wide variety of payment methods, including:
Debit cards
Credit cards
Bank transfer
Wire transfer (extra fees apply)
PayPal
Neteller
Skrill
Keep in mind that the broker requires a minimum deposit of £140.
Step 4: Buy Nikola Shares
Ready to buy Nikola shares? From the eToro dashboard, enter 'Nikola' in the search bar at the top of the page. Click on 'Trade' when Nikola appears to open a new order form.
Enter how much money you want to invest in Nikola. You must invest at least £40, but you don't have to invest in a round number of shares since eToro allows you to buy fractional shares.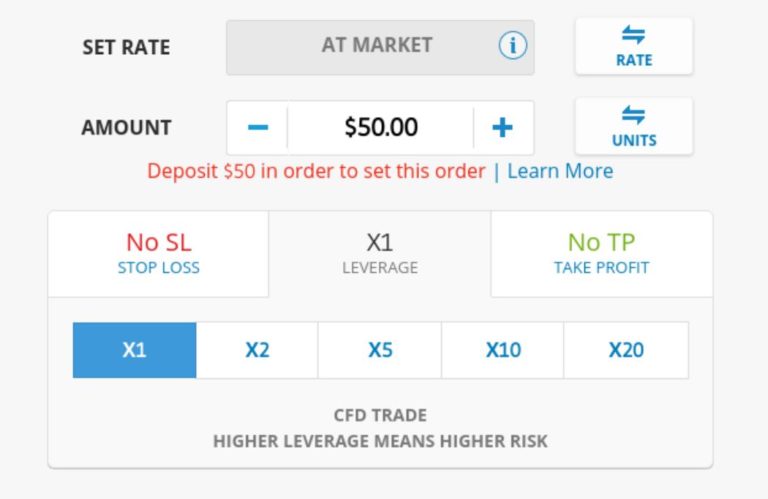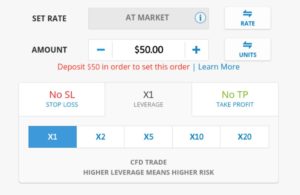 You can also enter a stop loss or take profit level for your trade. If you're trading Nikola share CFDs, you can also select whether you want to apply leverage to your position. Keep in mind that leverage brings additional risks and fees.
When your trade is ready, click 'Open Position' to buy Nikola shares.
Nikola Shares: Buy or Sell?
In the wake of the Hindenburg Research report, Nikola shares are trading at a massive discount relative to where they stood just a few weeks ago. Still, it's entirely possible that they could have further to fall as more information about the company and the status of its hydrogen fuel cell technology comes out.
Most likely, the near future holds more volatility for Nikola shares. Aggressive traders can take positions in either direction around this stock and capitalize on every bit of news that drives the share price up or down.
Over the long term, it's difficult to say whether to buy or sell Nikola. If you believe the company's rebuttal to Hindenburg's report, then buy shares. Investors now could potentially see massive returns if the company is able to mass produce trucks in the next few years. However, if you believe Hindenburg's report and don't trust Nikola, then sell shares. If Nikola's hydrogen fuel technology simply isn't ready for the limelight, investors and partners are likely to quickly abandon the company.
The Verdict
Nikola has been on a wild ride since it first debuted on the US stock market in June. The company's valuation soared above that of Ford briefly, even though it reported no revenue in 2019 and expects none in 2020. However, shares came tumbling down in the wake of scathing report from investment firm Hindenburg Research.
Now, Nikola shares are trading at a relatively cheap price. But it's still highly unclear whether this is a temporary setback for the company or the beginning of a total collapse. If you decide to buy Nikola shares right now, you could be richly rewarded if the company rolls trucks off its production line. However, it's also possible to sell Nikola shares and potentially profit if the company fails to live up to its hype.
Ready to buy Nikola shares? Sign up for an eToro account to start trading Nikola stock in the UK today!
eToro – Buy Nikola Shares with 0% Commission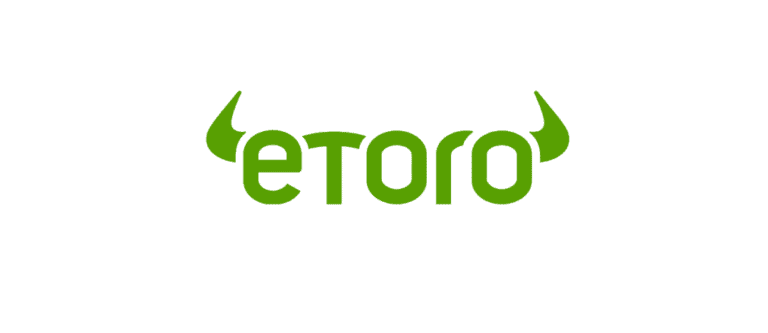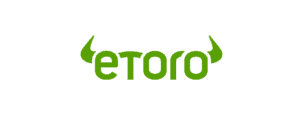 67% of retail investor accounts lose money when trading CFDs with this provider.
FAQs
What is Nikola's ticker symbol?
Nikola trades on the NASDAQ stock exchange in the US under the ticker symbol 'NKLA.'
Where is Nikola based?
Nikola was founded in Salt Lake City, Utah, in the US, but moved to Phoenix, Arizona in 2016. The company has a massive manufacturing facility there, which it doesn't expect to fully utilize until at least 2028.
Is Nikola profitable?
Nikola is not profitable, and in fact does not even bring in any revenue. The company did not make any sales in 2019 and does not expect to deliver any vehicles in 2020. It is not clear whether companies that preorder trucks from Nikola will keep their orders in place at this time.
Who is the CEO of Nikola?
After Trevor Milton resigned as CEO, the former president of the company, Mark Russell, was appointed CEO. Stephen Girsky, the former vice-chairman of General Motors, took over as chairman of the board in Milton's place.
Is Nikola related to Tesla?
Although both Nikola and Tesla derive their names from the inventor Nikola Tesla, the two companies are not related. In fact, Nikola and Tesla have clashed over patents, with Nikola suing Tesla for infringing its patents for electric truck design. The patent infringement case has not yet been resolved.