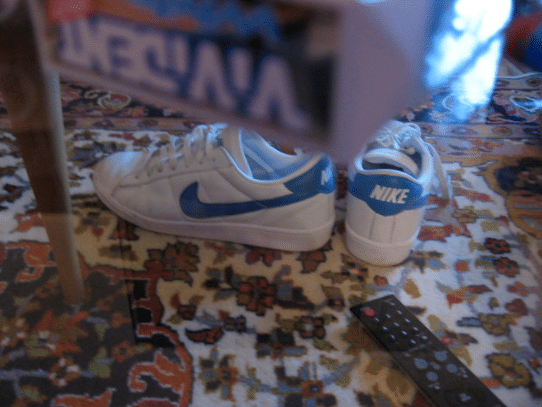 Nike shares are surging in pre-market stock trading action, with the company adding around $27 billion to its market capitalization after reporting upbeat revenues and earnings that surpassed Wall Street's consensus for the fourth quarter of its 2021 fiscal year.
The Oregon-based apparel company reported revenues of $12.34 billion for the quarter, a number that nearly doubled Nike's top-line results for the same quarter a year ago while it was also 21.2% higher than the total sales reported during the fourth quarter of 2019. According to data from Seeking Alpha, analysts had forecasted sales of $11.02 billion for the period.
Nike attributed the positive performance to a resumption of its wholesale operations, higher digital sales, and increased volumes in North America. According to Nike's earnings report, sales in this particular region jumped 141% compared to a year ago followed by a strong top-line performance in the EMEA region as well as revenues jumped 124%.
Moreover, the company's gross margin experienced a significant improvement compared to a year ago, moving from 37.3% last year to 45.8% during this fourth quarter. This higher top-line profitability helped the company in swinging to positive net earnings of $1.5 billion compared to a $790 million net loss it reported a year ago.
Diluted earnings per share for Nike (NKE) came in at $0.93, exceeding analysts' estimates by almost 83% while also resulting in a significant improvement compared to the $0.51 net loss per share the firm reported the year before. Finally, Nike's cash and equivalents ended the period at $13.5 billion, which fully covers the company's long-term debt.
Higher wholesale volumes, up 12% compared to last year, helped the firm in improving its gross margins while lower marketing expenditures also pushed the company's bottom-line performance higher as Nike slashed its brand events and sports-related marketing budget as a result of the COVID-19 crisis.
Why are Nike shares up after yesterday's report?
Even though Nike's top-line performance compared to a year ago seems quite promising, the variation between the firm's reported figures and those from before the pandemic are providing the most encouraging data for market participants at the moment as that 21.2% jump compared to the fourth fiscal quarter of 2019 is well above the company's historical revenue growth rates.
The pandemic led the firm to focus on developing its e-commerce channel, with online sales surging 41% this quarter compared to those seen during the fourth quarter of 2020 while they came in 147% than the same period in 2019.
The contribution of Nike's digital channel to its top-line performance may continue to gain importance moving forward and that is an exciting development for market participants as it could propel the company's growth heading into a post-pandemic world.
"As we advance our consumer-led digital transformation, we are building a new financial model that will continue to fuel long-term sustainable, profitable growth for NIKE", said Nike's Executive VP and Chief Financial Officer, Matt Friend.
Moreover, Nike's senior management team provided guidance for the firm's 2022 fiscal year that exceeded analysts' estimates, with sales expected to land at $50 billion against a consensus forecast of $48.48 billion based on data compiled by Seeking Alpha.
The combination of all these positive news is catalyzing this morning's pre-market action in Nike shares and could propel the stock in the following sessions as it is breaking above major resistance areas.
What's next for Nike shares?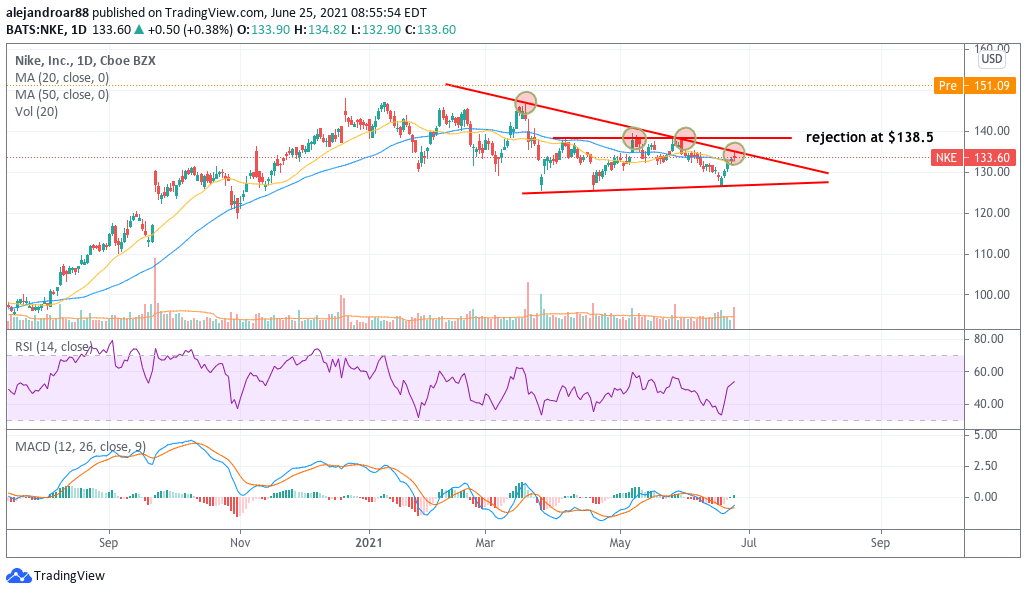 Nike shares are trading 13% higher at $151 per share in pre-market action this morning, which would result in an all-time high for the stock as it will surge $3 above its previous December 2020 ATH.
Moreover, this would result in a break above two solid resistance areas for the stock, one being its upper trend line and the other a horizontal support found at the $138.5 per share.
Yesterday, the price action swiftly rejected that trend line support but today's volatility should easily overcome both hurdles, again, if pre-market action spills over as is to the live session.
Nike's positive fourth quarter performance shows a significant improvement in the firm's fundamentals heading into the future. If sales keep growing at this accelerated pace on the back of higher volumes from the digital channel chances are that the stock could offer further upside potential ahead.