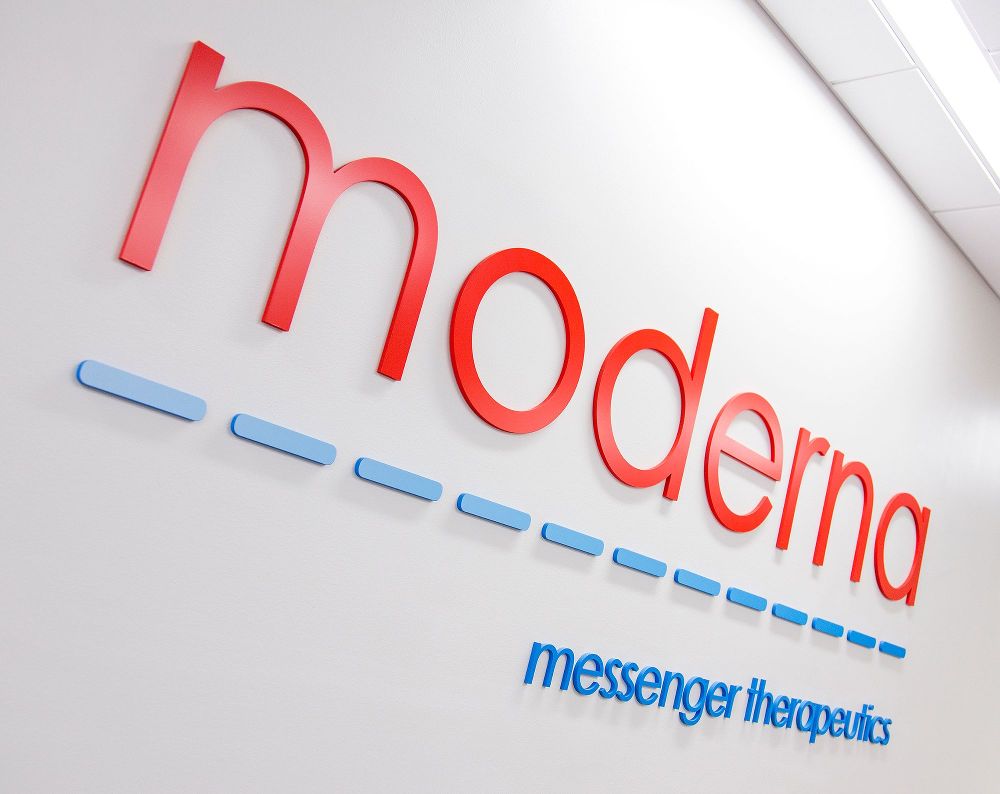 Is Moderna (MRNA) going to get there first with a SARS-CoV-2 vaccine?
These days being an investor requires at least a basic understanding of virology and epidemiology
Undoubtedly, news on the progress in the hunt for a vaccine is a keystone of this market.
If there is to be any hope of getting back to normal anytime soon, then a vaccine is an urgent necessity.
Consensus has it that a vaccine will not get into the hands of significant numbers of human beings until the earliest in the first half of next year.
So any news that juices hopes of that timescale being compressed – to say the autumn – is greeted with exuberance by market participants. And that goes not just for individual stocks such as Moderna but equity markets as a whole.
Conversely, when those vaccine hopes seem to be dashed, or at least have a set back, then markets also respond accordingly, but in a negative way.
With so much at stake it perhaps understandable that biotech firms are guilty of over-egging the pudding in as far as conveying market-sensitive news goes.
Vaccine hopes make waves in this market
Is Moderna the leader of the vaccine pack?
On Tuesday word slipped out that at least partially backed-up preliminary results leaked in May showing that its vaccine was producing a significant antibody response.
In its early-stage trial involving a cohort of 45 subjects, antibodies started to appear 15 days after administration of the initial dose, and by the 57th day (the last day of the trial) subjects had more antibodies than a comparator group of 37 recovered patients who had mild to moderate symptoms.
The peer-reviewed results are detailed in the New England Journal of Medicine.
Moderna shares rocketed 14% in the after-market, to come in touching distance of their all-time high at $87. The shares closed at $80, up 6$, on Wednesday 15 July, having given up some of those after-market gains.
Moderna at the time of writing is trading 3.4% higher at $83.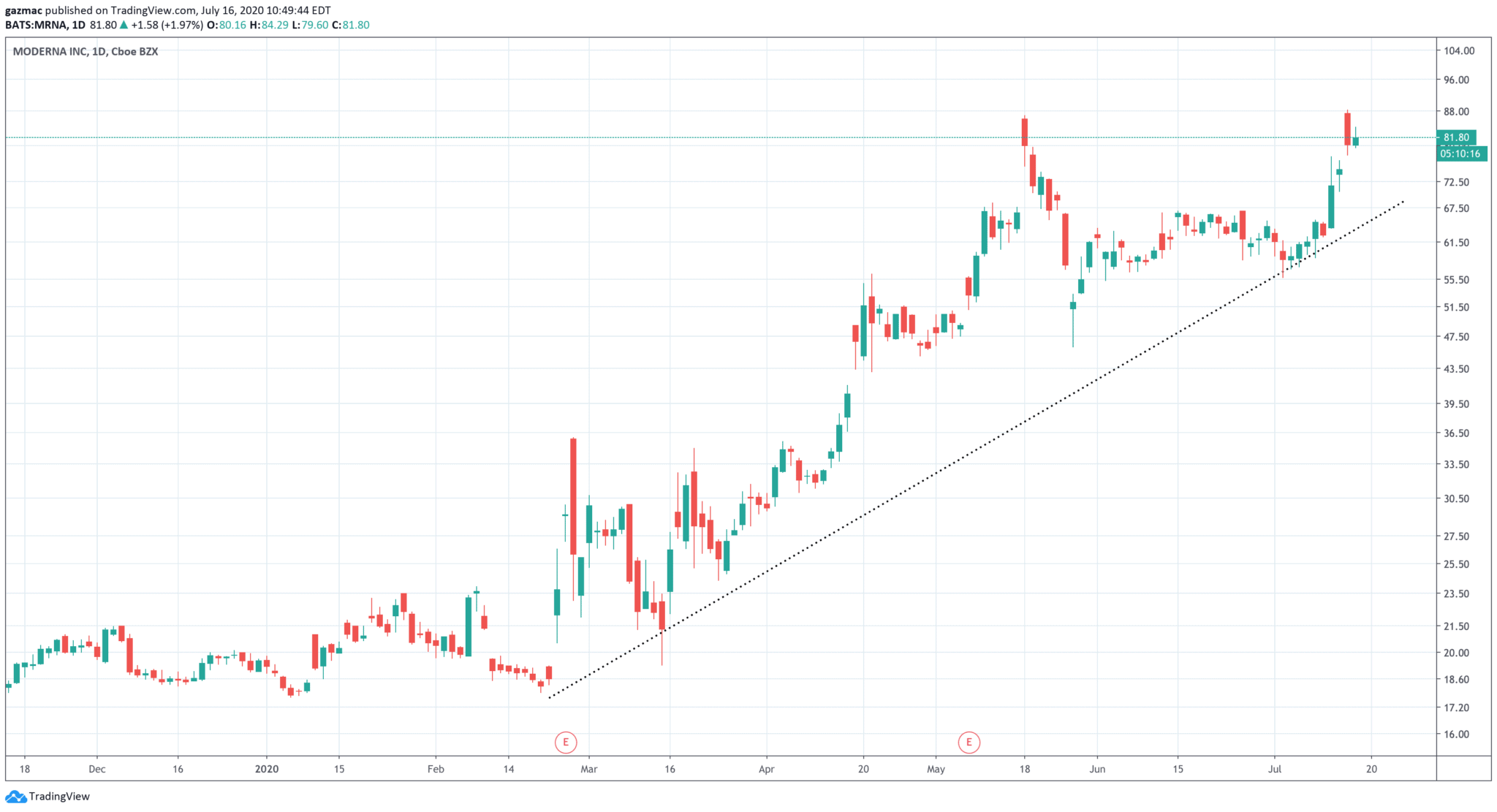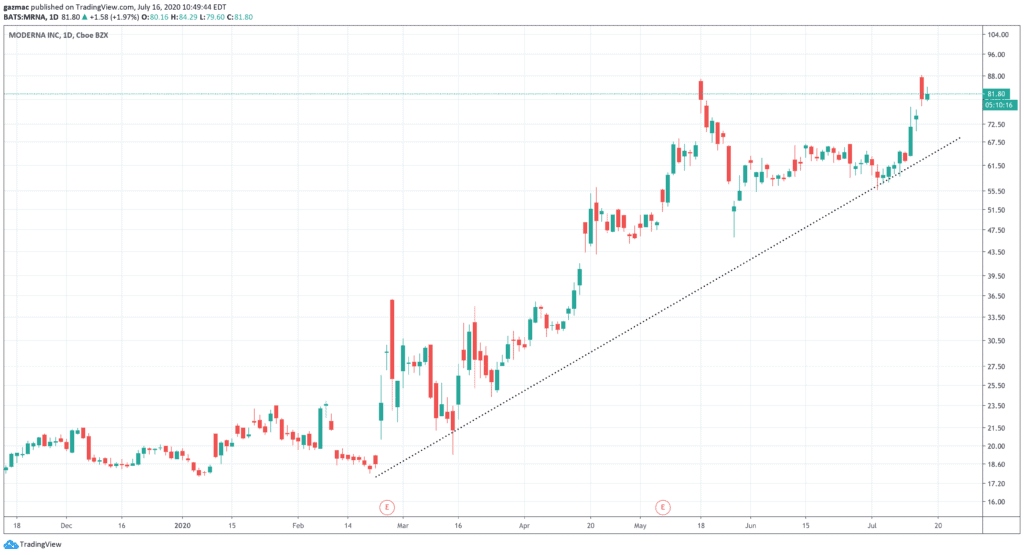 The method used by Moderna to achieve its results uses a messenger RNA technique to write a portion of the virus's genetic code into the human body in the hope of stimulating an immune response. The results appear to be promising in that regard.
Andrew Freeman from Cardiff University, in the typically cautious language of a virologist, told the Financial Times: "It does suggest that this novel vaccine, using messenger RNA rather than protein, is able to stimulate antibody production in a dose-dependent fashion."
Moderna is not the only company going down the mRNA route.
Germany's BioNTech, supported by Pfizer, is also taking this approach. Inovio, a US competitor to Moderna, is probably not far behind either, as well as Oxford BioMedica
And then there's similar efforts, also undergoing clinical trials, this time a candidate developed by Chinese biotech firm CanSino Biologics.
Other vaccine work is targets the critical T-cells of the immune system. This is the path being taken by the AstraZeneca and Oxford University team.
There are at least 150 candidate vaccines of various types being developed.
Covid vaccine caveats
There are no approved vaccines that use the mRNA technique, adding to the tentative nature of the progress made so far.
Therefore before we get too excited about all these encouraging developments, recall there is still one big cloud hanging over the these developments.
Kings College scientists have written up a non-peer review study that found the presence of antibodies tails off significantly after infection.
This tends to happen anyway with vaccines, but it appears to be at a significantly higher disappearing rate than seen with Middle East Respiratory Syndrome coronavirus, for example.
Furthermore, scientists think that the "immune memory" from the vaccine is unlikely to be the same as with natural infection, introducing another possible element of uncertainty to the equation.
Finally, the techniques for ascertaining the presence of antibodies using lab methods is fuzzy, or "notoriously variable" to use Penny Heaton's words. Heaton is chief executive of the Bill & Melinda Gates Medical Research Institute.
Which way should investors turn in the vaccine gold rush?
U.S. Biomedical Advanced Research and Development Authority (Barda) has been splashing the cash in order to speed up the development of a vaccine.
AstraZeneca has grabbed $1.2 billion in a commitment to supply the US with 300 million doses of its as yet unproven vaccine.
Moderna has received $483 million from the same source for its mRNA-1273 candidate vaccine.
Those funds will help to accelerate efforts, although undue haste in rushing a vaccine out without proper testing could be a disaster that would holds the danger of validating the anti-vax crowd.
And that's not to mention the thorny issue of 'vaccine equity': who gets it and who doesn't, because the companies won't be giving away the vaccines for free, or at least investors would hope not.
The best route forward when considering which shares to buy is probably to cover your bets.
AstraZeneca is taking the T-cell approach and Moderna the mRNA – both vaccine candidates could feasibly be used together.