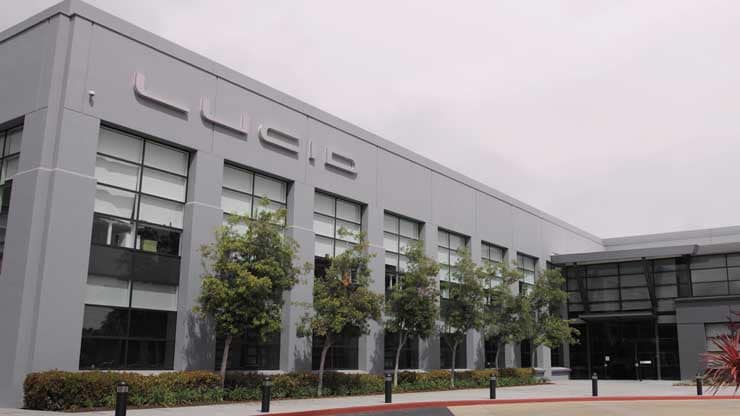 Lucid Motors (LCID) shares rose sharply yesterday after Citi initiated coverage on the company with a buy rating. This is the first public rating for the startup EV (electric vehicle) company since it merged with Churchill Capital IV (CCIV).
While a lot of EV companies have gone for a SPAC (special purpose acquisition company) merger to go public, markets have been cold to these names over the last few months. A lot of EV companies that merged with SPACs are trading below the SPAC IPO price of $10. These include companies like Lordstown Motors and REE Automotive. Lordstown Motors was also accused of fraud by Hindenburg Research. The company's CEO and CFO subsequently resigned even as Lordstown Motors said that the exit is not related to the board's findings on Hindenburg's accusations.
Lucid Motors shares have whipsawed
Coming back to Lucid Motors, it is the most hyped SPAC merger of all time. CCIV shares rose as high as $65 on the merger rumours. However, the shares tumbled after the merger was finally announced. The merger with CCIV valued the combined entity at an equity value of $24 billion. While the deal's terms were reasonable to both CCIV and Lucid Motors shareholders, the steep rise in CCIV shares on the merger rumours played the culprit. There was almost no way that the steep rise in CCIV shares, where it rose almost 550% from the IPO price, could have been justified.
SPACs have seen post-merger sell-off
As is the case with most SPAC mergers, Lucid Motors shares spiked after the merger. However, they soon tumbled in the typical "post-merger fatigue" that we have seen with almost all the SPAC mergers. Last week, there was a massive sell-off in the shares as the lock-in period for PIPE (private investment in public equity) investors ended. Markets feared that there could be massive selling from the PIPE investors which could pull down the prices.
Here it is worth noting that the PIPE in Lucid Motors was priced at a premium of 50% over the SPAC IPO price. This is unlike the other SPACs where the PIPE is invariably priced at the IPO price. Saudi Arabia's PIF (public investment trust), which is Lucid Motors' biggest shareholder also participated in the PIPE transaction.
Citi issued a bullish note on Lucid Motors
Meanwhile, Citi has become the first brokerage to issue a target price on LCID. The brokerage initiated coverage on Lucid Motors shares with a buy rating and a $28 target price. "Right now, Lucid is among the few capable of challenging Tesla's premium brand position as an EV/tech leader," said Citi's Itay Michaeli in the note.
Notably, there are several similarities between Tesla and Lucid Motors. The company is led by a former Tesla employee and British engineer Peter Rawlinson. Both the companies are building their own plants even as some others like NIO have partnered with third parties to produce their cars. Like Tesla, Lucid Motors is also entering the market with a premium EV car but eventually plans to offer budget cars as well. Lucid Motors also has plans to enter the energy business.
The next Tesla?
Meanwhile, Citi steered clear of terming Lucid Motors as the next Tesla, as many have been touting it as. "Ultimately, we don't look at Lucid as 'the next Tesla,' but rather an EV platform that resembles much of what we like about Tesla but without some of the risk tied to a lofty 2030 share assumptions & [autonomous vehicle]/[full self-driving] expectations," said Citi in its note.
Citi however termed the shares as "high risk." Notably, execution would be the key for Lucid Motors. The company is yet to deliver its first car and faces execution risk, like all other startup EV companies. To be sure, the journey wasn't easy for Tesla also and it went through what CEO Elon Musk called a "production hell." However, it went up the learning curve quite fast and the Shanghai Gigafactory came online in record time. Later this year, the company's berlin Gigafactory is also expected to come online.
Jim Cramer on Lucid Motors
Jim Cramer is among those who are bullish on Lucid Motors and believes that it can challenge Tesla. He was also all praise for the company's Air model. "I think it's a gorgeous car that will have a lot of buyers, said Cramer.
Lucid Motors' Air could be pitched against Tesla Model S Plaid. However, at the last moment, Musk said that the company would not come up with the Plaid+ model which would have had a higher range. While Tesla has historically led the race in terms of range, Lucid Motors is taking the baton with the higher range for its Air model.
Peter Rawlinson
Rawlinson has pitched Lucid Motors as the next Tesla. Earlier this year he said "Ultimately, it's the technology that's going to win, and what's missing here is the recognition that this is a technology race. And right now, there is one runner in that tech race, and it's Tesla. That's why Tesla commands that market cap. That's why it's in that preeminent position. We have world-class technology, and we aim to make this a two-horse race."
But then, the company has to get its execution right if it wants to be seen as the "next Tesla," LCID shares were trading over 2% higher in US premarket price action today and looks set to cross the psychologically crucial $20 price level.