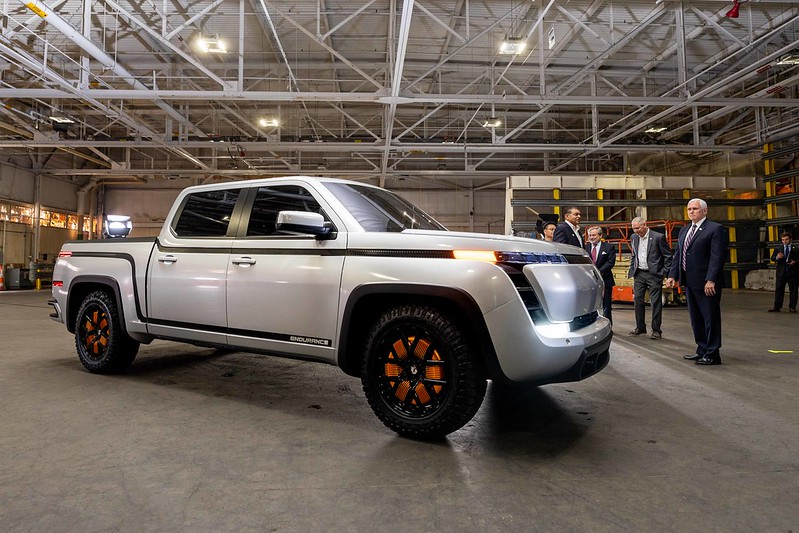 Lordstown Motors shares plunged yesterday after the company confirmed that it is the subject of an inquiry by the US Securities and Exchange Commission (SEC). The SEC aims to determine whether the company misled investors following recent accusations from short-seller Hindenburg Research.
Shares of the electric truck maker dived 13.8% to $13 per share during yesterday's stock trading action, while the stock has lost as much as 60% of its value since its 11 February peak, as skepticism about the company's claims and forecasts seems to be growing. The stock price has stabilised today.
The company's Chief Executive, Steve Burns, confirmed during a first official earnings call with investors that since the firm went public Lordstown has been "cooperating" with federal authorities to provide information about its operations.
This SEC inquiry comes only days after the company was accused by Hindenburg of misleading investors into believing that it has solid commitments from buyers to purchase its electric trucks but, in practice, these pre-orders were mostly non-binding agreements that it is alleged were used to persuade investors.
According to Hindenburg's extensive report, Mr. Burns has repeatedly affirmed that the company had an order book of at least 100,000 units, while conversations with former employees and partners seem to show that these orders are mostly fictitious.
Many of these alleged buyers have assured Hindenburg that the nature of these contracts is non-binding while some of them have even been compensated for extending such orders.
In light of Hindenburg's findings, Burns said that the company has appointed an audit committee to investigate the claims, while he didn't provide any specific rebuttals to these allegations.
A similar situation took place in September when Hindenburg released a report that contained allegations of fraud against another electric vehicle truck maker – Nikola Corporation (NKLA).
Back then, the situation led to the resignation of its Chairman Trevor Milton while the company's shares are trading at around a fifth of their pre-Hindenburg price.
What effect can these allegations have on Lordstown shares?
According to Lordstown 2020 annual report, the firm booked $101 million in losses during the 12-month period, while it is currently sitting on $630 million in cash.
Last year, the firm had no revenues and operating expenses of $102 million. According to Burns, the company should start producing vehicles by September 2021 while its first beta vehicles should be ready by the end of March.
These test vehicles still need to be tested before they can be launched to the market and customers will also have to provide feedback to the company before Lordstown starts producing them.
With the market capitalisation of the firm currently sitting at $2.15 billion, the market seems to be valuing Lordstown's ability to deliver and sell trucks at $1.5 billion.
Therefore, if these current allegations from Hindenburg turn into a serious probe from the SEC or if the firm were to experience further setbacks and delays in its Start-of-Production (SOP) date, chances are that at least a portion of those $1.5 billion could evaporate.
For now, the share price seems to have landed at a support area at $13 per share, which means that the price action from now on could serve as guidance in regards to what may come next.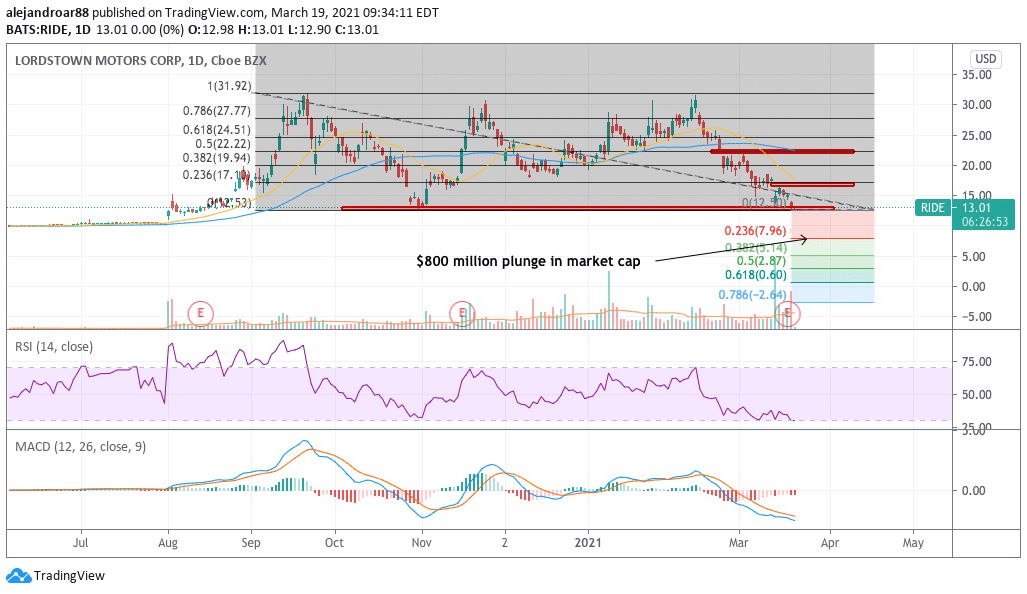 From a purely technical standpoint, the momentum is as negative as it can be for Lordstown as indicated by the RSI and the MACD – both of which are neck-deep into oversold territory.
If the current $13 support is broken, chances are that the stock could land at $8 – which would result in an $800 million plunge in the market capitalisation of the firm.