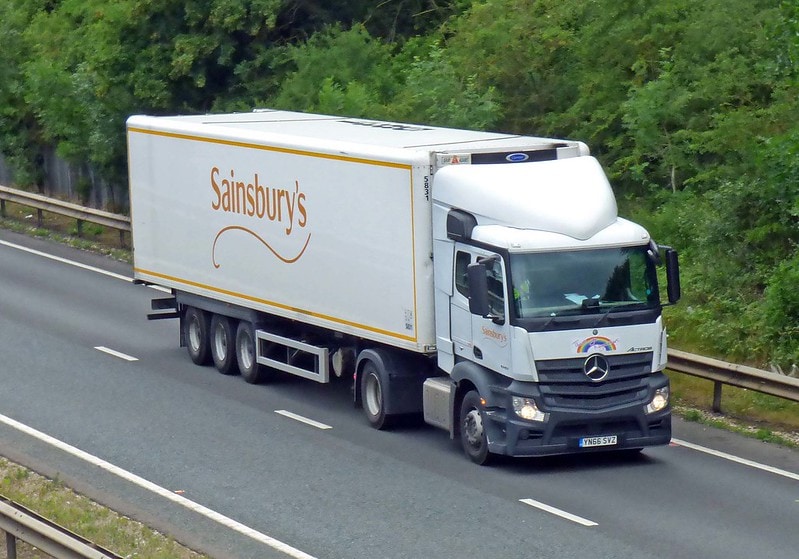 J Sainsbury's shares are up 2.5% at 196p per share in afternoon stock trading activity in London after VESA, an investment vehicle managed by Czech billionaire Daniel Kretinsky, bought a 3% stake in the supermarket chain.
The stake – valued at £125 million – would make VESA the fourth-largest shareholder of J Sainsbury's and would value the firm's equity at roughly £4.1 billion, in line with its current market capitalization.
"We view Sainsbury's as an attractive investment opportunity for the long-run even against the backdrop of the highly competitive UK grocery market", said the investment vehicle's director Branislav Miskovic in a statement released yesterday.
J Sainsbury's has been struggling to remain competitive during the coronavirus outbreak, as other players in the grocery landscape including Ocado and Tesco (TSCO) emerge as strong competitors due to their online presence and strong delivery services.
VESA's investment is giving J Sainsbury shares a credibility boost that could end up pushing the price of the stock higher, if investors feel the fund will help in steering the management team in the right direction.
VESA has also been investing in other retail companies such as the French company Casino (CO) and American retailer Foot Locker Inc (FL).
Moreover, Kretinsky has also progressively acquired a big interest in postal company Royal Mail (RMG) through his investment vehicle. The investment started with a 4% stake and grew to as much as 13.1% in July – valued at roughly £300 million based on today's market price of RMG shares.
How have Sainsbury's shares been performing this year?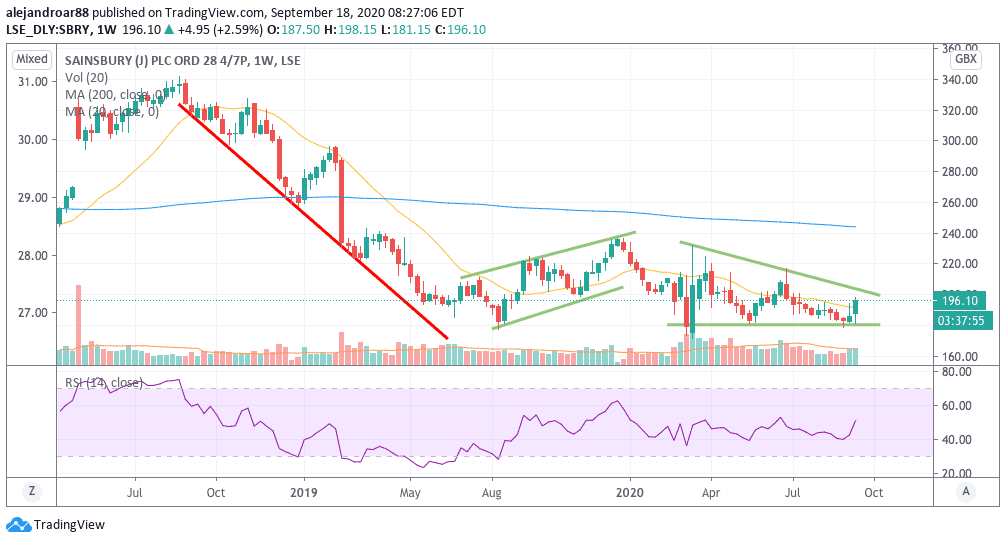 J Sainsbury's shares have fallen precipitously since their August 2018 peak of 340p per share, losing almost half their value until June 2019. After that, they have progressively rebounded until reaching their 2019-2020 peak at almost 240p per share.
Since then, the stock has been pushed downwards as the firm struggled to remain competitive in an environment where physical establishments have taken the back seat since people have relied on grocery deliveries during pandemic lockdowns.
The chart above shows that the stock reached a bottom in March at 170p per share and since then the price action has found support at the 180p level, not far from this low point.
What's next for J Sainsbury shares?
The latest price action seen by J Sainsbury's shares seems to be forming a descending triangle, as the stock has been posting lower highs while finding a floor at the 180p level.
Although this formation is traditionally a bearish one, it could also point to a reversal if market participants feel the floor is strong enough to support a bullish run – which could lead to a trend reversal.
Today's rebound seems to be leading the stock towards the upper trend line of the triangle and traders should keep an eye on how the price action behaves in relation to that resistance as a move above it could mean that a trend reversal is about to take place and this VESA investment could be the catalyst needed for that move to occur.
A first target for this trade could be set at 220p – the stock's latest high.