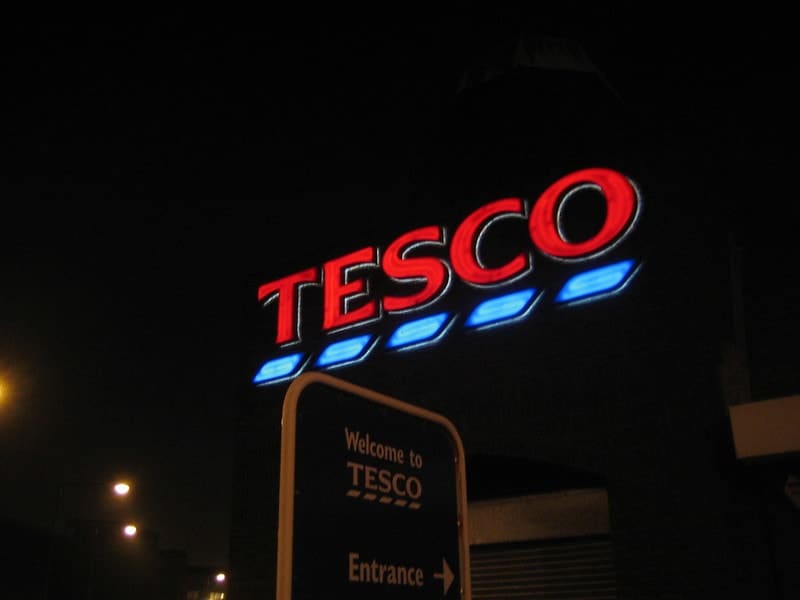 Tesco shares (TSCO) were ticking higher today after the company announced over the weekend that it plans to introduce a new grocery delivery service to challenge Amazon's Prime service.
Tesco plans to offer free home deliveries to its premium members in a competition with the US online retail giant to see who wins the largest portion of the UK's £200 billion food and drink retail market.
The firm's premium membership programme – known as Clubcard Plus – is a direct competitor of Amazon's Fresh paid programme, which offers free grocery home deliveries for over 15 million UK residents.
Clubcard Plus was launched in November, offering up to 10% in discounts to Tesco's customers for a monthly fee of £7.99, while Amazon (AMZN) charges £79 per year for its Prime service – which includes Fresh – providing faster deliveries, special offers, and a multitude of other services including its movie and TV-show streaming service Prime Video.
Tesco is apparently seeking to take advantage of a demand boom caused by lockdowns to introduce this new free delivery feature, as the firm continues to struggle to remain competitive in a landscape where big rivals continue to challenge its position.
How are Tesco shares reacting to the news?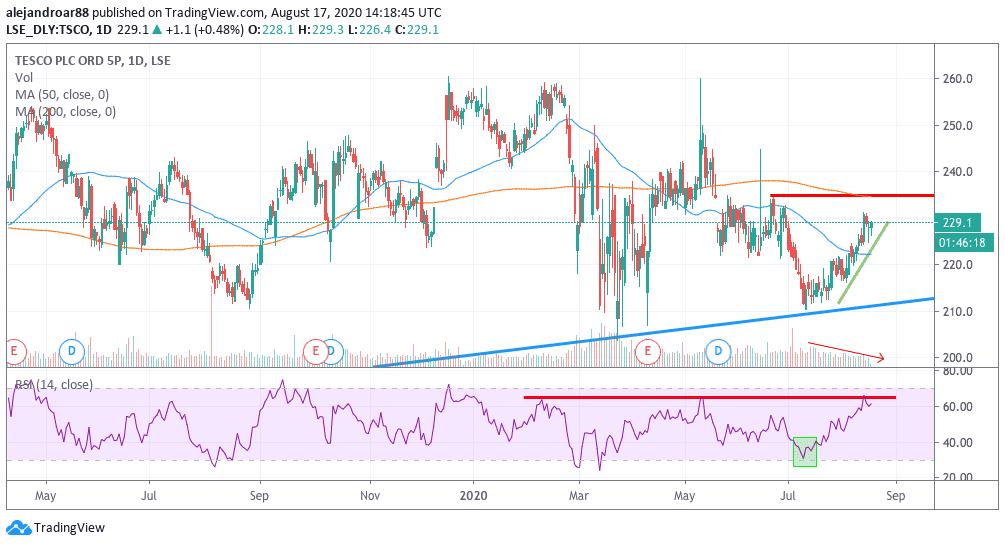 Tesco shares have rebounded from their 2020 lows of 211p per share, as the UK economy has managed to successfully reopen – at least for now – after months of lockdowns.
That said, Tesco stock is still down 10% for the year, currently trading at 229p per share.
Tesco shares have been on an upward trend since their mid-July rebound, posting a 10% gain since those lows and clearly building an uptrend since the start of August. At this point, a resistance level is approaching at 235p, which the stock failed to break in mid-June.
Tesco currently accounts for 30% of the UK's online grocery market, which makes the company the strongest player in the country's retail space, followed by Ocado on 14% and Morrisons. Amazon only has 3% of the market at the moment, although its potential as a strong rival should not be underestimated, especially after considering what the firm has accomplished in the United States and other developed markets.
Are Tesco shares a buy at this point?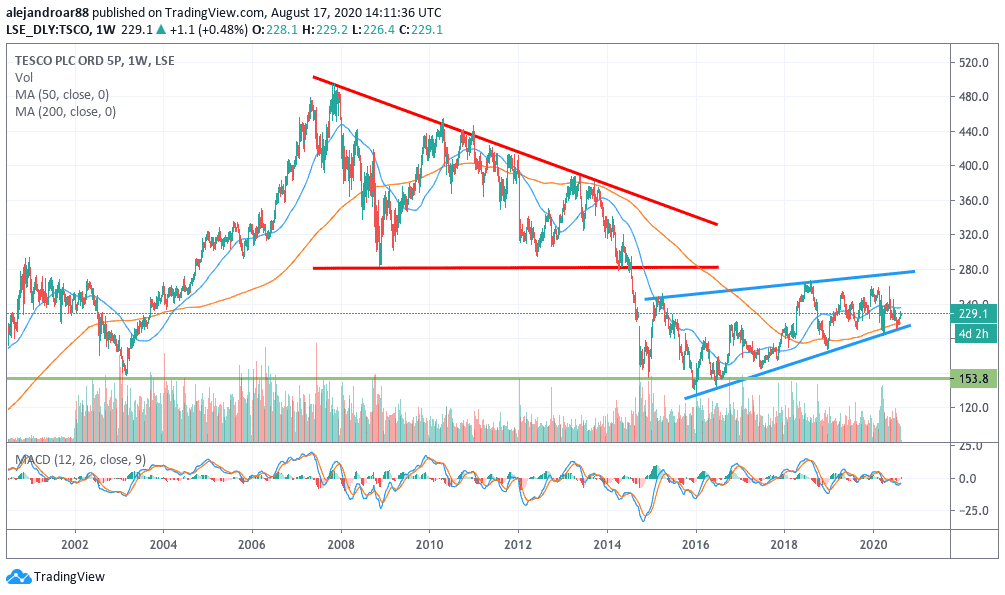 Tesco shares managed to reverse a downtrend that started in 2008 after new players started to challenge the big retailer's stand in the UK grocery market.
This turn took place in 2015 after the company strengthened its online offering, although shares have failed to make a fresh high since hitting 265p in August 2018.
Tesco seems to be an interesting long-term play for investors, especially if the firm manages to successfully introduce this free grocery delivery service, as they will have a better chance to remain competitive in a challenging retail market.
A push towards the 280p level would be exactly what the stock needs to solidify its growth prospects and this new feature could provide the push it needs to get there.
Meanwhile, as the UK economy continues to emerge from lockdowns, more positive momentum should drip, possibly providing more fuel to some further growth.
From a short-term perspective, moving above that 235p resistance level – which currently coincides with Tesco's 200-day moving average – is important to keep the price moving higher on the back of that uptrend.
One element to keep an eye on at this point is the RSI, which failed to cross a resistance level at 65 back on 12 August, when Tesco shares traded at 231p.
If the stock manages to make another move towards that price level the RSI should tick higher. If that's not the case, a bearish divergence may show up and that could be bad news for Tesco shares in the short run.