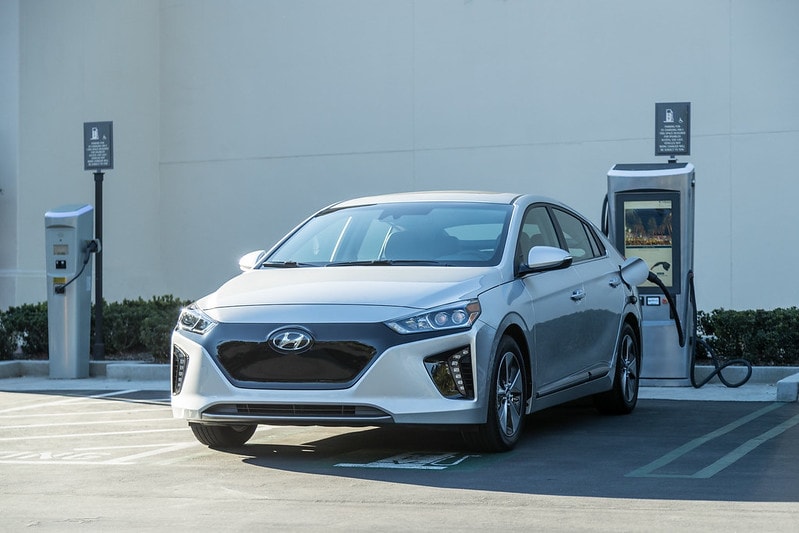 Hyundai shares are ticking higher today after rumors about a collaboration with Apple to develop an autonomous electric vehicle were confirmed by a spokesperson of the South Korean carmaker.
Hyundai Motor shares (005380) advanced as much as 19.42% at 246,000 South Korean wons amid the news, although sources confirmed that the car could be released to the market six years from now.
These early-stage discussions would be part of Apple's alleged intention to develop self-driving technology, as Reuters first reported on 21 December that the American tech company had set a target for 2024 to introduce this kind of feature along with a functional battery to power an electric vehicle.
These rumors ended up propelling the price of the iPhone maker by roughly 4% in the two days that followed the report, while investors started to anticipate which car company would be the most likely to become a strategic partner in this particular project.
Meanwhile, a representative from Hyundai Motors told CNBC last night that Apple is reportedly discussing the matter with "a variety of global automakers" including Hyundai.
Moreover, the firm released an updated statement saying that Hyundai has received requests from multiple companies to work on autonomous electric vehicles but the firm has not yet made a decision in regards to who they will be working with for that endeavor.
How did Hyundai shares perform last year?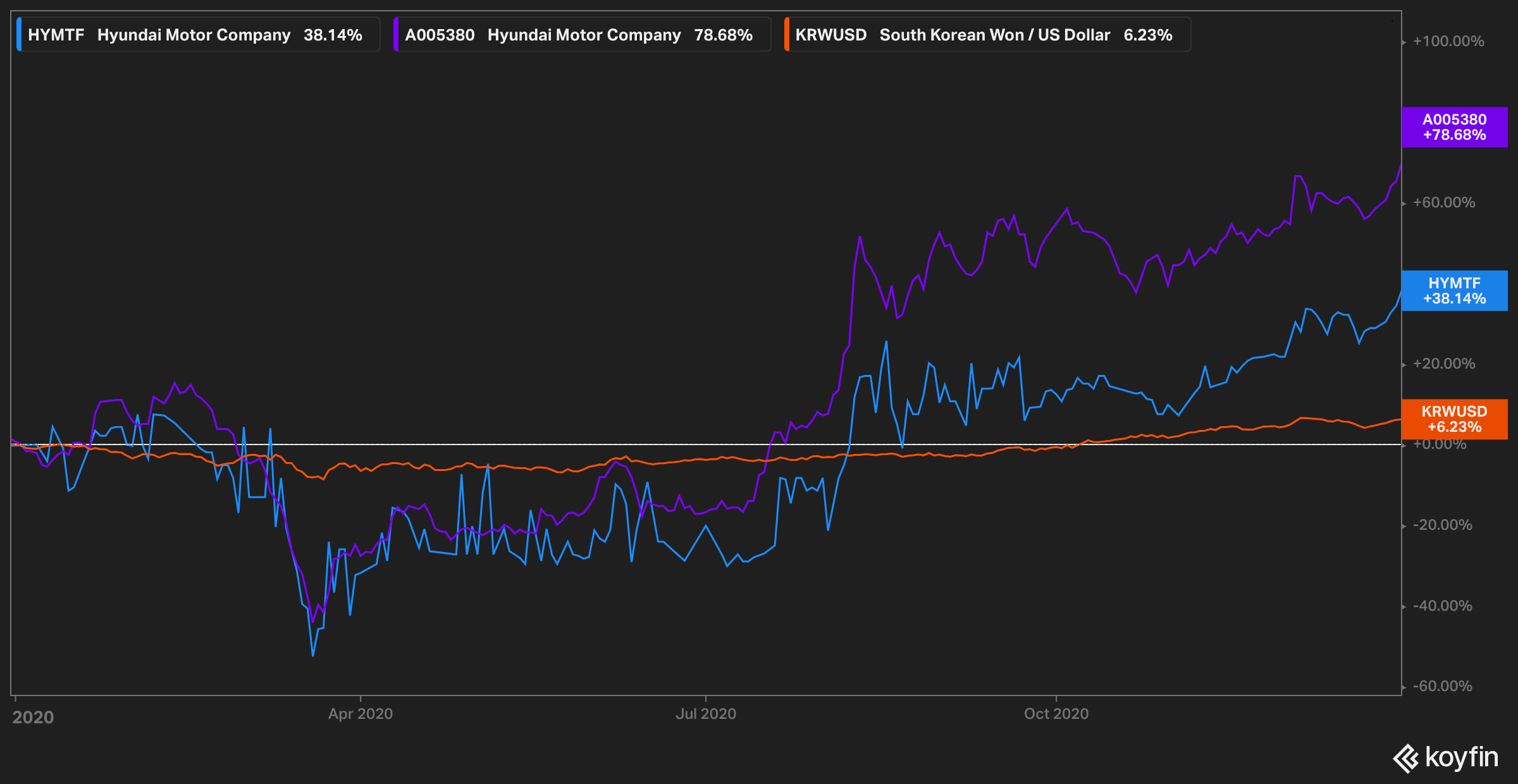 Hyundai shares gained as much as 78.7% in the South Korean stock market last year while the company's American Depositary Receipt (ADR) advanced 38.1% as the South Korean won ticked 6% higher against the US dollar during the year.
Only three days ago the company revealed its sales targets for the 2021 fiscal year – ended on 31 December – forecasting a total of 4.160.000 million vehicles sold globally.
Hyundai ended the year selling 3.74 million cars, which represented a 15.4% drop compared to 2019, while the company missed its 2020 target of 4.58 million vehicles by roughly 18.3% as the pandemic plunged the demand for new cars amid lockdowns and other quarantine measures.
A collaboration with Apple for the development of an autonomous electric vehicle would probably give Hyundai an edge in that particular race, as the Cupertino-based firm would have much to contribute to the technological features that would power the car.
Meanwhile, rumors heard in July last year indicated that the firm was planning to introduce two production lines exclusively dedicated to electric vehicles after its bet for hydrogen-fueled vehicles seems to have been sidetracked by the advance of electric-powered automobiles from companies like Tesla (TSLA) and Nio (NIO).
In August, these rumors turned into an announcement regarding the launch of a long-range electric vehicle that should be released this year.
What's next for Hyundai shares?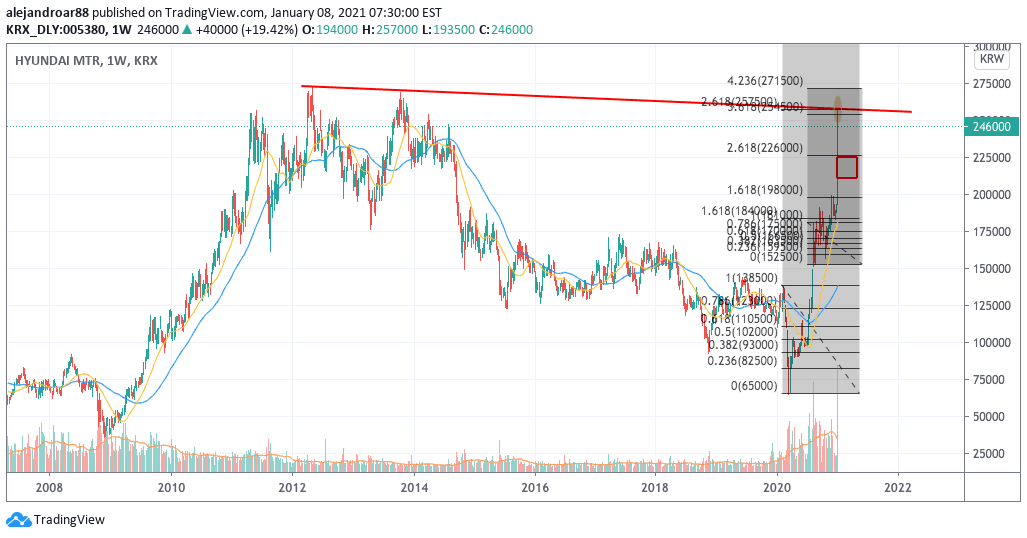 The weekly chart above shows how today's uptick propelled Hyundai shares to a zone of strong confluence, hitting a long-dated upper trend line and the 3.618 Fibonacci extension derived from the stock's February-March retreat.
In the process, the price action left behind a large bullish gap that could now support some further upside in the short-term, although Apple has not yet confirmed that they are studying a potential partnership with the South Korean automaker.
For now, market participants seem to have bought the rumor and this often precedes a strong short-term move until the reality of the situation is fully disclosed.
If the stock were to move higher from here, the start of a new bullish phase seems likely as it would clear multiple resistances at once.
However, there is also the possibility that the move will be quickly responded by long-term holders who may decide to sell their shares after hitting their price targets.
If that were to occur, support can be found at the 2.618 Fibonacci extension level of 226,000, which coincides with the upper end of today's price gap.