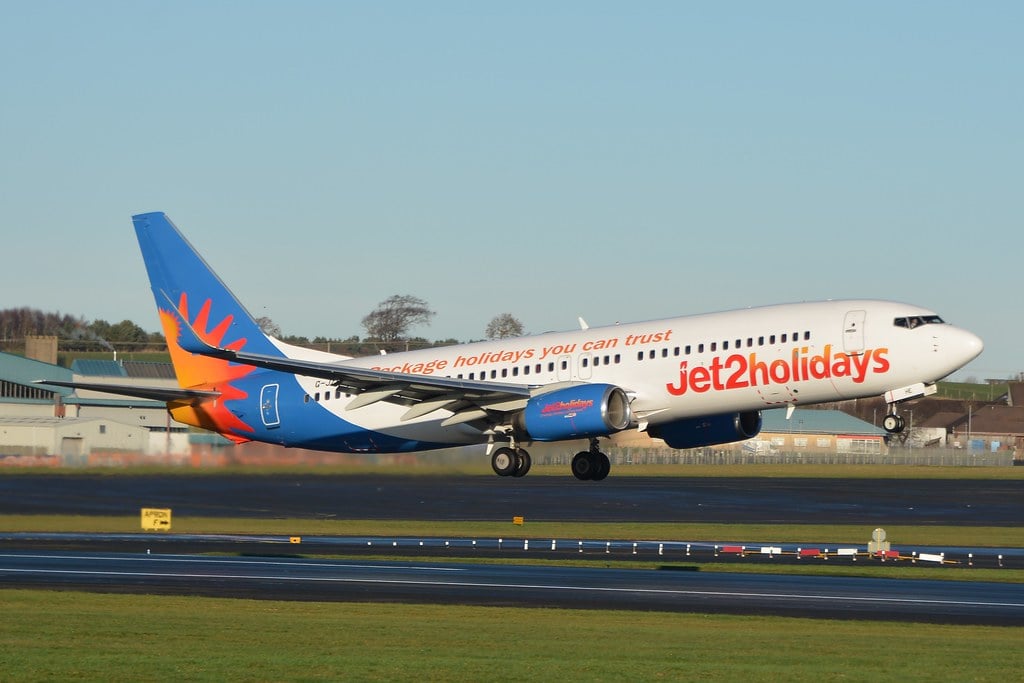 Integrated package holidays and airlines firm Dart Group (DTG) is doing everything right.
However, its shares are down 4.3% today at 756p, again failing to catch a bid.
The UK-based group behind the Jet2 brand name is a well run business that was growing its market before Covid struck. It has among the best liquidity profiles of sector peers.
Dart completed the sale of its Fowler Welch logistics concern for £98 million, got away a successful share placing that raised £171 million and secured a £300 million loan facility through the Bank of England Covid Corporate Financing Facility.
But even before those measures, the profit machine that the package (Jet2holidays) and airline (Jet2.com) combination has become, was paying shareholders a 10.2p a share dividend last year. Although, as the company board had announced previously, there was no final dividend this year. The total dividend for its financial year is 3.0p per share, down 71% on the previous year.
Publication of the final annual report yesterday had few surprises, but that didn't stop sleuths searching for clues as to current trading performance.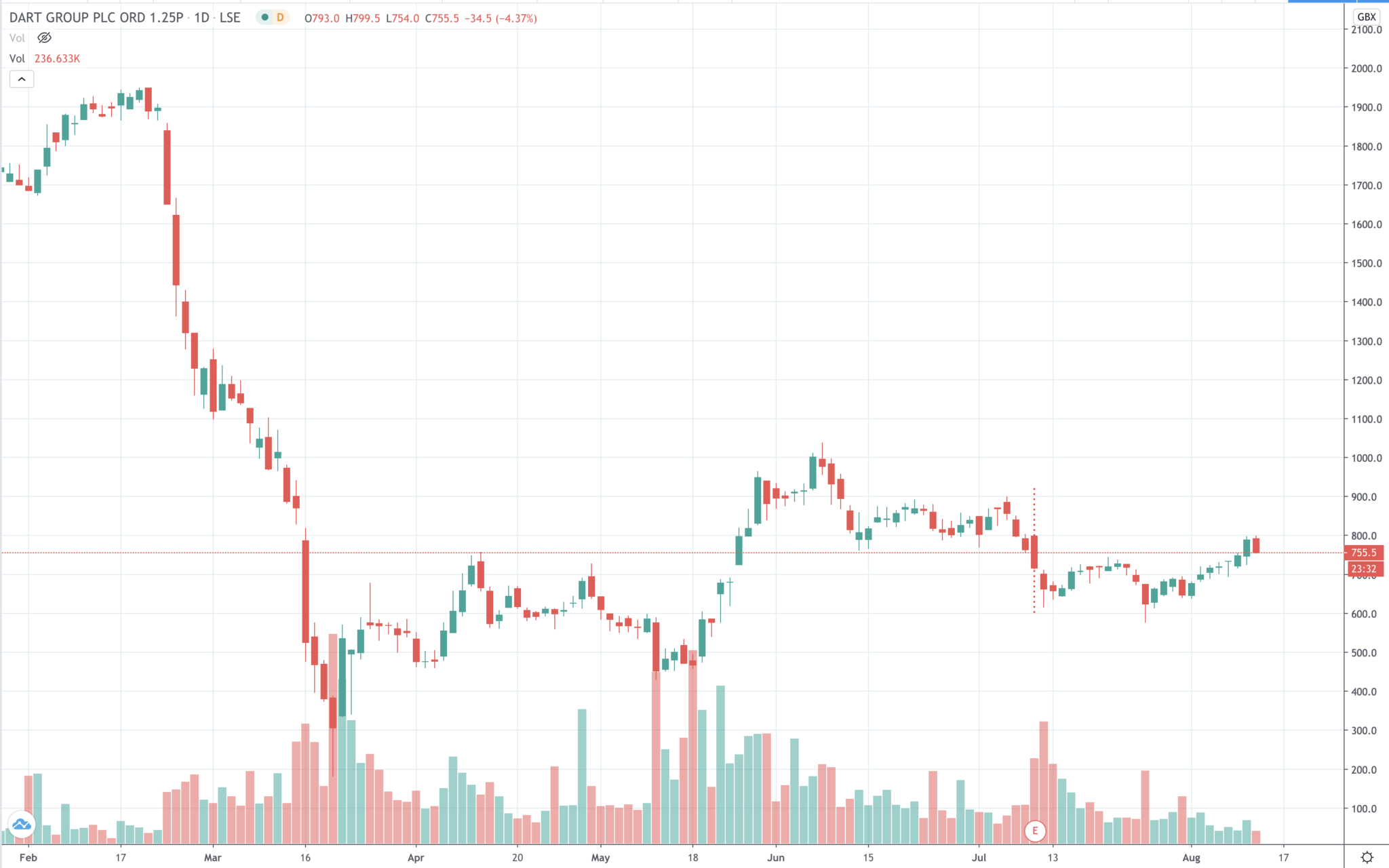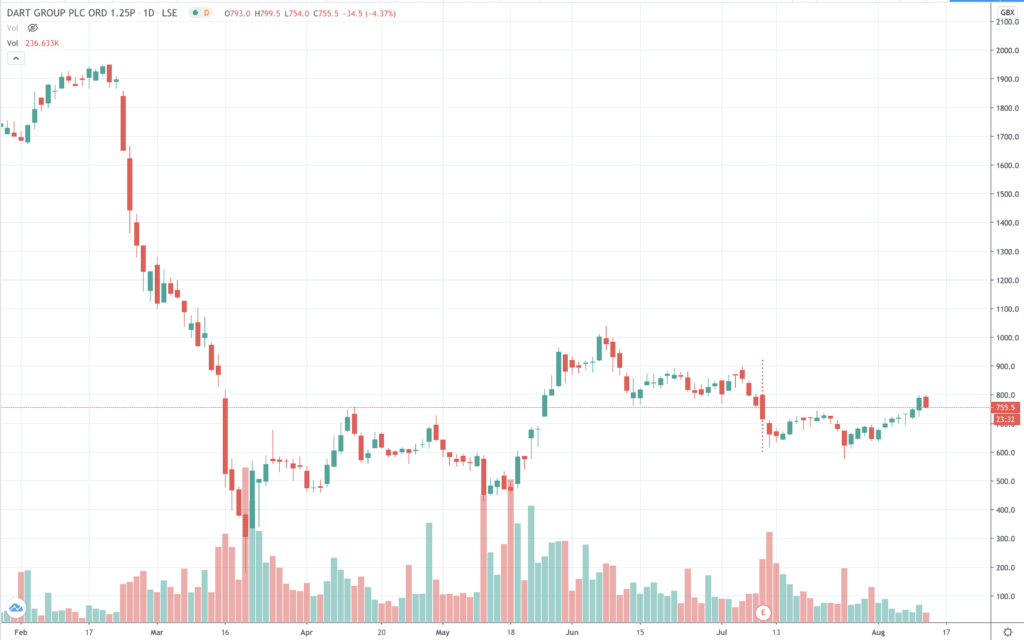 Vertical integration strength
The strength of the vertically integrated businesses is reflected in the full-year to 31 March 2020.
Top line brought in £3.58 billion, a rise of 21% on last year. Notwithstanding the lockdown at the end of the period, bottom line operating pre-tax earnings were £498 million, up 36%.
A £116.5 million charge for hedge ineffectiveness and FX revaluation losses, hurt earnings.
Activity across all segments was growing though. Flight and package customers were up 14%, (14.6 million). its Real Package Holidays brand grew too, with Jet2holidays taking 3.7 million customers on package holidays.
But for visibility on how the company is trading currently, there are rare pickings to be found under 'Outlook'. This is what chairman Philip Meeson wrote on 17 July: "Group performance for the financial year ending 31 March 2021 is largely dependent on the level of flying permitted for the remainder of the summer 2020 period, as well as performance in the second half of the 2021 financial year, periods for which we currently still have limited visibility."
He continued: "Despite the uncertainty, our current monthly load factors for winter 20/21 are satisfactory and summer 2021 bookings, which are showing a materially increased package holiday mix, are encouraging."
Like other UK travel companies, Dart was forced to cancel flights to Spain in August because of UK government Covid restrictions.
Don't tar Dart with the fragility brush
So that's a reasonable risk warning by the company. But when taking it on board, also be aware that some market participants may be in danger of tarring all travel and leisure companies with the same brush of fragility.
Admittedly, the share price is far from recovering from the March demand shock.
Adding salt to shareholder wounds, at the beginning of July (9th and 10th) Meeson sold £5.1 million worth of shares in the company, which is hardly a vote of confidence in the price, although the reasons for a director dealing in company shares do not necessarily have to be negative, depending on the perceived reason for the stock sale or purchase.
So, although not a good look, Meeson's sale should not necessarily be interpreted negatively. Indeed, the sale might signal that he expects the stock to trade loosely rangebound, so perhaps judged he could deal without it having too much impact.
Fundamentals matter – accumulate shares
Ultimately, it's the fundamentals that matter. This was a strong cash-generative business before Covid. The company's gross cash consideration of £98 million shows the quality of the stock.
But added to that analysis must come the usual necessary Covid caveats regarding the pace of reopening and the sustained recovery in flying and holidaying abroad.
From its high in March at 1948p the price has been pegged back under 1000p, currently trading at 756.
Trading in the middle of the band established since mid-June (between 900p and 600p) the price indicates an entry point, but admittedly on shrinking volumes.
On a longer term view this is a stock that is likely to survive and thrive. And the new landscape that emerges is likely to have fewer players in competition for the fruits of the recovery. Accumulate Dart Group at these levels.