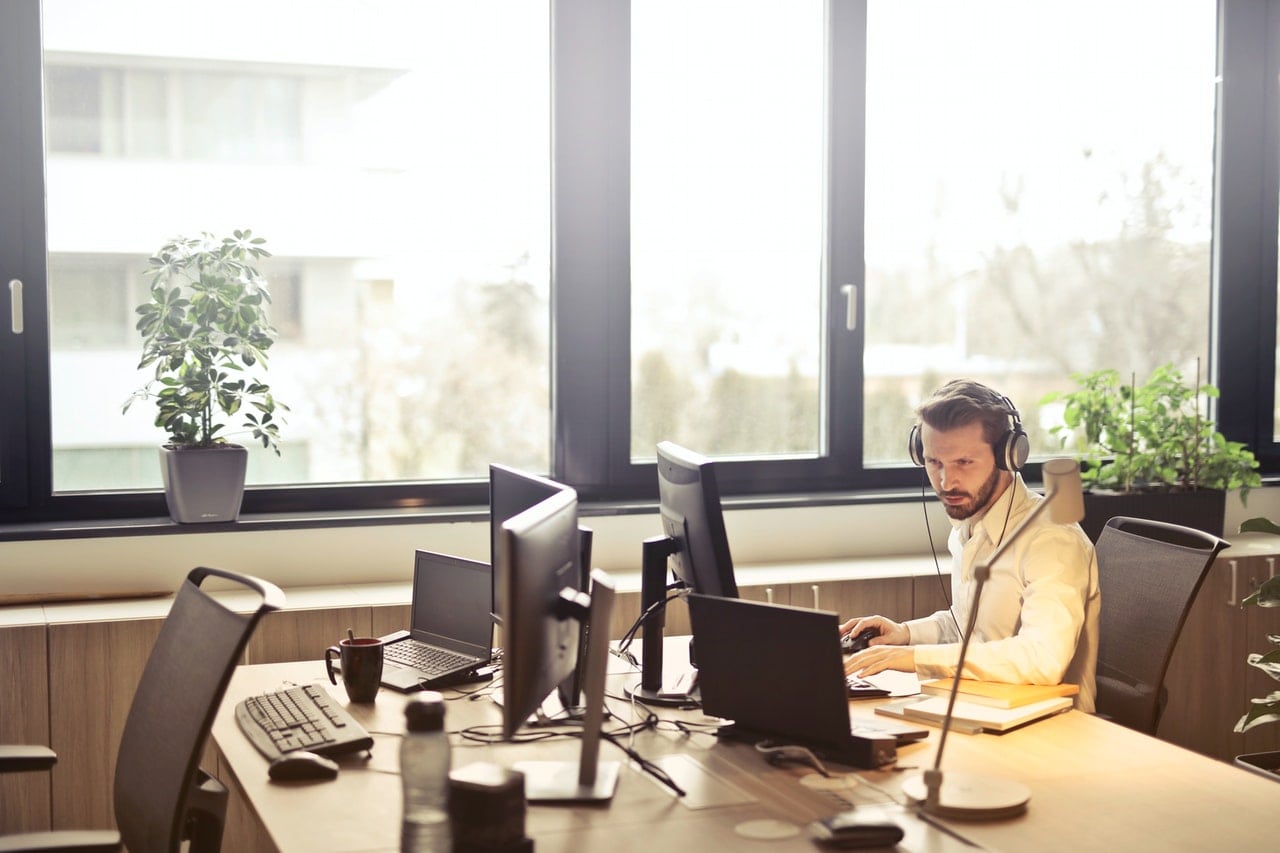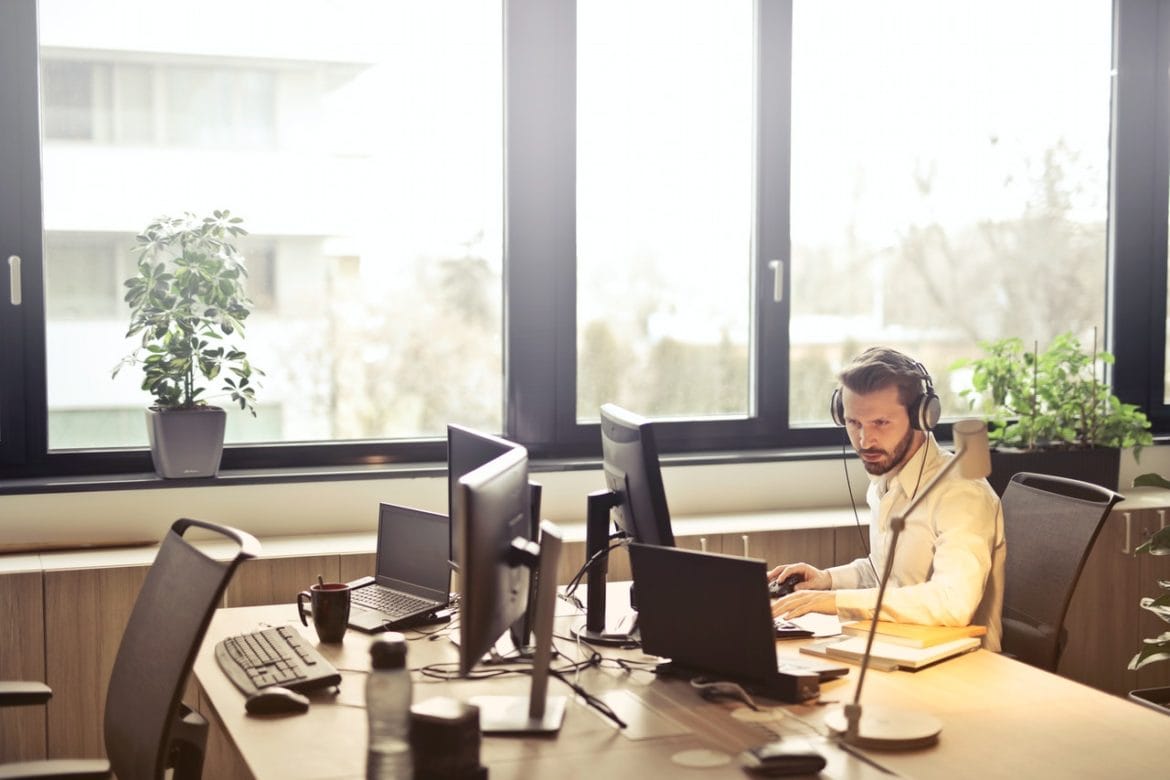 Shares of IT services company Computacenter (CCC) were trading 0.83% higher at 2,193p at 11:35 am London time today.
The UK-based computer services company reporting earnings for the first half of the year said it was resuming payment of its dividend, suspended in April.
The company also announced it would acquire the Toronto Stock Exchange-listed IT solutions company Pivot Technology Solutions.
Computacenter's first half earnings
Computacenter reported a 1.5% increase in group revenues in the first half of the year to £2.46 billion. The revenue increased by 0.6% in constant currency terms.
Looking at the business segments, its Services revenues fell 0.2% to £594 million over the period while Technology Sourcing revenues rose 2% to £1.86 billion. Computacenter's adjusted profit before tax increased 39.4% year to over to £74.6 million in the first half of 2020. It reported cash and cash equivalents of £222.1 million at the end of June as compared to £114.3 million at the corresponding time last year.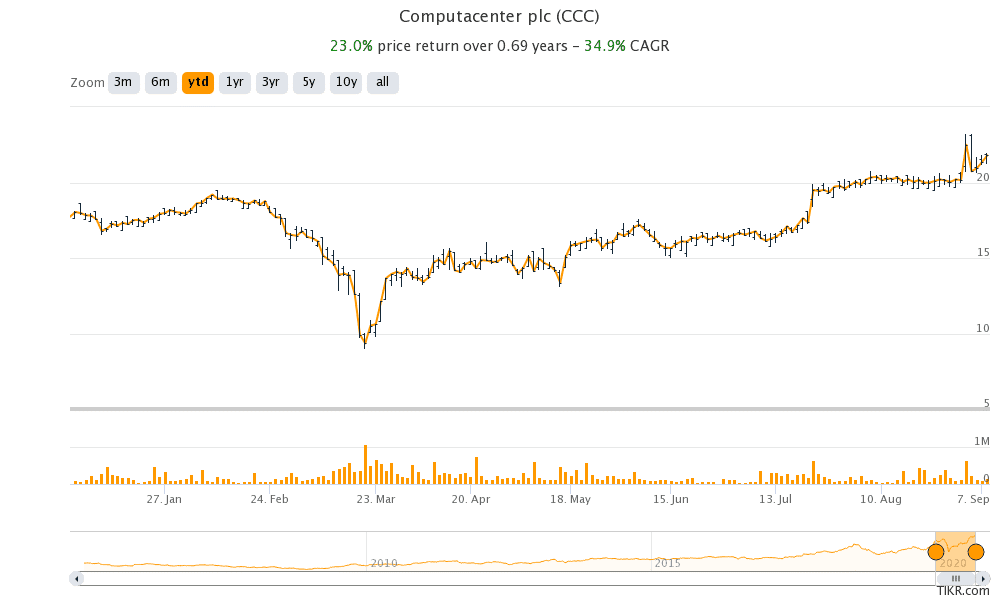 Breakdown by geographies
In the UK, Computacenter's revenues surged 7.2% year over year "as Technology Sourcing revenues surged to cope with the demand generated by the COVID-19 crisis." However, its revenues declined by 2.8% in Germany and were flat in France and the US.
"As previously stated, our business has performed well this year to date and proven to be flexible in these extraordinary times," said Mike Norris, Chief Executive of Computacenter. He added, "While nothing can be taken for granted, it is the Board's view that, based on current business activity levels, our adjusted profit before tax for the year is unlikely to be less than £180 million. We feel it is important to give specific guidance given the broad range of market expectations concerning our likely results."
Norris sounded a cautiously optimistic tone on the outlook and said that "It is impossible to predict exactly how the world will recover in 2021, and beyond, and the implications for our customer base. We do believe that our customers will continue to invest in technology and that we have built a substantial reseller business with the largest service capability of any reseller in the world."
Computacenter resumes dividend
In April, Computacenter halted its dividend amid uncertainty over the pandemic. Several other companies like Halfords have also suspended their dividend. BP has slashed its dividend while Barratt suspended a special dividend that was to be paid later this year.
The company commented on the resumption of dividend payments in a statement accompanying the earnings report: "The Board recognises the importance of dividends to shareholders and the Group prides itself on a long track record of paying dividends and other special one-off in nature cash returns," said the company in its release. It added, "the Board now considers it appropriate to resume distributing cash to shareholders by returning to the Group's normal interim and full-year dividend cycle."
Computacenter has announced an interim dividend of 12.3p per share as compared to an interim first half 2019 dividend of 10.1 pence per share. The dividend will be paid on 23 October and the record date for the same is 25 September.
Pivot Technologies Solutions acquisition
In a separate release today, Computacenter announced the acquisition of Pivot Technology Solutions. Computacenter would pay Canadian dollars 2.60 per share in cash for the transaction and the total transaction would be worth £62 million. The transaction will help Computacenter increase its revenues from the US market.
Pivot Technologies employs around 600 people in the US and 100 in Canada and 85% of its revenues come from the US market. The company reported revenues of $1.2 billion last year with a profit before tax of $20.7 million.
"The acquisition of Pivot represents an opportunity to increase our scale, geographic footprint and capabilities in US.  Additionally, Canada expands our total market opportunity and helps us meet the needs of international customers.  The businesses are a good fit and the combination gives us the opportunity to enable the long-term success of customers, partners and people from both teams," said Norris.
A good fit
"Computacenter's strong US and global organization, along with its robust and industry leading services portfolio, make it a great fit for Pivot's US and Canadian businesses," said Kevin Shank, Pivot President & CEO.  He added, "The merging of the US businesses allows us to scale the organization and better support our existing and new clients.  We believe that Computacenter offers a secure long-term future for our businesses and an exciting opportunity for our people."
Computacenter shares in 2020
Computacenter shares are up 23.0% for the year even as the FTSE 100 is in the red. Tech stocks like Amazon and Apple have surged this year as the pandemic has enhanced the pace of digitisation. Computacenter shares trade on a forward 12-month price to earnings ratio of 22.7x.