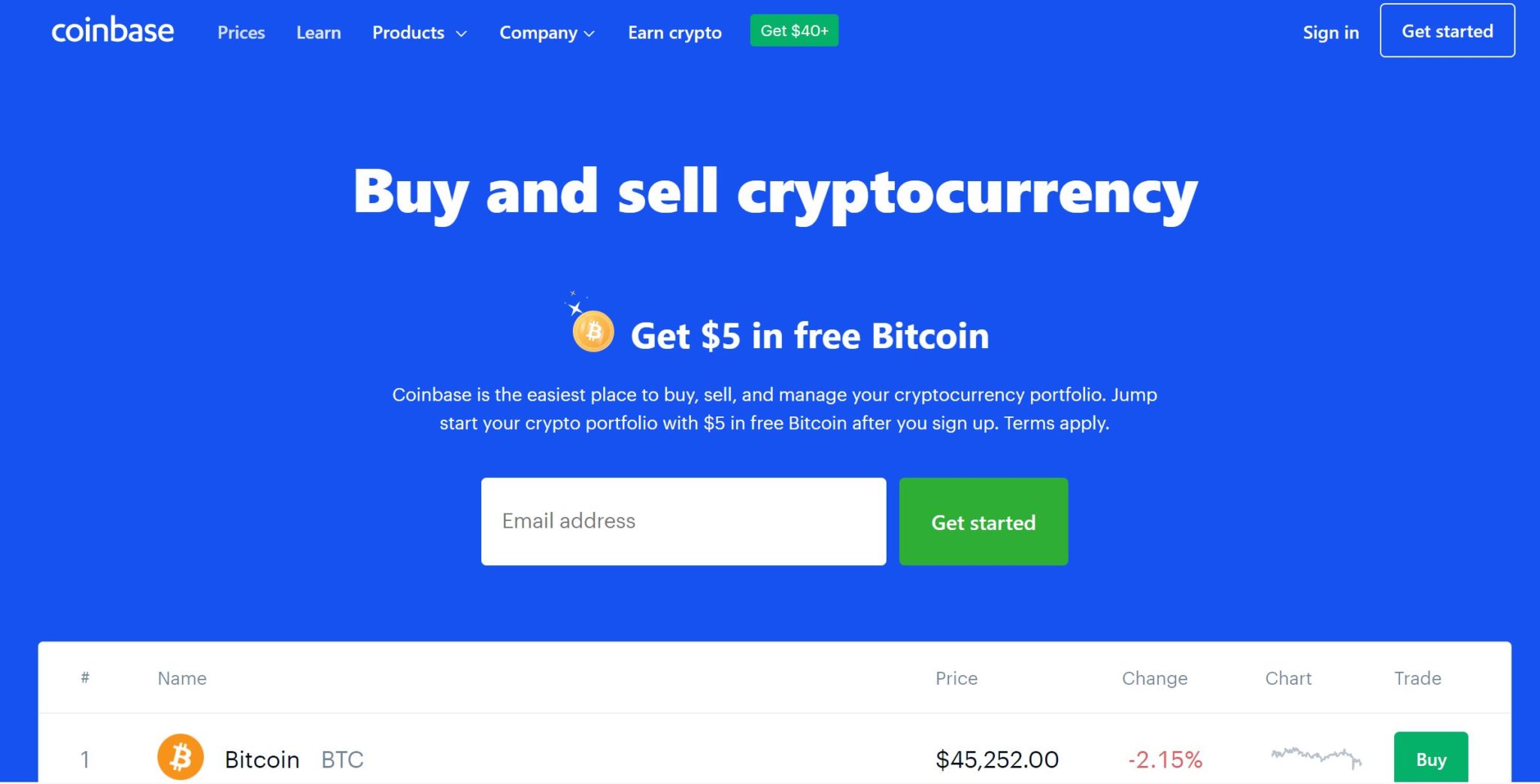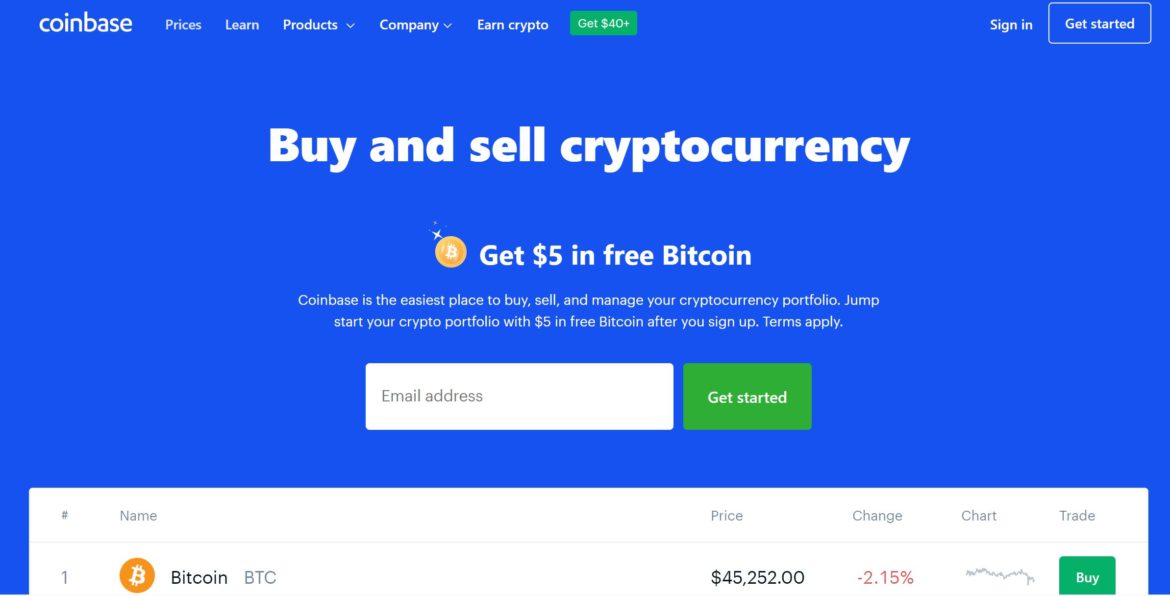 Coinbase, one of the world's largest cryptocurrency exchanges, made more money in the first quarter of 2021 than it did during its entire 2020 fiscal year, against the background of a surging cryptocurrency market now valued at $2 trillion.
According to a press release published yesterday, the New York-based exchange brought in $1.8 billion in revenues during the quarter, far exceeding the company's top-line results of $1.14 billion last year, on the back of higher cryptocurrency valuations.
During the period covered by the financial report, the price of Bitcoin (BTC) has nearly doubled, jumping from approximately $29,000 per coin to more than $60,000.
Meanwhile, other popular cryptocurrencies have done even better than BTC during that same period. This is the case with Ether (ETH), the native token of the largest blockchain network running smart contracts, Ethereum. Ethereum is the most popular network among developers of decentralised applications (Dapps). The value of ETH has climbed 168% higher in the first three months of this year, currently trading at $1,972 per coin.
Coinbase also reported that its net income will land between $730 million and $800 million for the end of March – which is more than twice what the firm earned last year.
Coinbase attracts 13 million more users during Q1 2021
By the end of March 2021, Coinbase had a total of 56 million verified users, representing a net addition of 13 million users in just three months, while the amount of assets held on its platform jumped from $90 billion to as much as $223 billion – currently representing around 11.3% of the entire market capitalisation of cryptocurrencies.
Meanwhile, during the first three months of 2021, the company's total trading volume was 73% higher than recorded last year, with a total of $335 billion in transactions settled through the exchange compared to $193 billion in 2020.
These outstanding first-quarter results will probably help the company in floating its shares successfully and profitably on the US stock market, with Coinbase (COIN) shares scheduled to be listed on 14 April after receiving the approval of the US Securities and Exchange Commission (SEC).
That said, despite the strong tailwind the company has seen as a result of a booming cryptocurrency market, Coinbase realises that, similar to other markets but arguably more so, crypto goes through boom-and-bust cycles.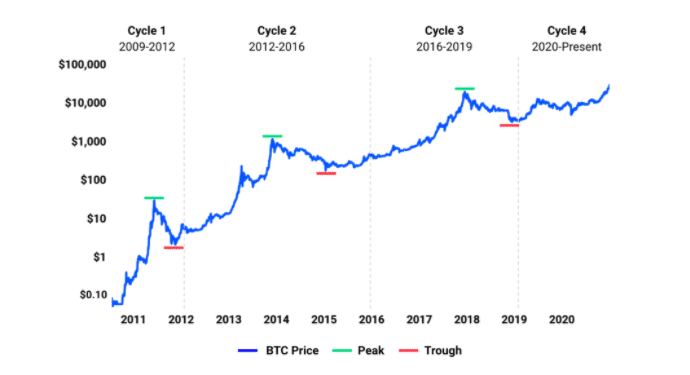 The chart above was provided by the company to further illustrated that point, showing how the price of Bitcoin (BTC) – a major driver for the exchange's performance – has seen a series of peaks and troughs since the token was launched in 2009.
According to Coinbase, these cycles typically last from two to four years, which means that we could be in the early stages of a fourth bullish cycle.
Do these results have any bearing on Coinbase's valuation?
Coinbase was valued at around $68 billion in its latest funding round, which results in a price-to-earnings ratio of 210 based on the company's 2020 financial results.
Meanwhile, if we use this quarter's net income as guidance for what could be the firm's performance for the entire year, we could safely say that Coinbase will earn around $1.5 to $3 billion, resulting in a forward P/E ratio ranging from 23 to 45 based on that $68 billion price tag.
However, since Coinbase will launch its shares to the open market via a direct listing and not through a traditional IPO, it is hard to gauge how much the company will be worth once investors get their hands on the stock.
Significantly, the firm's net income has grown in line with the price of Bitcoin (BTC) in the past quarter and one could argue that there is significant causation between these two variables.
So, if we assume that the price of BTC could end the year between $100,000 and $200,000 based on the latest estimates from analysts, chances are that Coinbase's net income could end the year between $1.16 billion and $2.33 billion.
Now, using a price-to-earnings-to-growth ratio of 2 and a forecasted earnings growth rate of 50% – which could be quite conservative for a firm with such volatile historical growth – the company could be valued at anywhere between $116 billion and $233 billion.
Although such a valuation range seems quite extreme, future growth is possibly the most important variable to keep in mind when valuing Coinbase, since other similar companies like Nasdaq Inc. (NDAQ) and Intercontinental Exchange (ICE) are being valued at 24 times their next-twelve-months earnings, while their profitability is growing at an average rate of 10% per year.