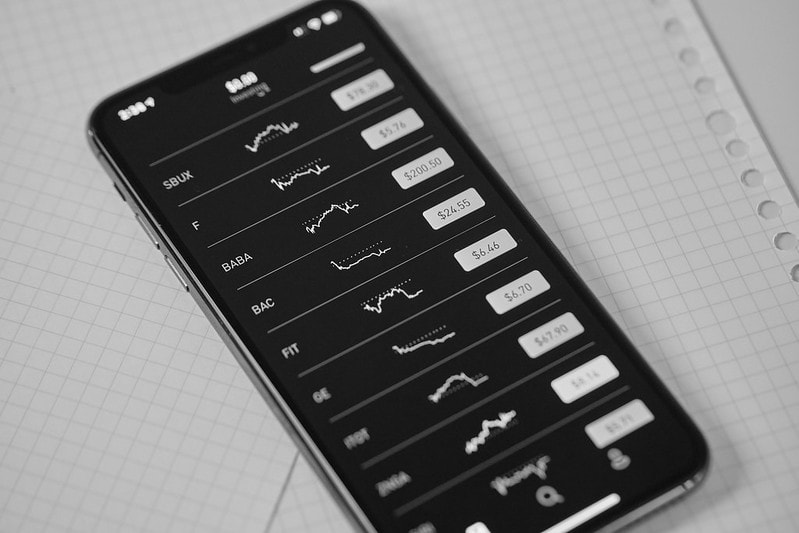 The US IPO market is looking hot this year as multiple popular companies, including stock-trading platform Robinhood and cryptocurrency exchange Coinbase, line up to list their shares.
Data from FactSet indicates that 2020 was the strongest year for initial public offerings (IPO) in the United States since 2009, with a total of 494 companies launching their shares on the public market, raising approximately $174 billion from investors.
This jump represented a 150% increased compared to 2019 – leaving behind in the dust the eye-popping numbers seen during the 2000 internet craze, while market participants seem to be expecting a remarkably strong 2021 for initial public offerings as well.
"If you combine IPO and SPAC volume of $130 billion, these numbers exceed anything we have seen since the internet bubble", said Kathleen Smith from IPO research firm Renaissance Capital.
A big portion of this boom has been fuelled by the launch of hundreds of special purpose acquisition companies (SPACs), with FactSet numbers showing that of the 494 IPOs seen last year, nearly half were backed by one of these blank-check companies.
Nearly a week ago, the popular global trading platform eToro moved to list its shares on the US market through a SPAC-backed merger with Betsy Cohen's FinTech Acquisition Corp, in a deal that valued the firm at $10 billion.
Robinhood files IPO paperwork with SEC
Meanwhile, the popular – and controversial of late – American trading platform Robinhood has moved to list its shares as well through a traditional IPO, as indicated by a statement released by the company yesterday where it mentioned that it has already filed the required paperwork with the United States Securities and Exchange Commission (SEC).
The stock trading app, founded by two former high-frequency traders in 2013, has been valued at $12 billion during the latest funding round with the company currently serving more than 13 million investors in the United States through a user-friendly interface that offers zero-commission trading for US-listed securities and cryptocurrencies.
Meanwhile, another long-awaited IPO has been recently delayed, as Coinbase – possibly the world's largest cryptocurrency exchange – has postponed its plans to launch its shares to the open market after receiving a $6.5 million fine from the Commodity Futures Trading Commission (CFTC) due to alleged "self-trading" of digital assets.
Coinbase has been valued by investors at around $68 billion, making its IPO one of the biggest ones so far in 2021, with the firm currently holding around $90 billion in assets for its customers.
According to its SEC filing, Coinbase currently serves over 43 million retail customers along with 7,000 institutions through a vast network in which investors from 100 different countries participate to buy and sell cryptocurrencies.
By the end of December 2020, Coinbase (COIN) generated $1.3 billion in revenue – a 143% jump compared to 2019 – while the company had a net income of $322.3 million and an adjusted EBITDA of $527.4 million.
A big leap in the market capitalisation of cryptocurrencies during the pandemic contributed the most to the outstanding year-on-year performance of Coinbase's top and bottom-line, with the company emphasising that the total market cap of crypto assets moved from around $500 million in December 2012 to as much as $782 billion by the end of last year.
Based on these numbers, the $68 billion valuation given to Coinbase would result in a price-to-earnings ratio of 210, a remarkably high multiple, as investors seem to be anticipating that the level of growth seen by the cryptocurrency market could continue for years.
What's next for the US IPO market?
Most industry experts seem to agree that 2021 will see a continuation of the SPAC frenzy due to the inherent advantages of going public through these vehicles.
Meanwhile, the listing of other big names, primarily from the tech sphere, seems to have investors drooling. This list would include Elon Musk's SpaceX and popular mobile payments platform Stripe.
According to estimates from financial services firm BTIG, around 210 different SPACs are actively seeking to acquire a target, which means that there is plenty of room for more IPO activity ahead this year and, given the size and popularity of the companies in sight, chances are that the numbers from 2020 could pale in comparison to what the market is going to see this year.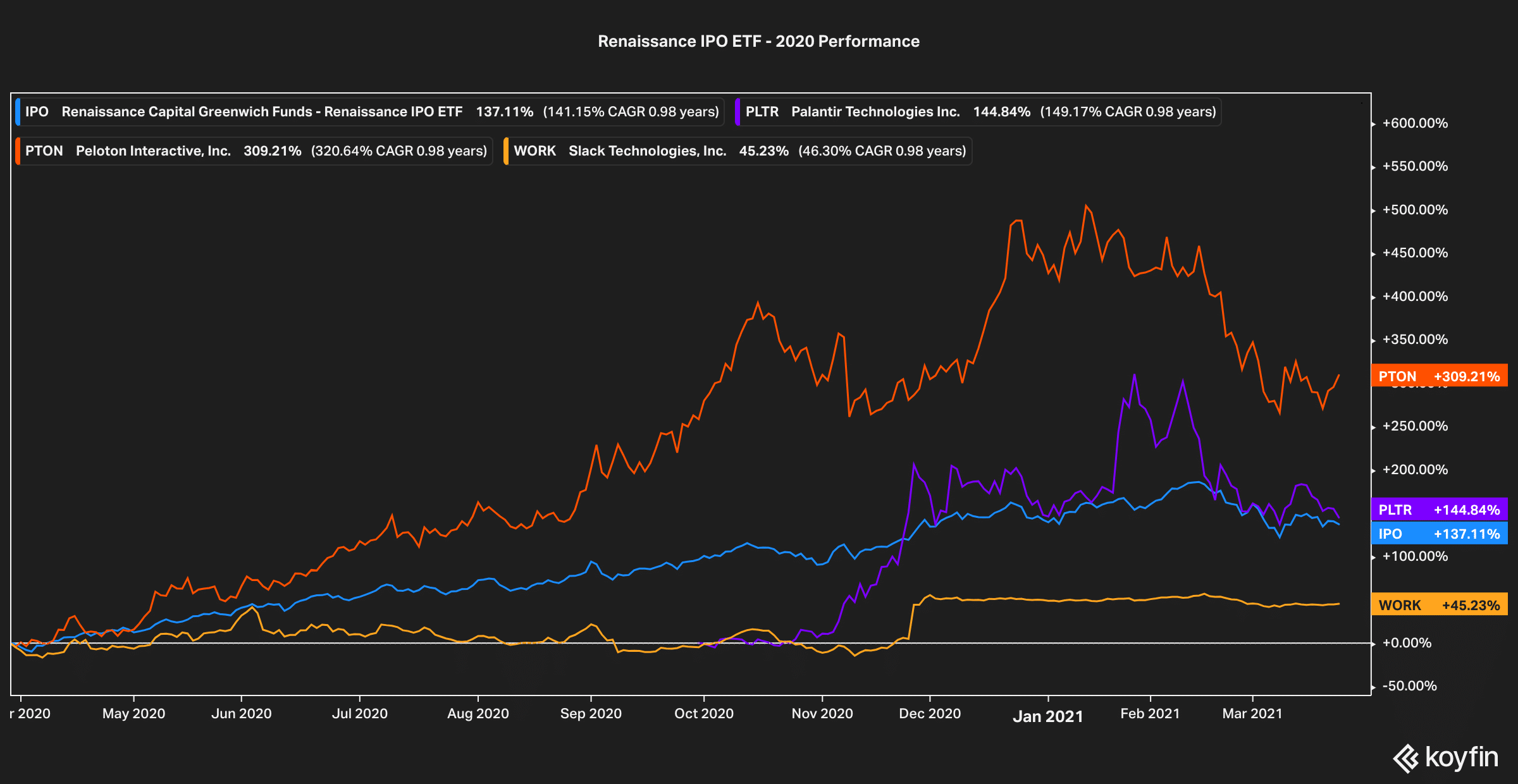 One way to get exposure to this market is to invest in the Renaissance IPO exchange-traded fund (ETF), which purchases the stock of companies that have been recently listed within 90 days of the stock first launching to the open market. The fund holds the stocks for two years, while continuing to add newly-issued shares as they come.
Last year, the fund delivered a remarkable 108% gain on the back of a tech boom and strong interest towards newly-issued shares of companies, including Slack (WORK), Palantir (PLTR), and Peloton (PTON).
If the IPO frenzy were to spill over to 2021, chances are that this ETF could continue to move higher as it incorporates the hottest issues to be launched to the market in the following months.