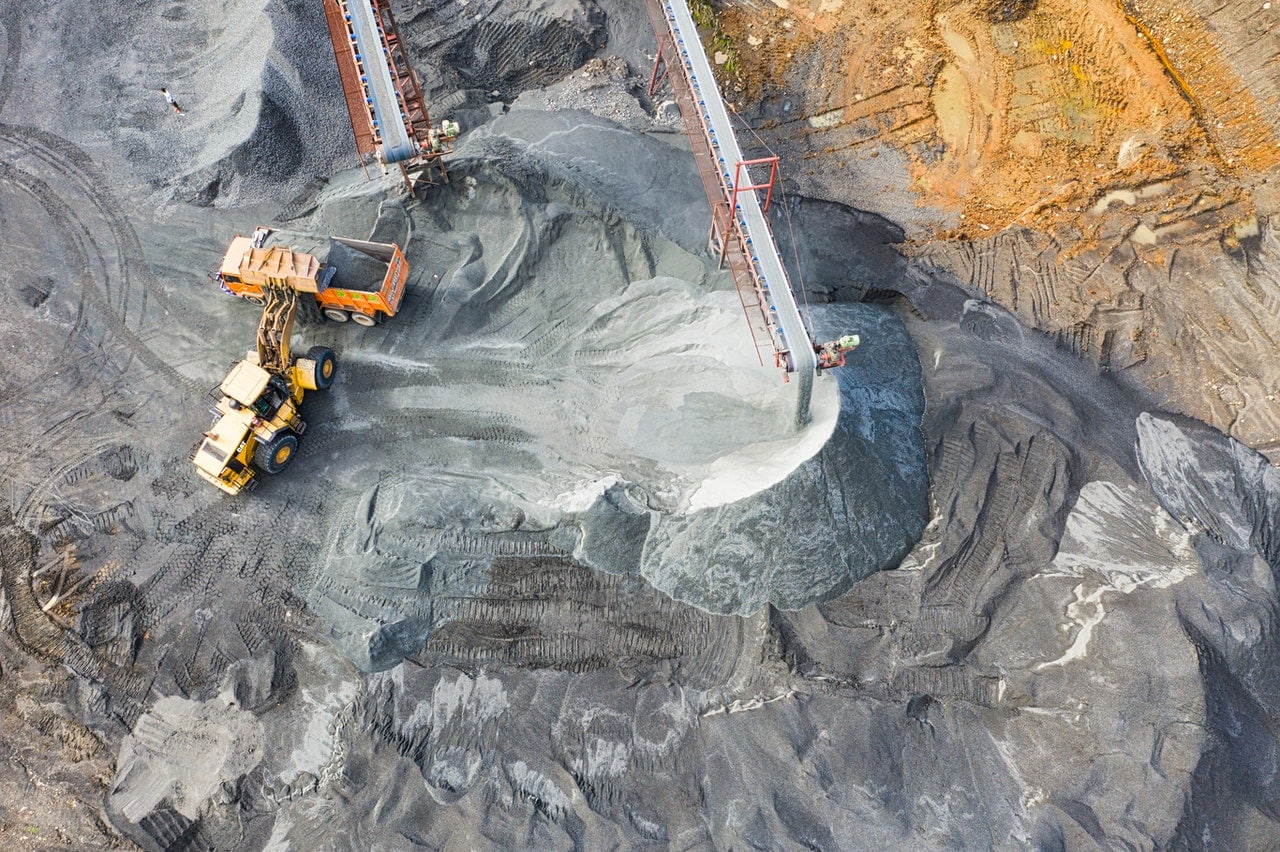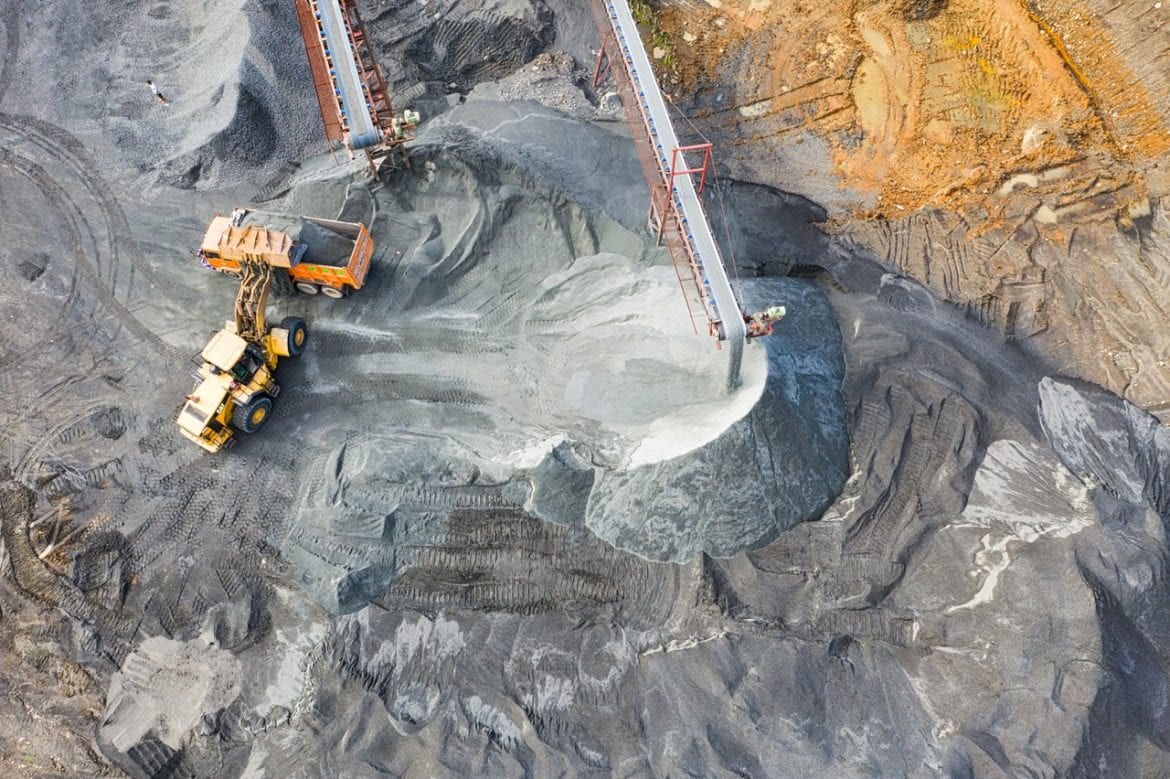 Rio Tinto shares opened higher in early trading today after the company reported strong operating results for the fourth quarter of 2020. The shares are up sharply over the last year amid the rally in metal prices.
Mining companies like Rio Tinto and BHP Billiton typically report their quarterly operating performance that has data on their production. These companies then follow up with their half-yearly financial performance. Rio Tinto would release its financial results for the second half of 2020 in February.
Key highlights of Rio Tinto's Q4 2020 performance
Rio Tinto's iron ore production in the fourth quarter of 2020 increased by 3% year-over-year to 86 million metric tons. The company's iron ore shipments increased 2% over the period. Rio Tinto is the world's largest iron ore miner. Rising iron ore shipments reflect the strong underlying demand in the global steel markets.
Iron ore is the key raw material for steelmaking and China is the world's largest buyer of seaborne iron ore while Rio Tinto, BHP Billiton and Brazilian miner Vale are the major suppliers. Seaborne iron ore prices have surged over the last year due to strong demand from steel mills.
Iron ore prices
We'll get to see how high iron ore prices positively impacted Rio Tinto's earnings next month when it reports the half-year results. However, it could be a solid performance as the earnings of metal and mining companies like Rio Tinto are closely tied to the price movement of the underlying commodities.
Rio Tinto's management on the results
Rio Tinto's management sounded upbeat on the strong operating performance. Its CEO Jakob Staushol said that "We have delivered a strong safety and operational performance in the face of the significant global challenges of COVID-19. Our 2020 performance reflects the resilience of the business, and the commitment and flexibility of our employees, customers, communities and host governments."
How Rio Tinto's other business segments performed?
Meanwhile, while iron ore operations account for the bulk of Rio Tinto's revenues and earnings, it also produces several other commodities. Here's how its different segments fared in the fourth quarter of 2020 and full year 2020.
Bauxite production fell 12% year over year in the fourth quarter but increased by 2% in 2020.
Rio Tinto's aluminium production rose 4% in the fourth quarter but was flat in 2020.
Refined copper production fell 4% in the fourth quarter and 9% in full-year 2020. While copper is among the most sought-after metal among miners, Rio Tinto's copper operations have been sagging. It agreed to sell its stake in Grasberg mine in Indonesia to partner Freeport-McMoRan while its Oyo Tolgoi mine in Mongolia has been wrapped in multiple issues.
Rio Tinto's realised prices
For miming companies, earnings tend to be a function of shipments, realised prices, and unit costs. Rio Tinto reported the following realised prices in 2020.
Pilbara iron ore $98.9 FOB per dry metric ton as compared to $85.9 in 2019
Aluminum $1,946 per metric ton versus $2,132 per metric ton in 2019
Copper 283 cents per pound versus 274 cents in 2019
Here is it worth noting that these metal prices are for the full year. While industrial metal prices tumbled in the first quarter of 2020, they bounced back sharply thereafter. Rio Tinto's second-half 2020 earnings would show the positive impact of higher metal prices.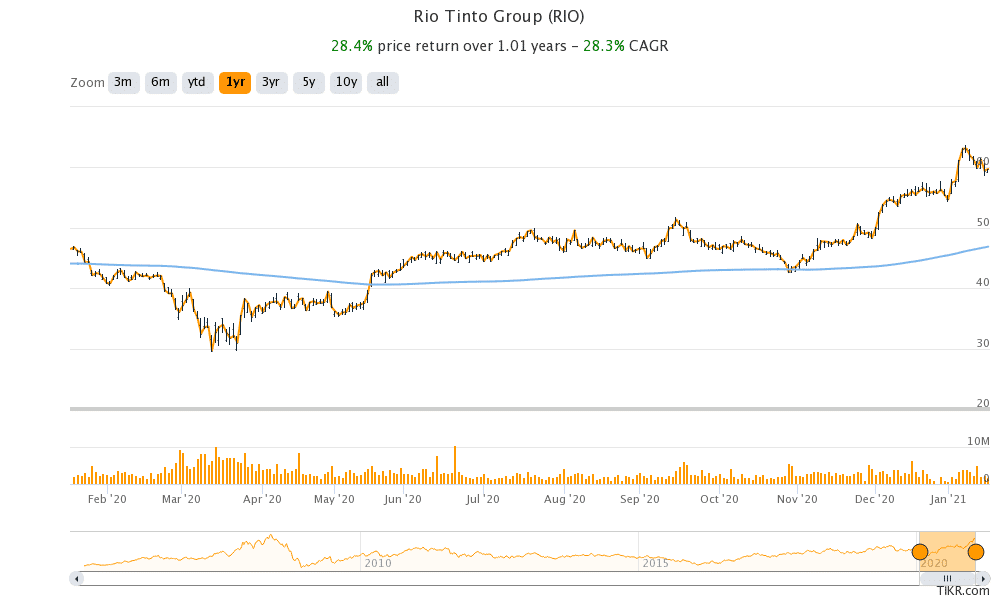 Metal prices
Also, metal prices are expected to average higher in 2021 as compared to 2020. This would mean that Rio Tinto's 2021 earning could be much higher as compared to 2020. William Curtayne, portfolio manager at Milford Asset Management, expects Rio Tinto's earnings to double in 2021 from 2020 levels if metal prices sustain at these levels.
That, however, is not the consensus view and if metal prices hold their ground, Rio Tinto could see a rerating in 2021.
Rio Tinto guidance
Rio Tinto also provided guidance for its 2021 shipments. It expects:
2021 iron ore production to be between 325-340 million metric tons as compared to 331 million metric tons in 2020
Aluminium production to be between 3.1-3.3 million metric tons—in line with the 3.2 million metric tons in 2020.
Mined copper production between 500,000-550,000 tons as compared to 528,000 tons in 2020.
Rio Tinto stock
Rio Tinto stock has gained 28% over the last year. If metal prices sustain their momentum, it could offer good returns in 2021 also. The stock is attractively priced and the current consensus earnings estimates don't seem to factor in the surge in metal prices.
Rio Tinto shares were trading 0.82% lower at 5,925p at 1:00 PM London time today. While the shares opened higher, they pared gains and turned negative for the day.