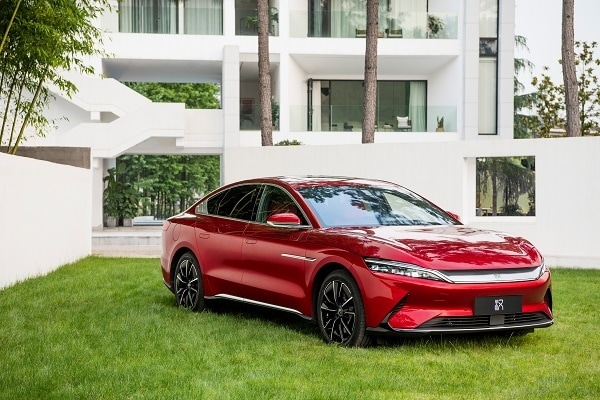 Shares of Chinese electric vehicle maker BYD spiked 12.2% today to close at 121.4 Hong Kong dollars after it announced strong demand for its new sedan. Tesla stock has also soared in the past after disclosing strong pre-orders for its vehicles.
Over the weekend, BYD said at the Beijing auto show that it has crossed 40,000 orders for its "Han" series of electric cars. The model was launched in July and would be sold in China, to begin with. Last month, the company delivered 4,000 of Han series cars.
The Han series has a single-charge range of 376 miles and the model is priced between $33,000 to $40,000. The price range is slightly below Tesla's Model 3 price range in China. Earlier this year, Tesla lowered its Model 3 prices in China to be eligible for the Chinese government subsidies for electric cars.
While NIO, also known as the "Tesla of China", does not qualify for Chinese subsidies due to its high car price, the government created a special category for companies that provide battery replacement services that made NIO eligible for the subsidies.
How do BYD's deliveries compare with Tesla?
Tesla delivered over 90,000 cars in the second quarter. The company does not give monthly sales breakup as well as its breakup of sales in China. Tesla's third quarter vehicle delivery numbers are expected later this week and CEO Elon Musk is pushing for record deliveries. The previous record for Tesla was 112,000 deliveries in the fourth quarter of 2019. This year, Tesla expects to sell around half a million cars.
BYD launched Han series of vehicles
While announcing the official sales for Han series of cars, BYD said in July that "Integrating the most advanced technologies in the electric vehicle industry, the Han boasts formidable performance combined with stylish craftsmanship."
It added, "As the world's first mass-produced model that uses BYD's ultra-safe Blade Battery, the Han EV sets new standards for EVs worldwide in terms of safety, performance and luxury."

BYD's autonomous driving technology
The model also comes with BYD's DiPilot intelligent driving assistance system. The partially autonomous driving system comes with a "wide array of safety features like an adaptive stop-and-go cruise-control system (ACC-S&G), a forward-collision warning system (FCW), a pedestrian identification and protection system, a lane departure warning system (LDWS), traffic sign identification, and much more," according to BYD.
Tesla raised the price of its FSD (full self-driving) package to $8,000 from July. Over time, Musk expects the services component of Tesla's electric cars to exceed the car price itself and expects the FSD option to cost $100,000 over time. That said, Tesla's FSD option is also not fully autonomous and there have been some crashes associated with the Autopilot when the driver was not in control.
Electric vehicle stocks have soared in 2020
Electric vehicle stocks have soared this year with Tesla and NIO up 400% and 418% respectively for the year. To put that in perspective, Etsy that's the biggest gainer in the S&P 500 this year is up around 180% year to date. Many analysts were expecting Tesla to join the S&P 500 this year after it posted a net profit in the second quarter of 2020. This was the fourth consecutive quarterly profit for the Elon Musk-led company, and a key requirement for inclusion into the S&P 500.
BYD shares in 2020
BYD shares hit their 52-week high of Hong Kong dollars 121.5 today. The stock fell to a 52-week low of Hong Kong dollars 33.5 in March as the pandemic took a toll on China's car sales. BYD shares have gained over 200% this year. Famous value investor Warren Buffett has also invested in BYD.
Is a bubble building in electric vehicle stocks?
While sales of electric vehicles are expected to soar over the next decade,there are signs of a bubble developing in the sector. For instance, it is difficult to justify Tesla's market capitalisation being greater than the combined combined market capitalisation of Toyota Motors, Volkswagen, General Motors, Ford, and Fiat Chrysler.
Earlier this week, Workhorse stock soared over 13% after US President Donald Trump reviewed and praised the Endurance pick up that Lordstown Motors is launching. Shares of SPI Energy, a company most investors likely hadn't heard of, soared over 4,400% intraday on September 23 after the company announced a subsidiary to produce electric vehicles.
While Tesla's sales in China have been rising, it faces strengthening competition from Chinese electric vehicle companies such as BYD that are aggressively expanding in their home market, which just happens to be the world's largest market for electric (and carbon-emission) cars.