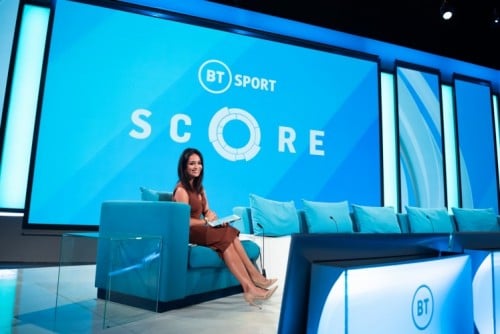 BT Group shares are surging this morning, up 5.3% during stock trading activity in London after rumors that the company approached Goldman Sachs to protect itself against a potential takeover started to circulate.
Shares of the FTSE100 telecoms giant are up 5.45 points, currently trading at 107.25p per share, still struggling to recover from their May plunge related to the company's announcement that it will be slashing its dividend to finance a large infrastructure project.
A potential takeover appears to be boosting the appeal of the firm at a moment when its shares seem to be out of favor as a result of the COVID-19 crisis, which has seen its sports broadcasting revenues plunge, although an outright bid is unlikely due to the significant regulatory scrutiny that a deal of that nature would have to go through.
That said, a new player coming onto BT's board may not be such a bad thing, especially now that investors' view of the company's management seems to be on the negative side, as slashing the company's dividend was clearly not a popular decision.
Why are BT Group shares down this year?
BT Group (BT) shares have been plunging since 2016 while they are down 44% for the year, as the telecoms giant stock has failed to recover from the market meltdown that followed the COVID-19 pandemic.
For the three months ended on 30 June, BT reported a 7% drop in its quarterly revenues as a result of lower sales from its BT Sports segment and a deceleration of its enterprise business segment.
Meanwhile, profits before taxes plunged by 13% due to higher interest expenses, while the company provided a 2020/2021 outlook that forecasted a 7% drop in revenues for the entire year.
However, the most important news driving the price of BT Group shares down are related to the company's decision to slash its 20-year-long dividend, as the management plans to use these funds to finance a project that involves rolling a super-fast fibre optics network that would benefit over 20 million households in the UK in a bid to boost the company's 5G infrastructure.
This project would cost a total of £12 billion, which represents roughly 20% of the firm's total assets.
Are BT Group shares a buy in light of these news?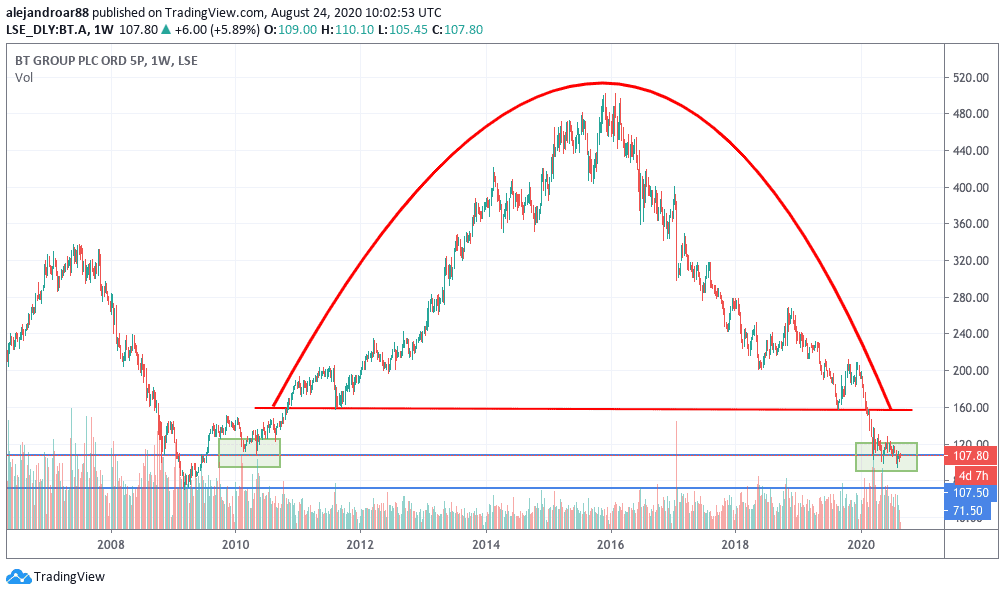 BT Group shares were headed down prior to the COVID-19 sell-off, following a rounded-top pattern that has melted down the stock's price since late 2019 right, after shares of the British telecom firm broke below the 160p neckline.
Shares have settled between 100p and 120p this year, finding support at their 2010 lows, with only one more support line in place at around 70p per share if the stock were to dive further down from its current levels.
Although these rumors could provide some short-term positive momentum for BT Group shares, an outright bid is unlikely. However, certain fundamental and technical variables are pointing to an opportunity for long-term investors, as BT Group shares appear to be undervalued by most metrics.
First of all, although the firm carries a sizable net debt, its financial situation continues to be healthy enough to drive off fears of insolvency – at least for now.
Meanwhile, BT Group is currently being valued at just 6 times its last-twelve-months earnings, which is markedly lower than the industry's average price-to-earnings ratio of 28.
Moreover, the latest price action has led to the formation of a falling wedge, a pattern that indicates that a potential trend reversal could come soon, possibly on the back of some other news related to these rumors.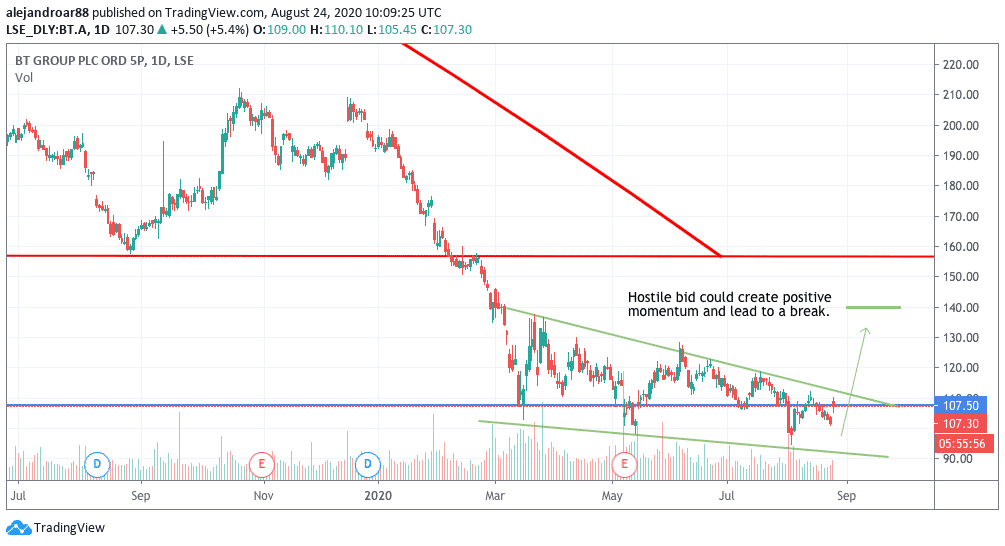 At this point, a break above the wedge's upper trend line would be needed to confirm this reversal, accompanied by a spike in trading volumes.
On the other hand, in terms of potential downside, since the stock is trading at such low levels from a historical perspective, it is hard to see investors pushing the sell-off below the current levels, as the firm is currently trading at just 0.7 times its book value.