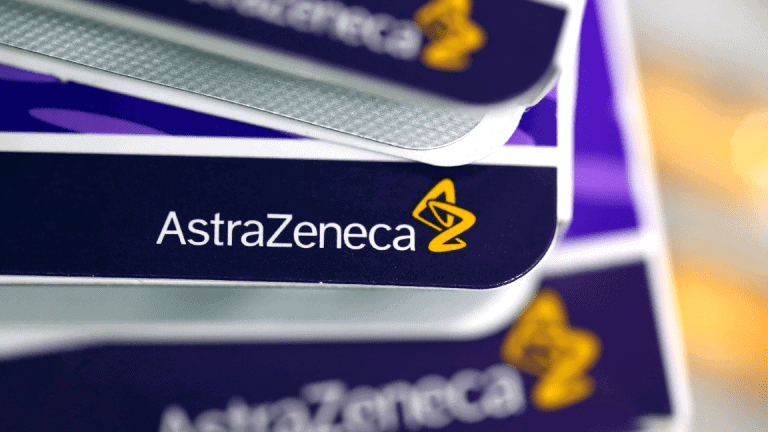 AstraZeneca shares are heading for their fifth consecutive day of losses, after the British drugmakers' vaccine trial is called into question by experts and US officials.
If the stock were to close today's stock trading session at its current level of 7,710p per share, AstraZeneca shares will end the week with a 7.3% loss, following the stock's plunge in the three days since its latest vaccine announcement.
The stock headed lower on Monday right after the results of an interim analysis conducted on a small subset of patients participating in the firm's Phase 3 clinical trials indicated an average 70% efficacy for its vaccine – with a 90% level of efficacy seen in a second group that received half a dose first and then a full dose a month after.
It has now emerged that this unusual dosage was the result of an error during the trial, although this particular course led to a surprisingly high level of immunity among patients. The level of efficacy among those who took the two full doses was lower at 62%.
Experts have also drawn attention to the small number of volunteers that participated in the sub-group that was part of the study – just 2,741 compared to the tens of thousands that vaccine developers Pfizer (PFE) and Moderna (MRNA) enrolled in theirs.
Among those voicing their concerns about the results is the head of the White House's Operating Warp Speed programme, Moncef Slaoui. He said he was worried by the age group of the volunteers who participated in the study that showed a 62% efficacy –  all the participants were 55 years old or younger.Those over 60 are at the highest risk of dying from a Covid infection.
Meanwhile, US-based investment bank SVB Leerink – which specialises in the health care and biotech sector – said in a note on Monday that they believed AstraZeneca's (AZN) vaccine "will never be licensed in the US".
UK regulators defend AstraZeneca's vaccine
Britain's top science advisor for Downing Street, Patrick Vallance, stepped forward to address these concerns by assuring the public that the results from AstraZeneca's trials were "very exciting", while the British drugmaker said that they have officially asked regulators to assess their vaccine candidate to make sure "it meets rigorous safety standards".
As a result of the latest wave of skepticism from US officials, AstraZeneca's Chief Executive Pascal Soriot expects to conduct a new global trial to address doubts about the treatment's efficacy.
What's next for AstraZeneca shares?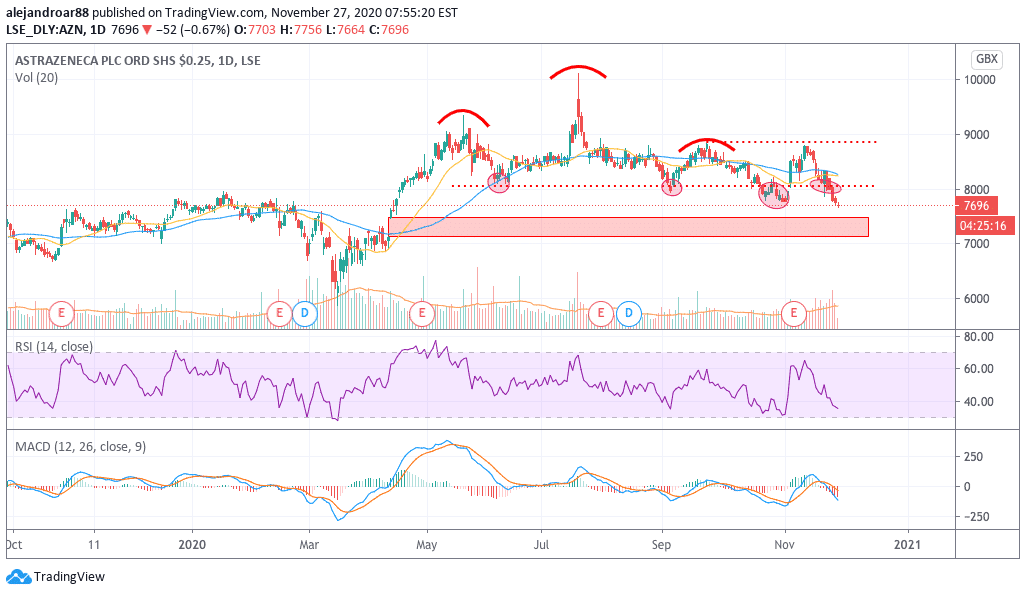 AstraZeneca shares have reacted negatively to all the skepticism surrounding its vaccine treatment, with shares diving below a long-dated support of 8,000p per share.
As of now, the annual performance of the stock is close to reversing back into  negative territory if the downtrend continues, as shares are gaining only 1% now, compared to a 22.5% annual gain they were delivering in July, back when the price peaked at 9,320p per share.
We have been warning that the recent meltdown seen by AZN shares could result in the filling of an early-April price gap, a move that could be accelerate if negative news casts more doubts on the efficacy of the treatment.
The chart above shows that the stock is currently trading at its lowest level since mid-April, after moving below the neckline of a bearish head and shoulders pattern for the second time in a few months.
This support remains an important threshold that has now been breached, with no other major support line found nearby except for the open gap mentioned above.
Any bounce at this point should be treated with extreme cautiousness as it could lead to a false retest of this support – which could result in a full-blown collapse in the stock price if the price action fails to move any higher.