The price of Arrival shares jumped yesterday after a wild stock trading session in New York, marking a bumpy start for the firm's debut trading under their new ticker symbol ARVL.
Shares of the UK-based electric bus and van manufacturer dropped sharply during the first few hours of the session but then bounced, reversing an initial 17% loss to close the day with a 5.6% gain, closing at $22.8 on Thursday.
In a press release published before the bell rang, the firm announced that it had now become a Nasdaq-listed company, raising around $660 million in gross proceeds through this initial share offering.
Arrival managed to secure a SPAC-backed IPO in November last year after successfully merging with CIIG Merger (CIIC) – a blank-check company headed by turnaround expert and former Chief Executive of Marvel Entertainment, a company now owned by Disney (DIS), F. Peter Cuneo.
The deal gave the EV manufacturer a valuation of $5.4 billion, while its market capitalisation has now jumped to around $13 billion after the deal was finalised.
Arrival's Chief Executive, Denis Sverdlov, who reportedly holds a 76% stake in the firm, stated: "Going public is an opportunity that will allow us to continue to scale globally, bringing these products to more and more cities and people".
Other shareholders and backers include American asset management firm BlackRock, Hyundai Motors, and Russian tycoon Vladimir Potanin.
According to this latest statement from the company, Arrival expects to start manufacturing its Arrival Bus model during the fourth quarter of 2021, while the Arrival Van could start to be assembled by the second half of 2022.
Further details on Arrival's value proposition
Arrival is an electric vehicle manufacturer that focuses on producing low-maintenance units through a network of mini-factories that supposedly function without requiring significant capital expenditures.
The firm claims that it can produce vehicles cheaply that can be sold at the same price of their fossil fuel equivalents, yet offering lower total costs of ownership (TCO).
The company currently employs 1,800 employees and has already launched three of these micro-factories, one in Bicester, UK, and the other two in South and North Carolina in the United States.
The firm plans to rely on local supply chains and talent to operate these facilities, an approach that, according to Arrival, would reduce costs and ensure that vehicles are produced in accordance with each region's mobility requirements.
Arrival also claims that it had received a commitment to purchase up to 10,000 vehicles from United Parcel Service (UPS), with the possibility of increasing the size of the order by another 10,000 vehicles.
What's next for Arrival?
According to the firm's prospectus filed with the SEC, Arrival lost a total of €24 million during the first six months of 2020 – roughly €9 million more than what the company lost during the same period a year before. Meanwhile, the firm had total assets of €215 million by then along with €18 million in liabilities.
We could expect to see Arrival's balance sheet growing to around €700 million upon receiving the proceeds of this latest share offering, which puts the firm's valuation at around 15 to 16 times its book value.
Achieving the company's milestones in regards to the manufacturing of its vehicle line remains the most important catalyst for the stock price in the near future, with any upcoming developments on this front possibly moving the needle quite strongly for this UK-based EV maker stock.
For now, any investment made on the company would be placed based on speculative constructs as its valuation is only supported by Arrival's ability to deliver on its promises. Until then, the price action will probably be highly volatile based on market chatter and periodical updates from the management team.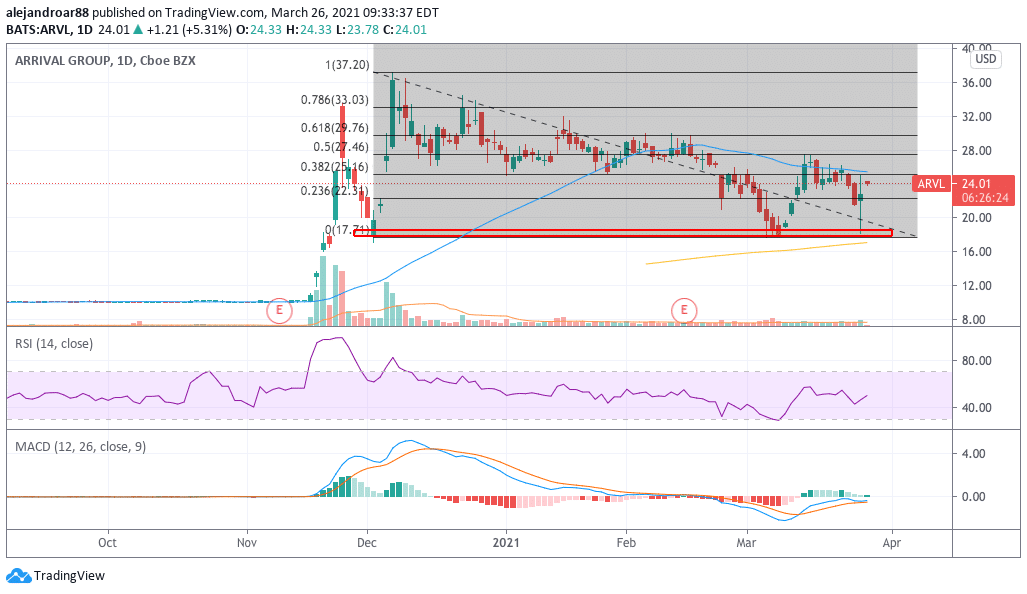 Meanwhile, from a technical standpoint, the latest price action seems to have formed a triple bottom at the $18 area, which means that Arrival shares could see a short-term uptrend. So far today, the stock has started the day with a strong 4.4% gain at $24 per share.