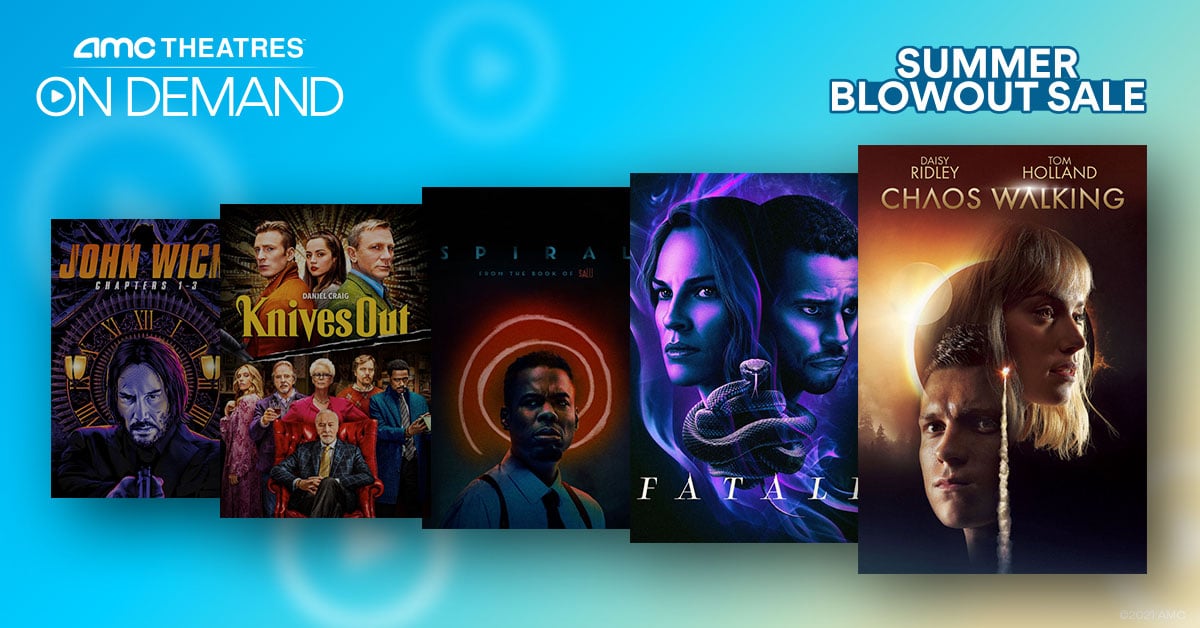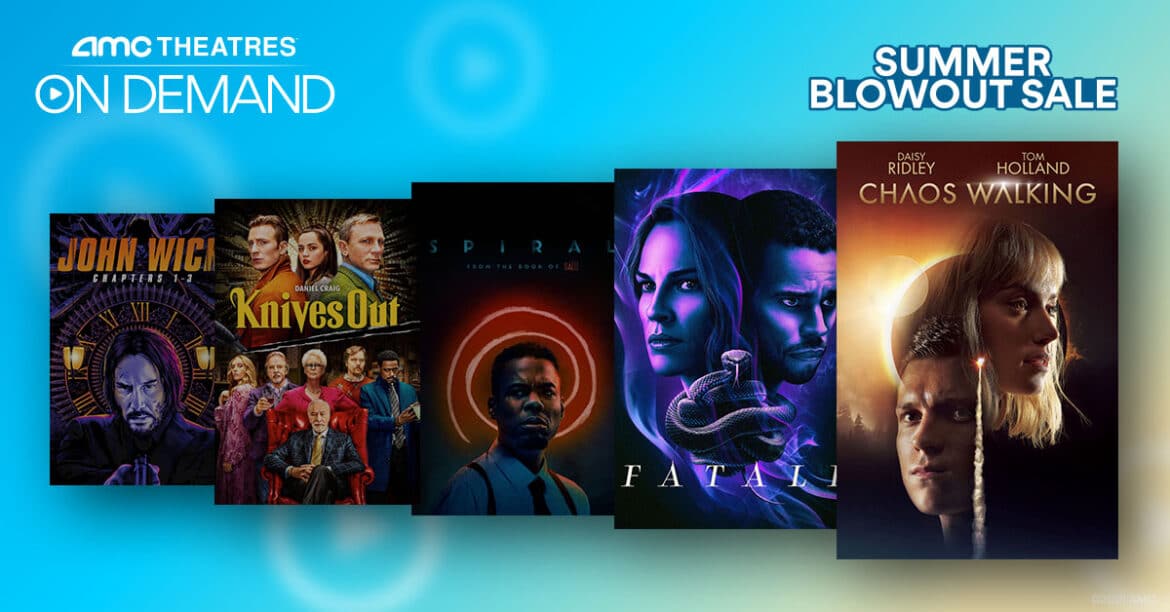 AMC Entertainment shares were trading higher in US premarket price action today, continuing their good run from yesterday. Meme shares have roared back after being in hibernation over the last couple of months.
Even before the short squeeze came into play yesterday, AMC saw buying interest on Monday after the US FDA granted full approval to the COVID-19 vaccine from Pfizer and BioNTech. While the news is positive for Pfizer and BioNTech as the full approval should cajole more people to get vaccinated, the news is also positive for reopening plays like AMC.
AMC shares have been very volatile
Meanwhile, AMC shares have been very volatile in 2021. The shares hit their all-time lows earlier this year. However, soon they got caught in the Reddit frenzy and went to hit an all-time high of $72.62. However, as has been the case with other meme shares, AMC shares fell sharply from the peaks and were trading in the $30s for quite some time. The company meanwhile capitalised on the rising share price to raise more capital. Given its massive debt pile and cash burn, AMC needed cash to run the business. The company wanted to issue more shares but its investors thwarted those plans.
Earnings beat estimates
AMC released its quarterly earnings earlier this month which shattered estimates for both the topline and bottomline. The company's revenues came in at $444.7 million in the quarter as it welcomed 22 million guests in the quarter globally. Its loss per share was 71 cents which were below what analysts were forecasting. The company ended the quarter with total liquidity of $2 billion.
The company has managed to bridge its cash burn. The cinema chain company reported a monthly cash burn of $85 million in the second quarter which was below the $120 million that it reported in the previous quarter.
Cash burn
The company said that the "improvement in cash burn is a result of higher gross box office grosses together with our very strong operating performance." AMC is now paying interest in cash instead of kind. It is also investing to enhance the user experience and expects the net capex this year to be between $100-$120 million. While AMC continues to burn cash but things should improve gradually.
The company has also said that it would allow sales in bitcoin. The news would appeal to the company's largest retail shareholder base, many of whom might also be bullish on cryptocurrencies. "AMC's journey through this pandemic is not finished, and we are not yet out of the woods. However, while there are no guarantees as to what the future will bring in a still infection-impacted world, one can look ahead and envision a happy Hollywood ending to this story," said AMC CEO Adam Aron during the earnings release.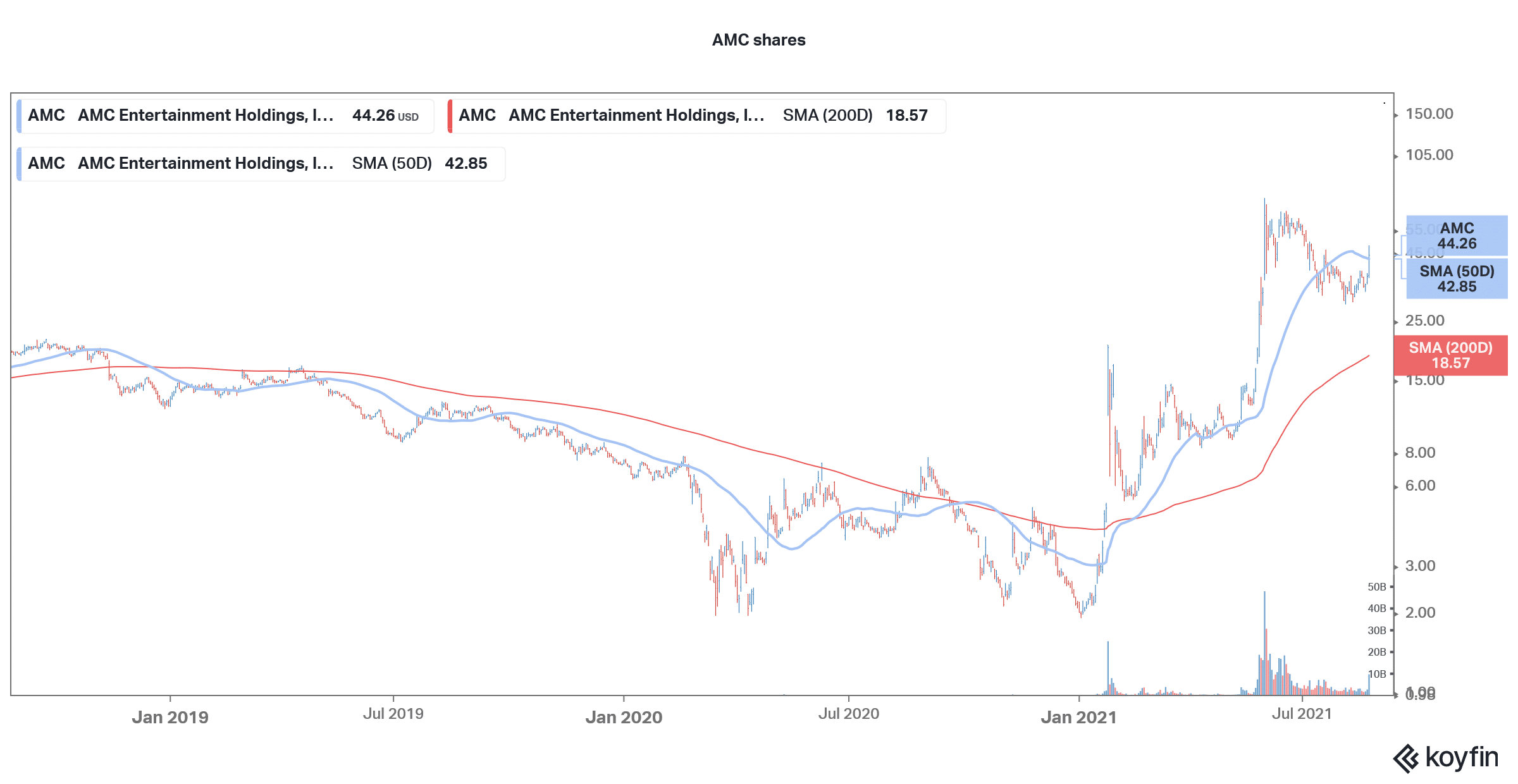 Analysts are very bearish
Wall Street analysts are very bearish on the shares. According to the forecast estimates compiled by CNN Business, AMC has a median price target of $5, which is a discount of over 88.7% over current prices. Its highest price target of $16 is a discount of almost 64% over current prices, while its lowest price target of $1 is a 98% discount to the current share price.
Of the 9 analysts covering the shares, five have rated the shares as a hold or some equivalent while four analysts have a sell rating. None of the analysts has a buy rating on the shares.
After the company's earnings release, Citi reiterated its sell rating on AMC shares while raising its target price to $5. "AMC reported 2Q21 revenue and Adj. EBITDA ahead of both Citi and the Street. As of June 30, 2021, the company was operating all 593 domestic locations and 335 or 95% of its international locations. During the quarter, the company also raised ~$1.25 billion of equity capital," it said in the release while calling the shares overvalued.
AMC short squeeze
But then, AMC shares have not been trading on fundamentals but on speculative buying. There is a big army of AMC fans who call themselves "apes." The group of committed shareholders find a lot of value in the shares. The targets floated on social media groups can be wide though and can range anywhere between $100-$1,000. But then, despite a committed shareholder group, who also get free popcorns at the cinemas, the structural weakness in the cinema business can't be masked.
Even after the cinemas have reopened and a lot of people have visited them, streaming has continued to grow its popularity is visible in the titles from Disney, which also get released on streaming simultaneously.
Cinema chain industry
Also, while there has been consolidation in the cinema industry as some smaller players have had to shut down, the US cinema market still looks oversupplied especially considering the structural shift towards streaming.
Last month, Loop also echoed similar views and said in its note that "Old theaters don't die, they just get repurposed into new theaters. There are simply too many screens for the movie-going public. We thought one silver lining of the pandemic is that it might finally rationalize the number of screens in the US."
Meanwhile, shorts seem to be getting squeezed again in AMC shares and they were up over 5% in US premarket price action while futures point to a flat opening for US markets today.
Overall, while AMC could be a good day trading share, it is not the kind of company that can form part of your core portfolio.