Meme Stocks – What are They & How to Invest
Fact Checked
Everything you read on our site is provided by expert writers who have many years of experience in the financial markets and have written for other top financial publications. Every piece of information here is fact-checked.
Disclosure
Please note that we are not authorised to provide any investment advice. The information on this page should be construed for information purposes only. We may earn commissions from the products mentioned on this site.
Meme stocks have been a popular topic of debate for stock market traders this year. Companies such as GameStop and AMC Entertainment have seen their market value skyrocket overnight, leading to some high returns. But what are meme stocks and why are they trending in 2022?
Read on as we reveal the best meme stocks to invest in right now, as well as how to invest in meme stocks with a top-rated and trusted online broker.
---
Meme Stocks List 2022
Do you want to invest in meme stocks with as little as $50? eToro is a fully regulated social trading platform that supports fractional share trading and charges 0% commission. 
---
eToro – Overall Best Stock Broker to Buy Meme Shares with 0% Commission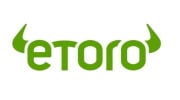 67% of retail investor accounts lose money when trading CFDs with this provider. 
---
Top 5 Best Meme Stocks to Buy Now
1. GameStop Corporation (NYSE: GME)
If you're an avid stock market investor or a complete beginner, chances are you have heard about the GameStop meme stock. Listed on the NYSE, this video game retailer triggered the Reddit-driven 'meme stock' craze in the first quarter of this year. In January 2021, GME stocks staged a huge bull rally, jumping by over 1,700% within a short timescale of just 14 days.  
Based in the US, GameStop is one of the leading meme and tech stocks that has made headlines after a trading frenzy rattled the stock markets. It was generally regarded as a struggling company, with its mere presence as a brick-and-mortar chain considered outdated by most Wall Street investors. This bearish sentiment was further supported by the company's fundamentals and market price, which had been riding a sustained downtrend – from lows of $2.80 recorded in 2020.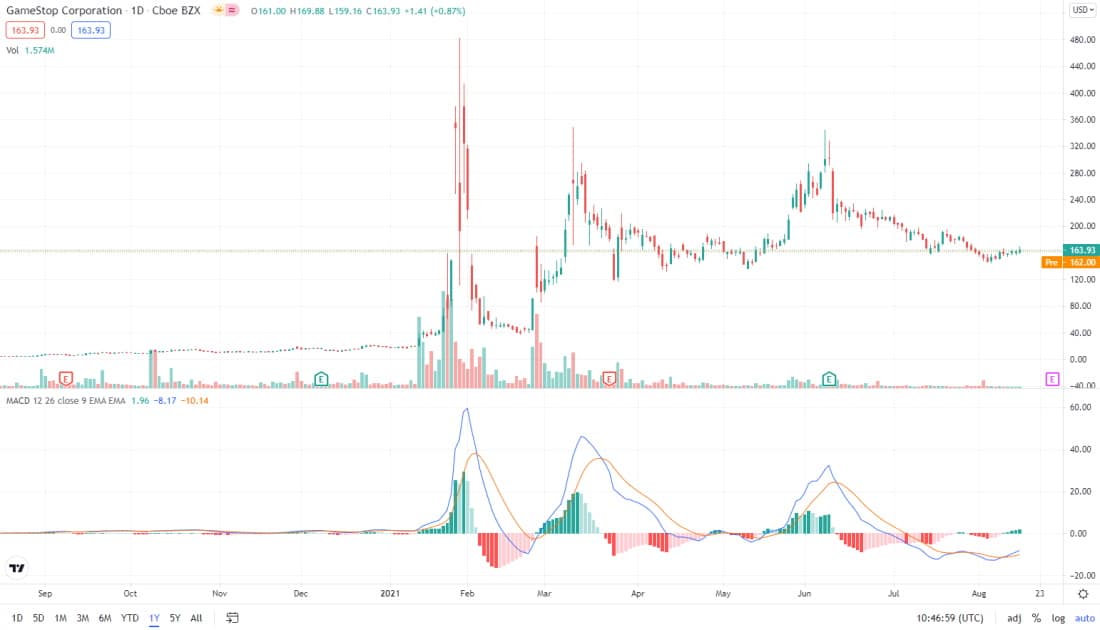 67% of retail investor accounts lose money when trading CFDs with this provider. 
But was GameStop a failing business?
In the eyes of some retail investors, GameStop was a company with huge potential. The popular Reddit group WallStreetBets, with over 10.7 million members, proved to be a key catalyst that would drive the meme stock's price upwards during the final fiscal quarter of 2020. This uptrend caught the attention of Wall Street hedge funds. Nevertheless, their analysis found this stocks meme to be overvalued, and thus started shorting its stock. Simply put, they borrowed the stock to sell it later on in hopes that its market value would drop, at which point they would buy GME stocks and yield positive returns. 
Once they were aware of this shorting trend, a large portion of WallStreetBets members devised a plan to purchase and hold the meme stocks to push the market price up and cause a short squeeze. By January 28th the first of the meme stocks had reached a huge peak of over $480.
What does the future hold for GME meme stocks?
On July 6th, GameStop announced that it is still committed to the expansion of its fulfillment network in North America. This expansion includes entry into facilities across major US states including Nevada and Pennsylvania. 
In June, GameStop reported that it had accomplished its at-the-market equity offering plan and sold five million shares of its common stock which yielded $1 billion in net proceeds. The company announced that it will use the profits to invest in further growth and development initiatives. 
At the time of writing, the current GME stock price is $162.52 representing an increase of 0.10% compared to the previous close of $162.35.
---
2. AMC Entertainment Holdings Inc. (NYSE: AMC)
AMC Entertainment Holdings has been a top performer for investors making it one of the best meme stocks to buy in 2022. Just this year, AMC has risen by over 2,500%. While the movie theatre sector has seen significant growth as Covid-19 restrictions are slowly lifted, does this account for the current market price?  
AMC is currently trading at $33.47 which gives the movie theatre company a market capitalization of $17.18 billion. Yet for a company that was struggling before the coronavirus pandemic, it is up by just under 2,500% year to date.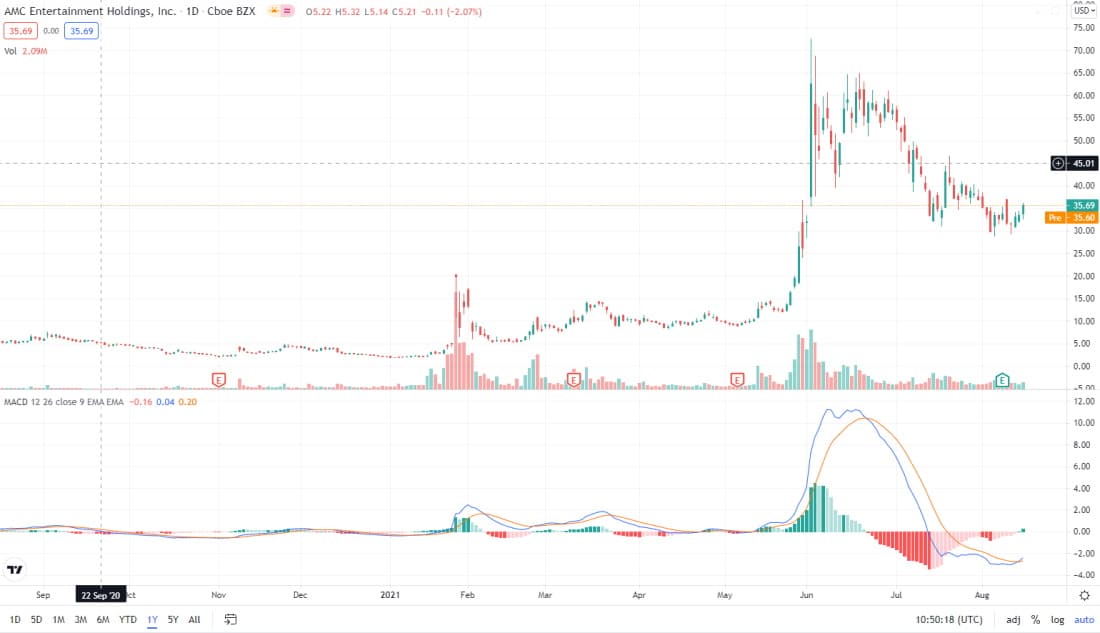 67% of retail investor accounts lose money when trading CFDs with this provider. 
AMC has raised $2 billion from the short squeeze and they're using those funds for future expansion and improvements. The movie business is likely to exist even after the pandemic ends. Major companies including Disney and Warner have already announced that their biggest film hits are going to feature first in movie theatres. Even the pre-pandemic movie theatre sector was struggling because of a saturated market. There are currently 40,000 movie theatres across the US. The consensus amongst analysts is that the market can only support 30,000. This means that the worst-performing companies will be forced to close. 
But AMC intends to use its newly found returns to buy out most of its competition that failed to become meme stocks. On June 2nd AMC stocks reached highs of $64.04 which represents a jump of 145.27% from $26.11 recorded in May.
Recently AMC Entertainment Holdings introduced AMC Investor Connect, a communication initiative that will allow the company to interact with its investors. Via this program, shareholders will receive benefits including unique discounts and invitations to exclusive film screenings. AMC shareholders will also have exclusive access to data regarding the company and its presence in the movie sector. With that said, are AMC meme stocks a good investment right now? Many meme stock investors think so, which is why AMC is on their watchlists this summer.
---
3. Nokia (NYSE: NOK)
Following key changes to its business model, investors continue to flock to Nokia. Formerly a leading mobile phone manufacturer, it has been reborn as a telecommunications stock in the 5G sector. Furthermore, it is gaining attention from retail investors as one of the top Reddit meme stocks to watch this summer. Its widespread appeal for traders is its low per-share price which currently sits at $6.12 giving it a market cap of $34.45 billion. 
Meme stocks can experience dramatic uptrends that investors can benefit from, but can this telecom equipment stock become one of the best meme stocks to buy right now?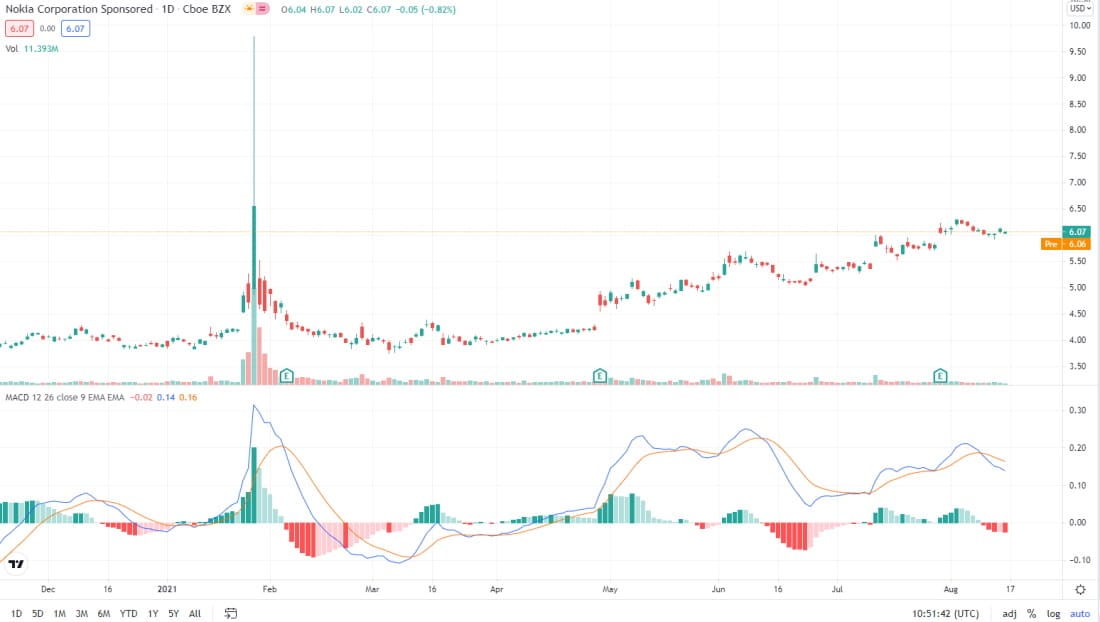 67% of retail investor accounts lose money when trading CFDs with this provider. 
Nokia stock rallied higher recently after the 5G telecoms company announced it would increase its guidance in the last quarter of this fiscal year. This drove the meme stocks price upwards by 9% in mid-July, and it has maintained this bullish trend since. 
What's more, the WallStreetBets group has triggered speculative trading of the Reddit meme stock. Many investors have positive outlooks for this meme stock. 
All in all, the combination of an upgrade to its guidance with the speculative interest of meme-stock investors could drive the market price upwards even further. But, some analysts have questioned whether Nokia's telecom equipment can compete with the likes of Huawei and LG. 
---
4. Virgin Galactic Holdings Inc. (NYSE: SPCE)
Virgin Galactic's latest space test flight is a historic benchmark and breakthrough for this meme stock. SPCE share prices have fallen by almost 37% since Sir Richard Branson, the founder, journeyed to space on July 11th. Who would have guessed such a pioneering milestone could lead to such steep downtrends?
Unrelenting demand for space tourism, in addition to the prospect of branching out to other space-related projects make this meme stock's recent drop a unique buying opportunity.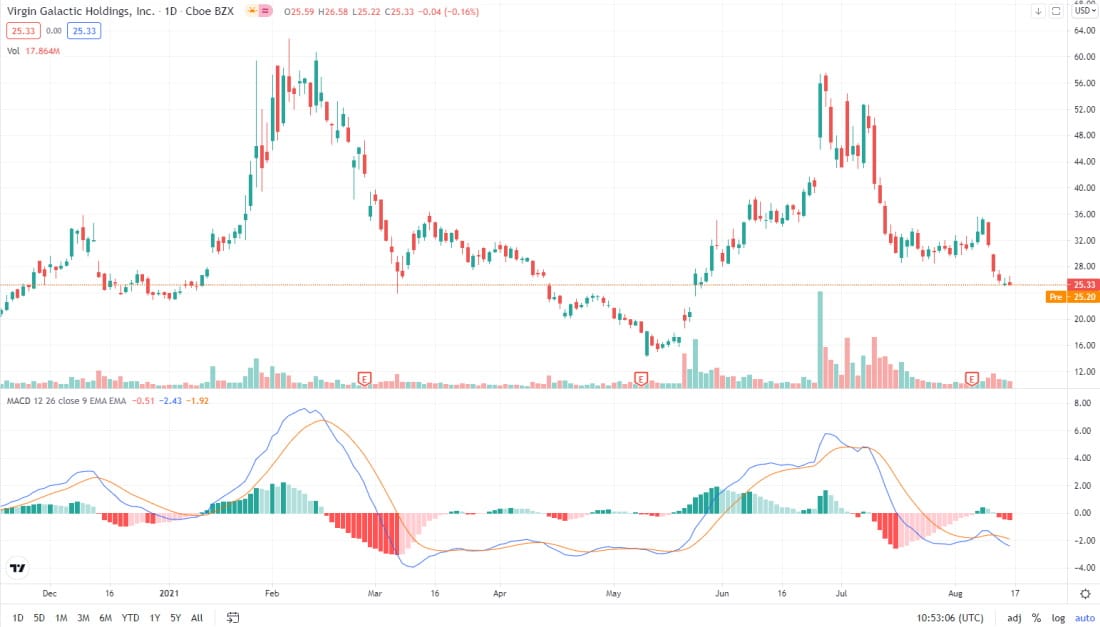 67% of retail investor accounts lose money when trading CFDs with this provider. 
With practically no revenue or profits yet, Virgin Galactic is a difficult growth stock to value right now. Some analysts at UBS forecast space tourism to be valued at $4 billion by the end of the decade. This means that with a current market capitalization of $6.53 billion Virgin Galactic has room for growth. Furthermore, meme stock investors need to bear in mind the company's sophisticated technology and data, which can generate value in the broader space sector (forecast to reach $800 billion by 2030. 
---
5. Clover Health Investments Corporation (NASDAQ: CLOV)
It may come as a surprise that retail investors are interested in an insurer that's committed to distributing a Medicare plan to senior citizens in the US. And while this is unorthodox, it hasn't prevented Clover Health Investments from becoming one of the best meme stocks to buy this summer. 
This Reddit meme stock is focused on making Medicare Advantage plans less costly for clients and more profitable for healthcare providers. So far the company is expanding at a steady pace of 18% year on year, which is quite impressive. 
67% of retail investor accounts lose money when trading CFDs with this provider. 
Clover Health could be a good investment because it has a strong case for revolutionizing the existing Medicare Advantage sector. As opposed to charging high fees for limited healthcare coverage, this Reddit meme stock aims to deliver a cost-effective service for access to a wide range of healthcare resources. According to Clover Health, its cheap pricing structure could be 17% less expensive than rival offerings. The company has plans to broaden its international coverage which could lead to steady long-term growth. 
---
What are Meme Stocks?
Unless you've been hiding under a rock during the last eight months, the term 'meme stocks' will have cropped up on your news feeds at some point. With its popular appeal and high return potential, investors are monitoring these stocks closely. With that said, let's cover the meme stocks meaning.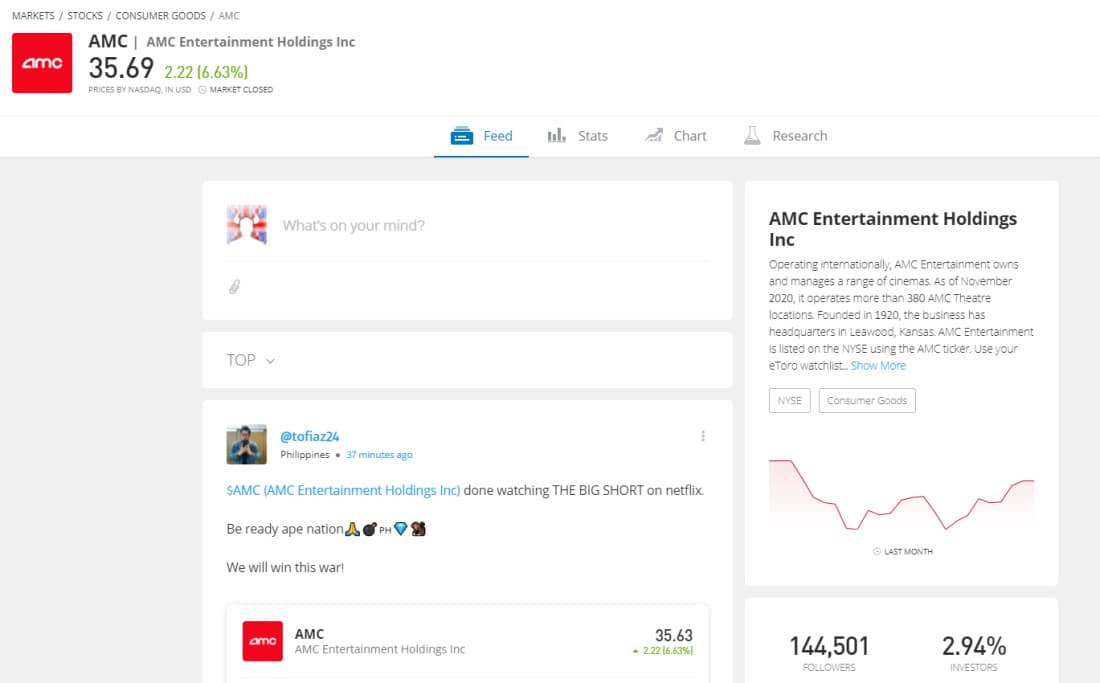 Meme stocks are stocks that experience a rise in trading volume resulting from hype and trends on social media forums like Reddit, instead of positive fundamentals and past performance. This type of investing relies on a herd mentality where retail investors follow the hype rather than the fundamental and technical analysis of a stock. As a result, Reddit meme stocks become overvalued and experience huge uptrends.
All the hype around a particular meme stock entices retail investors to purchase the stock with hopes that its market value will surge. 
---
The History of Meme Stocks
Meme stocks attract a lot of attention as a result of the discussions held on social media platforms including Reddit and Twitter. Internet trends can spread throughout the world in a matter of seconds, which would explain why the market prices of meme stocks skyrocket. But, as the price increase is based on investor sentiment and not on the company's fundamentals, these uptrends can be accompanied by sharp bear trends.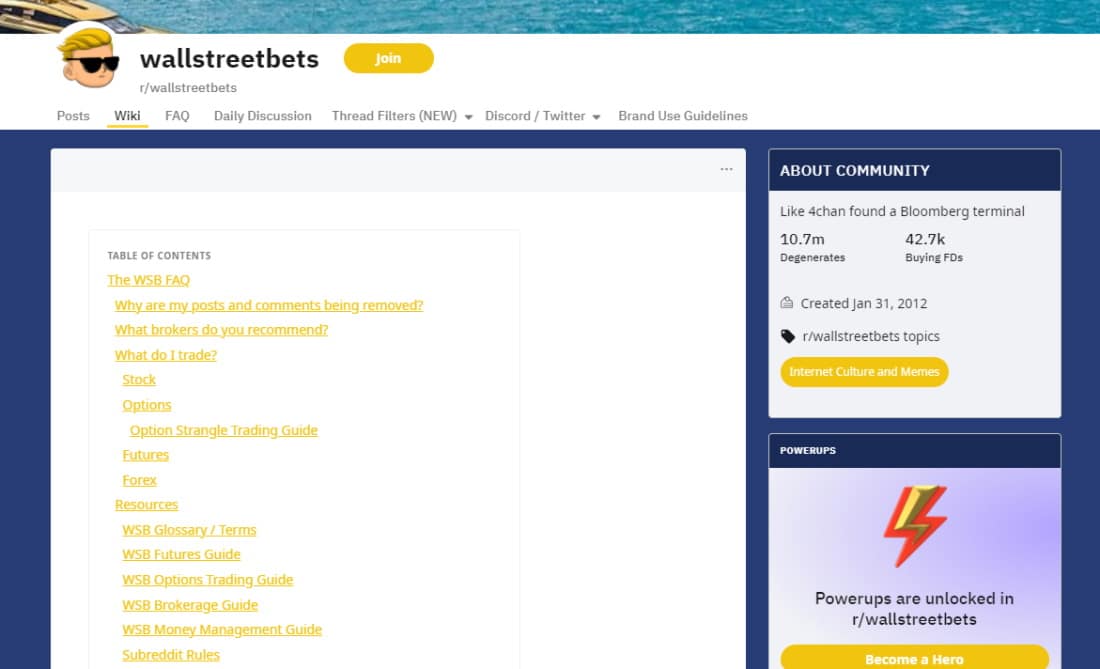 These frantic price movements in the meme stock markets have been recently triggered by the Reddit forum called WallStreetBets. Some meme stock traders have outlined the different phases that meme stocks go through. 
Early Adopter Phase – Several investors deem a specific stock as undervalued and start purchasing large amounts. The price of the meme stock gradually rises. 

Middle Phase – Stock market traders start picking up on the increase in trading volume. More and more investors then jump on the bandwagon, start buying as many shares as they can, and the meme stock's market value goes through the roof.

FOMO Phase – The hype and buzz around the stock spreads like wildfire via popular social media platforms and discussion forums such as Reddit. Then the penultimate stage of the buyer's journey kicks in and retail investors are overwhelmed by the fear of missing out (FOMO) and also gain exposure to the meme stock market by buying the stocks.

Profit-Taking Phase – After several days the early adopters start the cashing out process. Similar to the investing phase, the selling phase triggers a domino effect and most investors start cashing out to avoid losses. The profit-taking phase is where the market price of the meme stock plummets. 
The early bird catches the worm
As a result of this chain reaction series of events, the early adopters make the most profit from these meme stocks. Once the meme stocks enter the FOMO phase, chances are it's near impossible for new investors to make a profit. 
---
Meme Stock Mania – The biggest moment for meme stocks so far
GameStop became arguably the hottest topic for discussion in the first quarter of 2021 when its price rose by hundreds of dollars within a few days. Members of the subreddit WallStreetBets group started mass investing in the meme stock after news of a hedge fund shorting the stock had surfaced. 
At the beginning of the year GME stock was valued around the $17 mark – a price that stayed steady for the whole of 2020. Then within three weeks, the meme stock's growth spur began with the public figure Elon Musk tweeting a link to the WallStreetBets Reddit forum. Just 24 hours after Musk's tweet, the meme stock jumped to all-time highs of $483 on January 28th.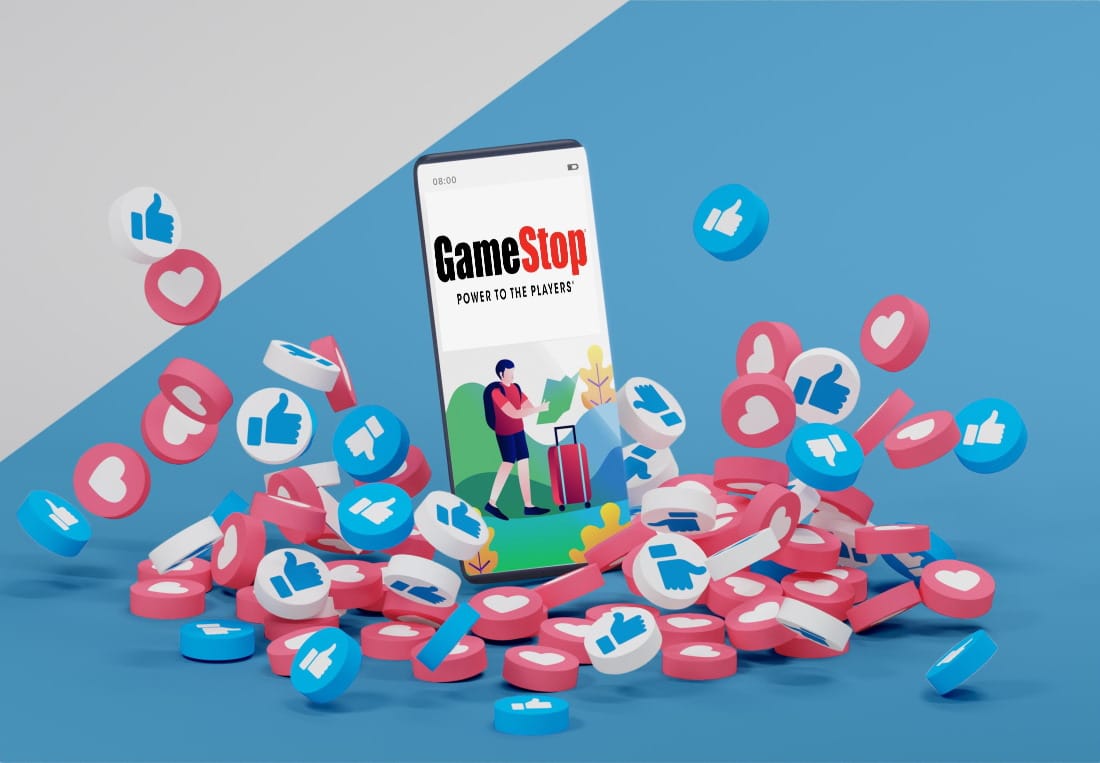 The unprecedented GameStop chain of events sparked new regulatory reviews, with the US Justice Department and the House Financial Services Committee investigating the lead-up to the meme stock's price spike. 
Also, the whole meme stock saga has raised questions about Wall Street strategies and the connection between conventional financial markets and modern retail investors. 
---
Are Meme Stocks a Good Investment?
As the summer months heat up so have meme stocks. Companies like GameStop and AMC Entertainment Holdings have made unprecedented returns this year. This highlights the huge impact social media platforms such as Reddit have on the stock markets. 
So, you won't be alone if you're tempted by the investment appeal of meme stocks. But are meme stocks a good investment? As with any investment, there are risks involved. As we have seen, once the FOMO phase kicks in, investors open the flood gates and start a selling frenzy. This means that as quickly as the market price rose, it can decline rapidly in a short amount of time. 
The price movements of meme stocks are based on social hype rather than company performance and fundamental analysis. This creates a disconnect between how a company is performing and its stock price. In other words, a failing company could have a high market value because retail traders start investing in droves triggered by hype spread on social media platforms.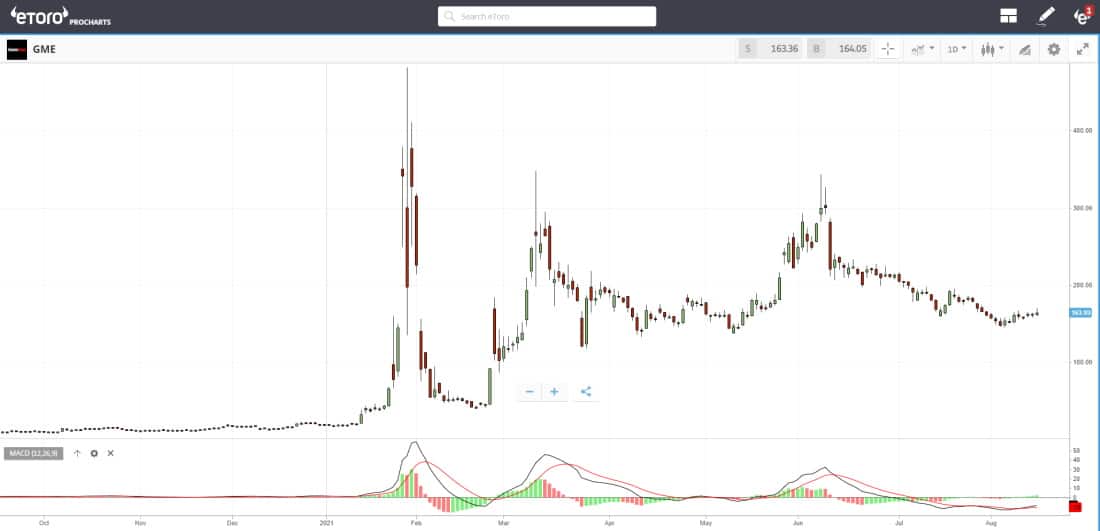 All in all, for those of you who find meme stocks irresistible, here are several expert tips to help you invest in the best meme stocks securely.
What is your risk tolerance? Regardless of the stocks you choose, you must only invest capital that you can afford to lose. This is especially the case when it comes to investing in meme stocks. Since meme stocks' market value usually doesn't align with the company fundamentals, these types of trades are susceptible to dramatic price fluctuations. Meme stock volatility can be extreme at times, and there is a high risk of losing funds with meme stocks. Therefore, if you decide to invest it's crucial that you only invest as much as you can afford to lose right now. 

Is your investment portfolio diversified? Don't risk everything on the success of one venture. This especially runs true with volatile meme stocks. As such, it's common practice amongst expert investors to build a diversified portfolio that includes some safe-haven stocks and assets that come with less associated risks. 

Be realistic with your expectations – most retail investors are drawn to meme stocks because they have a history of yielding huge returns overnight. While this has been the case with some meme stocks, their sheer volatility makes them very risky investments.
Making money with meme stocks requires an early investment when the market price is still relatively low. However, since meme stocks are prone to sudden price movements, they aren't suited to long-term trading strategies.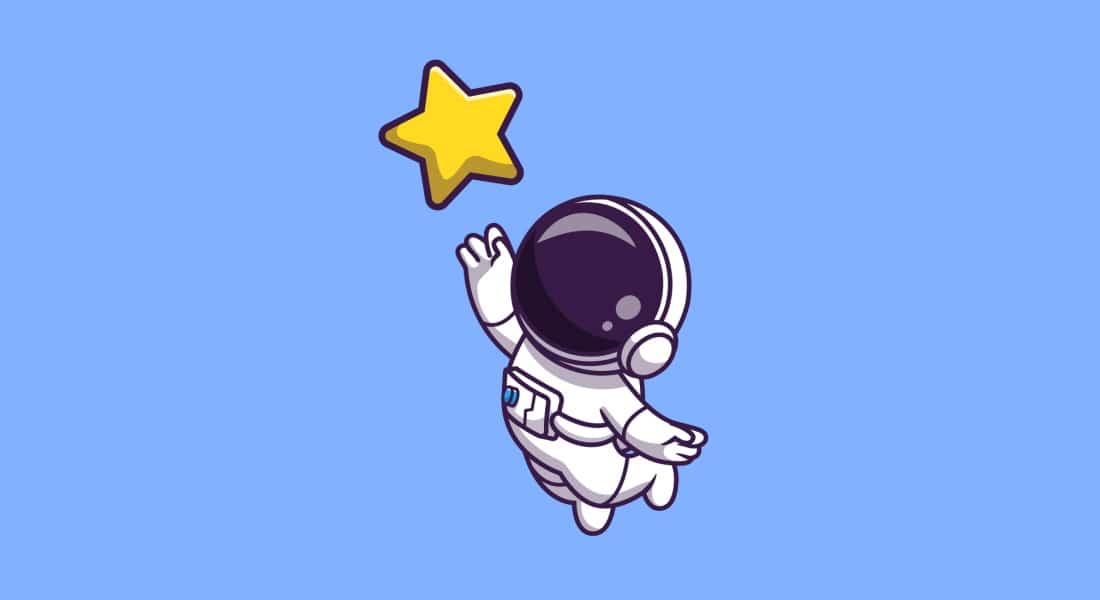 When is the right time to sell your meme stocks? Meme stocks are better suited to short-term investing styles. If you sell too soon, the meme stock could continue to surge and you'll lose those gains. On the other hand, if you hold your position open too long, the market value could crash as investors enter the FOMO phase of the meme stock investment cycle. 
---
Where to Buy Meme Stocks?
Meme stocks have taken the investing world by storm this year, but they are risky investments. If they're the right choice for you then you'll need a top-rated broker that is regulated and has low trading fees. But with so many options out there to choose from, how do you pick the right broker for your trading goals? 
After tons of research, we've identified the best trading platforms to buy meme stocks in 2022. This means you can spend more time investing and less time searching for a broker you can trust. 
1. eToro – Overall Best Trading Platform to Buy Meme Stocks with 0% Commission & Copy Trading Tools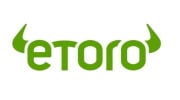 Launched in 2006, eToro is the leading social trading platform that now serves over 20 million retail and expert traders worldwide. eToro offers heaps of products and markets from CFDs, forex, real stocks, cryptocurrencies, and fractional share trading. eToro is one of the cheapest brokers across the board, as the only trading fees charged by the provider are tight market spreads. This means you can invest in hundreds of stocks commission-free, either buying in bulk or just a fraction with as little as $50. 
In terms of non-trading fees, there are no deposit fees or account fees to worry about. eToro does charge a low fixed withdrawal fee of just $5, and the conversion fee for non-USD deposits starts from 50 pips. Additionally, there is a $10 monthly inactivity fee after one year of no login activity. When it comes to payment methods you can choose from credit/debit cards, bank transfers, and e-wallets like PayPal and Neteller.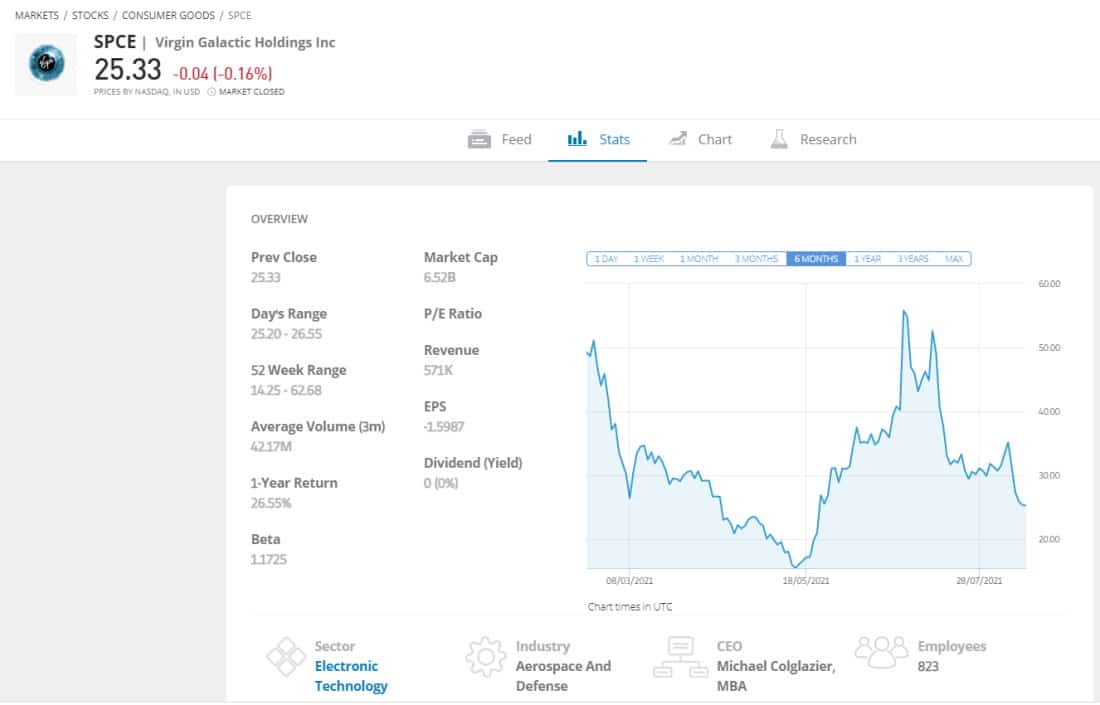 Copy Trading
eToro's copy trading tools allow you to copy the trading strategies of other experienced traders with the click of a button. With no extra fees or hidden costs, eToro's CopyTrader and CopyPortfolios allow you to invest in individual traders or a leading thematic portfolio. When it comes to fractional share trading, on eToro, you can invest as little as $50 to buy a portion of a share whose price per unit is $1,000. 
With a user-friendly interface and a fully-fledged mobile trading app, eToro was designed with beginner traders in mind. You can even access a demo account with $100,000 of virtual funds to practice online trading in a simulated environment without the risk of losing your capital.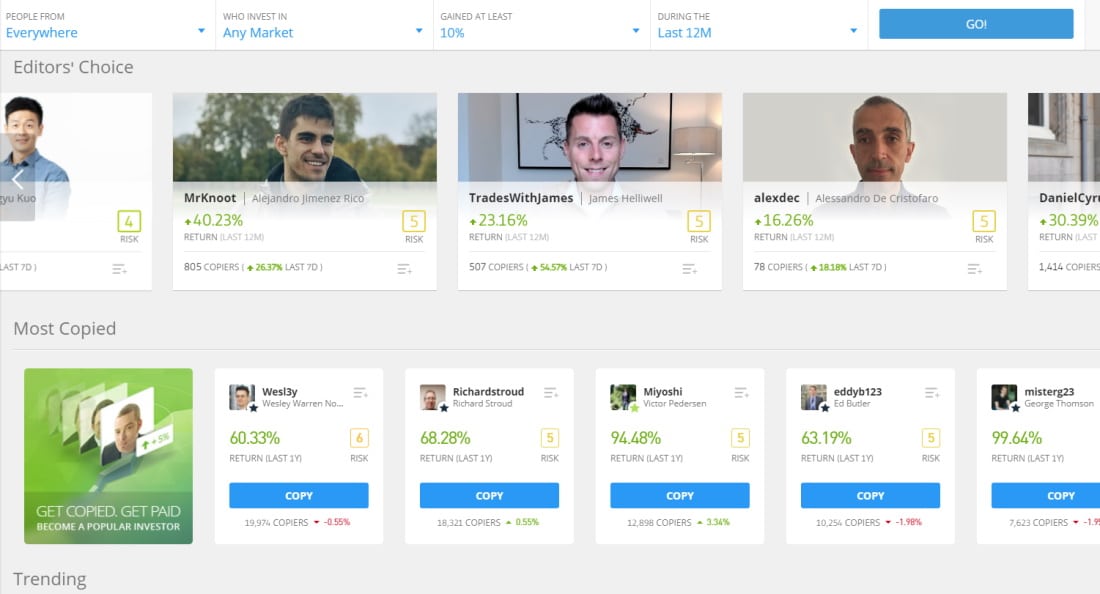 Is eToro safe?
eToro is heavily regulated by the UK's Financial Conduct Authority (FCA), the Cyprus Securities and Exchange Commission (CySEC), and the Australian Securities and Investments Commission (ASIC). UK-based traders are protected by the FCA, meaning that if the broker goes bust you can expect to be compensated up to £85,000 by the FSCS (Financial Services Compensation Scheme). 
| | |
| --- | --- |
| Fee Type | Charge |
| Stock Trading | 0% Commission |
| Fractional Share Trading | Invest as little as $50 |
| Account fee | None |
| Deposit fee | None |
| Withdrawal fee | $5 |
| Inactivity fee | $10 after 12 months |
Pros
Fully regulated by the UK's FCA, CySEC, ASIC
Buy shares listed on 17 international markets with 0% commission
Free Demo Account with $100,000 of paper funds
Wide range of convenient payment methods & innovative copy trading tools
Invest as little as $50 with fractional share trading
Cons:
$10 inactivity fee after 12 months
67% of retail investor accounts lose money when trading CFDs with this provider. 
---
How to Invest in Meme Stocks Tutorial 
How do you invest in meme stocks right now? Let's cover how to invest in meme stocks step by step. 
Step 1: Open a Trading Account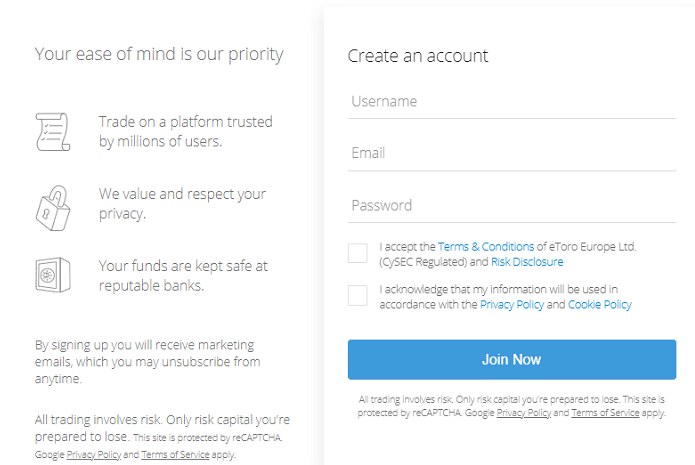 67% of retail investor accounts lose money when trading CFDs with this provider. 
To get started simply head over to the eToro website and click on 'Join Now'. You will then need to enter your personal details including your email address and password. 
Step 2: Verify Your Identity
As part of the KYC process, you will need to verify your identity by uploading proof of ID and address. These can include a copy of your passport and a recent utility bill. 
Step 3: Deposit Funds
After your account has been verified, you can start trading with a minimum first-time deposit of just $50. Funding your account is easy and fast. There are several payment methods you can use including credit/debit cards, bank transfers, and e-wallets. 
To deposit funds simply follow these easy steps:
Log into your live trading account

Tap on 'Deposit Funds'

Specify the amount you wish to deposit and choose the currency

Lastly, choose your preferred payment method
Step 4: Search for the meme stocks
Now that your account is funded, you can start searching for the best meme stocks to buy in 2022 with the click of a button. 
To do this simply type the ticker symbol or name of the company in the search bar at the top of the trading platform. In our example, we searched for GameStop.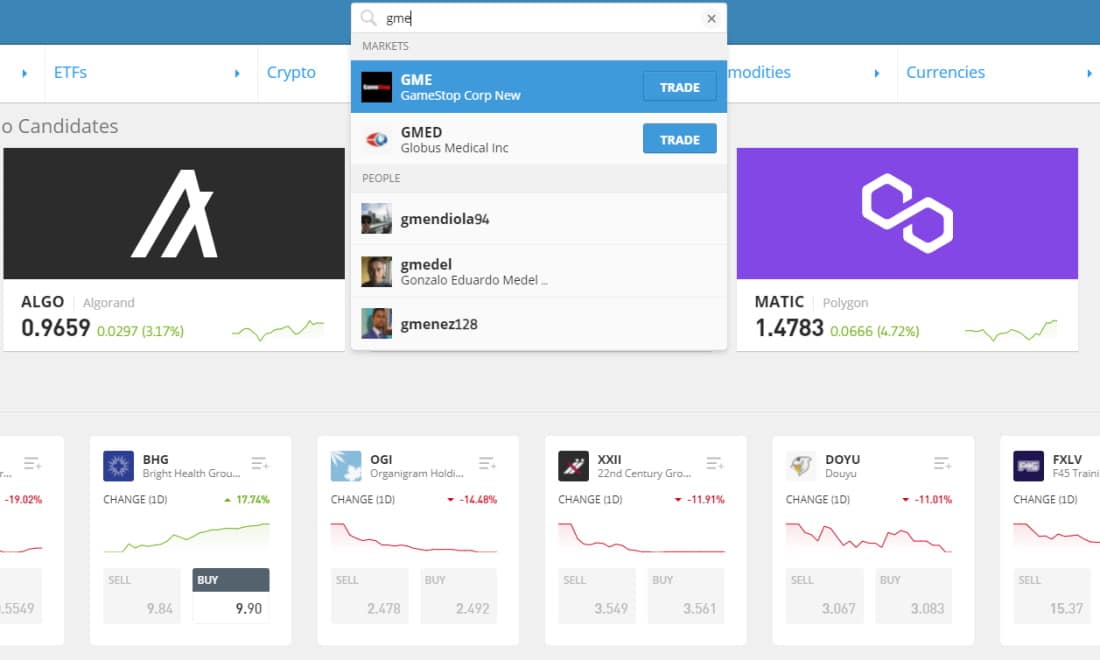 67% of retail investor accounts lose money when trading CFDs with this provider. 
Next, from the drop-down menu click on 'Trade' next to GME. 
Step 5: Invest in meme stocks with as little as $50
After clicking on 'Trade' an order window will appear allowing you to enter your investment amount, and how much leverage you want to use.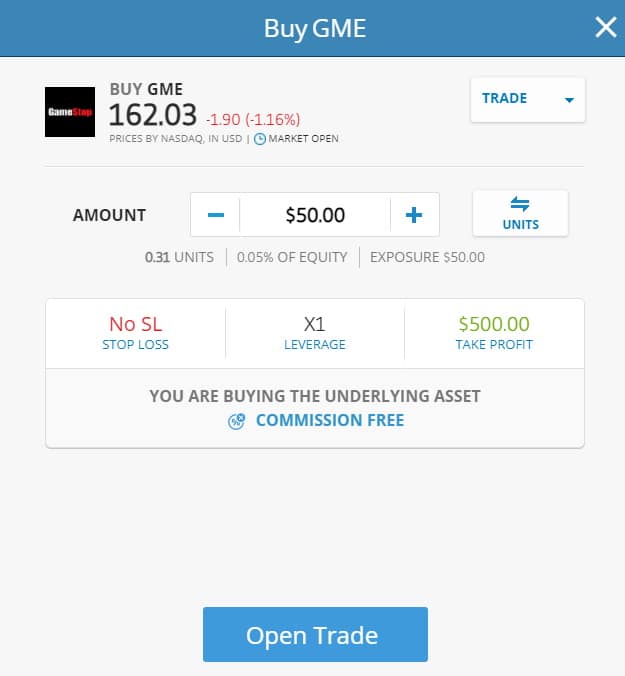 Once you are happy with your choices simply click on 'Set Order' to invest in meme stocks from the comfort of your own home.  
---
Conclusion
Meme stocks have certainly been one of the most exciting trends to hit the investing sphere this year. Some of the best meme stocks such as GameStop, Dogecoin, and AMC Entertainment Holdings saw their market value surge overnight, and many investors have made huge returns from these risky investments. 
So, if you're looking to invest in meme stocks right now, we recommend using eToro as it facilitates commission-free fractional share trading. This means you can invest in the best meme stocks with as little as $50. Otherwise, you can copy the trading strategies of other seasoned investors with eToro's copy trading tools. 
To invest in meme stocks right now follow the link below and open an account with eToro today!
eToro – Best Copy Trading Broker to Buy Meme Stocks with 0% Commission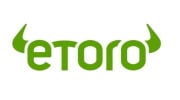 67% of retail investor accounts lose money when trading CFDs with this provider. 
---
Frequently Asked Questions on Meme Stocks
Are meme stocks a good buy?
Where can I buy meme stocks?