Looking to track down the best meme coins that will explode in value? Meme coins may have started as a joke, but the joke is on those who didn't get in early and HODL (Hold on for Dear Life). Meme coins saw spectacular price increases over 2021 and have recovered well after the January, 2022 crypto price slide.
We review below the top ten best meme coins by market capitalisation. We also review two brokers which provide a slick and fair crypto trading service, with one — global broker eToro — offering the rare reassurance in the crypto world of regulation by the UK's stringent Financial Conduct Authority.
Key points on meme coins
Meme coins are an unofficial class of cryptocurrency. 

Five common features of meme coins are i) a big internet following ii) comedy branding iii) low cost per unit iv) no blockchain of their own and v) extreme price volatility. 

The meme coin market is dominated by two canine-themed coins: Dogecoin (DOGE) and Shiba Inu (SHIB). 

The combined £38bn market capitalisation of DOGE and SHIB makes up 97% of the 10 largest top meme coins

Meme coins are digital currencies that have been created for the sole purpose of spreading a message or idea
These meme cryptos created using the same process as other cryptocurrencies such as Bitcoin
The Top 10 Best Meme Coins
Here are the top 10 best meme coins to buy by market capitalisation. These are the meme coins that have risen to the top, although many are new meme coins (2021 onwards). Because the meme coin sector is characterised by extreme price volatility, these could well be the meme coins that explode in price once again. 
Another, new meme coin you could consider adding to your crypto portfolio is Baby Doge Coin. With a current market price of $0.000000003542, in the last 24 hours of trading activity it's risen by 4.89%
A Closer Look at the Best Meme Coins to Buy Today
1. Dogecoin (DOGE)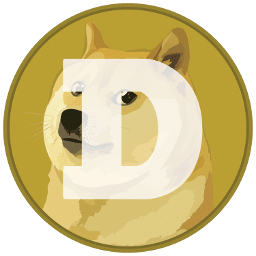 Wondering how to buy Dogecoin in the UK? If that's the case then you're not alone. Launched in 2013 with the aim of being 'the fun and friendly internet currency', Dogecoin explains why meme coins are called meme coins. The visual design of Dogecoin, the first-ever meme coin, is based on a famous 2013 comedy meme of a Shiba Inu dog. 
Dogecoin may have started as a joke. But, thanks to backing by an eager reddit community as well as Tesla CEO Elon Musk, Dogecoin rose in value in 2021 from $0.0031 in January to an all-time high of $0.73 in May. That's a 23,500% surge. Now DOGE is worth $0.15.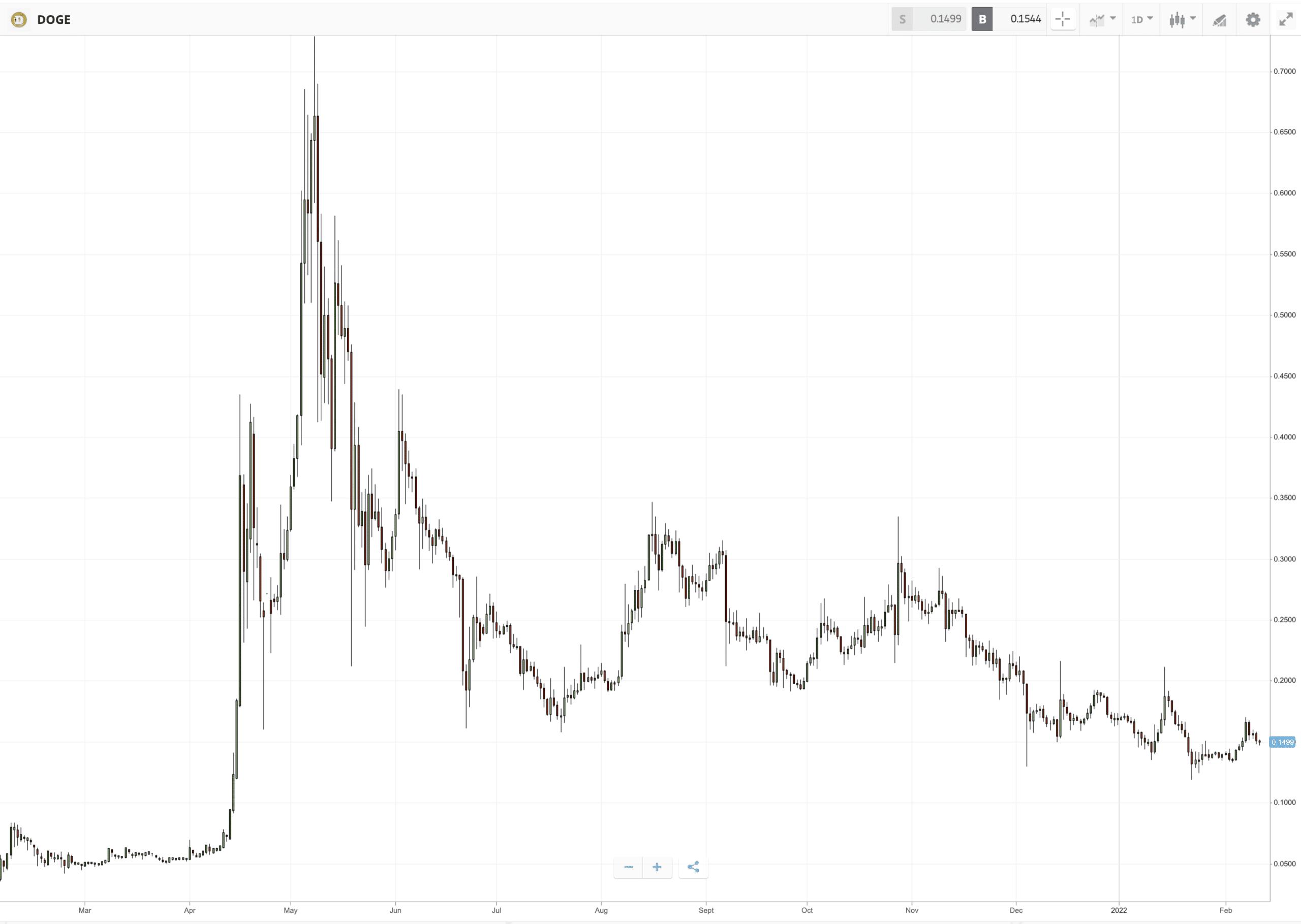 Like Bitcoin, Dogecoin is designed as a store of value and has its own Proof-of-Work blockchain. Unlike Bitcoin, there is no capped supply of Dogecoin — which founder Jackson Palmer has acknowledged as a mistake. Dogecoin is also available as an ERC-20 token. 2,000+ businesses worldwide accept DOGE. You can buy as little as $10 worth of DOGE with eToro commission-free. 2.5m eToro investors follow Dogecoin.
68% of retail investor accounts lose money when trading CFDs with this provider.
2. Shiba Inu (SHIB)

Looking to buy Shiba Inu right now? Shiba Inu was the second major meme coin to come along with a canine theme. In 2021, SHIB briefly flipped DOGE in terms of market capitalisation and has led the February 2022 resurgence of crypto, scoring a weekly rise in value of over 50%. 
SHIB enjoyed a stratospheric rise in value over 2021. If you had invested $10 in September 2020, that stake would have been worth $200,000 in September 2021.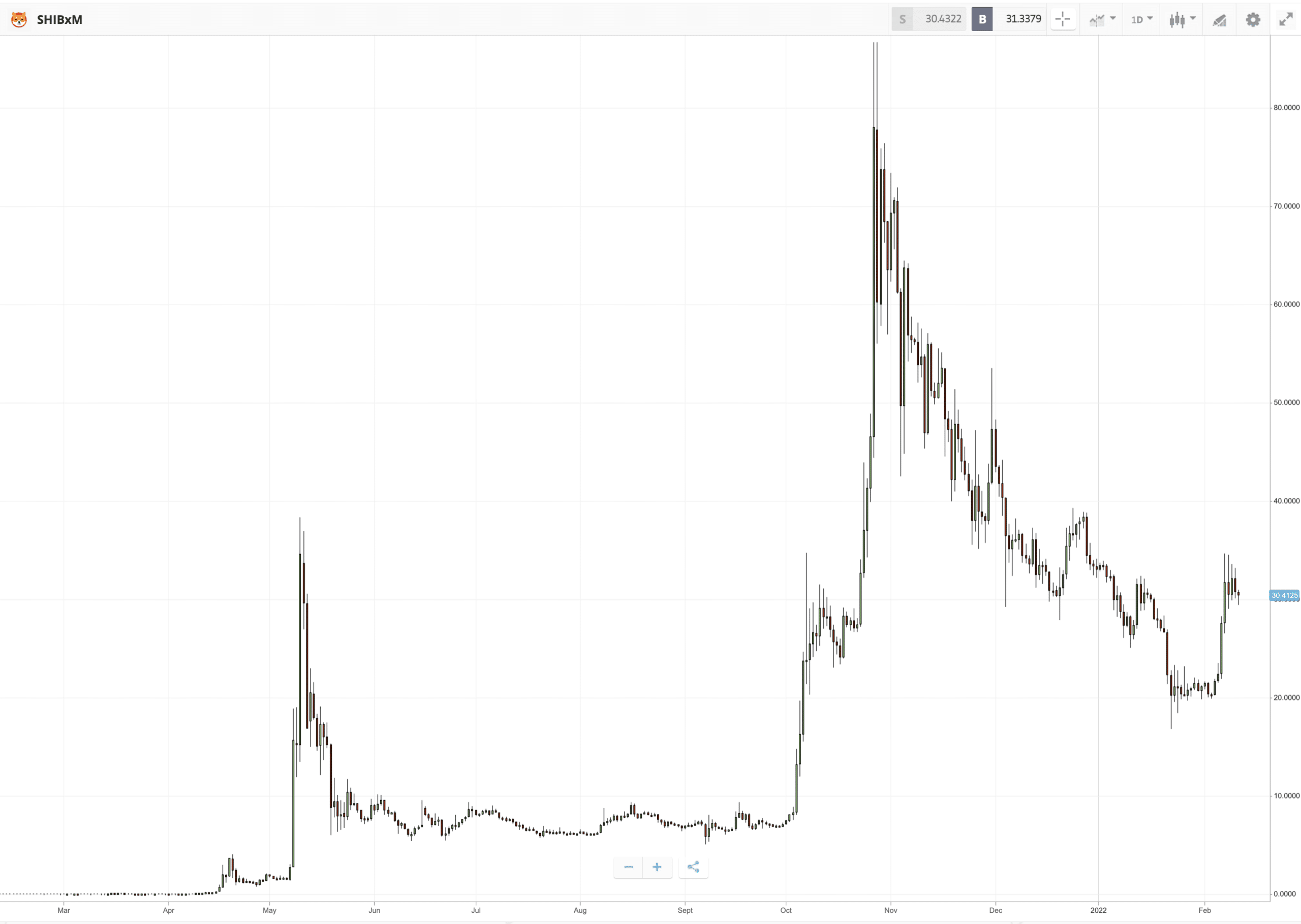 Like Dogecoin, Shiba enjoyed a strong backing from Elon Musk and the internet community in 2021. Unlike Dogecoin, Shiba has a dedicated DEX (Decentralised Exchange) called ShibaSwap where SHIB owners can stake crypto for rewards. 2022 has seen Shiba Inu developers announce three tech projects to bolster the Shiba ecosystem: the layer-2 blockchain project Shibarium to make SHIB transactions faster and cheaper, the Oshiverse Play-2-Earn video game and its own metaverse called Shiberse. 
The supply of SHIB is capped at a quadrillion. It has two sister coins: LEASH (supply capped at just over 100k), and BONE (supply capped at 250m). SHIB is available with eToro. 2.2m eToro investors follow SHIB.
68% of retail investor accounts lose money when trading CFDs with this provider.
3. Dogelon Mars (ELON)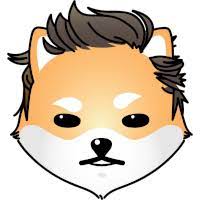 Launched in April, 2021 as an ERC-20 token, Dogelon Mars is the third biggest meme coin. Dwarfed by Dogecoin and Shiba Inu, it has a market capitalisation of $575m. But, like DOGE and SHIB, Dogelon Mars is canine-themed. With the ticker name of 'ELON', developers aimed to court the favour of Elon Musk whose support for DOGE and SHIB was so critical during 2021.
Dogelon Mars put on a price surge of 3,780% over October 2021. The price has since settled down, but it has by no means collapsed. Like Shiba Inu, each Dogelon Mars coin is worth a tiny amount (currently $0.00000137). Dogelon's Twitter account has 680k followers.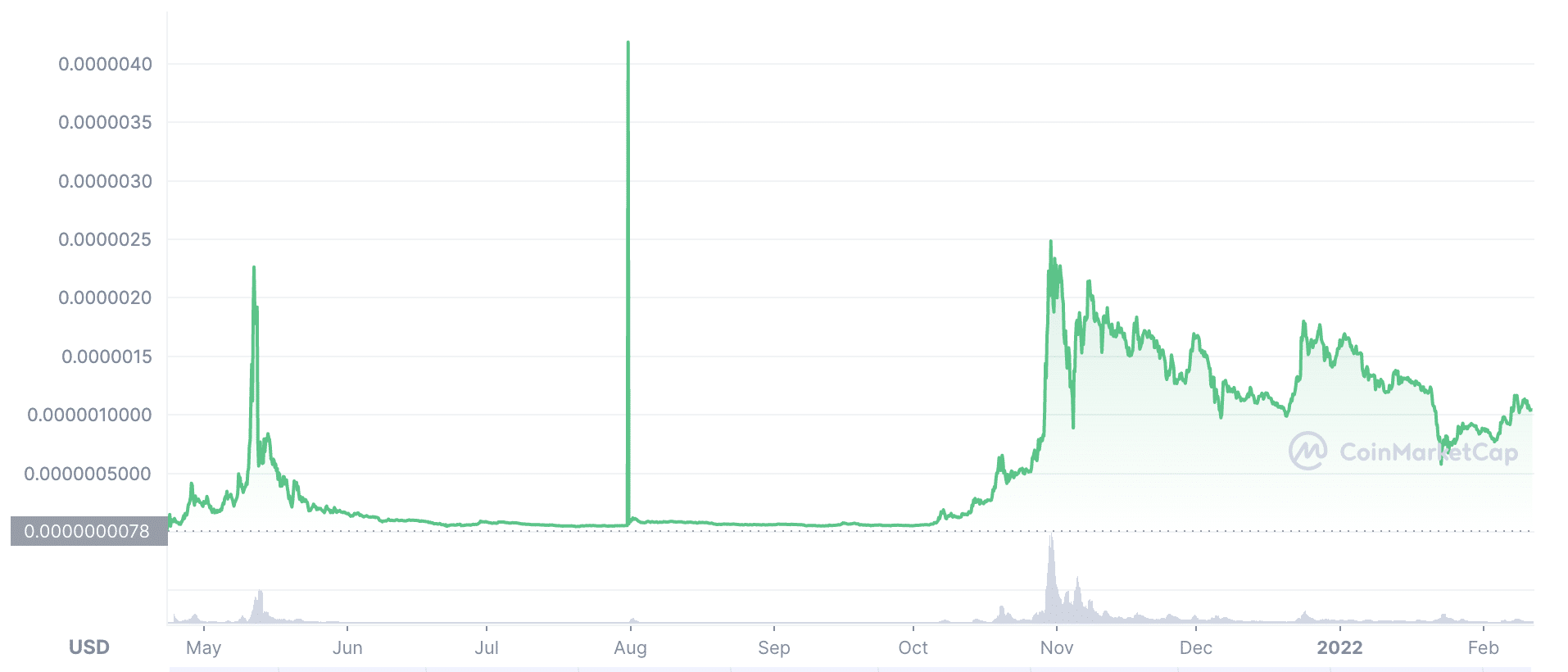 In January 2022, Dogelon was amongst the top 10 purchased tokens of the top 1000 Ethereum-based 'whale' wallets. 125,000 investors hold Dogelon Mars in their wallets.
68% of retail investor accounts lose money when trading CFDs with this provider.
4. Samoyedcoin (SAMO)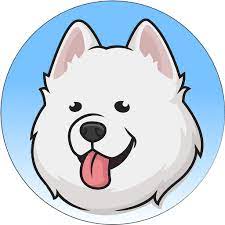 Fourth-ranked of the best meme coins by market capitalisation with $90m, there is not, on the face of it, much to distinguish Samoyedcoin from other 'doggy' coins other than its association with the Solana blockchain. But who is to say it will not be among the top meme coins that will explode in value?
Another canine-themed coin, Samoyedcoin is designed after the 'samoyed' or 'самоед' East European breed of dog. Why? Because Solana co-founder Anatoly Yakovenko has a Samoyed (just as Elon Musk has a Shiba Inu).
A big plus point of Samoyedcoin is its status as the unofficial mascot of the Solana blockchain; it was the first meme coin to be built using Solana tech. SAMO also has good 'tokenomics.' There is a maximum supply of 14bn SAMO with 64% to be burnt over 3 events.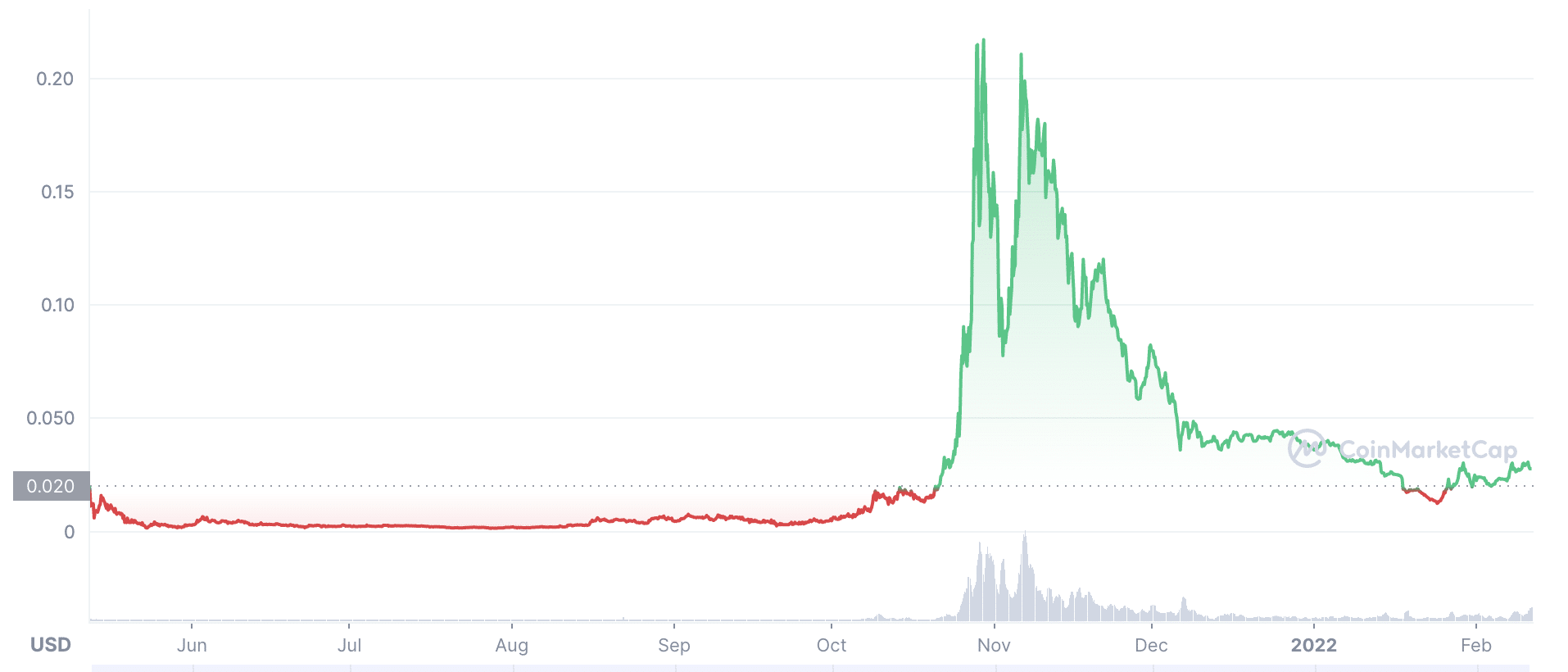 The coin also has plenty of public support on a lively reddit page.
68% of retail investor accounts lose money when trading CFDs with this provider.
5. MonaCoin (MONA)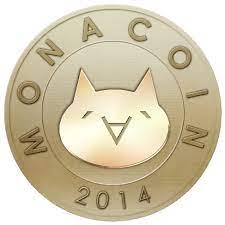 MonaCoin is the fifth-biggest meme coin by market capitalisation with $70m. Launched in Japan in 2014, its design is based on a Japanese internet meme featuring a cat (not a dog!) called Mona. Its tech is based on a hard fork of Litecoin (which is itself a fork of Bitcoin).
MonaCoin is intended as a serious peer-2-peer payment system. The coin has a big following in Japan, especially since a story featured on the WBS TV Network Tokyo about a man who bought a piece of land in Nagano, Japan using just MonaCoin.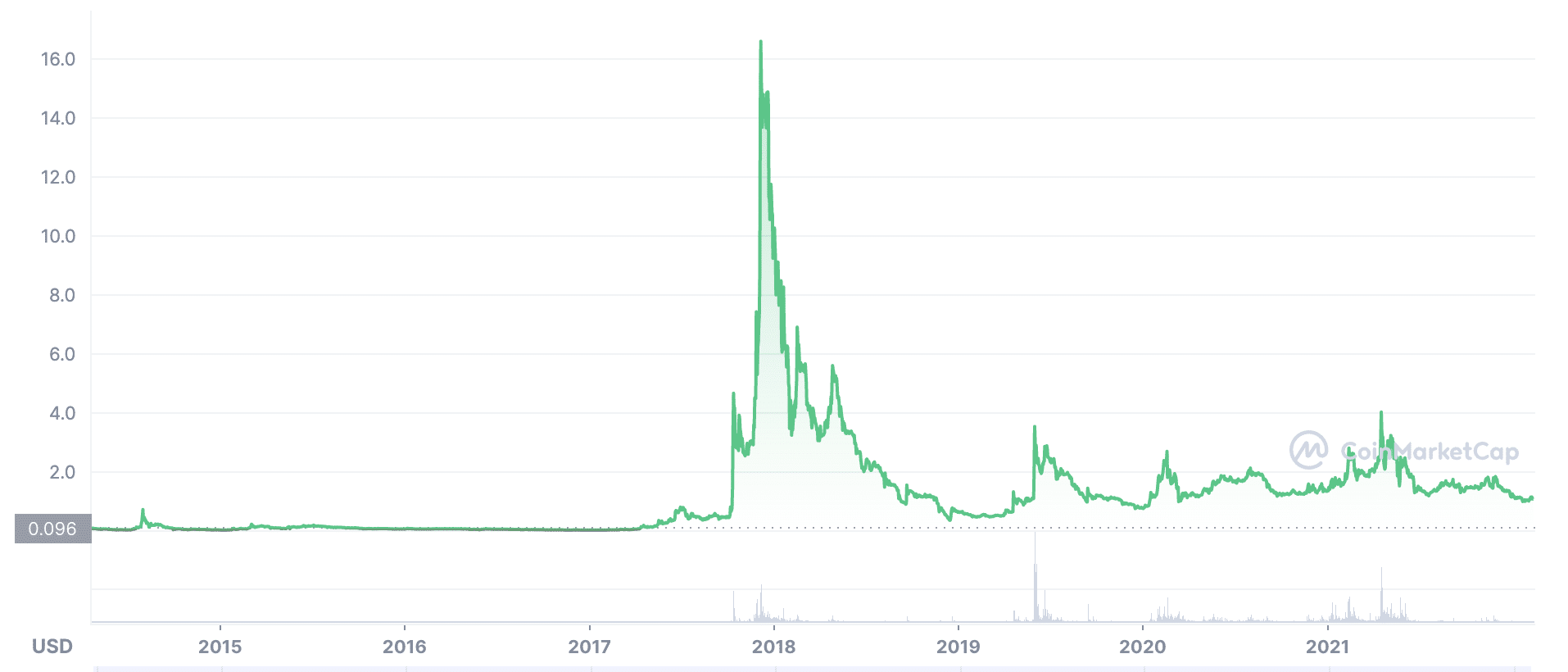 MonaCoin uses the Proof-of-Work mining system. For every 90 blocks processed, miners earn 25 coins. In terms of price, Monacoin had its heyday back in 2018 when the coin was worth $16.  Its value over the last few years has largely been under $2. 
68% of retail investor accounts lose money when trading CFDs with this provider.
6. Hoge Finance (HOGE)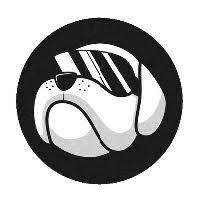 With a market capitalisation of $40m, HOGE is the 6th-largest meme coin. It is a newcomer, launched in February 2021 as an ERC-20 token.
Hoge Finance is designed as a DeFi (Decentralised Finance) token for use in staking; crypto staking is when investors 'stake' their crypto by lending it out for limited periods of time in liquidity pools and 'farms' in order to receive an interest payment of more coins. 65k investors currently hold HOGE.
HOGE features an ongoing 'burn' policy to maintain pressure on token supply and therefore support the price: a 2% tax is levied on every HOGE transaction, and this 2% is burnt.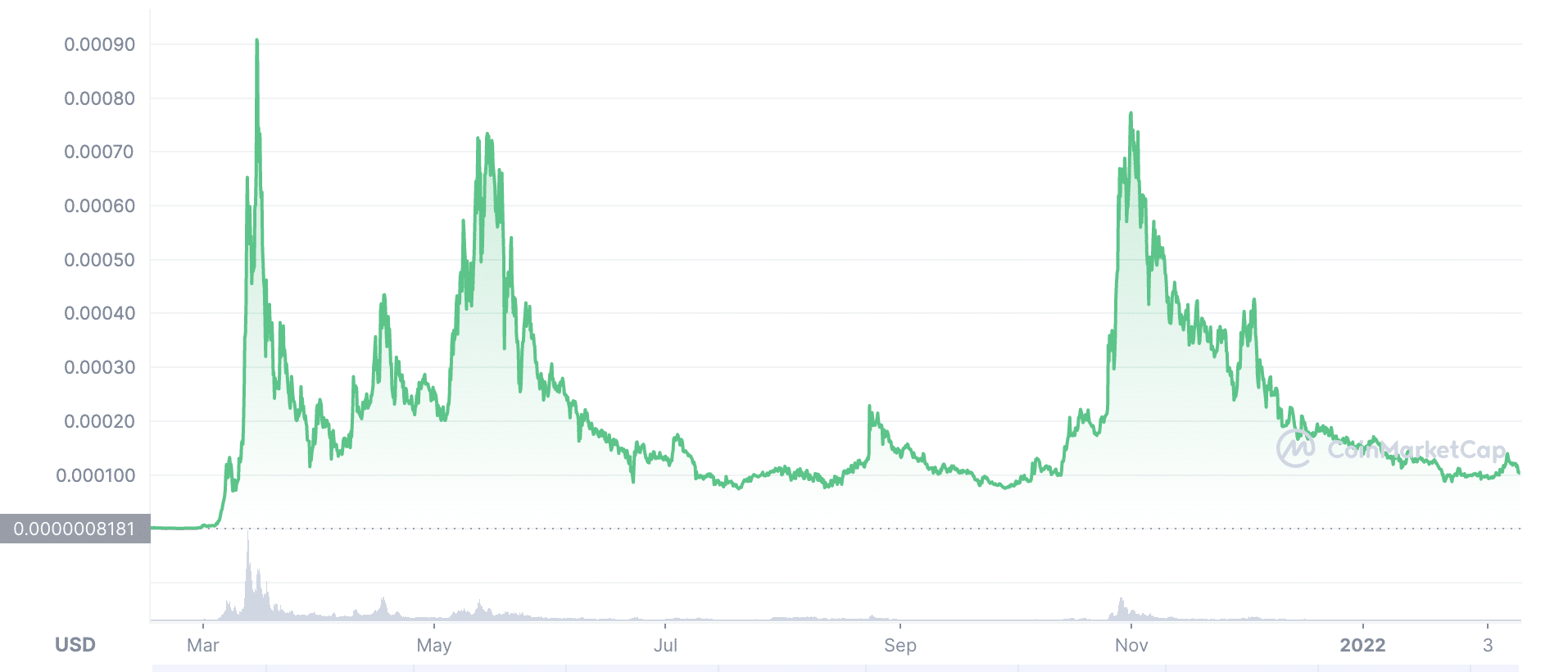 The coin has also successfully completed a Certik audit, which means we can be assured it is not a scam. Indeed, a Hoge DAO (Decentralised Autonomous Organisation) has sprung up dedicated to charitable causes. 
68% of retail investor accounts lose money when trading CFDs with this provider.
7. ERC20 (ERC20)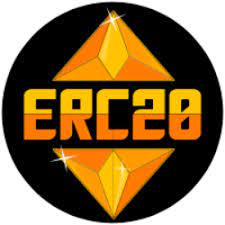 ERC20 is the 7th-largest meme coin with a market capitalisation of just under $40m. The coin is named after the ERC-20 standard used on the Ethereum blockchain to validate smart contracts. Confusingly, many meme coins are ERC-20 tokens — including the 'ERC20' coin discussed here.
After hitting an all-time high of over $0.20 in the May 2021 crypto surge, ERC20 has done a lot better than many meme coins in terms of price performance since.
The price fell away swiftly over the summer of 2021, but since has shown a generally-upwards trajectory. The ERC20 price today is $0.035.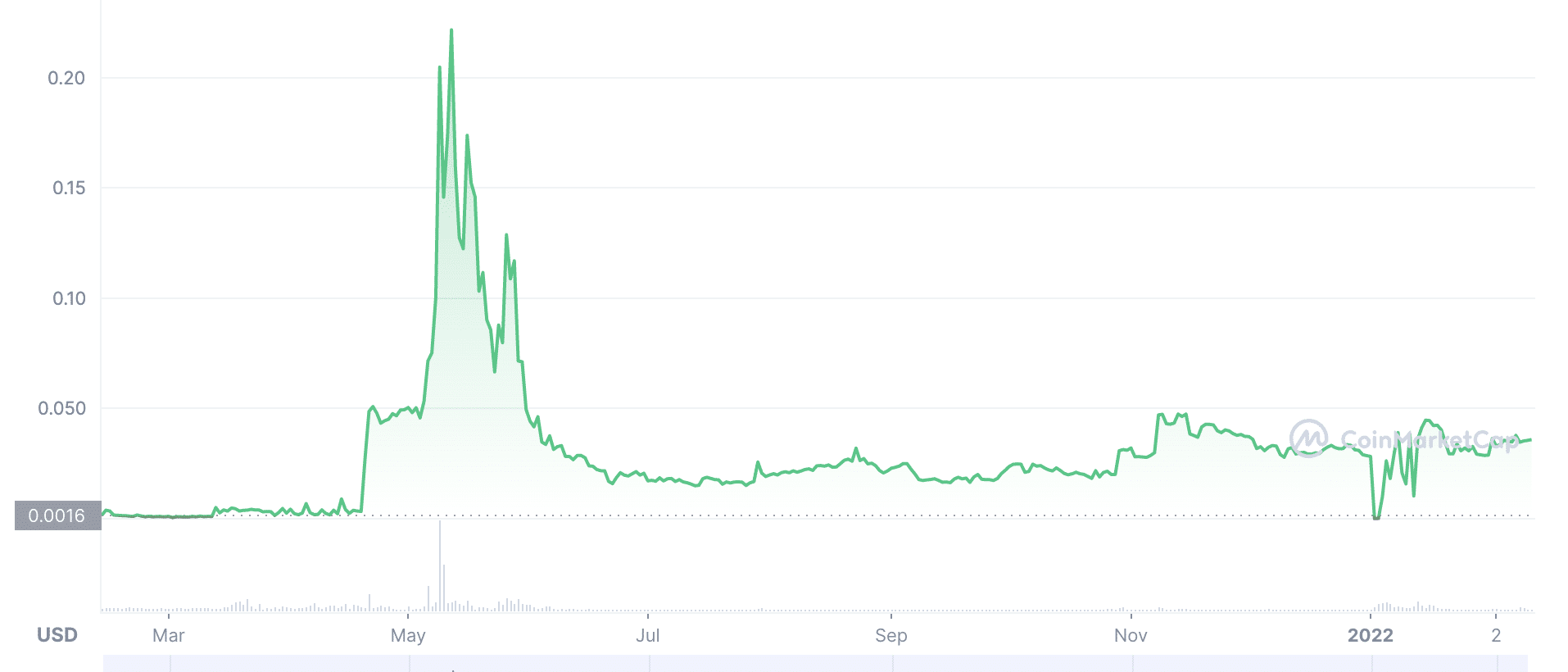 There are 97k holders of ERC20. Its trading volume as reported by Coinmarketcap.com is tiny (less than $3k). You can get hold of ERC20 on DEXs (decentralised exchange) PancakeSwap and Mercatox. 
68% of retail investor accounts lose money when trading CFDs with this provider.
8. Dogebonk (DOBO)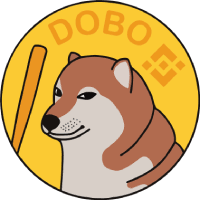 DogeBonk is the 8th-biggest meme coin with a market capitalisation of £32m. It is the native token for the 'MemeTools' trading and aggregator terminal.
Like Shiba Inu, this meme coin trades in eye-wateringly small denominations (the price for one of the 582 trillion DOBOs on the market  is currently $0.00000005459.) 
Dogebonk had its price heyday in late November 2021 when it was worth $0.00000035. Since then its price has settled out around the $0.00000005 mark.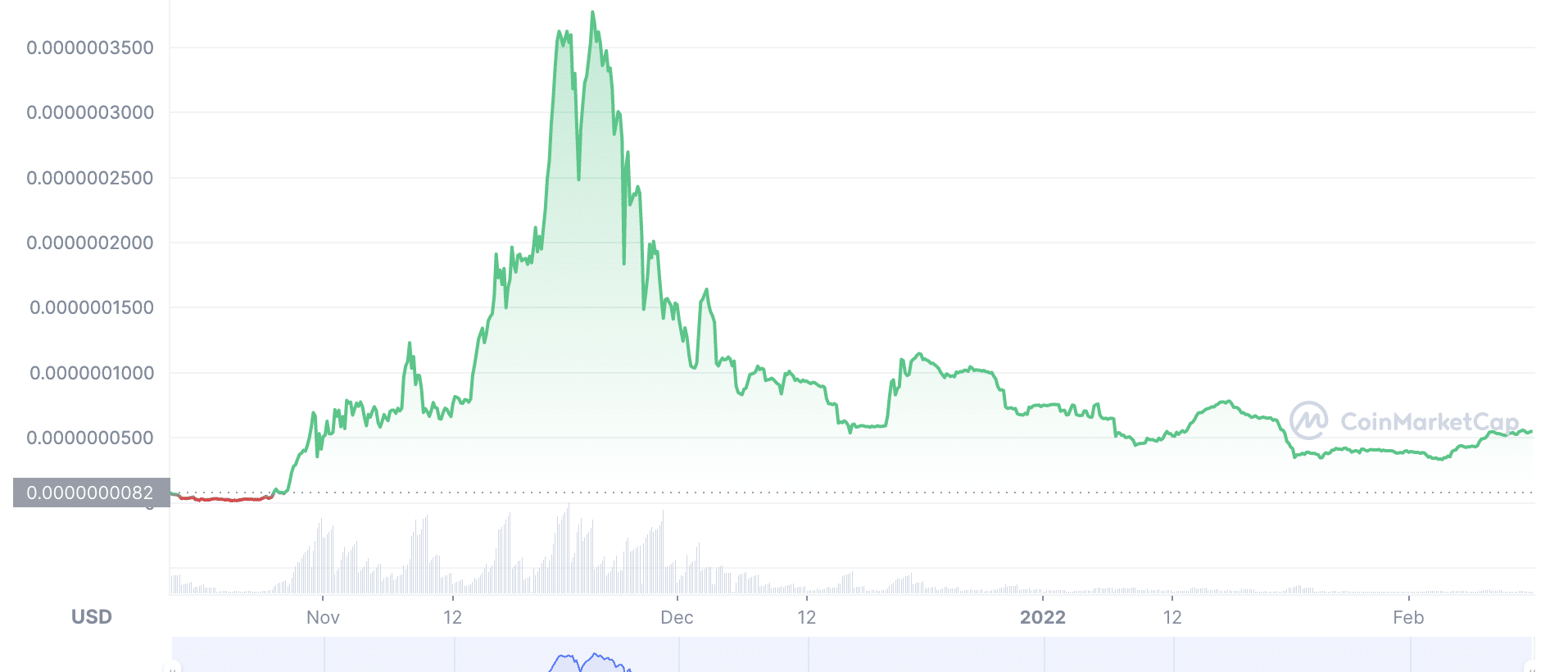 Like many new meme coins launched recently, DogeBonk received a 'fair' launch, which means the developers did not receive any coins as part of the initial distribution. Another interesting feature of its tokenonomics is a 5% tax on every transaction which is then redistributed across all DogeBonk holders. Another 5% tax is levied and the proceeds effectively burnt in a locked liquidity pool in order to support a price floor. Overall, DogeBonk is the 684th-biggest crypto.
68% of retail investor accounts lose money when trading CFDs with this provider.
9. Doge Dash (DOGEDASH)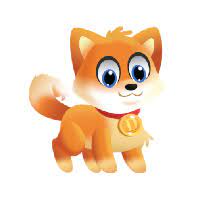 Doge Dash is the ninth-biggest meme coin with a market capitalisation of $16m. It hit an all-time high of $0.03 in November 2021. Since the beginning of 2022, its price has stabilised at under $0.0005. 
Doge Dash is a GameFi token. It is the native token for the Doge Dash game, developed by Grammy-nominated Paul Caslin.
This is a free P2E (play-to-earn) game built on the Binance Smart Chain blockchain. Inspired by the Super Mario platform format, the game involves dashing (hence the name) a character through 10 horizontal levels whilst picking up as many coins as possible.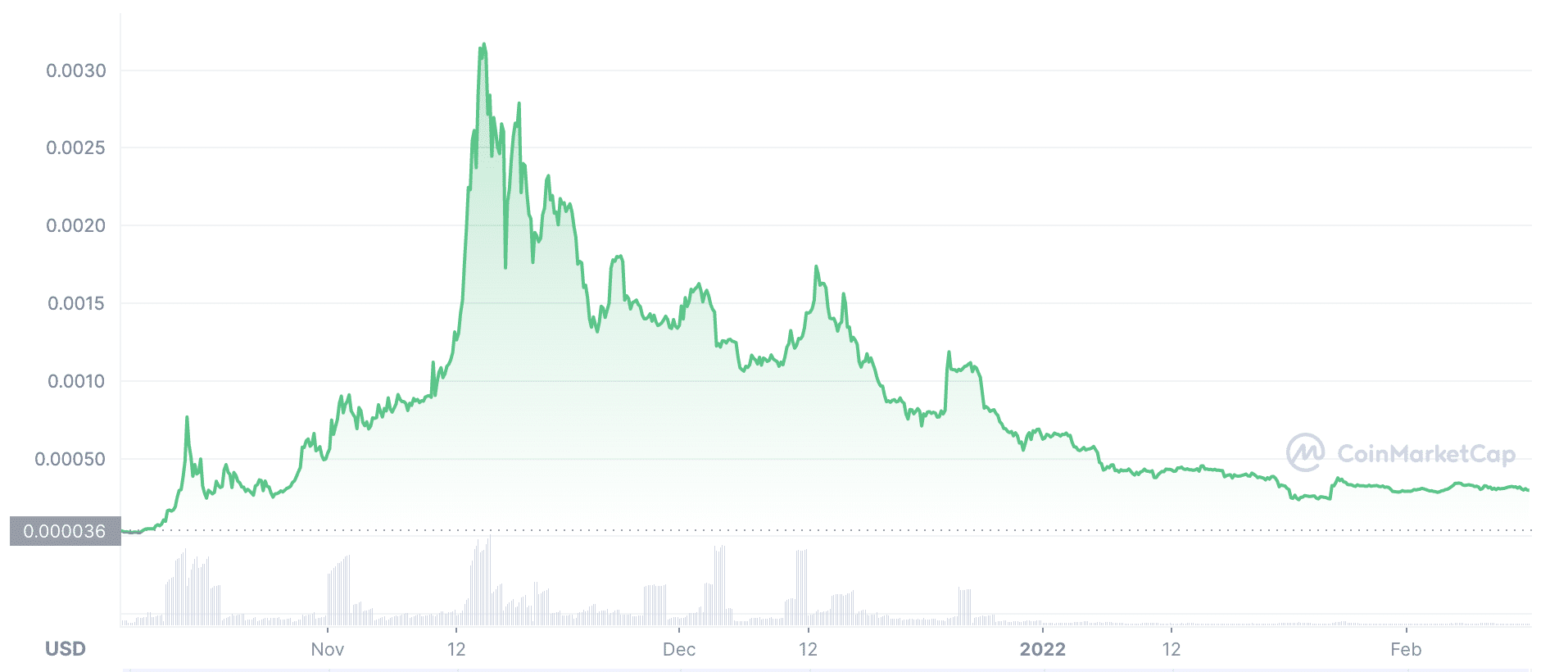 Players who complete all levels are rewarded with the DOGEDASH coins they have collected. Doge Dash NFTs are also available for purchase. 
The Doge Dash game is a very professional offering and accounts for the relatively-high interest in its meme coin DOGEDASH, which today attracted a trading volume of over $200k.
68% of retail investor accounts lose money when trading CFDs with this provider.
10. Banano (BAN)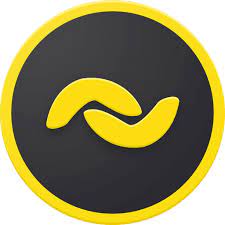 Banano is the tenth-biggest meme coin with a market capitalisation of $16m. It was created as a hard fork of Nano coin in 2018. Like other meme coins, it provides a means of internet payment and centres around a light-hearted internet community on Discord, Reddit and Telegram, with airdrops (free give-aways of Banano) and crypto faucets (give-aways for completing tasks on a website).
What differentiates Banano from many other meme coins is its use of DAG technology.
'DAG' stands for Directed Acyclic Graph. Simply put, it is a way of recording transactions that is not actually a blockchain and thus not entirely decentralised. DAG does not involve mining though, which makes it far more environmentally-friendly than many Proof-of-Work blockchains.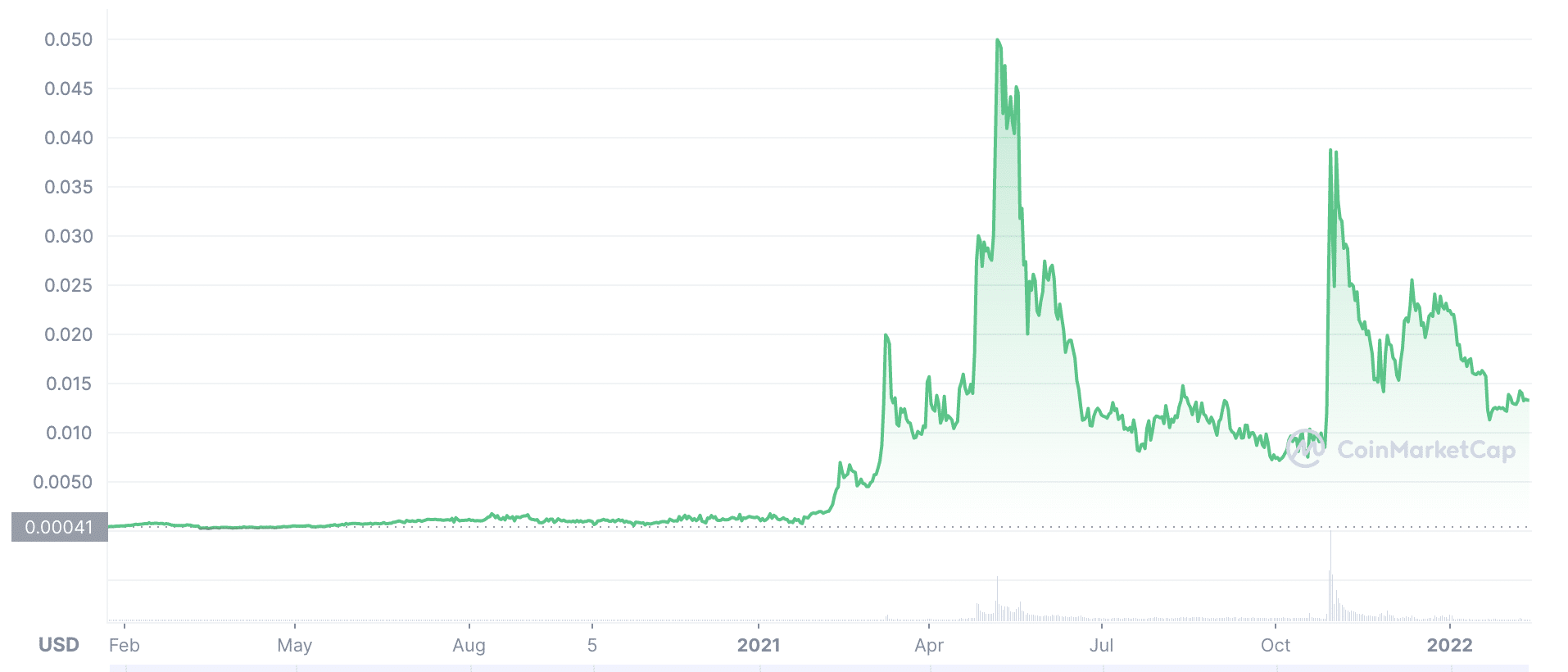 As you can see from the price chart above, Banano is a lively meme coin. What's more, its value has been rising since the beginning of 2022. It had a trading volume of just under $80,000 today.
68% of retail investor accounts lose money when trading CFDs with this provider.
What are Meme Coins?
Meme coins are an unofficial class of crypto coins that began back in 2013 when Dogecoin (DOGE) came to market. Do you know what an internet meme is? It's a visual joke or idea that gets published on the internet and then perhaps goes viral. Meme coins have got their name because top dog of the meme coin sector Dogecoin was inspired by a popular internet meme featuring a Shiba Inu breed of dog. Then the meme coin Shiba Inu (SHIB) came along. And then 2021 saw a whole pack of canine-themed meme coins, some of which (like SHIB) skyrocketed in value as internet interest in them spiked.
Meme coins are generally intended as stores of value: i.e. ways for people to pay for things over the internet. Their price is generally influenced by community projects (particularly on Reddit and Discord) as well as celebrity endorsement. One of the many peculiarities of the meme coin scene is the centrality of Tesla CEO Elon Musk. His endorsement of Dogecoin and then Shiba Inu catapulted both to the status of most-searched-for crypto in the US in 2021, as well as pumping their price dramatically. 
Are Meme Coins a Good Investment?
Meme coins are seen to be an investment with a high risk/reward ratio. That's because their intrinsic value is often questionable, with their price changing according to investor sentiment (hype in other words). On the other hand, this hype can send their prices skyrocketing in a way no other crypto usually enjoys. If a high risk/reward ratio suits part of your investment strategy, then meme coins are certainly a good investment. Many investors choose to have a small holding in meme coins balanced by other crypto and many other, less risky assets like stocks and ETFs. 
Where to Buy Meme Coins in the UK?
Below we recommend one broker and one exchange to get you started on your quest to track down the best meme coins.
1. eToro – Best Overall Broker to Buy Best Meme Coins with Tight Spreads
Global broker eToro is a great place to buy cryptocurrency because you can buy as little as $10 at a go. With an ever-expanding range of 45+ crypto coins, you can get hold of the top two dogs of the meme coin world with eToro: Shiba Inu and Dogecoin.
eToro has attracted 23m investors globally. And, for beginners in particular, it is easy to see why. The eToro interface is uncluttered and easy to use. There is plenty of help provided as well as a ticketing help system that tends to be prompt and useful.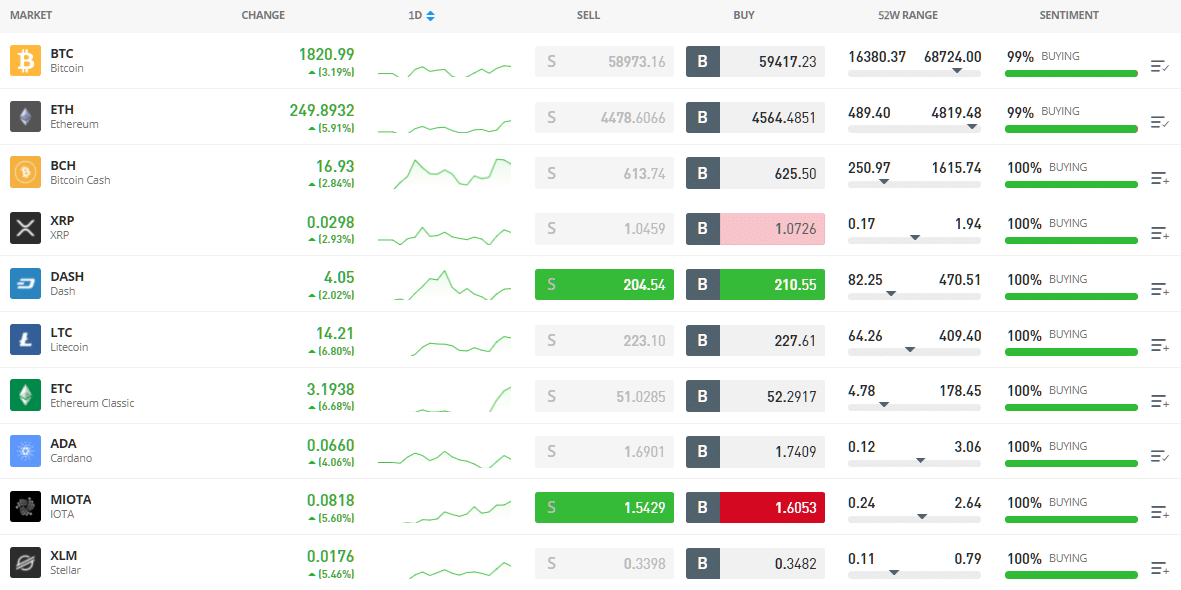 Best of all for crypto newbies is eToro's emphasis on social trading. You get your own newsfeed where you can follow other news items and the comments of other investors; it is a great way to get up to speed on the meme coin world. What's more, eToro offers two powerful social trading features in-house that other brokers and exchanges cannot match: CopyTrader and crypto Smart Portfolios.
With CopyTrader, you can choose from over 600 eToro crypto traders and match their trades in real-time. For free! You simply allocate the funds you want to, and eToro software does the rest. For newbies, this is a great service: let somebody more experienced take the tough trading decisions for you. You can stop copy trading at any time.

With eToro's crypto smart portfolios, you can buy into any of eight strategic crypto positions devised by eToro experts. Meme coins are not well-represented here, but the service is free and might get you thinking about the importance of diversification within your own crypto portfolio.
eToro's crypto Money Wallet offers powerful options for 'serious' crypto like Bitcoin, Ethereum, Solana and XRP. You can send/receive/exchange/stake crypto, as well as buy crypto on eToro's main platform and transfer it in. And don't miss out on eToro's smartphone app, for keeping on top of the best meme coins on the move. This is the most downloaded trading app in the UK. It was downloaded 10m times in the first half of 2021 alone.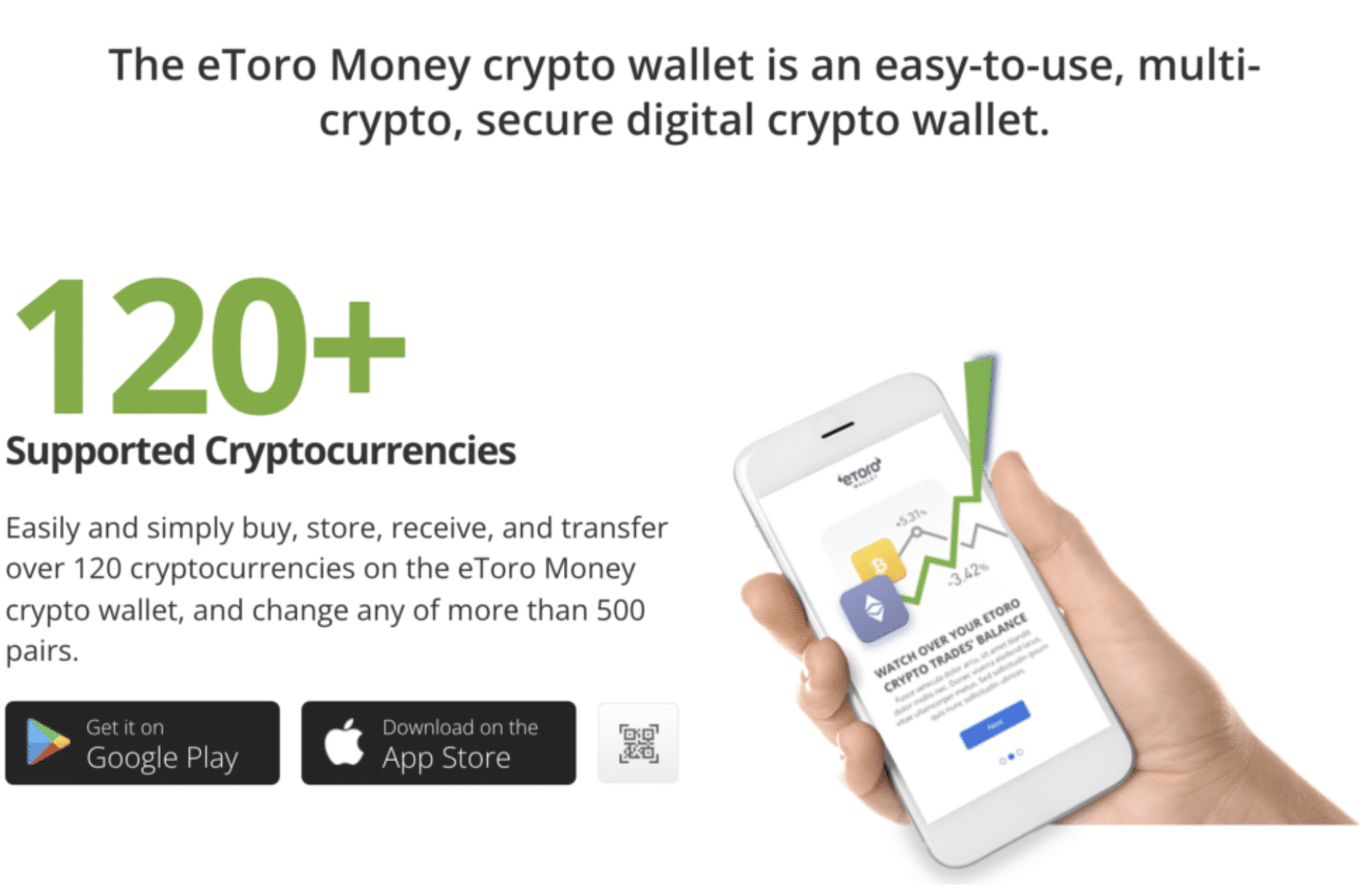 Pros
Buy Shiba Inu and Dogecoin for zero commission
Free eToro Money crypto wallet and smartphone app
23m verified users
Regulated by the FCA, ASIC and CySEC
Good GBP deposit options including PayPal
45+ cryptoassets
Tight spreads on crypto trades
Smart Portfolios and CopyTrader
Cons
Flat withdrawal fee of $5
No help by telephone – email ticketing system instead
68% of retail investor accounts lose money when trading CFDs with this provider.
2. ByBit – Best for Range of Meme Coins
Established in Singapore in 2018, ByBit has 3m registered users. ByBit does offer a range of interesting options when it comes to the best meme coins.
Generally, ByBit's selection of coins is more exotic than that offered by eToro. But a potential downside is that there are almost too many options for the beginner. So let's keep it simple. Using fiat currency (Visa/Mastercard/Apple Pay) you can buy top three crypto Bitcoin (BTC), Ethereum (ETH) and stablecoin Tether (USDT) and use these crypto to buy other crypto with ByBit, including a host of meme coins including DOGE and SHIB. ByBit has coins across the board of the categories of DeFi, NFT, Metaverse and GameFi.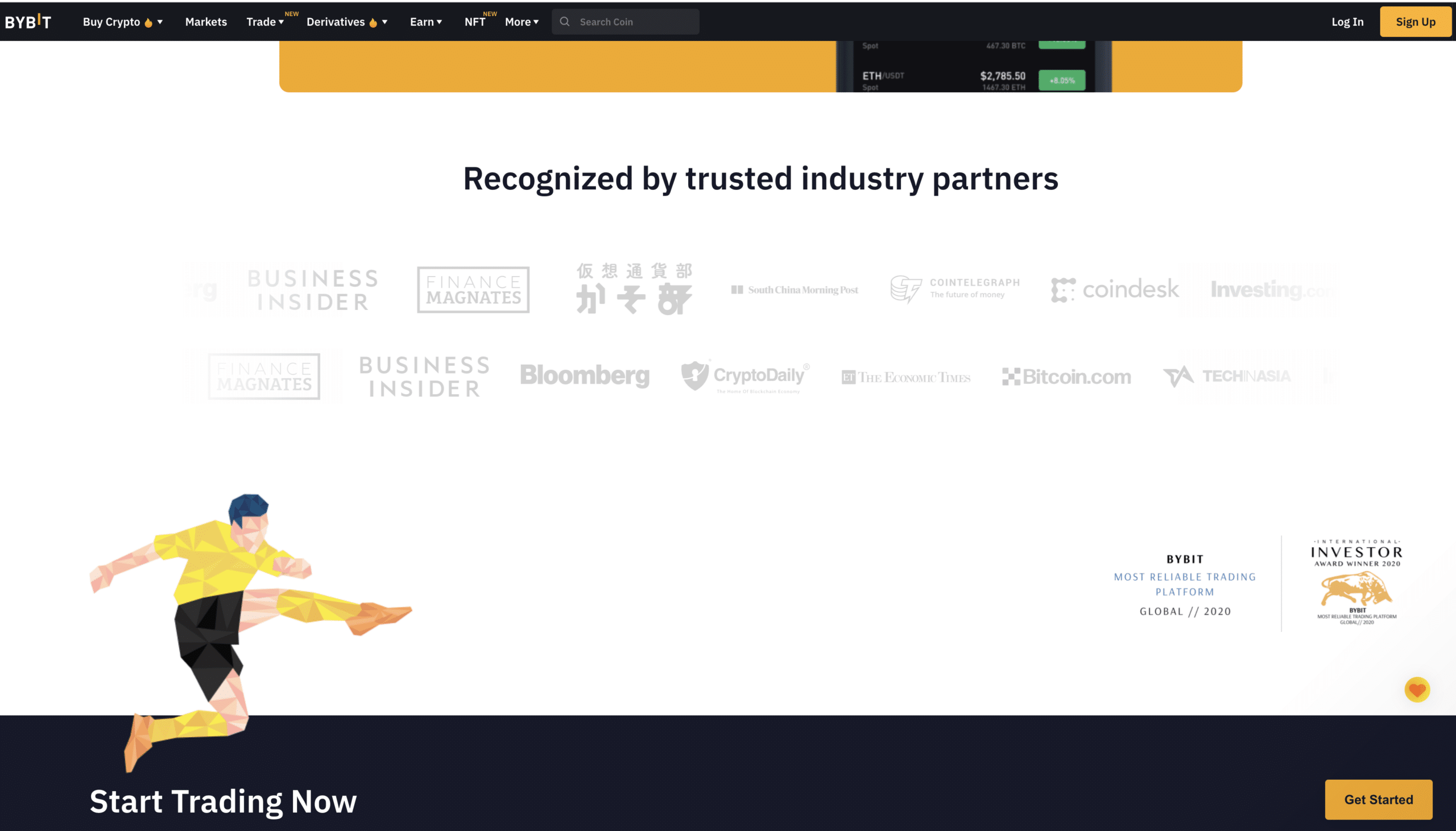 ByBit is particularly good as a crypto staking venue, and for crypto financing in general. You can lend out your coins with flexible staking, which gives you a fixed rate of interest over a given period of time as well as a low minimum investment threshold. ByBit also offers DeFi mining and Dual Asset mining for the more adventurous. 120,000 investors use ByBit's DeFi asset management platform.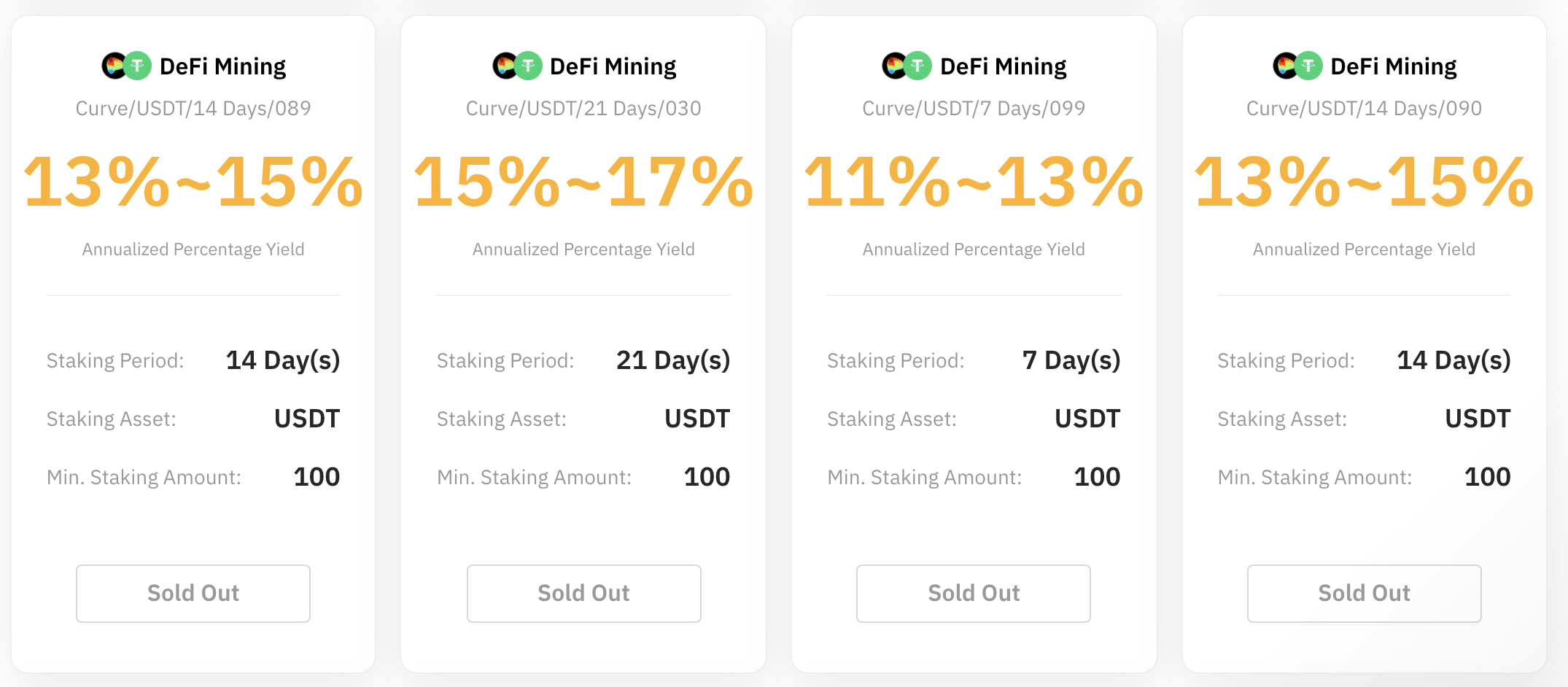 Like eToro, ByBit offers its own smartphone app for on-the-move cryptocurrency trading. This features a marketwatch widget which you can customise to keep your eye on your favourite crypto pairs (much like eToro's Watchlist). ByBit's smartphone app has received an average rating of 4.4/5 from over 100,000 Google Play reviews. Unlike eToro, ByBit does not offer a crypto wallet.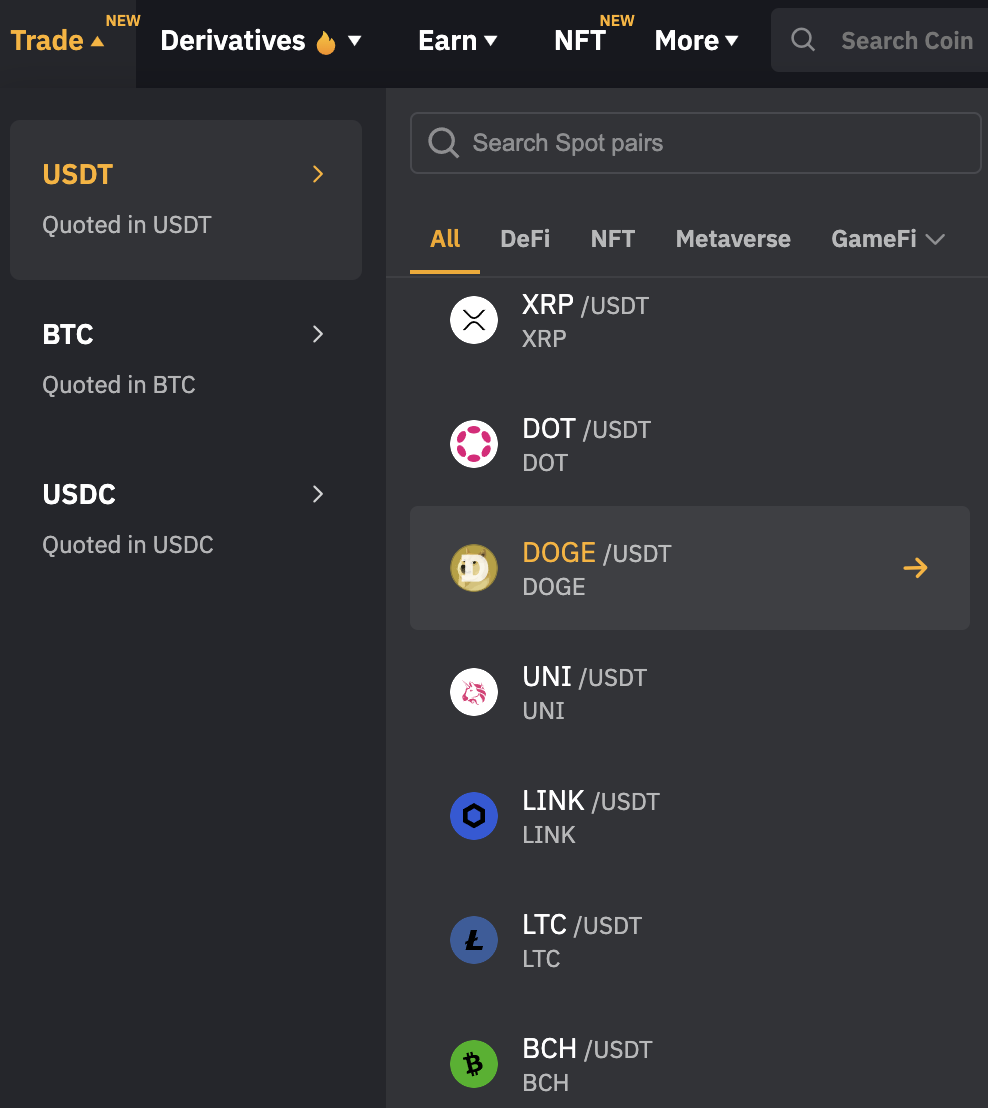 Pros
Client funds held in high-security cold storage
Adventurous choice of crypto coins including best meme coins
Good choice of ways to buy crypto
Simple, elegant interface like eToro's
24/7 phone support
Crypto derivatives trading available from some countries
Cons
More complicated than eToro
Cannot buy meme coins instantly as with eToro
Can't access derivative trading from the UK
Not regulated in UK
Cryptoassets are a highly volatile unregulated investment product. No UK or EU investor protection.
How to Buy Best Meme Coins UK – Tutorial
You can buy the best meme coins just like you can buy any other crypto. Here are 5 steps you need to take (using broker eToro as an example):
1. Choose a Broker or Exchange
Finding the best broker or exchange for your purposes is not as difficult as finding the best meme coin! We suggest you begin with global broker eToro because it is regulated by the UK's FCA and you can buy 'top dog' meme coins Dogecoin and Shiba Inu.
2. Sign up with eToro
Head to eToro.com and open an account. Fill in a few personal details, or go express via your Google or Facebook sign-in. You will then be asked some simple questions about investing, as part of KYC (Know Your Customer) protocols.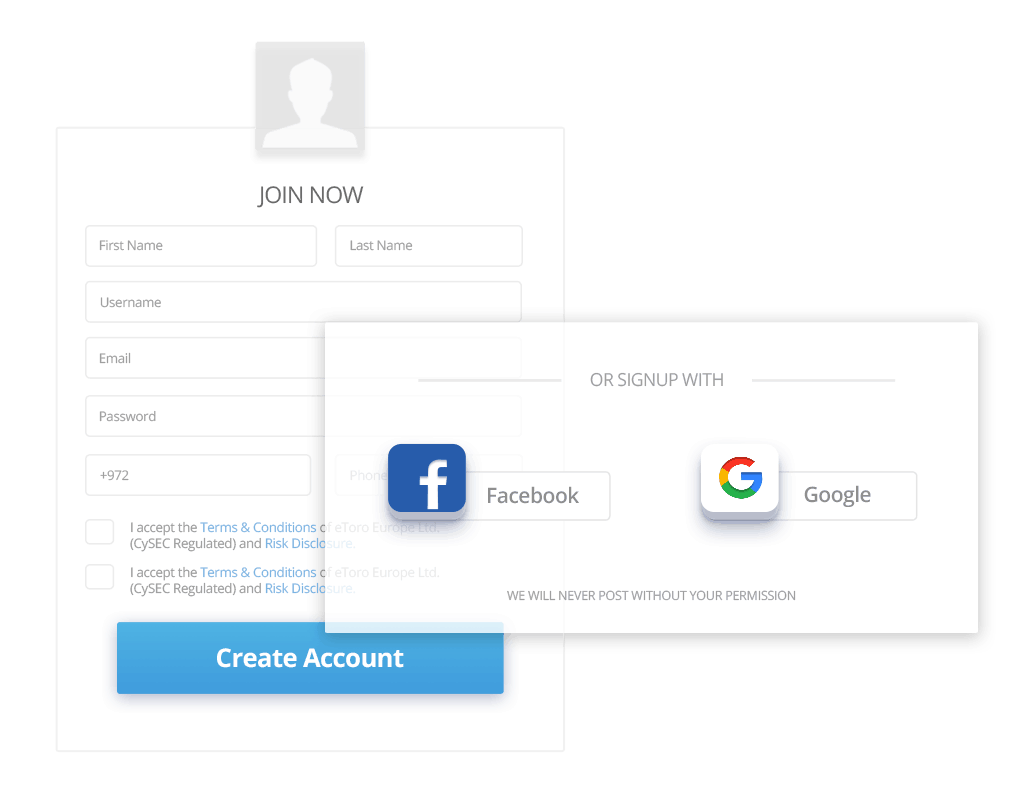 3. Verify your ID with eToro
Supply scans of i) proof of ID and ii) proof of address. Use a scan of your valid passport to get verified quickest. Once you are verified, you will receive a notification email. Then you are ready to deposit some funds and buy some of the best meme coins!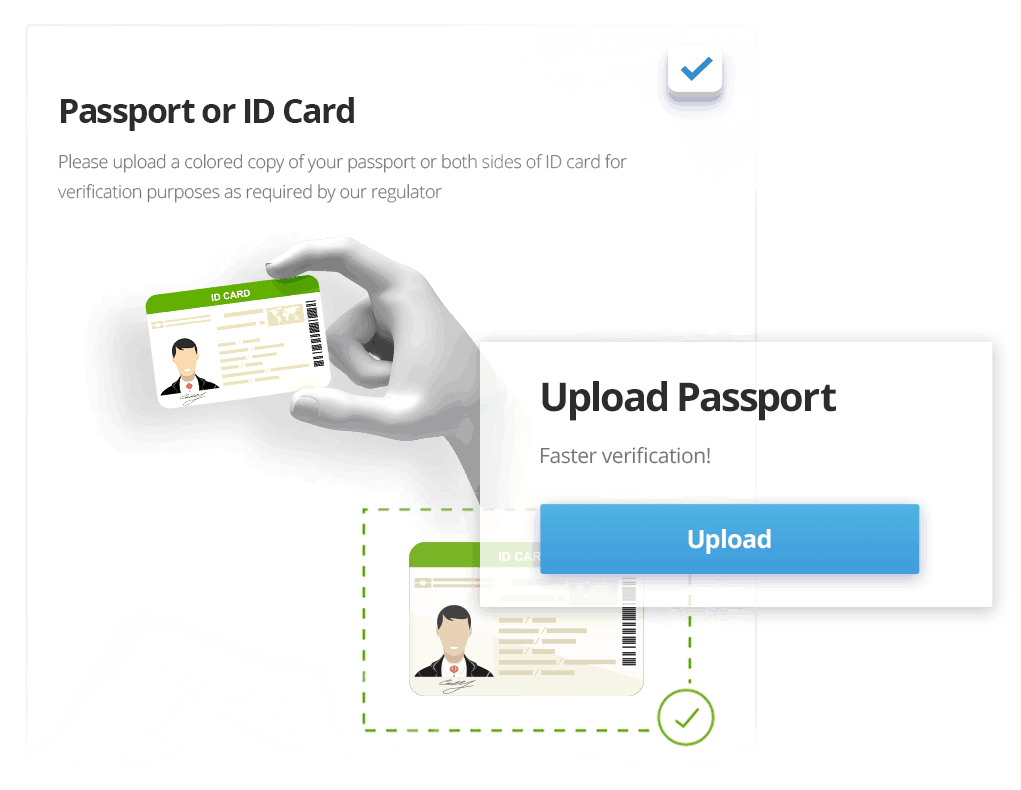 4. Deposit Funds with eToro
You can deposit GBP with eToro via handy PayPal as well as bank transfer, credit/debit card and a range of payment providers like Skrill and Neteller. No deposit fee is charged, but a currency conversion charge of 0.5% applies to convert your GBP into the global standard trading currency of USD.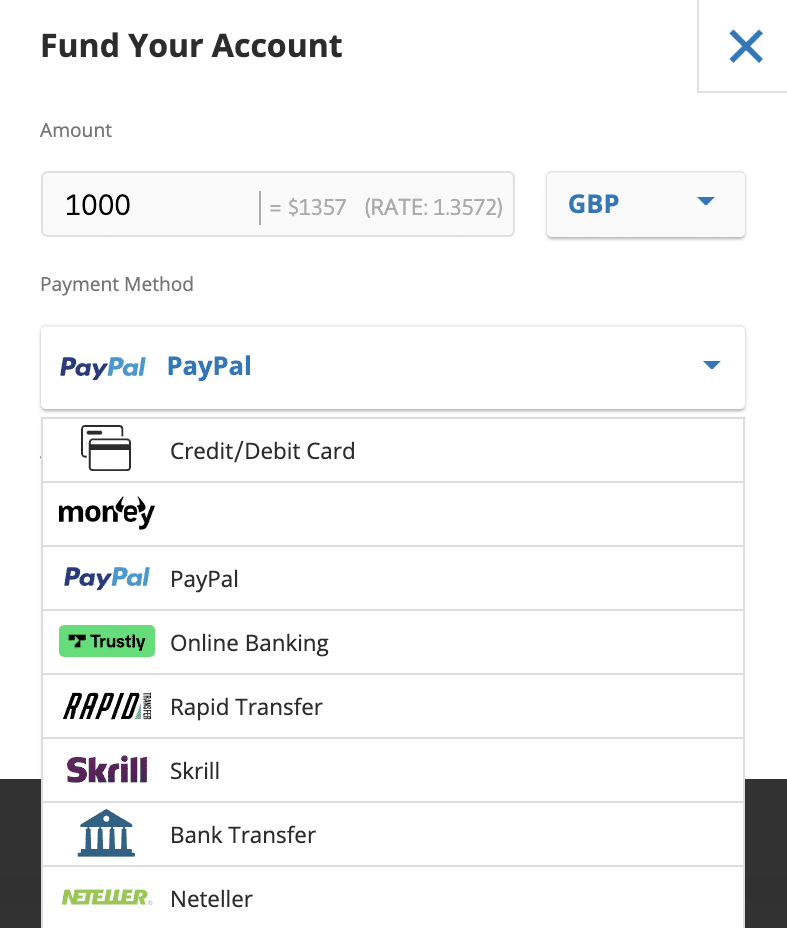 5. Buy Best Meme Coins with eToro in Seconds
You can search for the best meme coins by entering their name in eToro's top toolbar:

To proceed to buying, press the blue 'Trade' button. This brings up this dialogue box below: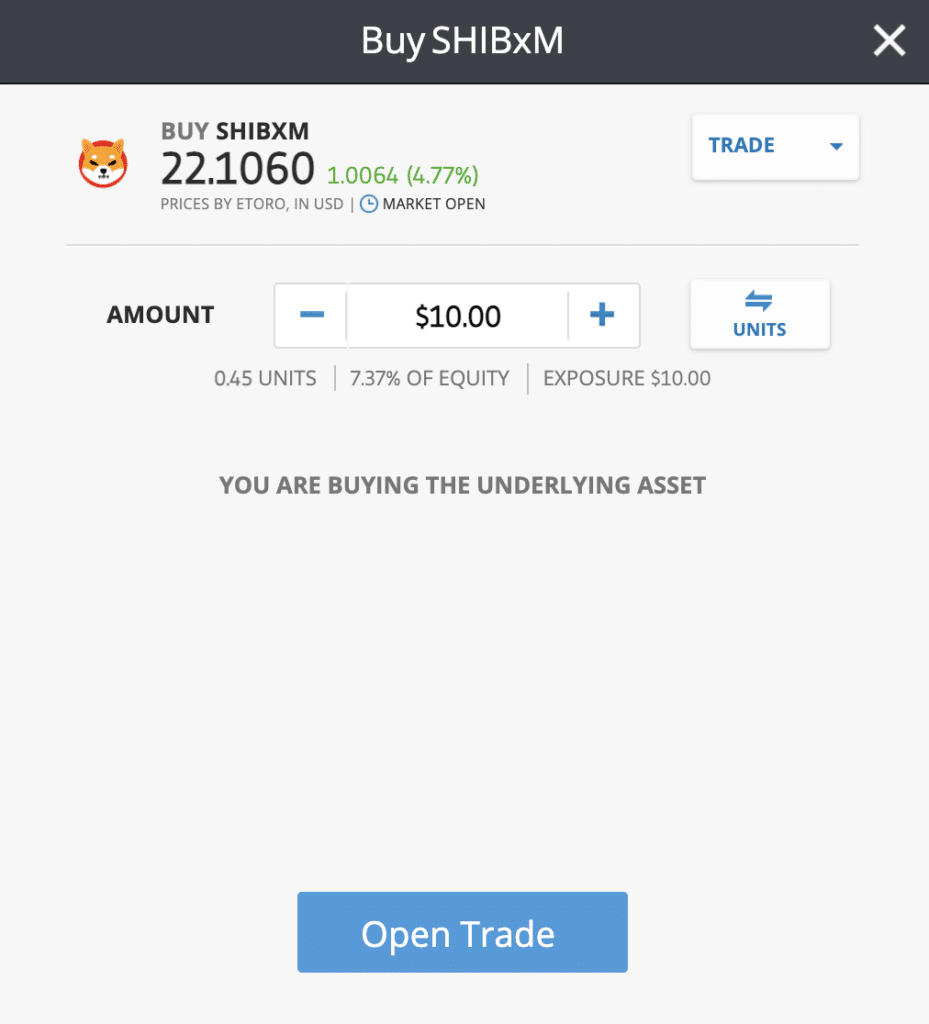 Enter the amount of funds you want to commit. (Note that, because of its tiny price per unit, Shiba Inu is sold by eToro in units of a million). Press the blue 'Open Trade' button to execute your trade. You will receive an onscreen notification box when your order is filled. You can then review your crypto purchase in your eToro portfolio.
68% of retail investor accounts lose money when trading CFDs with this provider.
Conclusion
Any of the coins we have reviewed could be the next Bitcoin. In searching for the next meme coin to explode, adventurous traders may find crypto exchange ByBit rewarding. That's because it offers numerous ways to buy crypto as well as exciting DeFi options and an interesting, wide choice of coins. But, for all levels of trader and especially beginners, we highly recommend broker eToro.
Social trading on eToro is set up specifically to make investing as comfortable as possible for beginners. And, with zero commission on trades as well as a minimum trade threshold of only $10, eToro certainly provides a gentle starting slope for newbies. For us, eToro's regulation by the UK's FCA is the icing on the cake of a reassuringly-professional and accessible service.
68% of retail investor accounts lose money when trading CFDs with this provider.
Frequently Asked Questions on Best Meme Coins UK
What are the best meme coins to buy?
Are meme coins a good investment?
What new meme coins will explode?