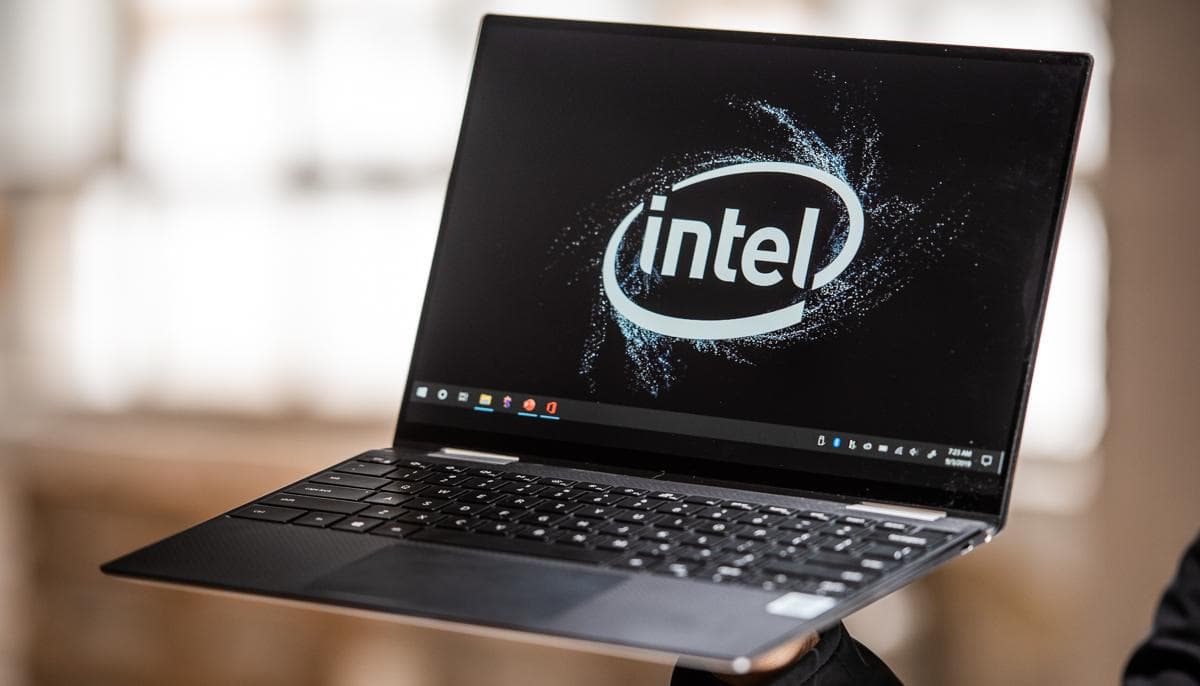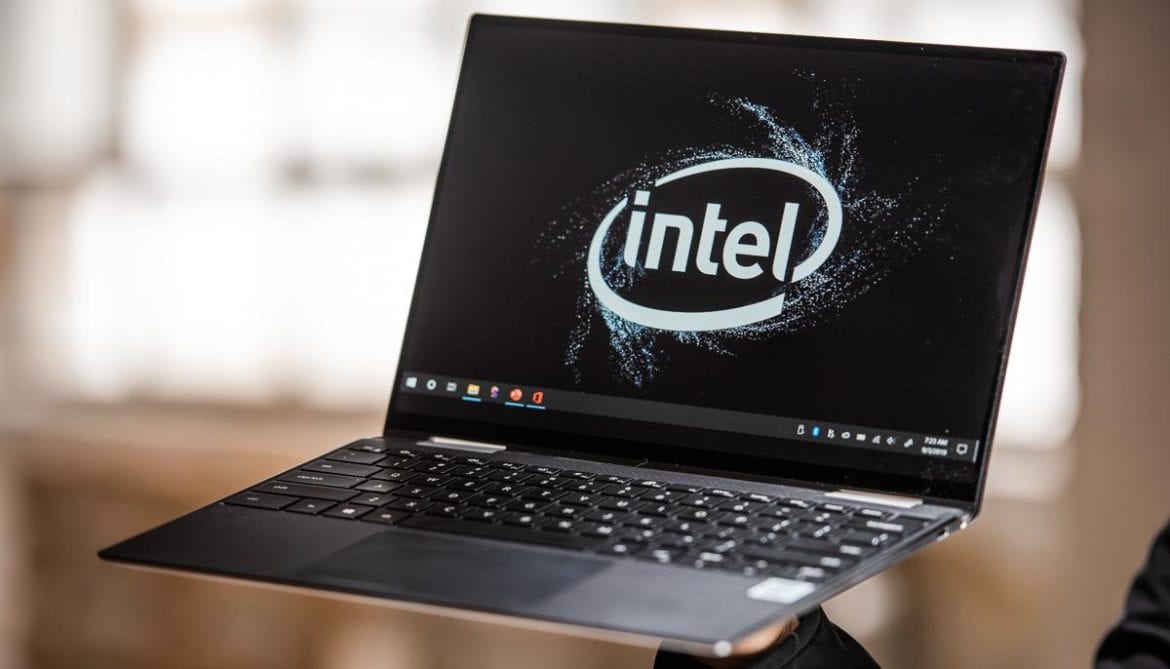 Intel shares were trading sharply lower in US premarket trading today after its fourth earnings release. The earnings were better than expected but markets are spooked by the company's outlook.
The US chipmaker reported revenues of $20 billion in the fourth quarter of 2020, which were 1% lower than it posted in the corresponding quarter in 2020. That said, the revenues were far ahead of the company's guidance.
Intel fourth quarter 2020 earnings
During its third-quarter earnings release, Intel had said that it expects to post revenues of $17.4 billion in the fourth quarter, which would have meant a year over year decline of 14%. Its guidance was in line with the $17.36 billion that analysts were projecting then. That said, its fourth quarter revenues were $2.6 billion higher than guidance. That's a sizeable revenue beat for a company of Intel's size. In the full year 2020, the company's revenues increased 8% year over year to $77.9 billion – a new record for the chipmaker.
What were the key drivers of the revenue beat?
Intel's PC-centric revenues increased sharply in the quarter and the PC unit volumes increased 33% in the quarter led by strong sales of notebooks. However, the company's Data Center Group continued to report dismal numbers.
The Data Center Group reported a 16% year over year decline in revenues in the fourth quarter. In the third quarter, the segment had reported a 7% year over year decline. But in the full year 2020, the segment's revenues were up 11% as compared to 2019.
In the fourth quarter of 2020, only the Client Computing Group and Mobileye reported a yearly increase in revenues.
Intel reported record cash flows
Intel reported an adjusted EPS of $1.42 in the fourth quarter, which was also $0.42 higher than its guidance. The company created several records in the quarter, including a $35.4 billion operating cash flow. Its free cash flow was $21.1 billion over the period, during which it returned $19.8 billion to shareholders in the form of dividends and buybacks.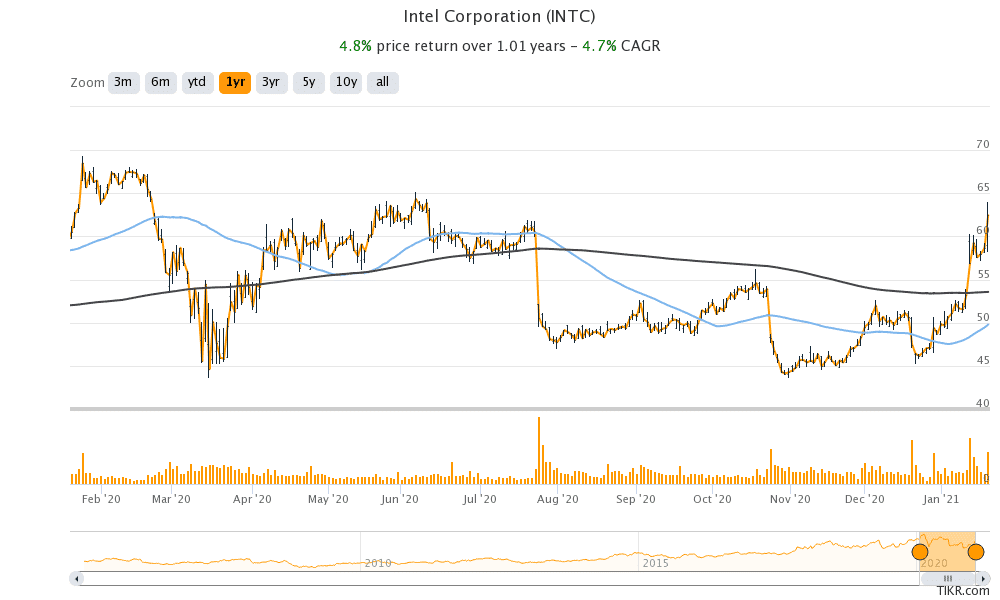 Bob Swan on the earnings
Sounding euphoric on the company's fourth quarter performance, Intel's CEO Bob Swan said: "We significantly exceeded our expectations for the quarter, capping off our fifth consecutive record year," He added, "Demand for the computing performance Intel delivers remains very strong and our focus on growth opportunities is paying off. It has been an honour to lead this wonderful company, and I am proud of what we have achieved as a team. Intel is in a strong strategic and financial position as we make this leadership transition and take Intel to the next level."
Swan steps down as chief executive on 15 February, leaving the company lagging in the the delivery of next generation 5nm chips, which TSMC and Samsung have already rolled out.
Why is the stock falling then?
Looking at the standalone performance, Intel seems to have delivered a strong quarter. However, the shares were trading lower in US premarkets today. One reason could be the guidance for the first quarter of 2021 where Intel expects its GAAP revenues at $18.6 billion and non-GAAP revenues at $17.5 billion which is lower than what it posted in the fourth quarter.
Intel's earnings got leaked?
Notably, Intel released its earnings ahead of time as some part of the earnings report had got leaked. "We are investigating reports that non-authorised access may have been obtained to one graphic in our earnings material," said an Intel spokesperson. They added, "Earlier today, once we became aware of these reports, we made the decision to issue our earnings announcement a brief time before the originally scheduled release time."
Intel valuation and performance
Intel stock has gained only about 4.8% over the last year even as other tech companies have risen sharply and hit new records. Despite the COVID-19 pandemic, the tech-heavy Nasdaq Index gained over 45% last year led by sharp gains in companies like Tesla and Apple.
However, Intel has been a laggard even as Advanced Micro Devices and Nvidia shares rose sharply in 2020. Intel shares trade at an NTM (next-12 month) PE multiple of 13.7x which looks reasonable.
Next month, Pat Gelsinger would return as Intel's CEO and take over the baton from Swan. As the CEO, Gelsinger's task would be cut out which would be to create shareholder value, that Intel hasn't been able to do despite generous dividends and buybacks.
Intel shares were trading 4.2% lower at $62.46 in US pre-market trading today.