Shares of gaming retailer GameStop were trading lower in US premarket price action today despite posting better than expected first-quarter earnings.
GameStop released its fiscal first-quarter yesterday after the close of markets. The company reported revenues of $1.27 billion in the quarter as compared to $1.02 billion in the corresponding quarter last year. The revenues were ahead of the $1.16 billion that analysts were expecting.
GameStop posts higher revenues
This is the first time after a gap of nine quarters that GameStop has posted positive revenue growth. The company has posted a yearly fall in revenues for three consecutive fiscal years. However, analysts expect its revenues to rise 7.1% year-over-year in the fiscal year 2021. The company's sales increased despite a 12% reduction in store fleet. While it has shut some stores as part of the de-densification strategy, some of the stores in Europe were closed in the quarter due to COVID-19 related restrictions.
GameStop posted a per-share loss of 45 cents while analysts were expecting it to lose 84 cents per share. Meanwhile, despite the earnings beat, GameStop shares were trading lower in premarket price action today.
GameStop shares tumble
To be sure, over the last three years, GameStop shares have fallen after the earnings release in 10 of the last 12 quarters. This highlights the point that despite the noise and meme share mania, the company's earnings have been weak. Let's discuss why GameStop shares are lower despite what looks like spectacular earnings beat on the headline numbers.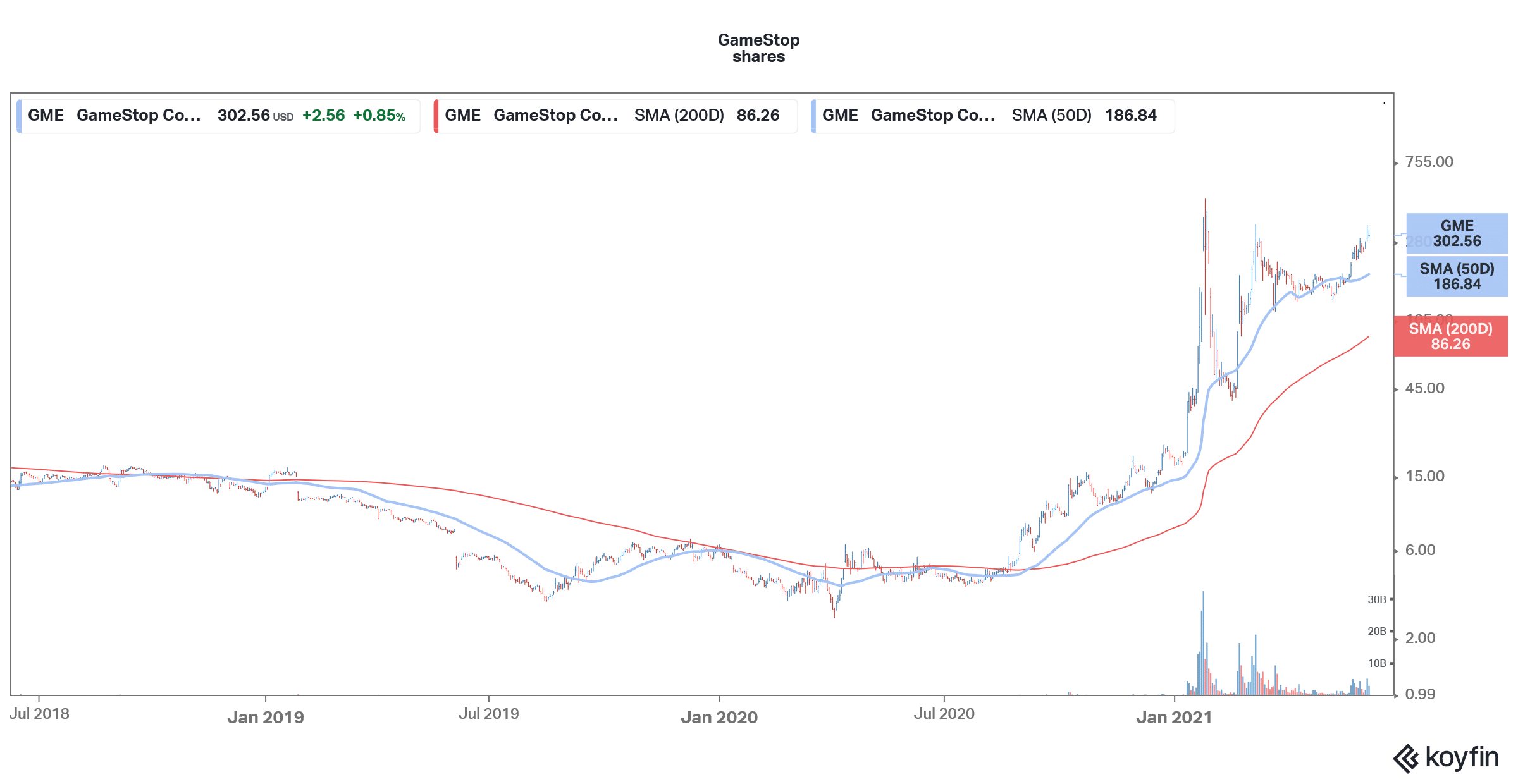 SEC enquiry
Firstly, GameStop revealed that the US SEC is investigating the massive volatility in its shares. "We are in the process of reviewing the request and producing the requested documents and intend to cooperate fully with the SEC staff regarding this matter." it said in the filings. However, it added, "This inquiry is not expected to adversely impact us." Meanwhile, investors seem to be getting wary of meme shares and along with GameStop, AMC Entertainment and BlackBerry were also trading lower in premarkets today.
Secondly, GameStop announced another share issuance. The company intends to sell another 5 million shares. It had sold 3.5 million shares in April also. Now, this has been the usual rulebook for meme shares and they have been issuing shares in a frenzy to capitalise on the surge in their shares. GameStop has been using the proceeds to lower its debt and has repaid all the borrowings under the revolving facility.
AMC Entertainment
Earlier this month fellow meme share AMC Entertainment also announced a share offering. The shares had tumbled too after the announcement on dilution fears. That's said, with a massive debt pile and ongoing cash burn, raising cash by selling shares at inflated prices makes perfect sense for a lot of meme shares.
Also, like in the last earnings call, GameStop did not take analyst questions during the earnings call. The company however streamed the earnings release on the YouTube channel which was watched over 63,000 times at the time of this writing.
Cohen sees a long road ahead for transformation
"We have a lot of work in front of us and it will take time," Ryan Cohen told shareholders. He added, "We are trying to do something that nobody in the retail space has ever done, but we believe we are putting the right pieces in place and we have clear goals: delighting customers, and driving shareholder value for the long term."
Cohen also lauded the retail shareholder base which has been backing GameStop's turnaround even as Wall Street sees the other way. According to Cohen, "We're fortunate to have such a special group of investors holding the company's shares." He added, "You guys inspire us to think bigger, fight harder and work longer each day."
GameStop did not take analyst questions
We seem to be getting into a new phase of investing where companies are directly communicating with retail investors. AMC Entertainment's CEO Adam Aron was all praise for retail shareholders during the earnings call, The company has also started providing shareholder's special benefits at the cinemas including free popcorn. In another example, Coinbase interacted with Reddit traders before its direct listing. In the usual convention, companies hold roadshows and interact with institutional investors.
Tesla
Tesla has been another company championing retail investors and its CEO Elon Musk believes that they have a better understanding of the company than Wall Street analysts. Musk has mocked analysts several times on earnings call. Tesla also takes questions from some retail investors during the earnings call,
GameStop also announced changes to the top management and named Matt Furlong as the new CEO and Mike Recupero as the new CFO. Both of them are former Amazon executives. With Ryan Cohen taking an active role in GameStop, the company has been taking several measures to transform its business and project it as an e-commerce company.
Loop Capital on the management changes
Meanwhile, Loop Capital analyst Anthony Chukumba is not very optimistic about the changes. He had stopped covering GameStop shares after the Reddit mania led to a spike in the shares that took them to way above the fundamental value.
Commenting on the management changes he said "It's great that these guys worked at Amazon. Amazon is a very successful retailer that I do cover, that I'm very familiar with, but at the end of the day, GameStop's problems have very little, if anything, to do with e-commerce."
He pointed to the fact that gaming is moving online and gamers are increasingly downloading games rather than buying them from retailers like GameStop. Taking a swipe at GameStop for hiring ex-Amazon hands, he said "Look, they can hire Jeff Bezos when he comes back from space. … It's not going to make a difference. The symptoms are not aligned with the medicine that the doctor is giving them. You can hire anyone you want from Amazon — not going to make a difference."
Jim Cramer on GameStop shares
Jim Cramer, the host of the Mad Money show on CNBC also expressed his views on GameStop. He said, "If you've ridden them up from much lower levels, take a little off the table." He added, "These stories could always get dinged."
Meanwhile, Cramer sounded somewhat constructive on GameStop and AMC Entertainment. "These companies now have the ability to reinvent themselves because higher stock prices have allowed them to raise capital," said Cramer.
GameStop did not provide guidance
GameStop did not provide 2021 guidance during the earnings call and said that its net sales are the most appropriate metric to evaluate the company's performance. It said that its sales increased 27% in May and "second quarter sales trends continue to reflect momentum."
GameStop shares were trading almost 7% lower in US premarket price action today. While the shares are up 1,505% they are down 37% from their 52-week high prices.