Degiro Review UK – Fees, Features, Pros and Cons Revealed
Fact Checked
Everything you read on our site is provided by expert writers who have many years of experience in the financial markets and have written for other top financial publications. Every piece of information here is fact-checked.
Disclosure
Please note that we are not authorised to provide any investment advice. The information on this page should be construed for information purposes only. We may earn commissions from the products mentioned on this site.
If you're based in the UK and looking for a low-cost broker, you might be tempted to use Degiro. The online broker allows you to purchase UK shares at a fee of just £1.75 + 0.014% in commission. This is pretty competitive. You can also invest in non-UK stocks at the platform, albeit, you will pay slightly more.
But, is Degiro the best UK share dealing broker for your financial goals?
In this in-depth Degiro review, we cover everything there is to know about the platform. On top of exploring whether or not its fees are as competitive as first meets the eye, we'll also explore tradable markets, payment methods, user-friendliness, regulation, and more.
What is Degiro?

Degiro is an online stock broker that allows retail investors in the UK to buy shares and other asset classes. First launched in 2008, this broker is based in the Netherlands. This means that the firm is supervised by the Dutch Authority for Financial Markets (AFM). Degiro is also regulated, but not regulated, by the Financial Conduct Authorty (FCA).
The main selling point of using Degiro is that you will be able to purchase shares at competitive prices. As noted above, its hallmark offering is its UK share dealing fee of just £1.75 + 0.014% in commission. This is much cheaper than the likes of Hargreaves Lansdown, Halifax, and HSBC. With that said, there are actually cheaper options in the market – especially when it comes to foreign stocks.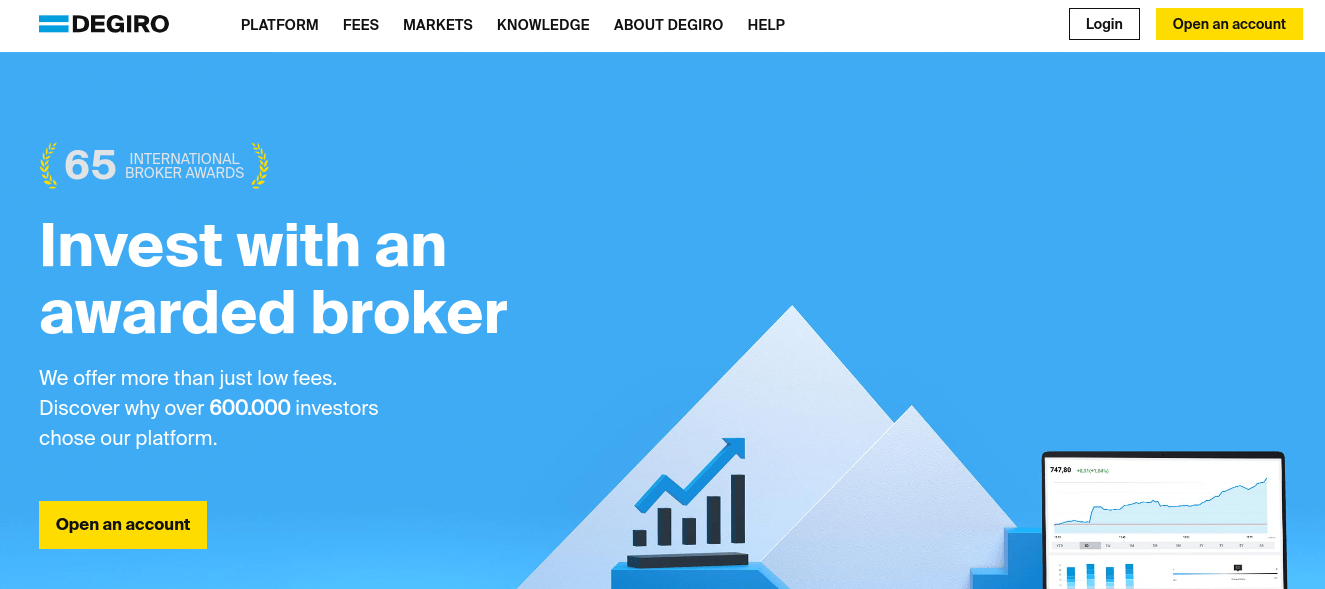 Nevertheless, Degiro gives you access to over 50 stock exchanges in 30 countries. On top of major markets in the UK, US, Canada, Japan, and Australia – you can also buy shares from companies based in less liquid economies. This includes the likes of Turkey, the Cheque Republic, Poland, Norway, and Ireland. Outside of its comprehensive stocks and shares department, Degiro also supports mutual funds and ETFs.
For those of you looking to invest in more sophisticated asset classes, Degiro also offers leverage products, options, warrants, and futures. All in all, if there is a financial asset you are interested in – chances are you will find it at Degiro. When it comes to the investment process, UK investors are required to deposit funds via a bank transfer. As such, more convenient methods like debit/credit cards and e-wallets are not supported.
What Shares Can You Buy at Degiro?
With more than 50 stock exchanges supported at Degiro, it makes sense that you will have access to a highly extensive number of shares. Before we get to what's available overseas, let's explore what UK shares you can buy.
UK Stocks and Shares
Put simply, if a company is publicly-listed in the United Kingdom, then it is all but certain that you will find at Degiro. At the forefront of this is each and every FTSE 100 share. As such, you can easily invest in firms like HSBC, GlaxoSmithKline, British American Tobacco, AstraZeneca, BP, and BT. With that said, this is no surprise – as the vast bulk of UK stock brokers are going to give you access to FTSE 100 stocks.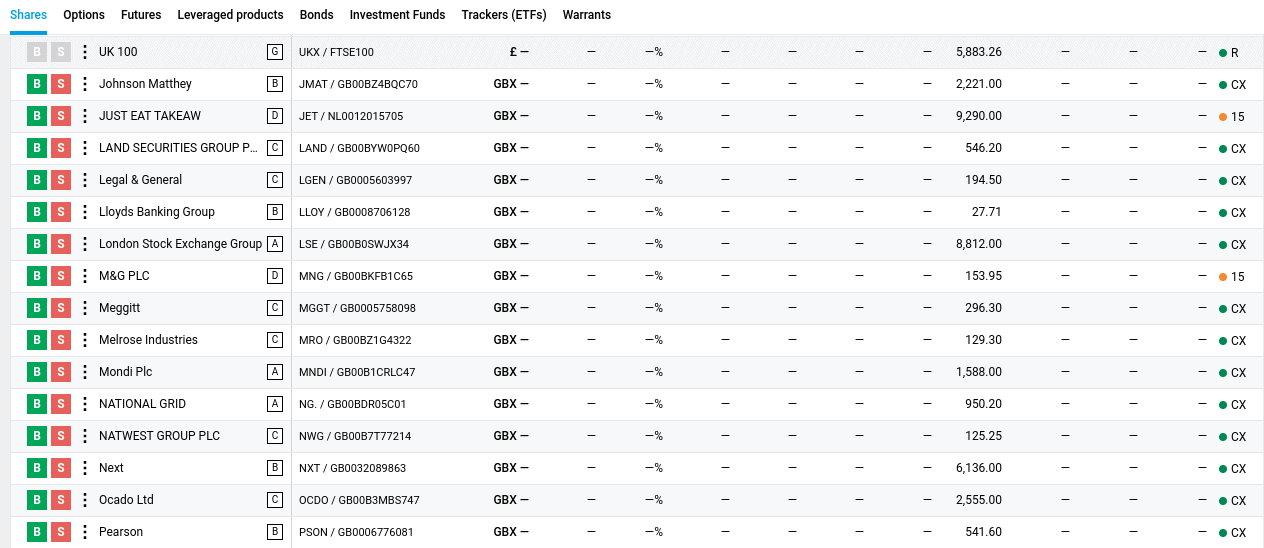 In full acknowledgement of this, Degiro goes one step further by giving you access to UK shares outside of the main index.
This includes:
FTSE 250 Shares
FTSE 350 Shares
For those unaware, UK companies representing the FTSE 250 and 350 indexes are still listed on the London Stock Exchange. It's just that they are not quite big enough the make the primary FTSE 100 index.
To give you an idea of some of the FTSE 250/350 shares that you can buy at Degiro, check out the list below:
Centrica plc
ITV plc
Dixons Carphone plc
William Hill plc
Centamin plc
Marks & Spencer Group plc
Quilter Plc
ConvaTec Group Plc
Petropavlovsk plc
If being able to buy FTSE 100, 250, and 350 shares at Degiro wasn't enough, this online broker also gives you access to AIM shares. For those unaware, the AIM (Alternative Investment Market) is the UK's secondary stock exchange.
This particular exchange will host companies that are either still up and coming or they simply don't meet the regulatory requirements of the primary London Stock Exchange. Regarding the latter, this is usually because AIM shares don't have enough in the way of market capitalization.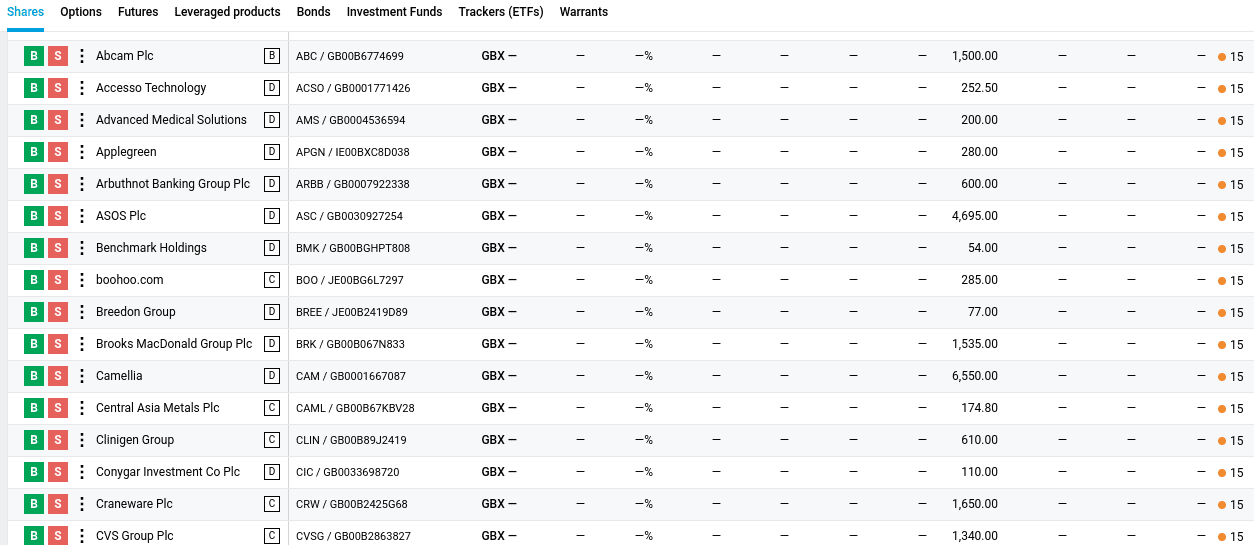 On the one hand, buying AIM shares at Degiro will allow you to back smaller firms that have the potential to one day make it make. On the other hand, these shares are much riskier, as many companies listed on the AIM have business models that are still unproven.
To give you an idea of some of the AIM shares that you can buy at Degiro, check out the list below:
Fevertree Drinks
Burford Capital
Hutchinson China Meditech
Abcam
Boohoo.com
Blue Prism Group
Jet2
RWS Holdings
From the list above, the stand out stock for us is that of Boohoo. Often referred to as the "King of the AIM", the online retailer is growing rapidly. In fact, it is rumoured that Boohoo will be the next constituent to make the transition from the AIM to the primary London Stock Exchange.
Foreign Stocks and Shares
So now that we have covered the extensiveness of the UK share library, in this part of our Degiro review we are going to explore what foreign stocks you can buy.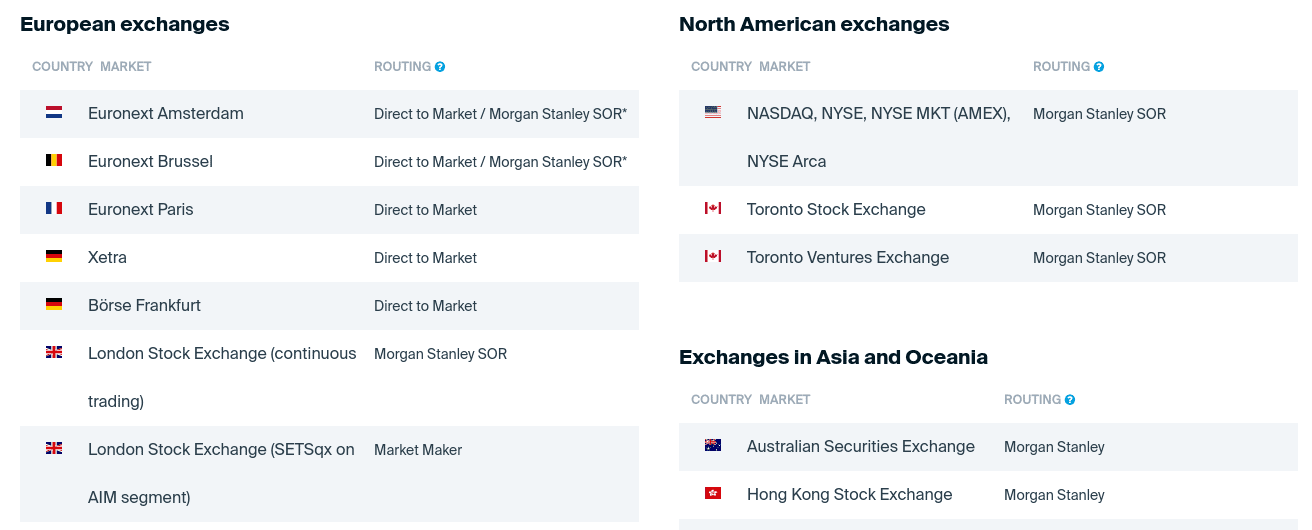 The easiest way for us to do this is to display each and every stock exchange that Degiro supports – which you will find below.
European Shares
Here's what European shares you can buy at Degiro.
Euronext Brussel
Euronext Dublin
Euronext Lisbon
Euronext Paris
Istanbul Stock Exchange
OMX Copenhagen
OMX Helsinki
OMX Stockholm
Oslo Stock Exchange
Prague Stock Exchange
SIX Swiss Exchange
Vienna Stock Exchange
Warsaw Stock Exchange
Xetra
North American Shares
Here's what North American shares you can buy at Degiro.
NASDAQ
NYSE
Toronto Stock Exchange
Toronto Ventures Exchange
Asia Pacific Shares
Here's what Asia Pacific shares you can buy at Degiro.
Australian Securities Exchange
Hong Kong Stock Exchange
Singapore Exchange
Tokyo Stock Exchange
While it is great that you will have access to all of these non-UK markets, we should note that most investors will typically focus on the NYSE and NASDAQ. These are the two primary exchanges found in the United States and they host some of the largest and most recognized companies in the world.
This includes the likes of:
ETFs at Degiro
So now that our Degiro review has covered the ins and outs of the platform's share dealing department, we are now going to discuss what's on offer in the way of exchange-traded funds (ETFs).
In total, we counted just over 5,300 ETF markets that are offered by Degiro, which is huge. This covers markets in virtually every corner of the world. Whether that's the UK, US, Europe, Asia, Africa, or the Middle East – you'll find an ETF that tracks your desired marketplace.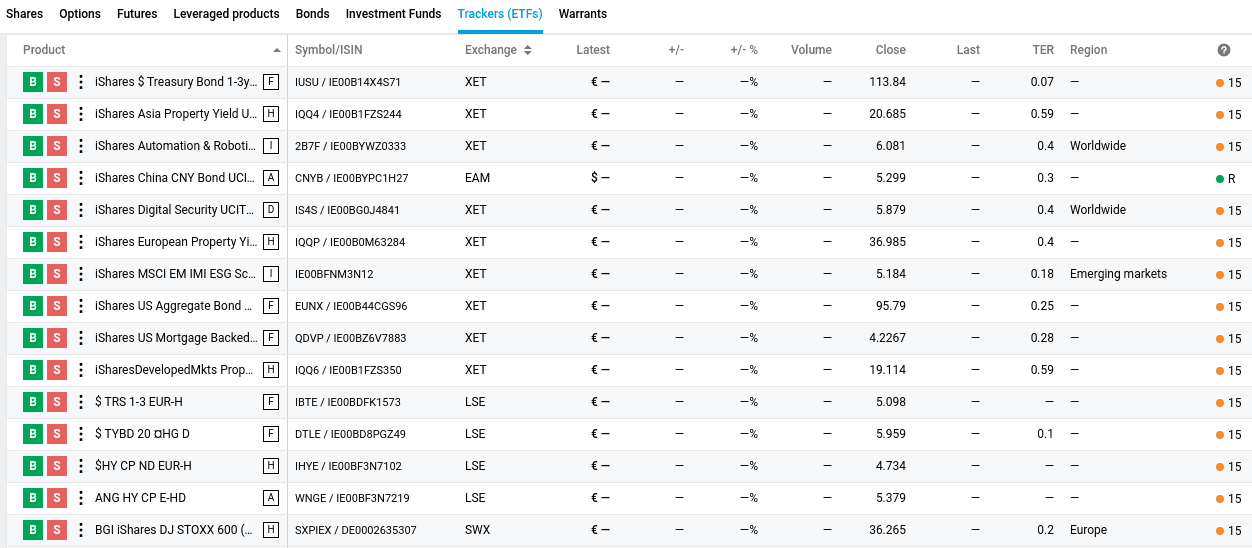 In terms of popular ETF providers, Degiro gives you access to heavyweights like SPDR, iShares, Vanguard, and VanEck – albeit, there are dozens more. While we can't list each and every ETF offered by Degiro, below we give you some examples of the many markets that you can access.
Index funds including the FTSE 100, AIM, Dow Jones, S&P 500 Index
Bond funds
Funds tracking commodities like gold
Interest rates and government securities
Due to the sheer number of ETFs on offer, you are best advised to use the search function. You can also make use of the filter system to find your desired ETF. This includes metrics like the stock exchange that the ETF is listed, the target region, the provider, and more.
Investment Funds at Degiro
In addition to ETFs, Degiro also gives you access to over 500 investment funds. These are usually backed by leading mutual fund providers. As such, investment funds are a great way to invest in the financial markets in a passive manner.
After all, the fund manager will decide which assets to buy and sell so you don't have to. Once again, there are lots of investment fund providers to choose from – many of which are well know in the UK.
This includes:
AXA
Aberdeen Global
Allianze
BlackRock
Fidelity
HSBC
ING
JPMorgan
Morgan Stanley
Much like the ETF department, you are best advised to use the search facility to find your desired investment fund at Degiro.
Bonds at Degiro
If you're looking for an asset class that offers consistent and predictable fixed income – then you might be suited for bonds. At Degiro, you will access to almost 700 different bond instruments. This covers both corporate and government bonds, so the choice is plentiful.
With that said, you won't be able to buy any UK-listed corporate or government bonds, which is somewhat disappointing. Instead, the vast majority of bonds at Degiro are listed on the European stock exchanges. Some examples include Aegon, Air France, AXA, Renault, and Volkswagen.
Other Assets at Degiro
All of the above asset classes can be invested in with a basic Degiro share dealing account. We cover different account types in more detail further down. Nevertheless, if you upgrade to a different account at the platform, you will have access to the following assets.
Futures
Options
Warrants
Leveraged products
It is important to note that while the asset library at Degiro is huge, the platform does not offer CFD trading or forex trading markets. If this is something you are after, then you will need to use a commission-free trading platform like eToro.
Degiro Dividends
If you hold dividend-paying assets at Degiro – such as shares, ETFs, or investment funds – these will be reflected in your cash account. In most cases, you will see the funds in your Degiro account one day after the respective company distributes them.
You can then withdraw the dividends back to your bank account. But, if you're looking to grow your wealth over the course of time, a more sensible option might be to reinvest the dividends.
In doing so, your benefit from compound interest. In other words, by investing in other assets with your dividend payments, you'll earn 'interest on your interest'. With that being said, there is no automated dividend toll at Degiro, so you will need to do this on a manual basis.
Degiro Fees and Commissions
If you're thinking about using Degiro, it's likely because of its reputation as a low-cost broker. With that said, brokerage fees can often appear cheaper than they really are – especially when you start doing a bit of digging.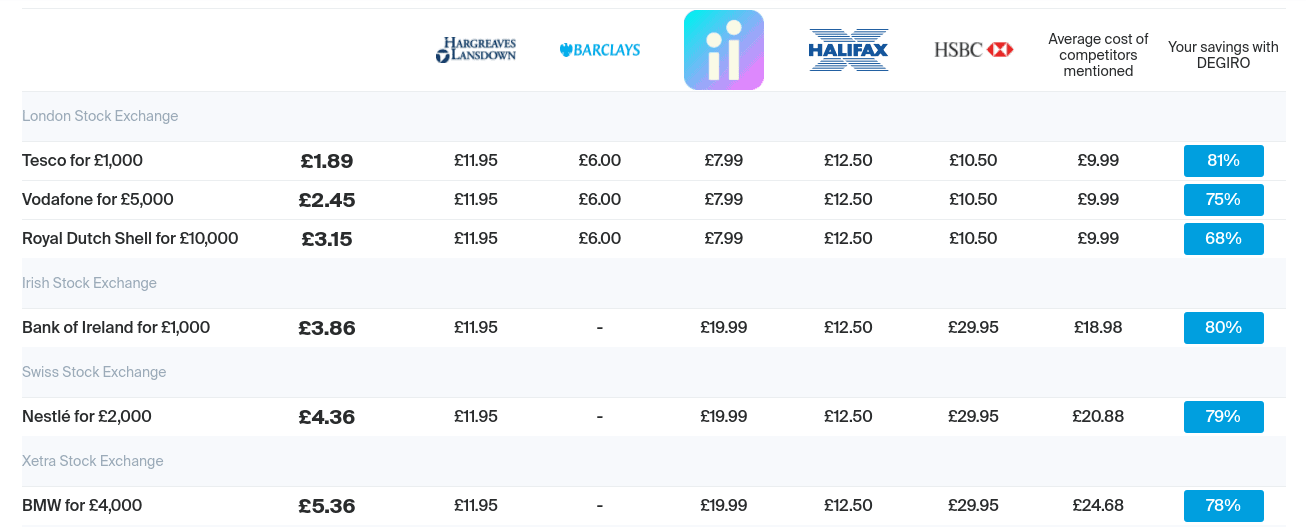 As such, this section of our Degiro review we unravel each and every fee applicable at the platform. Ultimately, this is with the view of evaluating whether Degiro is really as cheap as it makes out.
Degiro Share Dealing Fees
The vast majority of UK investors will use Degiro to buy shares. As such, this is a good starting point. Before we get to the specifics, we should note a couple of important things about fees at Degiro.
Most fees come with a flat rate and commission – with the latter expressed as a percentage.
Some fees some with two competing currencies – for example, GBP and USD. This can make it somewhat confusing to get a true understanding of what you are really paying.
UK Shares
Put simply, all UK shares – whether that's companies listed on the FTSE 100, 250, 350 or the AIM – can be purchased at a rate of £1.75, plus a variable commission of plus 0.014%. In addition to this, the maximum amount that you can pay is just £5. This is super cheap.
For example, if you were to buy £1,000 worth of HSBC shares, you would pay £1.75 + £0.14, taking the total to just £1.89. In another example, a £5,000 purchase of British American Tobacco shares would cost you £1.75 + £0.70, totalling a commission of £2.45.
To assess whether or not this is the best rate available, we should look at some industry comparisons. As one of the most popular brokers in the UK, we should compare this with Hargreaves Lansdown.
To keep things balanced, let's stick with the £5,000 share purchase of British American Tobacco shares
At Hargreaves Lansdown, you will pay £11.95 to purchase the shares
When you get around to selling your British American Tobacco shares, you will again pay £11.95
This takes your total share dealing fee to £23.90
As per the above, by using Degiro you are saving £21.45.
However, upon digging through the Degiro fee schedule a little further, it is important to note that the platform conveniently leaves out the 0.5% stamp duty fee that you need to pay when investing in London Stock Exchange shares. In fact, as per the screenshot below, this is hidden in small latter at the bottom of the fee comparison page.

As such, on a £5,000 purchase of British American Tobacco shares, you would then need to add an additional £25. We don't quite understand why Degiro would not include this fee as this cannot be avoided.
Well, there is actually one broker in the UK share dealing scene that allows you to buy UK stocks without paying stamp duty – eToro. Not only that, but eToro allows you to buy shares in a 100% commission-free manner.
To illustrate how much more cost-effective this can be, let's look at the British American Tobacco share example again, but this time with eToro.
Upon buying your £5,000 worth of British American Tobacco shares, you pay a commission of £0
You pay no stamp duty – saving you 0.5% along the way
When you sell your British American Tobacco shares, you pay a commission of £0
All in all, the same trade at eToro cost you nothing in share dealing fees.
Non-UK Share Dealing Fees
If you're looking to buy international stocks – such as those based in the US, Germany, or Australia – the fees that you pay will vary depending on the specific market. While listing each and every fee for all 50 exchanges is beyond the remit of this Degiro review, we'll explore some of the most popular markets.
At the forefront of this is the two US exchanges – the NYSE and NASDAQ, which comes at a fee of € 0.50 + USD 0.004 per share. As you can see, Degiro uses a complex fee structure here – as you need to figure out your fees in both euros and US dollars. Fortunately, Degiro does gives us some examples of US share prices on its website.
Buying £2,00 worth of Apple stocks ($300/share) would cost you £0.44
Buying £5,000 worth of Tesla stocks ($500/share) would cost you £0.45
Buying £10,000 worth of Amazon stocks ($1,800/share) would cost you £0.44
It is important to note that the above fees are based on specific stock prices. For example, in the case of Apple, the fee is based on a share price of $300 each. This is crucial, as Degiro charges a fee on US stocks that will vary depending on the number of individual shares you are buying.
With this in mind, we should once again note that Degiro is being somewhat convenient with the examples it gives. This is because it has selected US stocks that have a high share price.
This means that you will be getting fewer shares for your investment and thus – the fees will be lower. However, if you were to buy shares in a firm like Ford Motors – which has a current stock price of just under $8 – the fees would, of course, be higher.
In addition to this, the US share dealing fee examples listed above do not include the 'connectivity fee' charged by Degiro. We'll cover that in just a moment. But first – let's look at some share dealing fees associated with other international markets.
Germany – XETRA : € 4.00 + 0.05% (€ 60.00 Maximum)
Germany – Zertifikate-Börse Frankfurt : € 2.00 + 0.11%
Canada : € 2.00 + CAD 0.01 per share –
Australia, Hong Kong, Japan, Singapore:  € 10.00 + 0.06%
Poland:  € 5.00 + 0.16%
Czech Republic, Greece, Hungary, Turkey:  € 10.00 + 0.16%
Degiro Connectivity Fee
In addition to the above commissions, non-UK stock market investments will attract a connectivity fee at Degiro. In a nutshell, this is a fee charged on each and every stock exchange that you invest in on an annual basis. This is charged at 0.25% of your total account balance on each respective exchange. The maximum charge per exchange, per year, is €2.50.
Confused? Let's look at a simple example of how the connectivity fee at Degiro works.
Let's suppose that you have £5,000 worth of shares listed on the NYSE
You also have £4,000 worth of shares listed in Germany
You also have £4,000 worth of shares listed in Australia
You also have £500 worth of shares listed in Turkey
Now, apart from the shares listed in Turkey – which attracts a 0.25% fee of €1.25, the other three investments would attract the maximum of €2.50 each. As such, you would pay Degiro €8.75 in total (€2.50 x 3, €1.25 x 1).
Note: All of the fees discussed above are also the same with leverage products, ETNS, and warrants.  
ETF Fees
When it comes to ETF fees at Degiro, the platform charges a universal rate of € 2.00 + 0.03%. This is the case irrespective of which market or exchange the ETF is listed on.
For example:
If you were to invest £2,000 into an ETF listed on the London Stock Exchange, you would pay € 2.00 + € 0.60, totalling € 2.60
If you were to invest £5,000 into an ETF listed in the US, you would pay € 2.00 + € 1.50, totalling € 3.50
However, in the case of the ETF in the US (or any non-UK market), you would again need to factor in the connectivity fee discussed above.
With that said, Degiro does allow you to invest in one ETF for free each and every month. This can't be on any ETF of choosing, though. On the contrary, Degiro generates a list of eligible ETFs every month. Anything outside of this list will attract the standard ETF fee listed above.

Take note, you need to invest at least £1,000 into your chosen ETF to benefit from this commission-free offering. This again is somewhat disappointing – especially when you need to dig through the platform's terms and conditions to find this information.
Once again, eToro removes these barriers by not only allowing you to invest in ETFs commission-free but in most cases at a minimum of just $50 (about £40).
Short-Selling Fees
Although we haven't covered short-selling yet, it is important that we include the respective fees in this section. For more information on how you can short-sell stocks at Degiro, we cover this further down on this page.
Nevertheless, Degiro uses a percentage-based fee when you go short on the platform. This will vary depending on the specific marketplace that the stocks are listed.
Catagory A: 1,00%
Catagory B: 1,50%
Catagory C: 2,00%
Catagory D: Not Available
Other Categories: 1,00%
The above categories are based on the perceived risk of the short-selling order. For example, Catagory A shares will be those listed on the London Stock Exchange, NYSE, or NASDAQ. This will cost you a fee of 1% – which is huge. At the other end of the spectrum, Catagory C shares will come from higher-risk markets – such as those based in Poland or Turkey. The fee here is even higher at 2%.
Bond Fees
If you're looking to buy bonds at Degiro, the fees associated with this are as follows:
The Netherlands, Belgium, Portugal, France: € 2.00 + 0.06%
Germany – Xetra / Frankfurt: € 5.00 + 0.05%
OTC Bonds: € 35.00 + 0.03%
There are many other fees to consider at Degiro – such as additional services or accessing the options market. As there are simply too many individual fees to list, we would suggest checking the Degiro fee schedule document for your desired asset, market, or service.
Degiro Stocks and Share Dealing Platform
So now that we have covered the many assets that you can invest in at Degiro alongside the respective fees, this part of our review will discuss the trading platform. Put simply, Degiro does not require you to download any trading software, as everything can be accessed via your standard web browser.
All you need to do is head over to the Degiro website, enter your login credentials and that's it – you access your account straight away. This is also the case if you choose to access the Degiro website via your mobile phone, albeit, the broker also offers an app.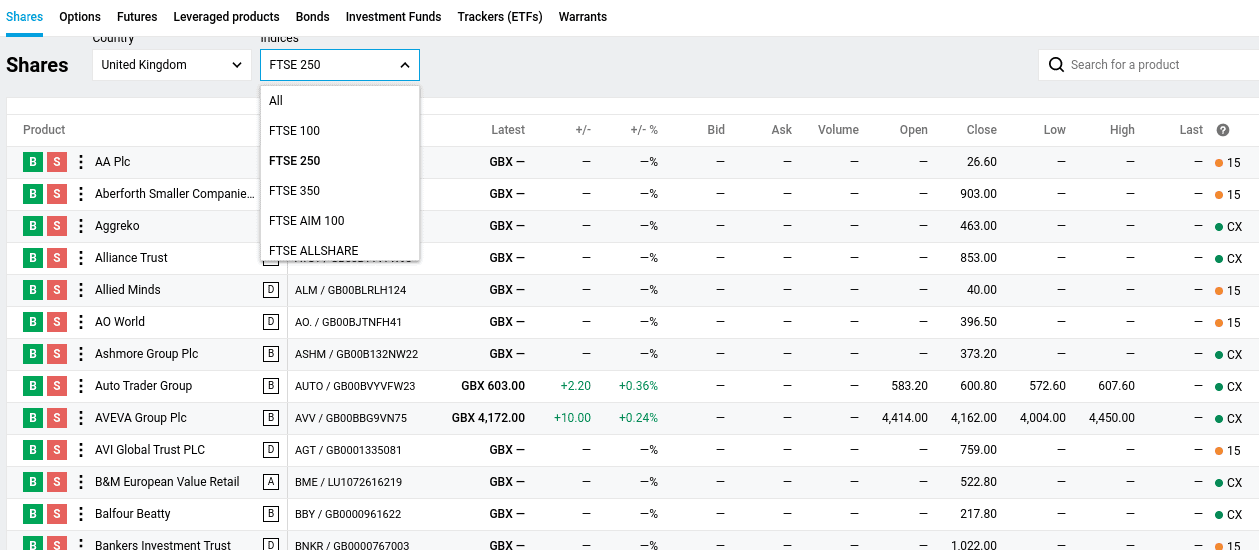 Once you login Degiro, you will be presented with a clean and crisp trading platform that is easy on the eye. We should note that the platform itself was completely revamped recently. Before that, using Degiro – whether that was on your laptop, computer, or mobile phone – was a nightmare.
It was super difficult to find the asset you were interested in buying as everything was displayed as one huge pile of financial instruments without any useful filter buttons. The good news is that the team at Degiro listed to the feedback from its customer base and thus – investing at the platform is now a seamless process.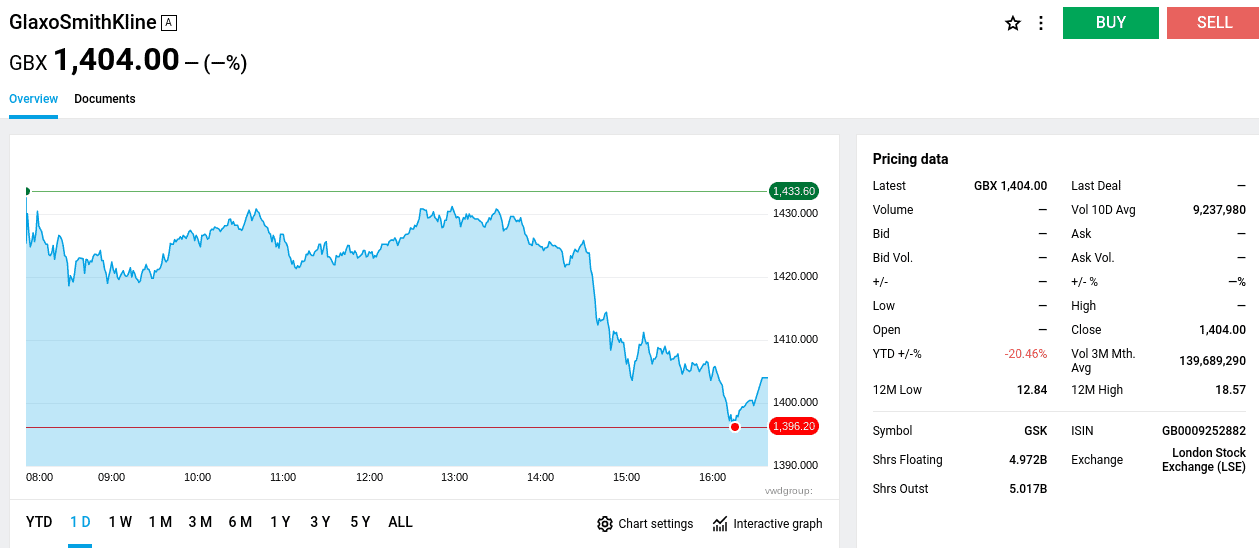 So, if you know which financial asset you want to buy, you can simply search for it. Alternatively, you can filter the trading platform down by the asset class – for example, shares, ETFs, investment funds etc. Then, you can create additional filters. For example, in the shares department, you can filter the results down by the country (e.g. UK) or the specific market (e.g. FTSE 250).
Once you click on your chosen investment, you will then be presented some useful data. As you can see from the screenshot below, this includes the current price of GlaxoSmithKline shares and its performance since the markets opened on the respective day. You can also view pricing charts, which can then be manipulated to your liking.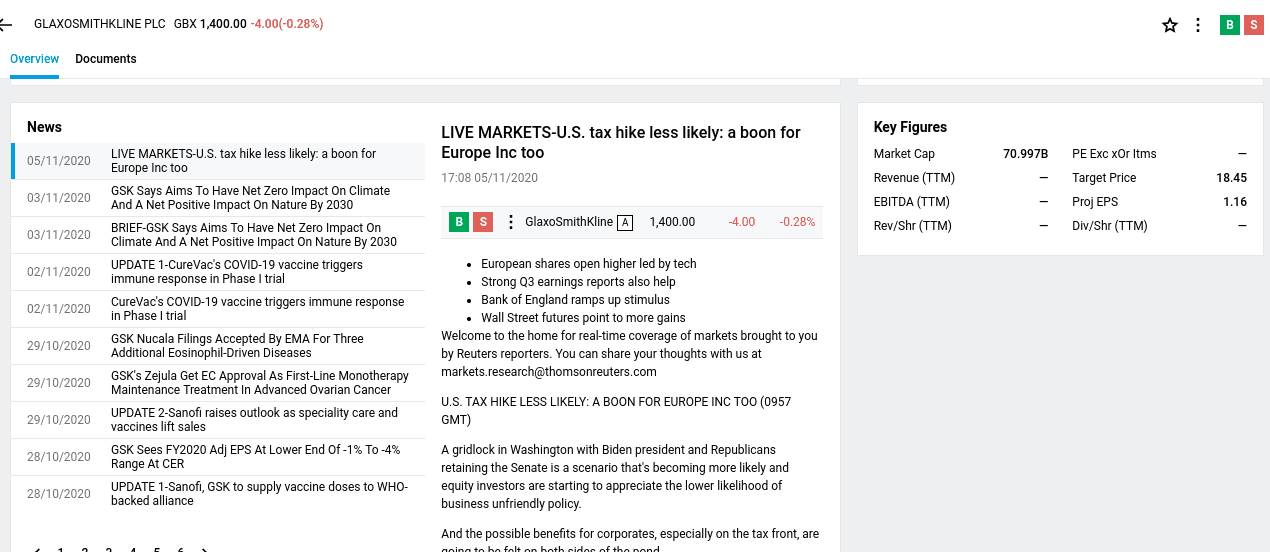 For example, you can change the timeframe, interval, and even the chart type. By scrolling down a little further, you will then see a list of relevant news stories linked to the stock. In this case, that's news stories that might have an influence on GlaxoSmithKline shares. Then to the right of the page, you can view key figures such as revenues, market capitalization, and target stock price.
Degiro App
In addition to the main desktop trading platform, Degiro also offers a mobile app. This allows you to keep an eye on your investments no matter where you are. You can download the app free of charge from the Degiro website and it is compatible with iOS and Android devices.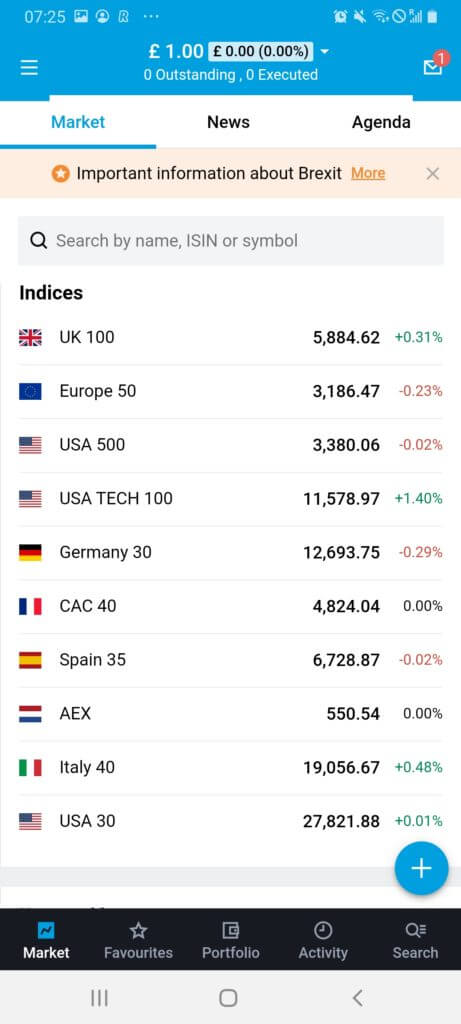 The Degiro app gives you access to core features, such as:
Buying and selling stocks and other assets
Viewing the real-time value of your portfolio
Withdraw funds
Create a watchlist
However, the app does not give you access to the broker's extensive research facility. For this, you will need to use the main Degiro website.
Degiro Account Types
When you sign up with Degiro you will have several account types to choose from. In the vast majority of cases, UK investors stick with a basic account. This allows you to do most things – apart from access more sophisticated financial assets like options and futures.
Crucially, all account types operate much the same in terms of fees etc. The only major differences with each account type are the markets and orders you have access to.
Custody
Basic
Active
Trader
Day Trader
The further you get down the above list, the more you can do at Degiro.
Degiro Orders
Degiro offers a good range of market orders that you can choose from when using the platform to invest. However, the specific order type available to you will depend on the specific asset you are looking to access.
To illustrate this clearly, we have created a table for your convenience.
| | | | | | | | |
| --- | --- | --- | --- | --- | --- | --- | --- |
| | DAY ORDER | GOOD TILL CANCELLED | LIMIT ORDER | MARKET ORDER | STOP LOSS | STOP LIMIT | TRAILING STOP |
| Shares | YES | YES | YES | YES | YES | YES | YES |
| Investment Funds (not listed) | YES | NO | NO | YES | NO | NO | NO |
| ETFs | YES | YES | YES | YES | YES | YES | YES |
| Futures | YES | YES | YES | YES | NO | NO | NO |
| Leveraged Products | YES | NO | YES | YES | NO | NO | NO |
| Bonds | YES | YES | YES | YES | YES | YES | NO |
| Options | YES | YES | YES | YES | NO | NO | NO |
| Warrants | YES | YES | YES | YES | YES | YES | NO |
Charting, Research and Analysis at Degiro
As we briefly covered earlier, each and every financial market at Degiro comes with a detailed pricing chart. You can fully customize this to your liking.
For example, in the section above where we showed you the pricing chart for GlaxoSmithKline, by default this was a standard line chart with a 1-minute timeframe. However – and as per the below, we were able to change this to a candlestick chart with a timeframe of 1 hour.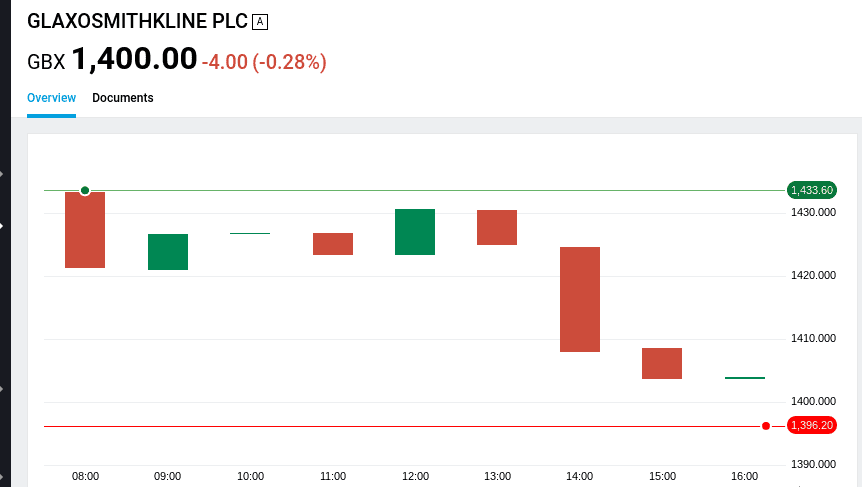 When it comes to getting key market data, Degiro offers everything within the trading platform. For example, by clicking on the 'Market' button, you will see the price action for major indices like the FTSE 100 and Down Jones. We also like the side panel, which shows the best and worst-performing stocks for the day. By default, this shows your FTSE 100 stocks. But, you can change this to any market of your choosing.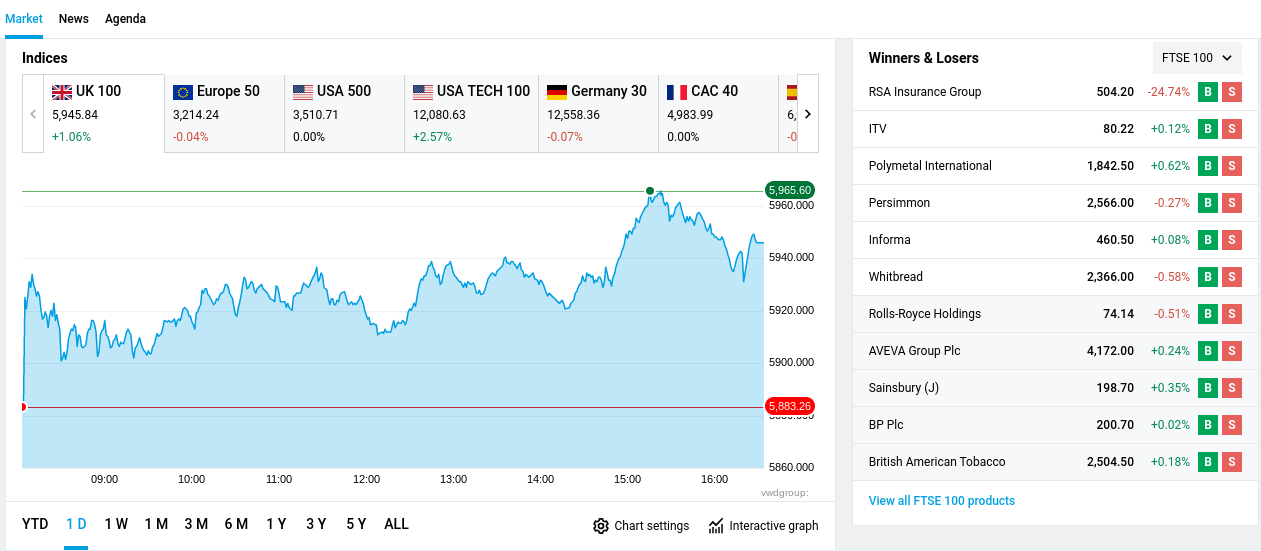 By scrolling down a little further, you will then see the latest financial news – which is hugely comprehensive. In fact, the platform often posts stories every minute or two, which is really useful. You can also view key market data on other areas of the financial and trading markets, such as currency prices and futures contracts.
Degiro Education Materials
If we were to make an objective assessment of the wider Degiro platform, we would have to say that's not the most user-friendly of share dealing sites. Sure, the trading platform itself is clean and crisp and offers plenty of filter options to find your desired market.
However, it is easy to see why some newbie investors would find the platform overbearing. After all, at times it can feel like there is too much going on at once.
In order to counter this, Degiro offers an extensive 'Knowledge' centre that comes packed with heaps of educational materials. This includes guides on key financial terms and investment strategies, alongside manuals on how to use the Degiro platform effectively. There are also blog materials that cover key market insights and trading inspiration.
Degiro Demo Account
Unfortunately, Degiro does not offer a demo account of any sort. This is a shame – especially if you are new to the world of online trading and investments. If this is something you require, we would suggest using eToro.
The FCA broker allows you to use its demo account whenever you see it. There is no requirement to make a deposit to access this feature and the account will come with a pre-loaded paper trading balance of $100,000. You can flick between the demo money and real money account at any time.
Payments at Degiro
In a nutshell, we prefer online stock brokers that allow you to deposit and withdraw funds in a really simple manner. By this, we mean using your everyday debit or credit card for an instant deposit. Alternatively, we also like platforms that support e-wallets like Paypal. Not only does this add an extra layer of security on your funds, but e-wallets typically offer the fastest withdrawal times.
However, none of the aforementioned payment methods are supported by Degiro. On the contrary, the only way that you can deposit and withdraw funds is via a UK bank transfer.

Although us Brits now benefit from the Faster Payments Network – meaning that UK-to-UK transfers are instant, this isn't the case with Degiro. Instead, you should expect to wait a good few days before the funds are credited to your account. Ultimately, this does mean that you might end up missing out on a last-minute investment opportunity if your account is not funded.
When it comes to deposit and withdraw fees, this isn't something that Degiro employs. As such, all transactions on the platform are fee-free. In addition to this, we really like the fact that Degiro does not have a minimum deposit policy in place. This means that you can invest just a few pounds and thus – trade with an inconsequential amount.
Nevertheless, in order to make a deposit, you will need to collect the UK sort code and account details from within your Degiro account.
It is crucial that:
The funds are transferred from a bank account that is in your name
The funds must come with a bank account that has been verified by Degiro (more on this shortly)
You include your unique customer number within the reference field when making the transfer
Is Degiro Safe?
As always, the most important thing that you need to assess when deciding whether or not to join a new brokerage platform is safety.
We have gone through the platform's terms and conditions extensively to explain how safe your money is in Layman's term.
Regulation
First and foremost, although Degiro is popular in the UK, it is not regulated by the FCA. On the contrary, the platform is registered with the FCA. In simple terms, this means that the FCA does not have your back if the unlike happened and Degiro folded. What this also means is that you will not be covered by the Financial Services Compensation Scheme (FSCS).
Crucially, Degiro is regulated in the Netherlands by the AFM. Additionally, the Dutch Central Bank (DNB) offers prudential supervision on the broker.
So what does this mean in terms of investor protection? Well, as a Degiro account holder will benefit from the Dutch Investor Protection Scheme. This covers your money up to the first €20,000 (about £18,000) in the event of a brokerage collapse.
Taking all of the above into account, we don't feel overly comfortable recommending Degiro as a trusted UK stock broker. This is because by using an FCA regulated broker like eToro – you will be covered by the UK's FSCS. As such, this covers you up to the first £85,000 – which is significantly more than the £18,000-ish offered by the DNB.
Securities Lending
The second metric that we are not overly comfortable with at Degiro is that if its 'security lending' system. In a nutshell, this means that by buying shares at the platform, you give Degiro the right to lend the stocks out to third-parties.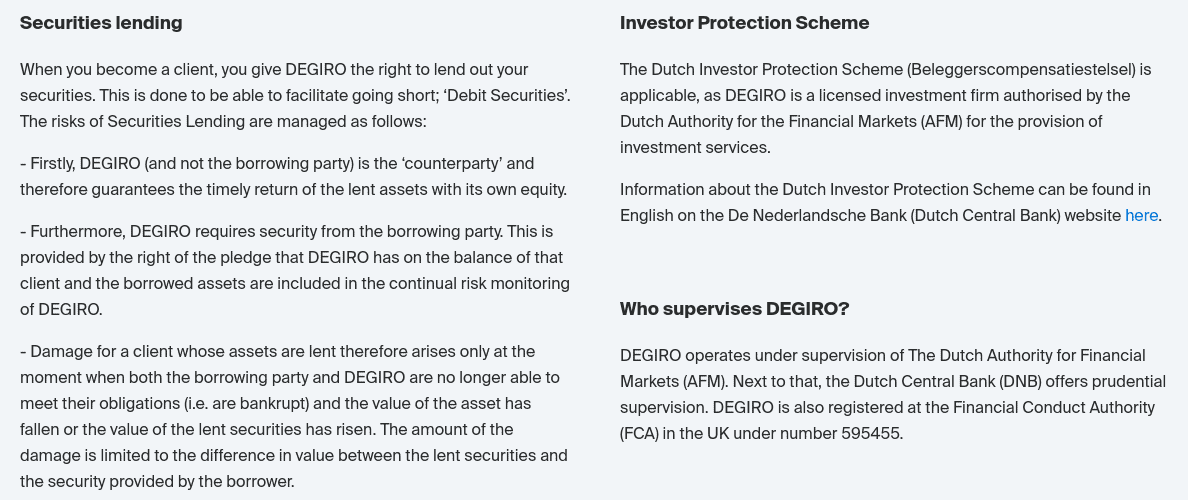 If you're wondering why this is, the securities lending system is to help facilitate short-selling. Although Degiro notes that "guarantees the timely return of the lent assets with its own equity", such a practice is frowned upon in several segments of the trading community.
Degiro Reviews UK
In terms of its reputation in the public domain, this varies somewhat depending on which platform you use. For example, its Android trading app has a rating of 4.2/5 on Google Play, which is good – albeit, this could be better. With that said, Degiro has a very poor rating on TrustPilot of 3/5. This is across 1,244 individual reviews, which is fairly comprehensive.
How to Get Started With Degiro Today?
If you have read our Degiro review all of the way through and you are now keen to get started with the broker, this section will walk you through the process.
Step 1: Open a Degiro Account
Firstly, visit the Degiro website and click on the 'Open an Account' button at the top of the screen. Initially, you will need to enter your email address and choose a username and password.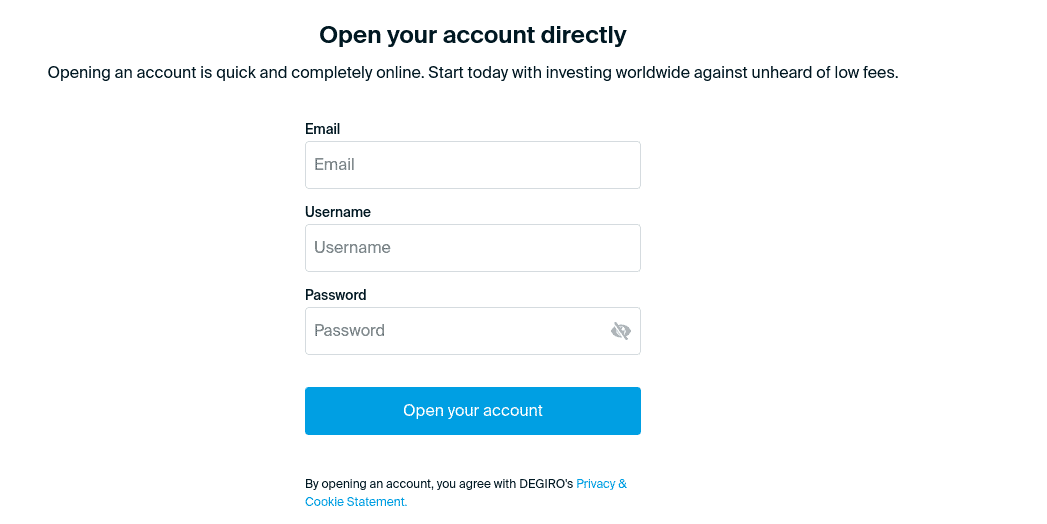 After that, you will be required to enter some personal information. This includes your:
Full name
Nationality
Date of birth
Home address
National insurance number
You will also need to provide some background information on your financial situation (employment status, salary, etc.) and your prior investment experience.
Step 2: Degiro KYC
As a regulated stock broker serving UK clients, Degiro is required to verify your identity. This is known as the KYC (Know Your Customer) process. While the best online brokers in the UK allow you to do this instantly by quickly uploading a copy of your photo ID, the process at Degiro takes days.
This is because, in order to verify your identity, you first need to transfer some funds from your UK bank account. This can be any amount of your choosing as there is no minimum. In most cases, you will need to wait 2-3 days for your initial deposit to arrive. Until then, you won't be able to do anything with your Degiro account.
Step 3: Search for Asset to Buy
Once your deposit has been credited you should receive an email notification. Next, it's time to search for the asset that you wish to buy. As per the screenshot below, we are looking to buy Boohoo shares. As such, we enter 'Boohoo' into the search box and click on the respective result.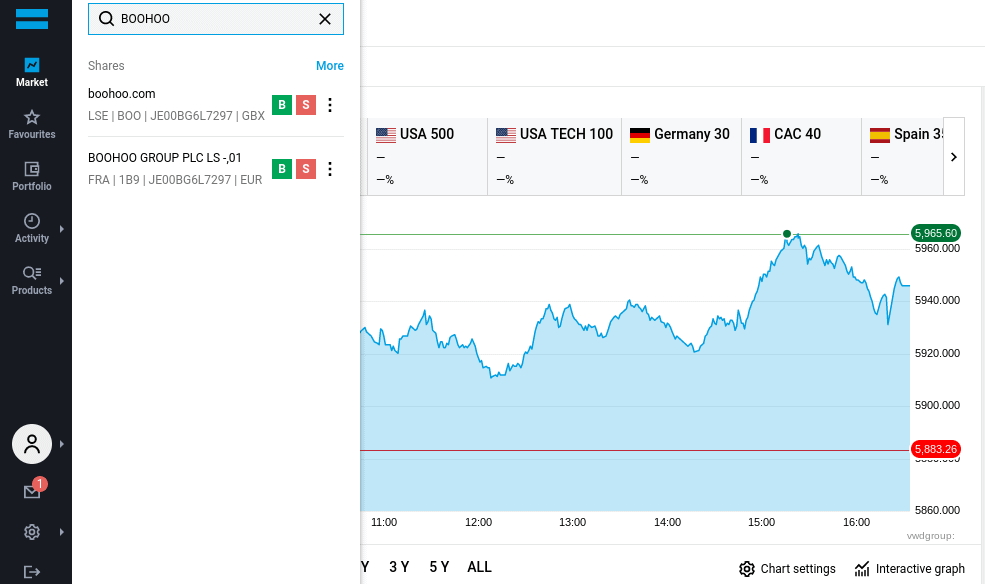 Step 4: Complete Investment
This part of the process is somewhat more complex at Degiro as there is heaps of information, stats, and customizable options at your fingertips. But, if you simply want to buy some shares, click on the 'Buy' button.
In doing so, you will see an order box populate on the right-hand side of the screen. Here, we would suggest changing the 'Limit' option to 'Market' by clicking on the respective dropdown box. This will ensure that your share purchase is executed immediately at the next available market price.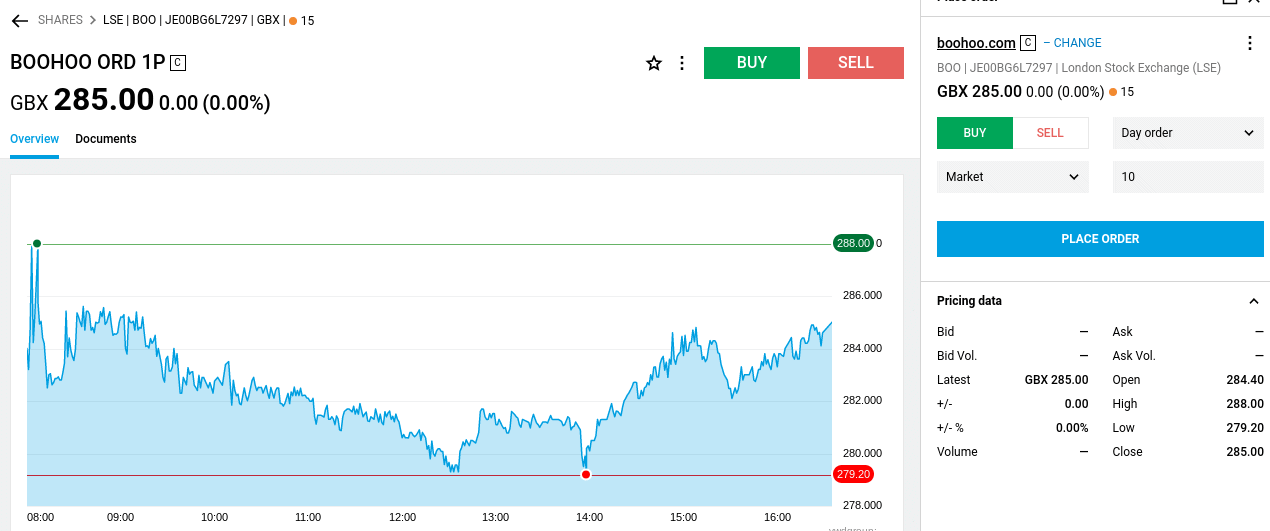 After that, you need to enter the number of shares that you wish to purchase. Once again, Degiro likes to make this overly complex as it doesn't allow you to enter the amount in pounds and pence. At eToro, you can invest any amount you like as long as it's above £40-ish.
Nevertheless, to complete the investment click on the 'Place Order' button.
Degiro Pros and Cons
Pros
Buy shares UK from just £1.75 + 0.014% in commission
50 stock exchanges from 30 countries
Also, invest in ETFs and investment funds
Lots of market data and research tools
No minimum deposit or transaction fees
Mobile app supported
Great for seasoned investors
Cons
Bank transfers only – no debit/credit cards or e-wallets
Not regulated by the FCA
No FSCS protection
Too complex for newbie investors
Surcharge for investing in foreign stocks
No fractional ownership
It takes days to set up an account
The Verdict
In summary, our Degiro review concluded that the online broker has a lot going for it. Not only can you invest in UK shares at just £1.75 + 0.014% in commission, but you'll also have access to almost 50 international markets.
We also like that FTSE 250/350 and AIM shares are offered, alongside a good selection of ETFs and investment funds. In addition to this, Degiro is great for performing research and gaining real-time access to market data. It is also notable that no minimum deposit policy is in place.
Overall, we think Degiro is an excellent option for buying shares and trading a range of other assets. Want to try Degiro out for yourself? Simply click the link below to get started today!
Degiro – Low Cost Stock Broker with No Minimum Deposit


Investing involves risk of loss.
FAQs
Is Degiro safe to use?
In theory, yes - you shouldn't have any issues with Degiro. After all, it is licensed by the Dutch Authority for Financial Markets (AFM) and received prudential supervision from the Dutch Central Bank (DNB). However, it is important to remember that Degiro is not regulated by the UK's FCA and is not covered by the FSCS.
Is Degiro good for beginners?
As per the findings from our Degiro review, we would argue that the platform is not a good choice for beginners. Although the platform has made great strides in recent years to make its trading platform more user-friendly, it is still a bit overbearing for newbies.
How do I withdraw money from Degiro?
Much like in the case of the deposit process, you can only withdraw funds from Degiro via bank transfer.
What is the Degiro minimum deposit?
One of the best things about Degiro is that the broker does not have a minimum deposit policy in place.
What Degiro deposit methods are supported?
Degiro only supports bank transfers. This means that you won't benefit from an instant deposit method like a debit/credit card or e-wallet.