How to Buy Samsung Shares Online in the UK
Fact Checked
Everything you read on our site is provided by expert writers who have many years of experience in the financial markets and have written for other top financial publications. Every piece of information here is fact-checked.
Disclosure
Please note that we are not authorised to provide any investment advice. The information on this page should be construed for information purposes only. We may earn commissions from the products mentioned on this site.
Samsung is a household name, not just in the UK but around the world. Samsung makes such an enormous range of electronics and appliances that you'll find a product from this company in nearly every home. From televisions and microwaves to laptops and smartphones, Samsung has something for everyone.
If you're an investor in the UK looking to purchase shares of Samsung, this guide is for you. We'll explain how to buy Samsung shares online in the UK and highlight top brokers you can use for the job.
We'll also take a closer look at Samsung's share price and outlook for the future to help you decide whether right now is the best time to buy shares in Samsung.
Step 1: Find a UK Broker That Offers Samsung Shares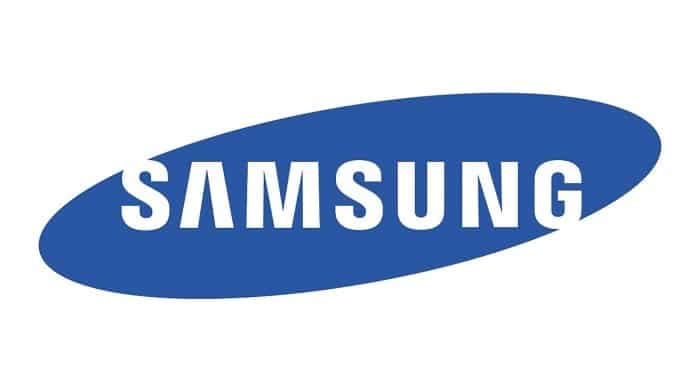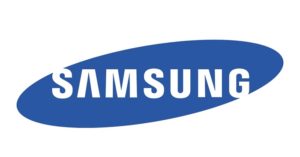 In order to buy Samsung shares in the UK, you'll need a brokerage that offers trading of this multinational giant. Samsung is based in South Korea and has a primary listing on the Korean Stock Exchange in Seoul. Most UK investors are interested in Samsung Electronics, a subsidiary of Samsung that trades on the London Stock Exchange.
The main ways to buy Samsung shares in the UK is through contracts for difference (CFDs). These are contracts that allow you to speculate on the share price of a company without owning the underlying stock. Most top UK stock brokers offer trading on Samsung Electronics using stock CFDs.
It's also worth noting that you can invest in Samsung (either Samsung Electronics or Samsung itself) through exchange traded funds (ETFs), mutual funds, and investment trusts. However, these funds require you to buy baskets of stocks and don't let you trade Samsung alone.
With that in mind, let's take a closer look at two of the top UK brokers you can use to buy Samsung shares.
1. eToro – 0% Commission Trading on 800+ Global Shares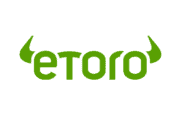 eToro stands out as one of the top UK brokers for buying shares not just of Samsung, but also of companies around the world. This online broker offers stock trading on more than 800 shares from exchanges in London, New York, Tokyo, Hong Kong, Johannesburg, and throughout Europe. On top of that, eToro has a selection of more than 450 ETFs that can help you build a diversified portfolio with exposure to individual countries and market sectors.
One of the things we like best about eToro is that every trade is completely commission free. You just pay the spread for stock investing, which is typically lower than the industry average on eToro's platform. This broker does charge some non-trading fees, including withdrawal fees, but they're typically small and easy to avoid with good account management.
eToro offers investors a range of tools, including built-in charting software and a mobile investment app. On top of that, this broker coordinates a social trading network where you can follow other stock traders, gauge investor sentiment, and start discussions about specific companies. eToro even offers copy trading, which you can use to automate investments for a portion of your portfolio.
Pros:
Commission free stock trading
Access to 800+ global shares
More than 450 ETFs
Built-in charting software
Social trading and copy portfolios
Cons:
67% of retail investor accounts lose money when trading CFDs with this provider.
Step 2: Research Samsung Shares
Before you invest in Samsung shares, or other shares like Apple shares or BT shares, it's important to know what you're getting into. This company is a household name, but that alone isn't enough to guarantee that it's a good addition to your portfolio.
Here, we'll take a deep dive into Samsung shares to help you decide whether it's a smart investment.
Samsung Share Price History
Samsung is Korean for "three stars." The company was founded in 1938 in Seoul, South Korea as a multi-purpose trading company by Lee Byung-chul. The company focused on food processing equipment, textiles, business and life insurance, and retail for the first several decades of its history. In the 1960s, Samsung entered the consumer electronics market. It also expanded into construction and shipbuilding.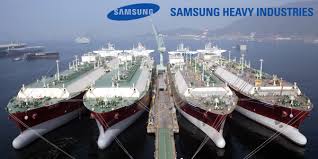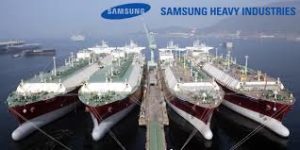 Samsung is like an iceberg – most people only see the tip of this absolutely massive company. Samsung Electronics, the division behind Samsung's computers, smartphones, kitchen appliances, televisions, and nearly all of Samsung's other consumer electronics, is just a small part of this conglomerate. Samsung also has a Heavy Industry division that controls the second largest shipbuilding service in the world. Samsung Engineering is the world's 13th largest construction company. Samsung even runs a theme park in South Korea, called Everland, under its Resorts & Construction division.
Samsung is so massive that it accounts for almost 20% of South Korea's total GDP. By comparison, the UK's largest company by revenue, BP, accounts for less that 10% of the UK's GDP. Of course, Samsung is a multinational company with significant operations across North America, Europe, and Asia.
Samsung has traded publicly on the Korean Stock Exchange since 1973. Notably, most UK investors won't invest in stocks of Samsung as a whole, but only Samsung Electronics. Samsung Electronics, which is a subsidiary of Samsung, has traded on the London Stock Exchange as a global depository receipt since 1995. Since it trades as a global depository receipt, prices are listed in US dollars rather than pounds.
Samsung Electronic's stock price began to take off in 2016 after years of slow growth. The share price was $545 at the start of 2016, but more than doubled to $1,282 by mid-2017. The price dipped temporarily in response to the coronavirus pandemic and global lockdowns, but Samsung has since recovered to $1,212 per share.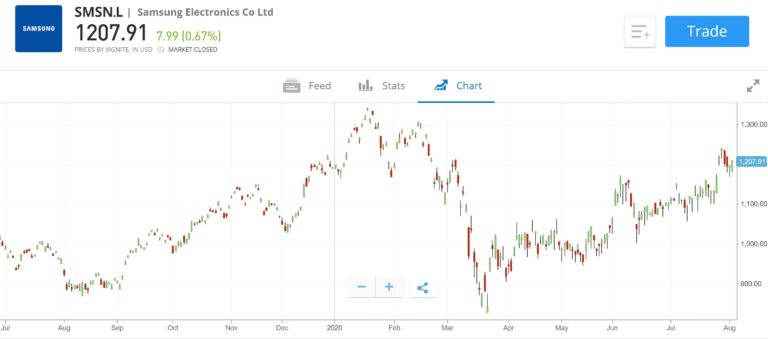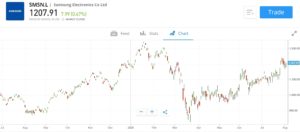 Samsung Dividend Information
Samsung Electronics pays out a quarterly dividend to investors that is continuing despite the economic shock of the coronavirus pandemic. The dividend is typically small, on the order of 2.5% to 3% per year, so most investors wouldn't consider Samsung to be one of the best dividend stocks. However, a 3% yield is nothing to sniff at, especially given the company's potential for growth over the coming decade.
Should I Buy Samsung Shares?
In evaluating whether you should buy Samsung shares, we'll look specifically at Samsung Electronics since this is what most UK brokers offer trading on. If you're interested in buying shares of Samsung itself, make sure to take a look at the conglomerates shipbuilding and construction divisions since these make up a significant portion of its revenue.
5G Potential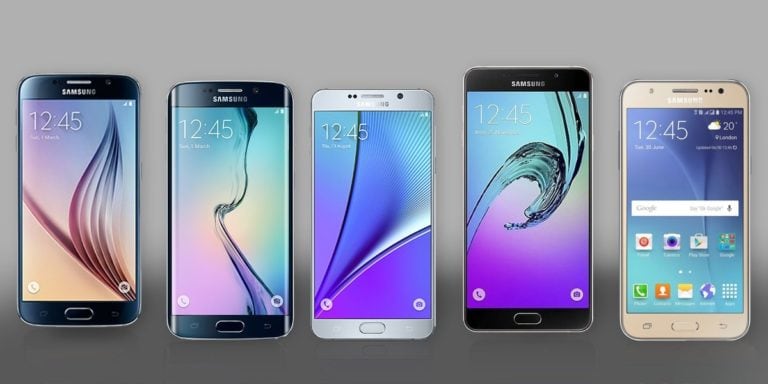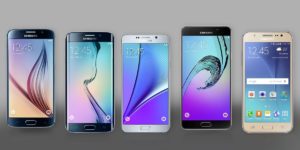 One of the most interesting things about Samsung shares right now is that the Electronics division stands to benefit from the trade war between the US (and the UK) and China. Much of the contention is over the deployment of 5G technologies – the US and UK governments don't trust Huawei, the current leader in 5G, and they've taken steps to effectively ban the company from setting up 5G networks across the West.
The resulting void is likely to be filled by Ericsson or Nokia. But Samsung could also be a contender. Samsung Electronics has dabbled with 5G in the past, and the company could develop networks that work particularly well with its own smartphones. The US and UK both have strong relationships with South Korea from a national security standpoint, so Samsung wouldn't face any of the same headwinds that Huawei has.
At this point, Samsung hasn't made any announcements about throwing its hat into the 5G ring. So, be cautious when betting on the share price with an eye towards future mobile networks, there are other networks if you want to invest in 5G stocks UK., however, Samsung's shares could be poised for a major bump if the company does decide to jump into the 5G fight and especially if it gets backing from the South Korean government.
Excellent Value
While it's hard to say that Samsung Electronics is undervalued at over $1,200 per share, the company is certainly undervalued to some of its US tech competitors.
Take Apple, which derives a similar slice of its revenue from smartphone sales as Samsung Electronics does. Apple trades with a forward price-to-earnings ratio of 21 despite expecting just a 13% earnings growth in 2021. Samsung, by comparison, trades at a price-to-earnings ratio of 13 and expects 40% earnings growth in each of 2020 and 2021.
These figures don't necessarily mean that Samsung's share price will go up. Investors give more weight to Apple stock because it controls its own app store and operating system, whereas most Samsung devices run on Google's Android operating system. However, a cursory look suggests that Samsung is undervalued relative to its most direct competitor in the consumer smartphone market.
Semiconductor Dominance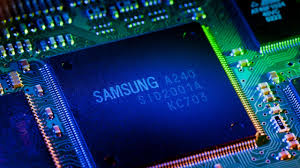 Samsung Electronics is also one of the world's biggest producers of semiconductors. In fact, in the first quarter of 2020, Samsung produced more semiconductors than any company in the world besides Intel.
What's exciting about this for investors is that Samsung has made it a stated goal to dominate the semiconductor industry by 2030. The company has invested billions in new technology to produce 5nm EUV chips and 3nm GAA chips, both of which would put it at the forefront of computing and could give its smartphones an edge over those from Apple and other competitors.
The semiconductor industry is always a moving target – just ask Intel, which not that long ago was the unquestioned leader in semiconductors and now faces intense competition from Samsung, Qualcomm, and others. So, there is some risk that Samsung's plans won't work out, which could hurt the share price. But at this point, it does not appear that investors have fully priced in the potential benefits to Samsung's bottom line if it is able to reach its goal of semiconductor dominance in the next decade.
Step 3: Open an Account and Deposit Funds
Ready to buy Samsung shares? In order to make your investment, you'll need to open a new brokerage account. We'll illustrate the process using eToro, which is one of the UK's best share dealing accounts and offers 0% commission trades, a social network, and access to hundreds of global shares.
To open an account at eToro, head to the broker's website and click 'Join Now.' You'll be prompted to create a new username and password. Then you'll need to enter personal details such as your name, birthdate, and address.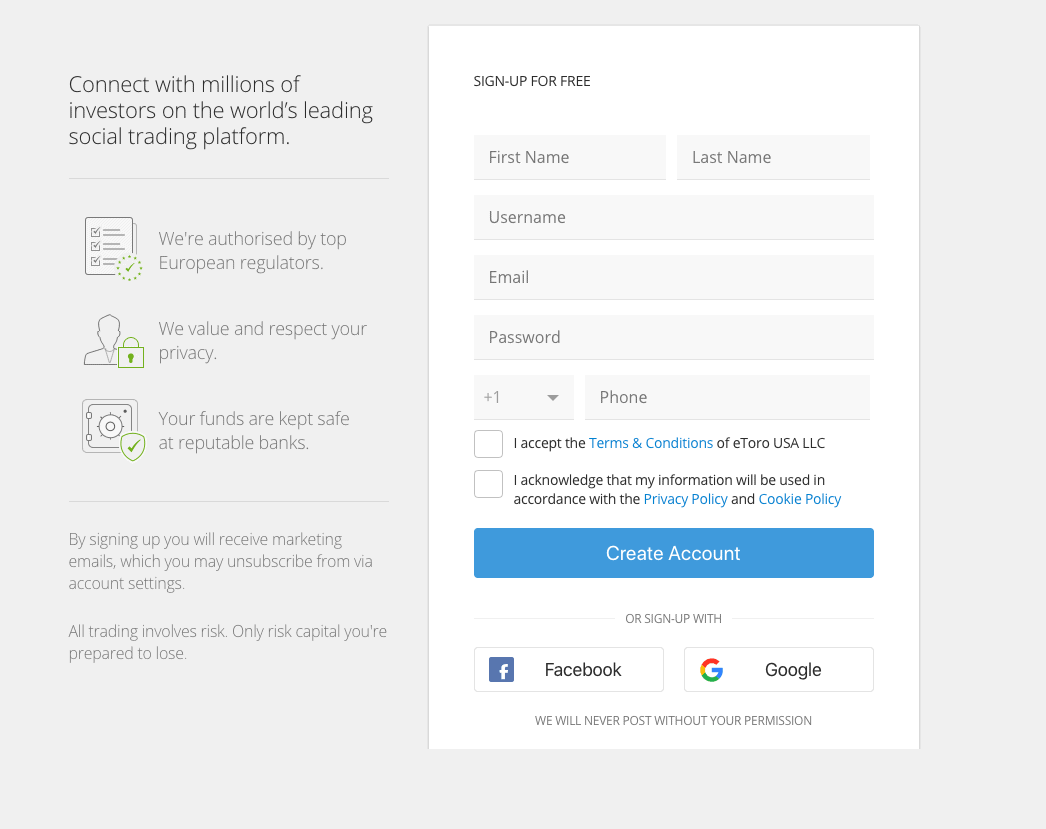 eToro also requires you to verify your identity to comply with government regulations. You can complete this step by uploading a copy of your driver's license or passport and a copy of a recent utility bill or financial statement.
Once your account is up and running, you'll need to deposit funds. eToro supports a variety of payment methods, including:
Debit card
Credit card
UK bank transfer
Wire transfer (extra fees apply)
PayPal
Neteller
Skrill
Keep in mind that eToro requires a minimum deposit of £140. If you deposit funds by debit, credit, or e-wallet, you can start trading immediately.
Step 4: Buy Samsung Shares
With a funded trading account, you're ready to buy Samsung shares. From the eToro dashboard, enter 'Samsung' in the search box. When Samsung Electronics appears, click on it to go to the company's stock page. Then click 'Trade' to open a new order form.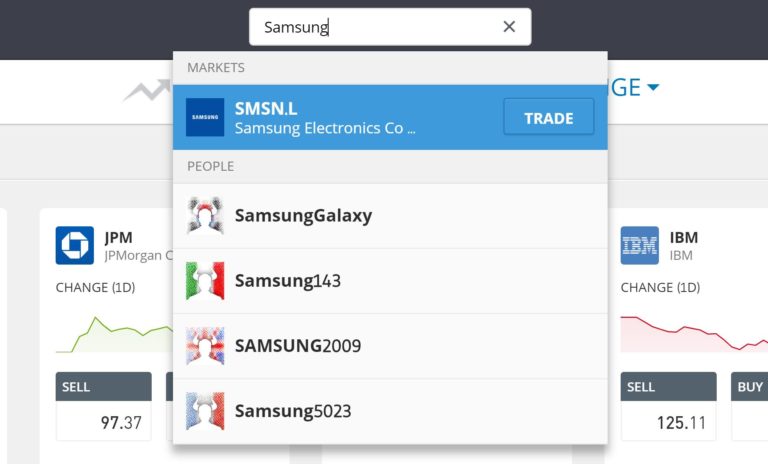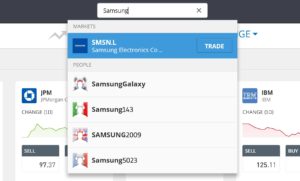 The order form requires you to make several decisions. First, decide how much you want to invest in Samsung. You can enter an amount in US dollars (remember that Samsung Electronics trades in dollars, not pounds) since eToro supports purchasing fractional shares. Next, choose whether to set a stop loss price or a take profit price for your investment.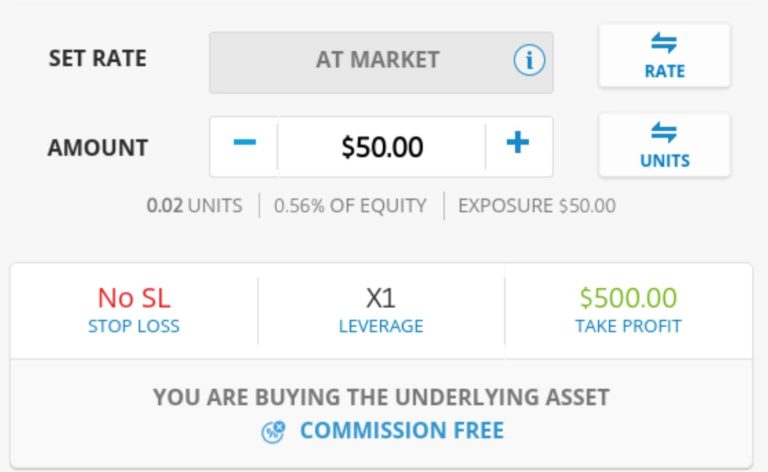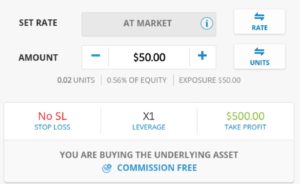 eToro also lets you apply leverage to your stock trade of up to 5:1. We recommend that beginners not use leverage, since it increases the risk of your trade and comes with some additional fees.
When your order is ready, click 'Trade' to buy shares in Samsung.
The Verdict
Samsung is one of the largest companies in the world with divisions covering everything from consumer electronics to construction to shipbuilding. Investors in the UK are typically focused on Samsung Electronics, since this division trades independently on the London Stock Exchange.
Samsung Electronics has been on a winning streak since 2016 and there is plenty of potential for the company's growth to continue. Samsung is expecting a 40% earnings increase for each of the next two years, and a quick look at its price-to-earnings ratio indicates that it is undervalued relative to competitors like Apple. Samsung could bring value to shareholders by playing a larger role in developing 5G networks for the world, or it could focus on dominating the semiconductor market to shore up its position as a leader in smartphones and computers.
All that said, Samsung has been tight-lipped about exactly what it has planned for the next few years. Be cautious when trading this company and make sure that you stay on top of any new developments as they arise.
Ready to buy Samsung shares? Sign up for a brokerage account with eToro using the link below to get started!
eToro – Buy Samsung Shares with Zero Commission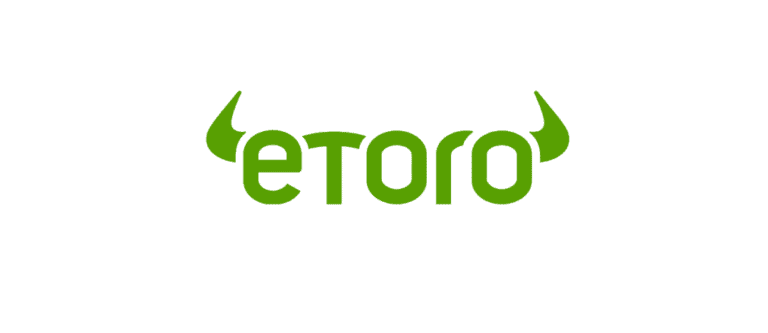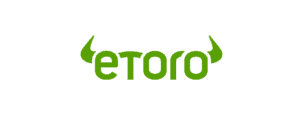 67% of retail investor accounts lose money when trading CFDs with this provider.
FAQs
What is Samsung's ticker symbol?
Samsung Electronics trades on the London Stock Exchange under the ticker symbol 'SMSN.' Samsung the multinational conglomerate trades on the Korean Stock Exchange under the numeric identifier 005930.
Can I buy Samsung shares in the UK?
Samsung Electronics is available as a global depository receipt on the London Stock Exchange, so it's easy to invest in this Samsung division through most UK brokers. If you want to invest in Samsung itself, including all its subsidiaries, you'll need a broker that offers trading on the Korean Stock Exchange.
When does Samsung pay out its dividend?
Samsung pays out its dividend four times a year, in April, May, August, and November. Keep in mind that you must own the shares by the ex-dividend dates, which are in March, June, September, and December.
Where does Samsung Electronics have offices?
Samsung Electronics has major regional offices in South Korea (two offices), Japan, China, Singapore, Germany, and the US. Samsung's research division also has numerous offices spread across the US.
Can I collect Samsung dividends when trading CFDs?
Yes, you are eligible to collect dividends when trading CFDs just as if you owned the underlying shares outright. You must own the CFDs on the ex-dividend date and your broker will credit your trading account when the dividend is paid out.