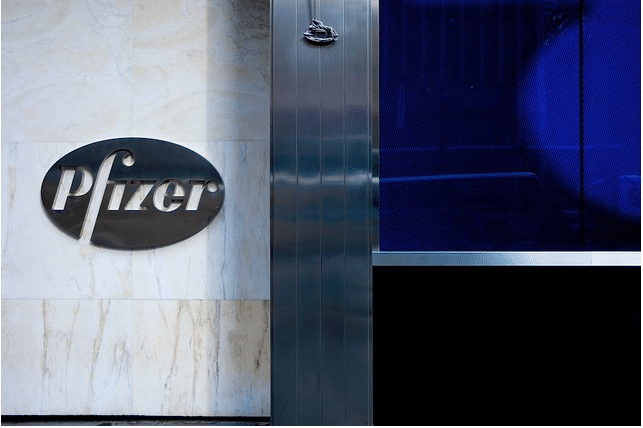 The price of Pfizer climbed during yesterday's stock trading session after its COVID-19 vaccine developed alongside the German biotech firm BioNTech received full approval from the US Food and Drug Administration (FDA).
Shares of the American pharmaceutical giant advanced almost 2.5% at $49.93 per share to accumulate a 39.7% annual jump while this would be the seventh consecutive week of gains for the stock.
Moving forward, Pfizer (PFE) plans to commercialize its vaccine under the name Comirnaty for patients 16 years old or older while the company is already seeking approval to extend the treatment's age limit to patients between 12 and 15 years old.
Moreover, Pfizer announced yesterday that it acquired the Canadian cancer treatment developer Trillium Therapeutics (TRIL) in a deal that valued the company at $2.26 billion.
The acquisition was settled at $18.50 per share to be paid in cash – a figure that resulted in a 200% premium compared to Trillium's 22 August closing price. In September 2020, Pfizer had acquired a small stake in the company for a total of $25 million.
"The proposed acquisition of Trillium builds on our strong track record of leadership in oncology, enhancing our hematology portfolio as we strive to improve outcomes for people living with blood cancers around the globe", said Andy Schmeltz, the head of Pfizer Oncology.
Trillium is a pre-revenue company whose pipeline of drugs is comprised of two key treatments, TTI-622 and TTI-621, both of which are fusion proteins designed to enhance the body's anti-tumor reaction by generating "eat me" and "don't eat me" signals to entities known as "macrophages", a type of white blood cell that can destroy other cells – in this case, cancer cells.
The two treatments are currently undergoing Phase 1b/2 of clinical development and they are initially targeting blood cell cancer.
"More than 1 million people worldwide were diagnosed with a [type of] blood cancer in 2020, representing almost 6% of all cancer diagnoses globally. In 2020, more than 700,000 people worldwide died from a form of blood cancer", Trillium's management stated in regards to the total addressable market of its drugs.
Booster shots under fire
One of the reasons why Pfizer shares have been going up lately is the possibility of booster shots becoming mandatory for vaccinated patients amid concerns about the severity of the Delta variant.
For Pfizer and other pharmaceutical companies that are already commercializing their vaccine candidates including Johnson & Johnson (JNJ), AstraZeneca (AZN), and Moderna (MRNA), these extra shots will result in higher revenues that have not been fully priced into their valuation.
However, there has been a fair deal of controversy surrounding the necessity of these shots, starting with the head of the World Health Organization (WHO), Tedros Adhanom, who has warned countries that boosters could speed up the appearance of new variants.
Moreover, Adhanom questioned the efficacy of boosters in light of the scarce evidence that exists about how they can ramp up the body's immune response to the virus's variant. Additionally, Tedros emphasized vaccine inequality as a deterrent for the application of boosters as underdeveloped nations still display low vaccination rates.
Despite his concerns, a group of countries has already started to offer a third shot of multiple vaccines including the United States and Israel.
What's next for Pfizer stock?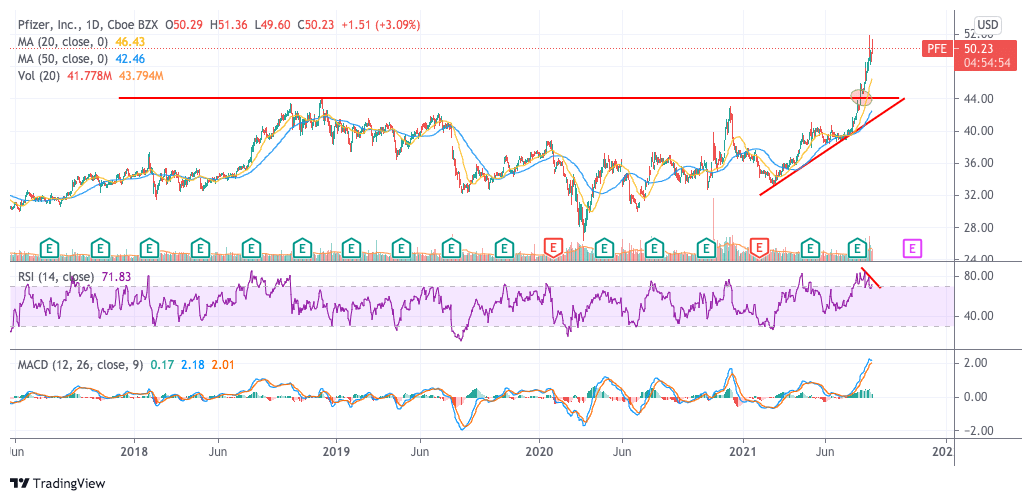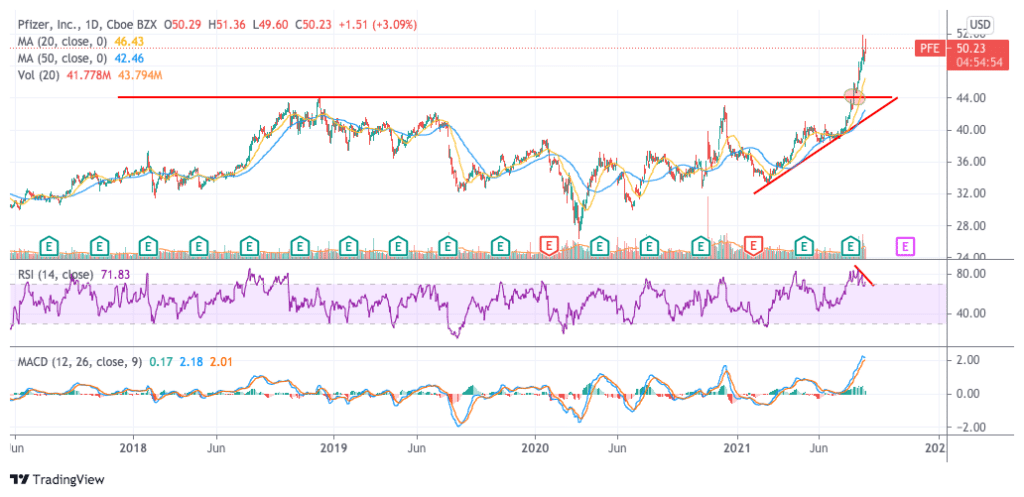 The latest uptrend in Pfizer stock seems to have started back in late July after the company reported record-breaking quarterly results on the back of surmounting vaccine revenues.
Shares of the pharmaceutical company rose more than 3% on the day the report was published and have jumped 18.6% since then as Pfizer ramped up its guidance for the year for both revenues and earnings.
Meanwhile, shares have advanced to an intraday high of $51.86 on 18 August but slid right after reaching that threshold while momentum oscillators appear to have stalled as indicated by a bearish divergence in the Relative Strength Index (RSI) and a narrowing distance between the MACD and the signal line.
Trading volumes yesterday, after news of the FDA approval came out, were quite elevated while they also surged above the 10-day average on the day that the stock posted its most recent 52-week high.
These two rejections of a climb above the $50.5 level could be signaling an upcoming correction in the price while the stock is fairly overextended as it is trading 17.6% above its 50-day simple moving average.
That said, even though Pfizer shares may be due for a pullback, the company's price-to-earnings (P/E) ratio of 12.5x along with its 3% dividend yield make it a particularly attractive pick as this conservative valuation could create room for further upside if market participants start to acknowledge that COVID vaccines may provide a long-term tailwind for the firm.